PG Giveaways: Epiphone Genesis Deluxe PRO
September 16, 2013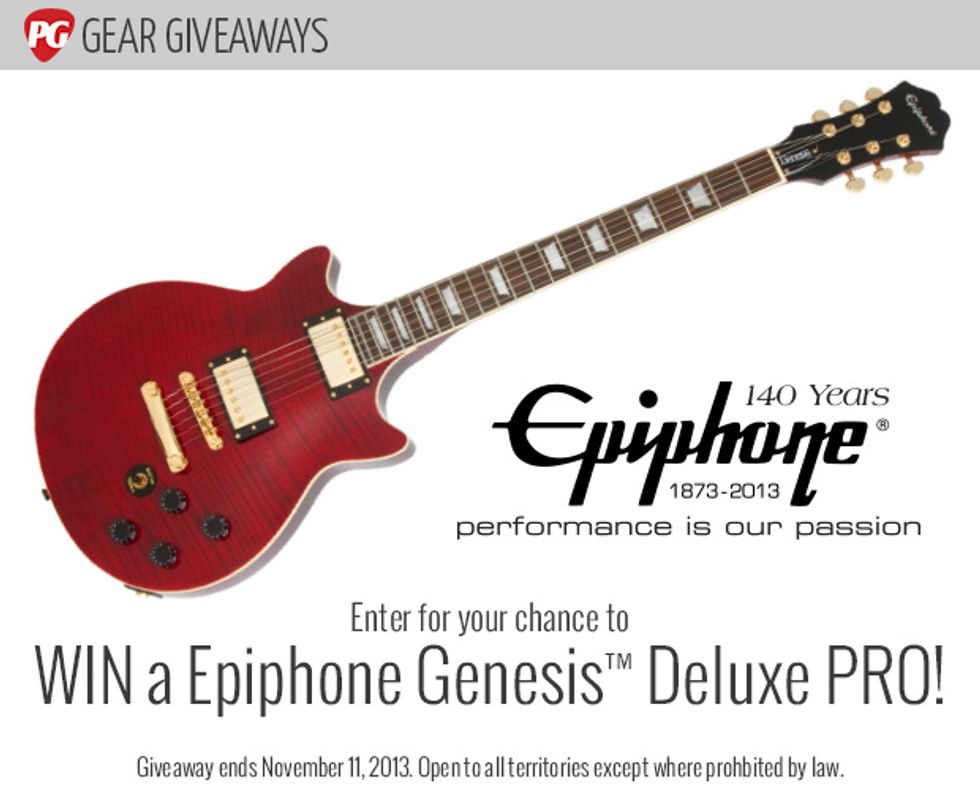 CLICK HERE TO ENTER.

Epiphone Genesis Feluxe PRO

Enter for your chance to win the epiphone Genesis Deluxe PRO. Street price: $499. Giveaway ends November 11, 2013. Open to all territories except where prohibited by law.

The classic Epiphone Genesis was one of Epiphone's most original and modern designs when it was first published in the Epiphone catalog in late 1979. It was intended as a new beginning for Epiphone--a truly original solid body design that could hold its ground with a Les Paul, giving players the added advantage of an eye-catching double cutaway. Now, the Epiphone Ltd. Edition Genesis Deluxe PRO brings back this collector's favorite in all its original glory with added features like coil-tapping, Epiphone ProBucker™ pickups and Grover™ tuners along with a beautiful AAA flame maple veneer top and solid mahogany body in four new beautiful color finishes, including Black Cherry, Midnight Ebony, Midnight Sapphire, and Vintage Sunburst. Early Genesis ads proclaimed "this isn't a guitar for shy people" and "we've created a monster," and you can see why. Along with its bold shape and beautiful finish, the Genesis featured coil-tapping for both pickups via a separate toggle switch. Coil-tapping was a new concept to guitar players and the original Genesis was a bold instrument with a warm sound that could do anything from hard rock to fusion jazz with its incredible sustain from the mahogany body. In many ways, the Genesis was part of Epiphone's longstanding tradition of giving players more for their money at a level of quality and consistency other guitar makers can't maintain. Today, Epiphone is still a leader in giving players a custom shop experience. And now, the Epiphone Ltd. Edition Genesis Deluxe PRO goes a step further with Epiphone's bold ProBucker™ pickups with individual coil-tapping for the rhythm and lead pickups to put the Genesis back to its rightful place among Epiphone's greatest instruments.
Click here to read Premier Guitar's review.