Stompboxtober 4: A/DA Amps
October 1, 2013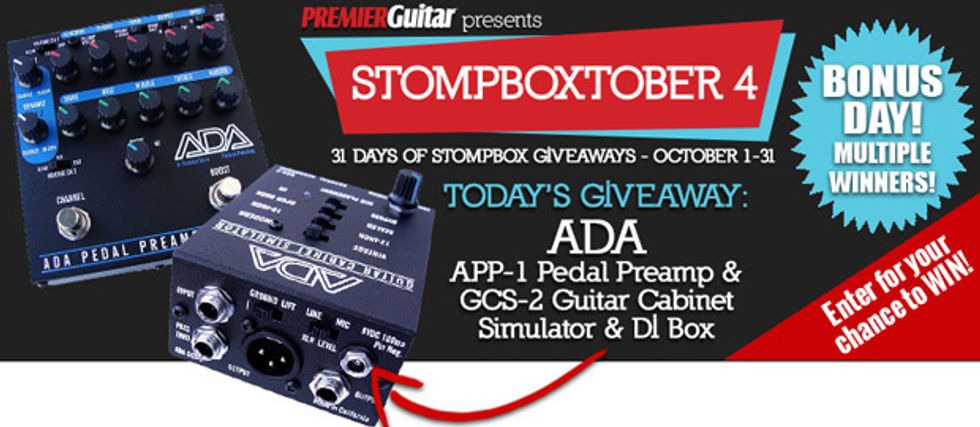 CLICK HERE TO ENTER.


Enter for your chance to win the A/DA APP-1 Pedal Preamp and GCS-2 Guitar Cabinet Simulator & DI Box! Total retail value $539.94. Giveaway ends 12:00pm EST October 2, 2013. Open to all territories except where prohibited by law.

APP-1 Pedal Preamp
The ADA APP-1 Pedal Preamp is designed by David Tarnowski and is a no-compromise 2 channel low noise all analog preamp, and the first product to use his new patent-pending "D-Torsion" Core Technology to achieve greater dynamics, string sensitivity and a wider range of guitar tones. You can go from crystal clear clean to over-the-top grind without touching a single knob on your guitar, pedals or amplifier. It has more bloom than the most nimble Class-A tube combo amp and can ring-out single-coil harmonics to frightening levels – all done with the subtlety of how hard you hit the strings. It has two independent channels, including independent tone stacks, a dual buffered Effects Loop with a gain balance control, a BOOST that is foot switched with a gain up to 16dB. Key to getting the best CLEAN, OVERDRIVE and DISTORTION tone, is the VOICING switch that shapes and biases your guitar signal before hitting the gain circuits. In short, it's a full-feature preamp crammed into a stomp box for either your pedal board or as a stand-alone tone center.
MSRP: $399.95

GCS-2 Guitar Cabinet Simulator & DI Box
featuring Natural Resonance Response™
Turn any full-range passive or powered monitor speaker or sound system into a dynamic guitar cabinet, loaded with your choice of drivers.
The new ADA GCS-2 is an easy-to-use guitar cabinet simulator in a small, rugged package designed for guitar players and sound engineers who are looking for high quality analog solutions for live sound reinforcement systems, stage monitors and recording electric guitar.
The new ADA GCS-2 is ideally suited for live performance and studio applications. A unique feature of the GCS-2 is that it replicates the low frequency natural resonance of a guitar speaker cabinet at loud volumes, which is especially noticeable in the SEALED CABINET configuration.
The GCS-2 is inserted between the output of your preamplifier (or effects pedal chain) and a mixing or recording console to replace the close proximity microphone that is typically used to mic a guitar speaker cabinet. This eliminates the problem of bleed through or crosstalk from other instruments or amplifiers in live situations. The GCS-2 is especially useful for owners of our APP-1 guitar pedal preamp because it can split the output of the APP-1 for sending the signal to a guitar amplifier and to a mixing console for recording, house sound systems and stage monitor systems.
We have tested the GCS-2 in live performances by sending a feed to a stage monitor for the guitarist and eliminating the combo or head with stack. The same feedback that you get from a stack or a hot-rod combo can easily be produced in the monitor, and interestingly, with more control.
MSRP: $139.95