Stompboxtober 4: Source Audio
October 11, 2013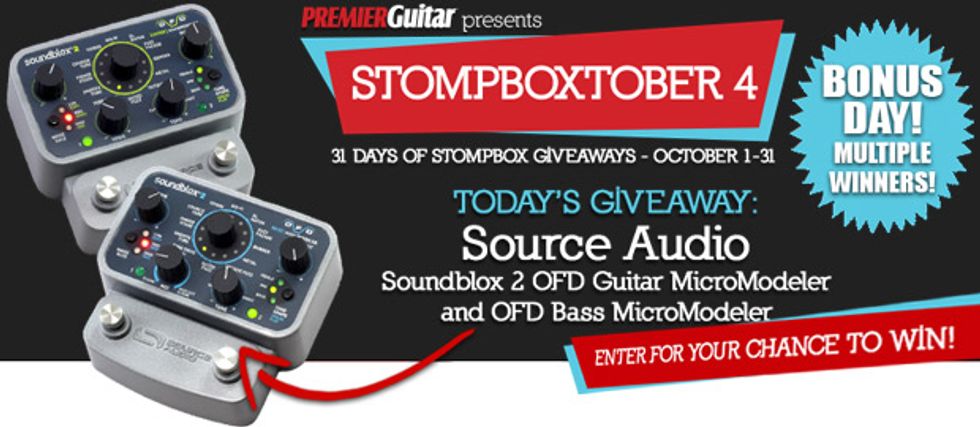 CLICK HERE TO ENTER.

Enter for your chance to win a Source Audio Soundblox 2 OFD Guitar MicroModeler or Bass Micro Modeler. Total retail value $249 each. Giveaway ends October 12, 2013. Open to all territories except where prohibited by law.

The Soundblox 2 OFD Guitar MicroModeler and OFD Bass MicroModeler both pack a comprehensive collection of new and vintage overdrive, fuzz, and distortion tones into a single stage-ready stompbox perfect for musicians of all genres. All of the distortion models from both the Guitar and Bass versions have been meticulously crafted to provide precise and responsive tones, from warm and chunky tube overdrive to over-the-top fuzz. Distortion types were modeled after Marshall and Mesa Boogie amplifier overdrive, Fulltone OCD, Tube Screamer, and Rat distortions, Big Muff Pi, Octavia, Tone Bender, and Fuzz Face fuzz pedals, and many more.
Both pedals are housed in a compact and extremely durable cast-aluminum casing. Their sturdy exterior and relay based buffered or true bypass switches are built to withstand endless gigging and rehearsal and their compact 4.5 x 4.5 inch footprint easily finds a place on any sized pedalboard.
Both OFDs also offers a multitude of forward thinking and useful design functions like preset morphing, easy-to-adjust internal noise gates, and external Hot Hand, Expression Pedal, or MIDI control – step up to an entirely new stompbox experience.