Stompboxtober 4: Leslie
October 12, 2013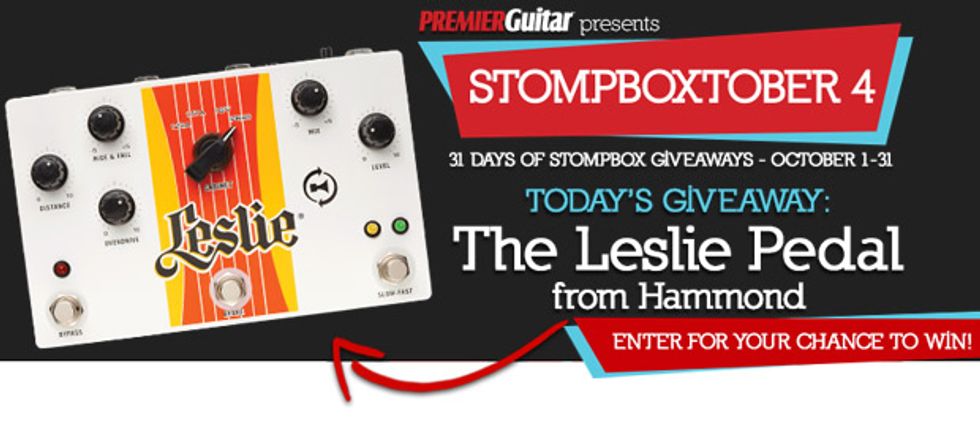 CLICK HERE TO ENTER.


Enter for your chance to win the Leslie Pedal from Hammond. Total retail value $499. Giveaway ends October 13, 2013.. Open to all territories except where prohibited by law.

The Leslie Pedal
The Leslie Pedal, designed and built in America, allows the distinctive rotary, moving sound of a Leslie to be added to any, guitar, bass, keyboard, or studio rig. Derived from the state-of-the art Digital Leslie onboard the new Hammond Sk series stage keyboards and the flagship B-3mkII Organ, the Leslie Pedal evokes vintage 122 and 147 Leslies, and the Model 18, basis of the classic Vibratone Guitar cabinet made famous by Stevie Ray Vaughn and others. The fourth model replicates the distinctive PR-40 stationary speaker cabinet, which was standard issue with Hammond Organs in the 50's and 60's, and a "secret weapon" for many vintage studio guitar recordings.
Rotary controls allow adjustment of virtual mic placement, ramp up and down speeds, overdrive, horn and bass balance, EQ and overall volume. Three footswitches provide true bypass, speed and brake control, stereo in/out. A gain switch allows the Leslie Pedal to be used in a guitar effects chain, or direct inject into a sound reinforcement system/keyboard amp.
The Leslie Pedal, like all Leslies, is built in the USA.