Stompboxtober 4: ModTone
October 18, 2013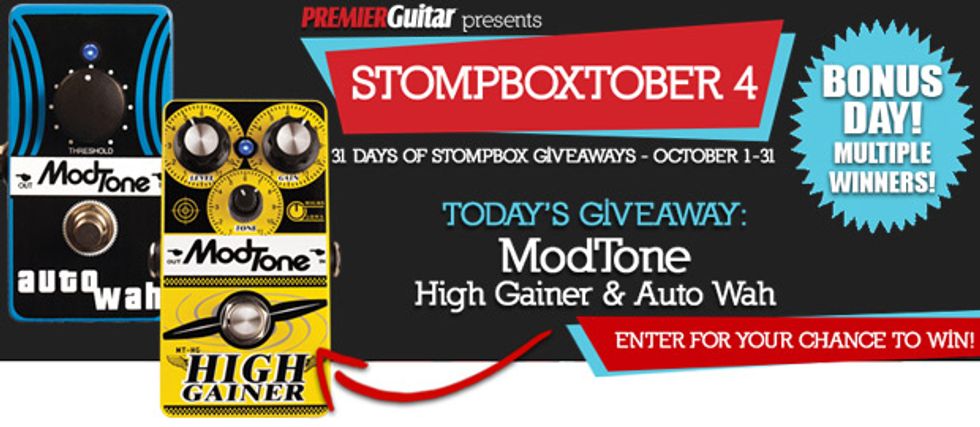 CLICK HERE TO ENTER.

Enter for your chance to win a ModTone MT-AW Auto Wah or MT-HG High Gainer!. Total retail value: $199.95 each. Giveaway ends October 19, 2013. Open to all territories except where prohibited by law.

ModTone MT-AW Auto Wah pro series pedal:
The latest addition to the ModTone family is the brand new Auto-Wah. This pedal takes simplicity to a whole new level. Use the one knob to dial in the sensitivity threshold and the pedal will be set and ready to go. The Auto-Wah was designed to be signal sensitive, so it adjusts to every nuance of your playing style. Use the ModTone Auto-Wah to get that classic 70's vibe or use it to spice up your solos.

ModTone MT-HG High Gainer pro series distortion pedal:
The ModTone High Gainer is a feat of sonic engineering that packs an amazing punch of glorious overdriven tones that gain junkies will love. Go from a mellow laid back gain setting to the sound of tubes on the verge of catching fire! In addition, the High Gainer features a set of concentric eq knobs that control both high and low frequencies independently. Add some sparkle on top or enjoy the almost sick level of low end you can achieve. The ModTone High Gainer will be that added muscle your rig has been looking for.