Stompboxtober 4: Dwarfcraft
October 20, 2013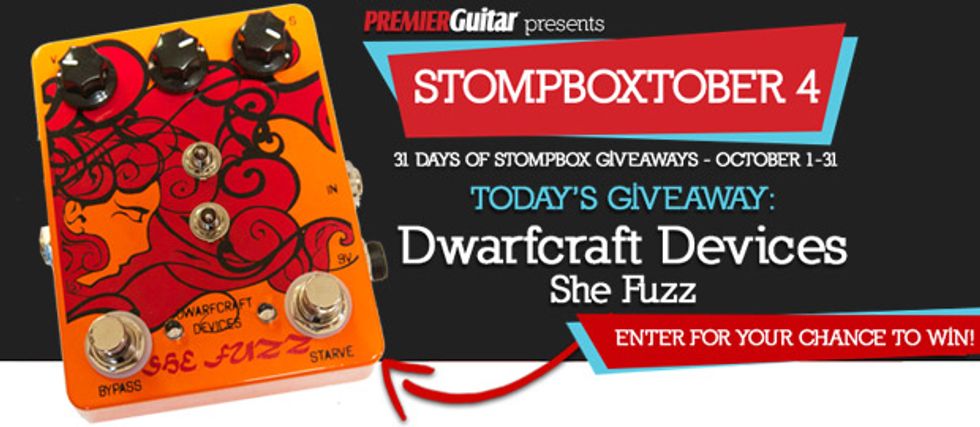 CLICK HERE TO ENTER.

Enter for your chance to win the Dwarfcraft Devices She Fuzz. Total retail value: $200. Giveaway ends October 21, 2013. Open to all territories except where prohibited by law.

She Fuzz
The Dwarfcraft Devices She Fuzz is not simply a roaring fuzz pedal. It will give you unexpected and startling octave up fuzz, squelches, squeals, and grinds, as well as sick and profound oscillations. The She Fuzz is not your typical fuzz pedal. It will produce sounds that no other fuzz, distortion, or reverb pedal can match. The She Fuzz will provide you with random musical happenings that are outside of the predictable tones of other fuzz pedals. This will give you some face-peeling results that will astonish and make your guts feel completely unsettled and queasy. The She Fuzz will go from beefy and articulate fuzz for crunching power chords to splatty octave up fuzz tones. The real kicker of the She Fuzz is its squeals, motorboats, and sub-octave madness that can come out of this handmade pedal. Wow. If you need some real sonic experimentation, then the Dwarfcraft Devices She Fuzz is a pedal you must have on your board. Experiment with the controls - don't read the labels. Just start tweaking for extraordinary tones.