Stompboxtober 4: Bearfoot FX
October 27, 2013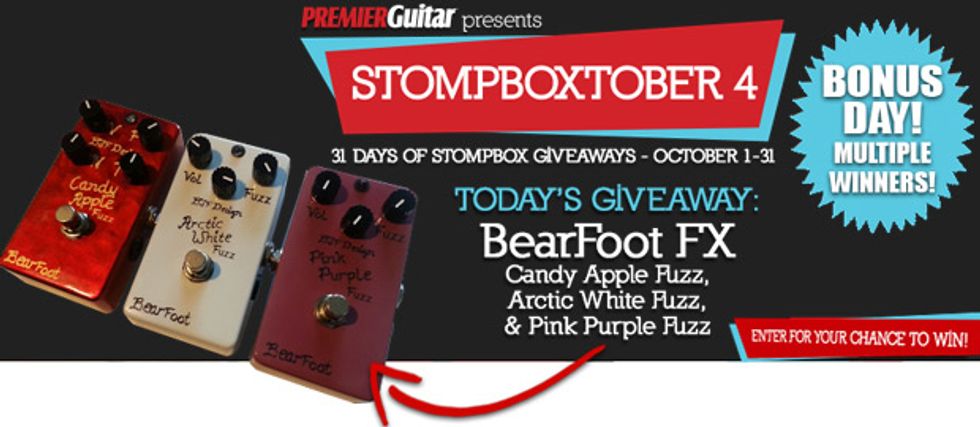 CLICK HERE TO ENTER.

Enter for you chance win a Arctic White Fuzz, Candy Apple Fuzz, or Pink Purple Fuzz from Bearfoot FX. Giveaway ends October 28, 2013. Open to all territories except where prohibited by law.

Arctic White Fuzz
Another favorite from the BJFe research program ... The Arctic White fuzz purrrs like a snow leopard at lower levels and attacks with full vintage growl when pushed ... this is the most straight forward of the BearFoot fuzzes ... vintage in sound and feel with its own voice and personality.... and its a great recording fuzz as Bjorn wiped out the backround noise found in most fuzzes ... Volume Level - Fuzz Level and Tone control with just the right amount of treble control to match the Arctic to your little piece of the tundra ... and your Honey Bees new best friend.
Voltage Range 8v -18v
MSRP: $222

Candy Apple Fuzz
The Candy Apple Fuzz is about as versatile a germanium hybrid fuzz as I can imagine. It has huge amounts of gnarly raspy chainsaw fuzz available - but thanks to the range of the fuzz and nature and the new treble control it comes all the way down to a tasty, dynamic, edge of dirt fuzz. It also has the best Octave Ive heard of any fuzz - it literally tracks the entire neck from a dropped D - D all the way up and off the end of fretboard and that magic spot lies somewhere between 11 and 1 oclock on the nature knob ... you can also find the octave and turn the fuzz down and get an almost clean octave to punch into your favorite dirt pedal for a unique solo sound. This was one of Bjorns original BJFe designs (first ones were the BBOD,DRD and CAF) ... It is Germanium hybrid AND uses a regular 9v input and is almost impervious to where it is in the signal chain so it will go places and do things most other Germ based fuzzes just cant because of their design ... vintage crazy ripping germ fuzz with the convenience of LED/9v and unrestricted placement.
MSRP: $235

Pink Purple Fuzz
The Pink Purple Fuzz. Is it pink ? Is it purple ? Is it fuzz? Is it distortion ? Is it overdrive ? ... It IS the original Fuzzdrive and after 10 years as a revered BJFe model, the PPF is resurrected as a BearFoot model. Take all the fuzztones from the 60s and 70s - the crazier octaves and gates and spitty chainsaw tones are in the Candy Apple Fuzz.
The PPF houses all the useful daily fuzztones that you will immediatly know what to do with ~ Jimi to Neil to Trower to Montrose and then it also blurs the line between fuzz, distortion and overdrive all the way down to just barely gritty edgy tones ... PPF is very high gain and very low 'noise'. The Middle knob is a very versatile EQ control that will take you through a whole range of useful fuzztones. High gain - Low noise - LED - regular 9v adapter - unaffected by pedals around it ~ does not give a rats' ass where it is in the chain unlike most fuzzes.
Voltage Range 7.5v - 18v
MSRP: $222