Stompboxtober 4: Grande Finale Giveaway from Fix Pedalboards
October 31, 2013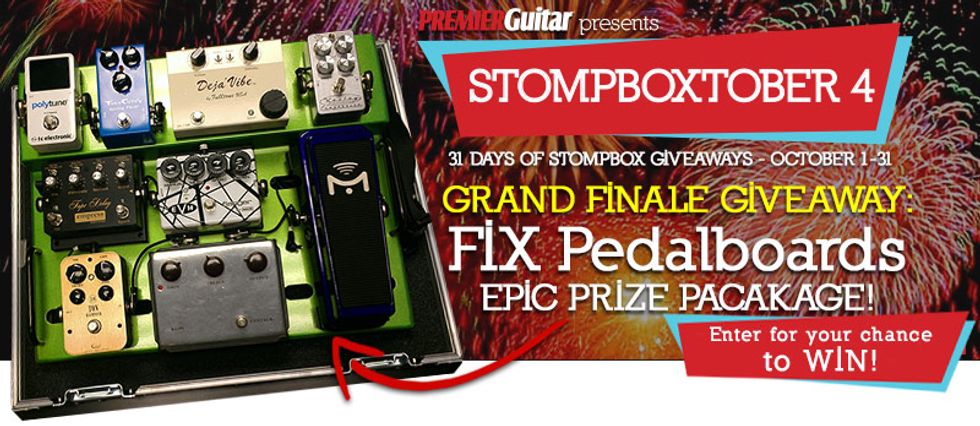 CLICK HERE TO ENTER.

Enter for your chance to win the Fix Fully Loaded Pedalboard. Total retail value: $4,232.18. Giveaway ends November 1, 2013. Open to all territories except where prohibited by law.

Fix Pedalboard Argon Prototype pedal board in Payday Green. The board features space for 8 pedals plus a wah as well as a standard IEC power input. Also included are 4 1/4" jacks so the board can be wired in both mono and stereo (this one is wired mono) plus an extra for a foots itch/expression pedal, etc. It also come with a prewired standard 120v outlet in case you want to plug in an additional wall wart or anything else that might need standard AC.
The signal chain in order is:
Keeley 4 Knob Compressor
Mission Engineering Rewah Pro
Klon Centaur Overdrive
Rockett Pedals 10 Ton Hammer Distortion
Fulltone Mini Deja Vibe
MXR EVH Flanger
Empress Tape Delay
Tone Candy Spring Fever Reverb
TC Electronics Polytune 2
All connected with Lava Mini Soar Cable soldered to black Lava 229 plugs
Powered by a G-Labs PB-1 power supply plus an addition One control Distro
for added power to expand the board.

MSRP: over $4,000 package