PG Giveaways: Moog Minifoogers
October 14, 2013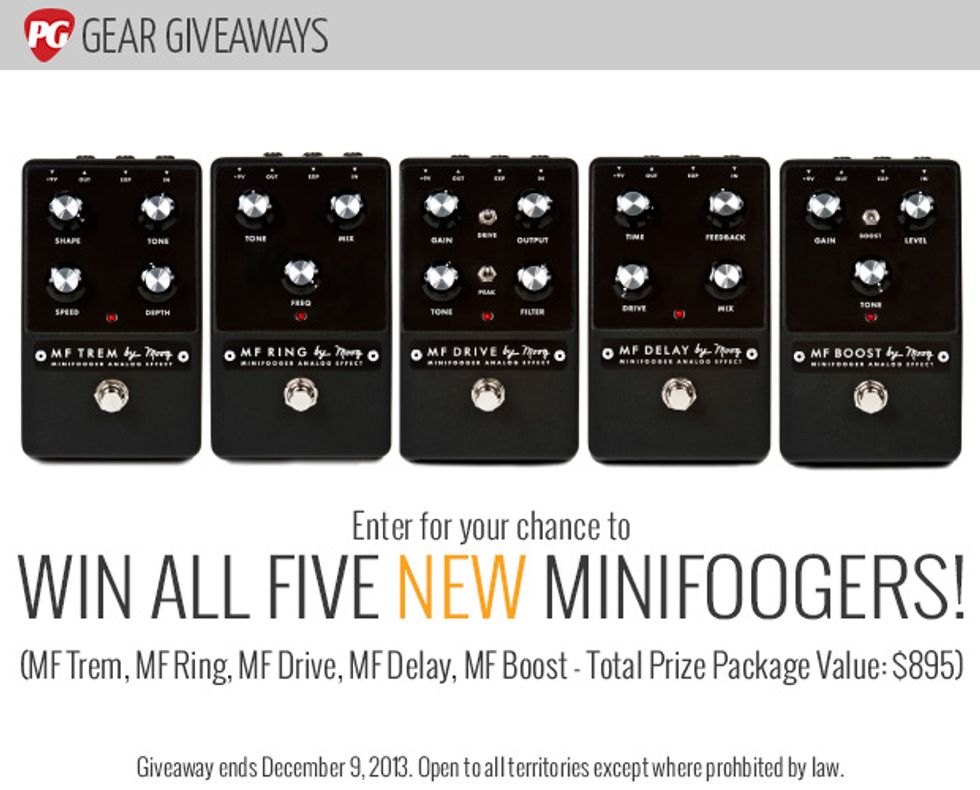 CLICK HERE TO ENTER.


Enter for your chance to win the Moog Minifoogers. Total retail value $895. Giveaway ends December 9, 2013. Open to all territories except where prohibited by law.

MINIFOOGERS
• 100% Analog
• True bypass
• Low noise
• No negative impact on your guitar tone
• Dedicated expression input
• Easy to use – incredibly deep
MF BOOST – MSRP: $149
The MF Boost is an expression-equipped VCA-Boost pedal with two selectable signal paths – Clean VCA boost for articulate tonal enhancement and Colored OTA boost for classic tube and clipped gain. This unique pedal conjures the responsiveness and tone of a boutique amplifier from any guitar and amplifier combination. The added expression input allows the MF Boost to be used as a tone enhancing volume pedal or sweepable-gain boost pedal.
MF DRIVE – MSRP: $179
The MF Drive is a two stage filter overdrive pedal that employs classic OTA's and a Ladder Filter, giving it an extremely natural tube amp sound that is highly reactive to playing dynamics. The LP/MID/HP tone-control works directly with the filter conjure a massive selection of customizable sounds ranging from sweet British amp breakup to completely cranked American tube drive, and even mild fuzz. A Peak switch boosts harmonic content at the filter, while the expression pedal input provides control of the filter unlocking dirty wah effects and performance possibilities not found in any other drive pedal.
MF TREM – MSRP: $189
The MF Trem is a wide-range analog tremolo pedal that employs an OTA-based balanced modulator circuit and Sub Audio VCO to generate a wide palette of rich tremolo effects based on phase. This unique design allows the MF Trem to create classic-optical and hard tremolo effects that are reactive to harmonic content, while also moving into rotary effects and the beginnings of phase and chorus. Its variable Shape control interacts directly with Tone and Mix creating subtle swells and gallops to percussive and swirling effects. The expression pedal input adds external control of speed for hands-free swells and rotary effects.
MF DELAY – MSRP: $219
The MF Delay is an all-analog delay pedal that delivers up to 700ms of rich, blooming repeats. At shorter settings, the MF Delay is fast and articulate – perfect for slap back echo and plate-style reverbs, while increasing the time subtly warms the delay trails causing sounds to move and decay naturally under each new. The drive function opens up a new world. The expression pedal input is assignable to Time for chorus, tape delay, and pitch shifting or Feedback for swells, feedback loops, and expressive delay trails.
MF RING – MSRP: $159
The MF Ring is an analog ring modulator that is based on the best selling Ring Mod in the world, the Moogerfooger MF-102. Its unique effected-tone voicing circuit adds a new dimension of sound creation capabilities to ring modulation, making it easy to dial in everything from octave scales and subtle undertones to robotic insanity. The expression pedal input opens up hands-free control of the rate control for sound sweeps and whammy effects. Unlike other ring modulation pedals, the MF Ring can also be battery powered.