PG Perks: Exclusive Metalocalypse/Dunlop Rig
October 25, 2013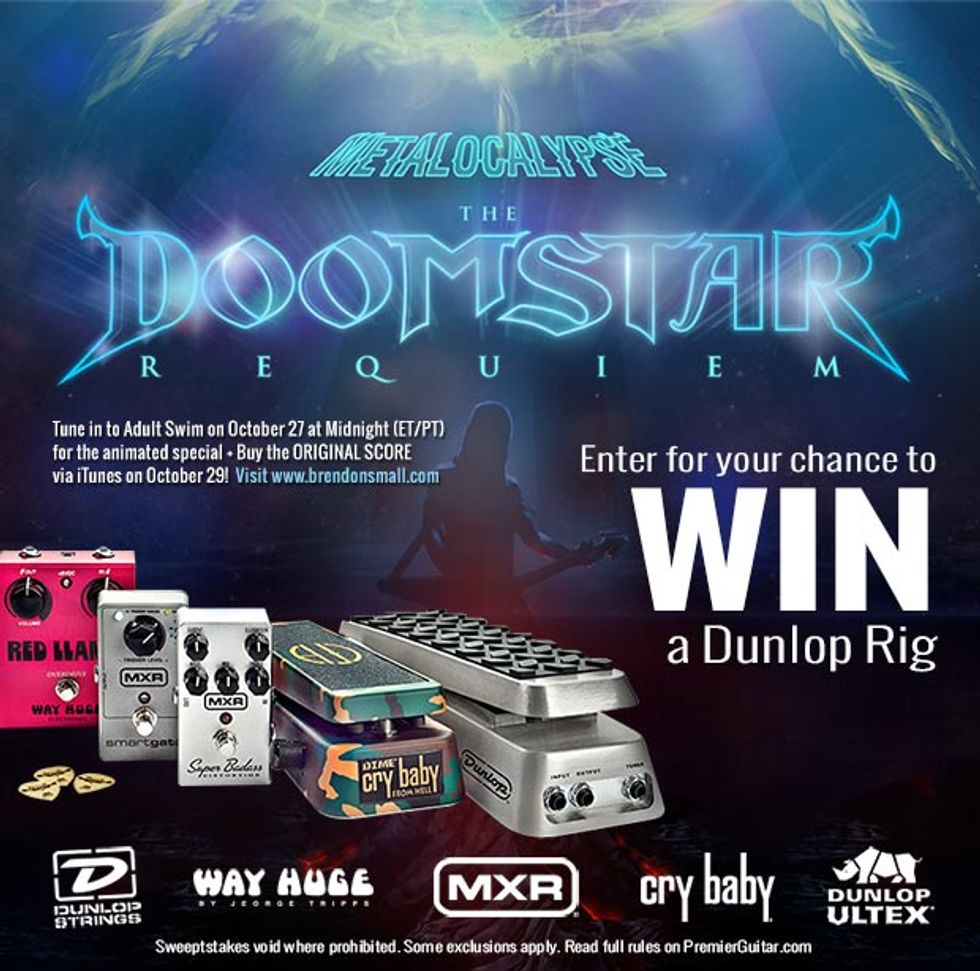 CLICK HERE TO ENTER.
Enter for your chance to win a Metalocalypse/Dunlop rig! Ends November 8, 2013. Read official rules.
This Sunday, October 27 at Midnight (ET/PT), Adult Swim will air the highly-anticipated, animated one-hour special, METALOCALYPSE: the DOOMSTAR REQUIEM A KLOK OPERA. In conjunction with the special, DETHKLOK mastermind Brendon Small is releasing the ORIGINAL SCORE from METALOCALYPSE: the DOOMSTAR REQUIEM A KLOK OPERA as a full-length album on October 29, 2013 via iTunes. And this isn't just your average metal record— this is full blown musical featuring a fifty-piece orchestra, containing orchestral movements produced by Brendon Small and Emmy winning composer Bear McCreary (Battlestar Galactica/Walking Dead).

This once-in-a-lifetime DETHKLOK TV special includes very special guests Jack Black, Mark Hamill, Malcolm McDowell, and Cannibal Corpse's George "Corpsegrinder" Fisher. Plus— the soundtrack features the musical prowess of long-time DETHKLOK instrumentalists Gene Hoglan (DETHKLOK/STRAPPING YOUNG LAD/TESTAMENT), bassist Bryan Beller (DETHKLOK/THE ARISTOCRATS/ JOE SATRIANI), and Mike Keneally (DETHKLOK/FRANK ZAPPA/JOE SATRIANI).
The deluxe edition of the original score soundtrack will include and exclusive bonus "making of" featurette with Executive Producer/creator/writer/musician Brendon Small and cast/musicians, available only via www.brendonsmall.com.

Prize Package:
1 MXR M135 Smart Gate
1 MXR M75 Super Badass Distortion
1 Way Huge Red Llama Overdrive
1 Dunlop DVP-1 Volume Pedal
1 Dunlop DB-01 Dime Cry Baby From Hell
1 Box Dunlop Strings (winner's choice of type and gauge)
1 Dunlop Guitar Strap (winner's choice of style)
1 Set Dunlop Straplok Strap Retainer System (winner's choice of type)

METALOCALYPSE is TM &© 2013 Cartoon Network