PG Giveaways: AXL USA/VHT Amplifiers
November 11, 2013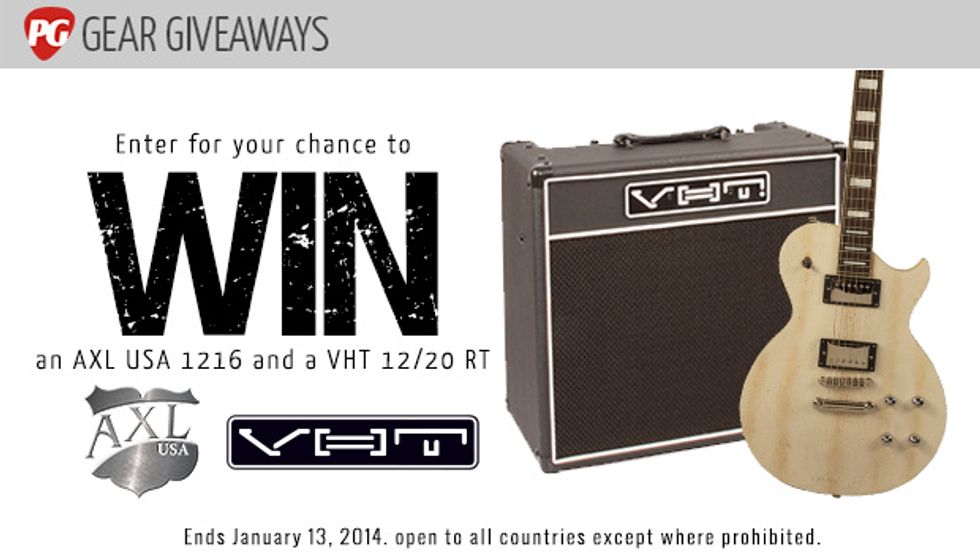 CLICK HERE TO ENTER.


Enter for your chance to win an AXL USA 1216 and a VHT 12/20RT. Total retail value $1,533.98. Giveaway ends January 13, 2014. Open to all territories except where prohibited by law. Click here to read the official rules.

The AXL USA 1216 Classic - MSRP $533.99
The AXL USA 1216 Classic is assembled by hand in Hayward, CA, and features AXL Alnico pickups on a solid mahogany body with set neck. Under the hood, CTS pots are connected by cloth-covered wire.
Our Nashville Style Tune-O-Matic Bridge and tailpiece help get the most tone and sustain possible, and we hand press every fret with Jescar Medium Jumbo fretwire; we level and dress them for flawless playing in any register. Add features like Grover Rotomatic tuners, , Orange Drop capacitors, Graphtech Tusq nut, D'Addario EXL Strings and a vintage hardshell case, and this guitar is 100% stage ready right out of the box.

The VHT Special 12/20RT Hand-wired tube amplifier - MSRP $999.99
The VHT Special 12/20RT adds tube-driven spring reverb and tube tremolo to the Special 12/20 platform. The 12/20RT features two power ranges with an adjustable Watts control plus a Pentode/Triode switch, a unique preamp designed to excel with pedals and multi-effects units, and an all-tube buffered effects loop with send and return level controls. It also features VHT's unique Depth and Texture controls, a convenient built-in 9-volt DC pedal power supply, and an international mains voltage selector switch.
To optimize the amp for a wide variety of output tubes, the VHT Special 12/20RT offers two output-power ranges; a special voltage range switch provides the proper voltages for 6V6 or EL84 output tubes (in 12-watt low-voltage/low-power mode). The high voltage 20-watt setting provides the ideal voltages for higher-power 6L6 or EL34 output tubes. The Special 12/20RT ships with a pair of 6V6 output tubes (VHT 6V6-to-EL84 socket adapters are required for operation with EL84 tubes). In addition, the Special 12/20RT's variable Watts control can reduce the maximum output power to less than one watt for whisper-quiet volume levels.
The Special 12/20RT's preamp was designed to bring the most out of every effects pedal and multi-effects unit with enhanced clarity, detail, and controlled tube compression. Its low-impedance buffered effects-loop send can effortlessly drive the most difficult pedals without tone or signal loss. Thanks to its variable send and return level controls, the 12/20RT's effects loop can accommodate a wide range of pedal or rack effects. The 12/20RT's Reverb, Tremolo, Depth and Texture controls are post effects loop, so multi-effects users can plug directly into the effect return and still benefit from the post-effects tube reverb and tremolo, while also fine-tuning the output stage characteristics with the Depth and Texture controls.
Click here to read PG's review