TC Helicon Announces VoiceLive 3
January 3, 2014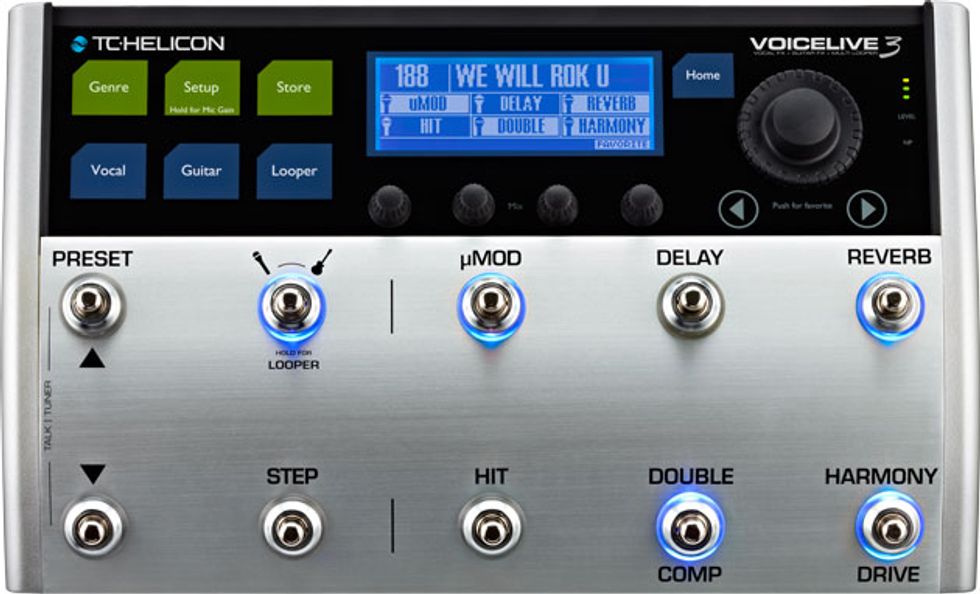 Victoria, BC (January 3, 2014) -- Since its 2004 launch, the VoiceLive series from TC-Helicon has provided singers and performers everywhere with unprecedented personal and professional control of their live vocal sound and effects. 2009 saw the release of VoiceLive 2, which fast became the #1 best-seller and set the bar for all subsequent TC-Helicon products. This year, TC-Helicon changes the game once again with the introduction of VoiceLive 3.
Going leaps and bounds beyond its predecessor, VoiceLive 3 introduces next generation hardware processing and a vocal effects path more comprehensive than anything created before. But that's not all. VoiceLive 3 also includes a complete selection of Guitar FX with stomp box styles taken directly from TC Electronic's popular range of TonePrint pedals. Add to that an innovative phrase looper ideal for song creation, loop jams, and arranging backing tracks on-the-fly (or at home) and you've got an incredible 3-in-1 powerhouse for singers and instrumentalists alike.
Vocals Galore
VoiceLive 3 is a true labor of love. With a mind-blowing vocal effects path more comprehensive than anything out there – featuring 11 independent effects blocks, over 180 different styles, and 250 factory presets available right out of the box (and 1000+ more available for free download) – VoiceLive 3 represents the absolute pinnacle of singer's technology.
NEW! Exciting new Harmony modes – Pedal, Fixed, and Mixed-Mode – for expanded voicing and musical possibilities.
NEW! Authentic Vocoder with voice-controlled polyphonic synth and robot modes allow singers to play their voice like an instrument.
Automatically and professionally produced vocal sound with enhanced Adaptive Tone.
Improved suite of TC-Helicon's renowned vocal effects, e.g. Doubling, Harmony, Echo, Reverb, HardTune, Flanger, Chopper, Choir, and more. Upgrades include new delay filters, new HardTune styles, better sounding doubling and even more realistic harmonies.
250 factory presets, with onboard storage for 500 presets in total. Download and manage more presets via TC-Helicon's free VoiceSupport app.

$799.99 US Estimated Price / £669 UK SSP / €799 EU SSP

For more information:
TC Helicon