PG Giveaways: Roll Like a Rockstar
January 13, 2014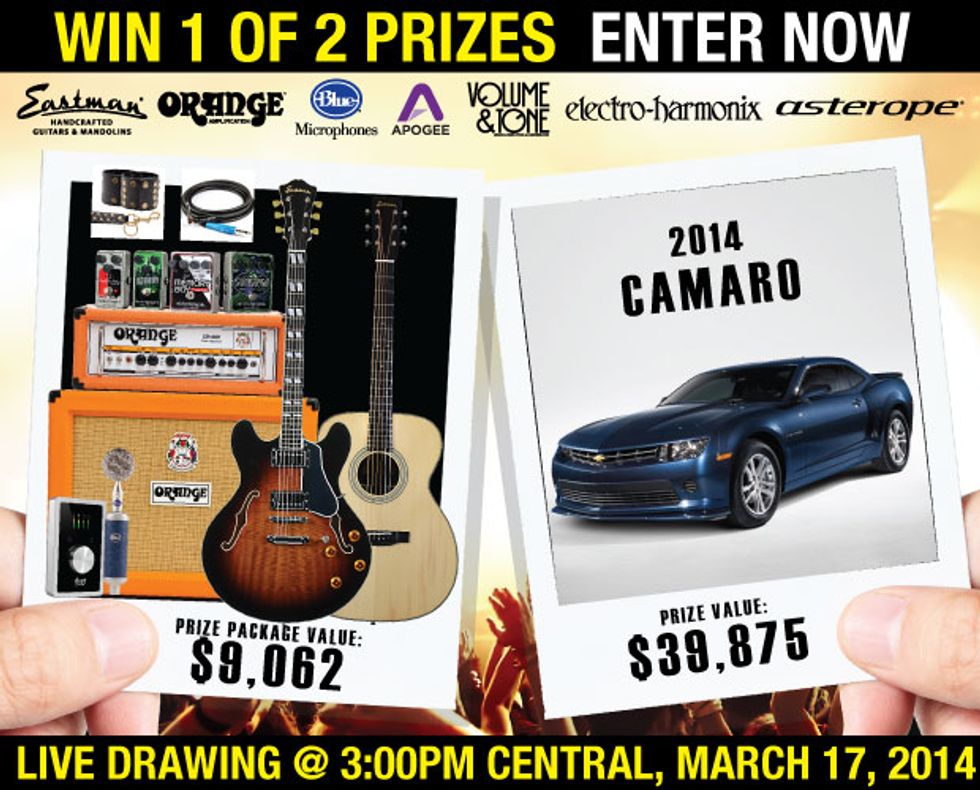 CLICK HERE TO ENTER.

Enter for your chance to win the Roll Like a Rockstar Giveaway. Total retail value $9,062 or $39,875. Giveaway ends March 17, 2014.

In this draw til you win contest, the winner will be guaranteed to win the gear, but will have an additional chance to win the Camaro RS 1LT.
Open to all territories except where prohibited by law. Click here to read the official rules.



1 winner will recieve the Eastman Guitars Fully Loaded Rig (described below), and possibly the 2014 Camaro RS 1LT via live drawing at 3:00PM Central, March 17,2014.
Fully-Loaded Rig contains the following:
Eastman Guitars:
T486-SB - Value: $1,250
E20OME - Value: $1,500
Orange Amps:
CR120H Guitar Head - Value: $599
PPC212 Open Back cab - Value: $829
Blue Microphones:
Bottle Rocket Stage 1 Microphone - Value: $999
Apogee Digital:
Duet for iPad and Mac - Value: $649
Electro-Harmonix:
Hot Tubes Overdrive - Value: $77.38
East River Drive Overdrive - Value:$77.38
Superego Synth Engine - Value: $283.66
Memory Boy Analog Echo/Chorus/Vibrato - Value:$177.02
Asterope:
2 - AST-B20-SSN Black 20' Straight to Straight Nickel - Value: $119.95 each
3 - AST-B01-RRN Black 1' Right to Right Nickel - Value: $69.95
Volume & Tone Guitar straps and Leathergoods:
"11" Cuff in Black and Brown - Value: $75 Each
"11"Cuff with Studs - Value: $95
The Iggy Key Fob - Value: $45
The Magnum Strap - Value: $95
The Signature Strap - Value:$110
The Signature Strap with Grommets - Value: $130
The Standard Strap in Chocolate Leather - Value: $95
Total Prize Value: $9,062
Winner may also recieve:
2014 Camaro RS 1LT - Value: $39,875

See the official rules for details.