PG Giveaways: Sweetwater's Guitars and Gear Giveaway
February 4, 2014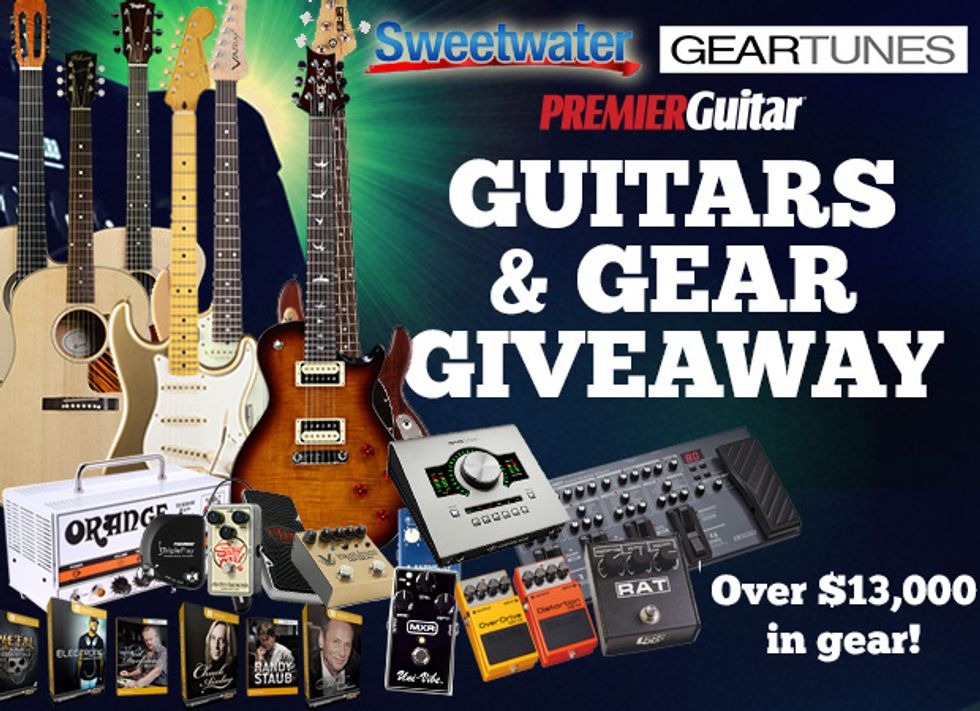 CLICK HERE TO ENTER.

Enter for your chance to be one of 23 winners of the Guitars and Gear Giveaway listed below. One piece of gear per winner. Total retail value Over $13,000. Giveaway ends March 31, 2014. Open to all territories except where prohibited by law. Click here to read the official rules.


Toon Track EZmix 2 Metal Bundle: $299.99
Native Mixing Plug-in with Presets for Drums, Vocals, Guitars,
Basses, and Keyboard.
Toon Track EZmix 2 Top Producers 6-Pack: $169.99
Expansion Pack Bundle for EZmix 2 with Four Packs from Top
Producer/Engineers plus Additional Mixing and Mastering Tools
Electro-Harmonix Soul Food: $83.74
Overdrive Pedal for Electric Guitar with Volume, Drive, and
Treble Controls.
Electro-Harmonix Slammi: $191.66
Polyphonic Pitch Shifter Pedal for Guitar, with 3-octave Bend
Range.
Squier 60th Anniversary Classic Vibe '50s Strat: $599.99
Solidbody Electric Guitar with Alder Body, Maple Neck and Fretboard, and 3 Single-coil Pickups - Aztec Gold.
Orange Terror Bass 500: $1,139.00
500-watt Lunchbox-size Hybrid Bass Amplifier Head with 12ax7 Preamp Section and Lightweight Class D Power Amp Section.
Taylor 114e Grand Auditorium acoustic: $998.00
6-string Acoustic Electric Guitar with Sitka Spruce Top, Sapele
Back and Sides, and ES-T Pickup System - Grand Auditorium.
Visual Sound Tap Delay pedal: $252.00
Single-tap Delay Guitar Effects Pedal with Tap Tempo Control, Modulation, and Several Tone-shaping Tools.
Boss DS-1X: $243.50
Guitar Distortion Stompbox Effect with MDP (Multi-Dimensional Processing) to Ensure Quality Performance Across the
Fretboard.
Boss OD-1X: $243.50
Guitar Overdrive Stompbox Effect with MDP (Multi-Dimensional Processing).
Boss ME-80: $418.50
Guitar Multi-effects Floor Processor with Delay, Distortion, Modulation, and Compression Effects, Looping, Eight Footswitches,
and an Expression Pedal.
Paul Reed Smith SE 245 Tobacco Burst: $1,000.00
Solidbody Electric Guitar with Mahogany Body and Neck,
Rosewood Fingerboard, Two Humbucking Pickups, and Gig
Bag - Tobacco Sunburst.
Line 6 James Tyler Variax 69S - Shoreline Gold: $1,999.99
James Tyler-designed Modeling Electric Guitar with Bolt-on
Maple Neck, Alder Body, 3 Single-coil Pickups, and Switchable Models and Tunings - Shoreline Gold.
Universal Audio Apollo Twin Duo: $1,129
10 x 6 Thunderbolt Audio Interface with UAD-2 DUO DSP, 2 x
Unison Preamps, and Realtime Analog Classics Plug-in Bundle - Mac.
Cordoba Orchestra SP Guitar: $650.00
6-string Acoustic Nylon-string Classical Guitar with Indian Rosewood Back and Sides, European Spruce Top, Mahogany Neck, Rosewood Fretboard, and Gig Bag - Gloss Finish.
Gator Cases New Journeyman Dreadnought case: $189.99
Hardshell Case for Dreadnought Acoustic Guitar with Plywood Construction and Plush-lined Foam Interior.
Pro Co Either a RAT or FAT RAT distortion pedal: $134.99
Guitar Effects Pedal w/Distortion, Sustain, Fuzz & Overdrive.
TC Helicon Harmony Singer Pedal: $275.00
Vocal Processing Pedal with up to Two Harmony Voices, Tone Control, and Reverb.
Sterling by Music Man Ray4 SUB Bass: $398.00
A solid 4-string with amazing tone shaping, a loud humbucking pickup, and quality construction.
Gibson Acoustic J35 Acoustic Guitar: $2,190.00
6-string Acoustic-electric Guitar with Spruce Top, Mahogany Back and Sides, Rosewood Fingerboard, Onboard Electronics, and Hard Case - Natural
Dunlop MXR Uni-Vibe: $185.70
The MXR Uni-Vibe Chorus/Vibrato comes in a Phase 90-sized housing—a fraction of the size and weight of the original
Uni-Vibe pedal—and features true bypass switching. Perfect for taking this lush, swirly pedal out on the road.
Fishman Triple Play: $615.31
Wireless MIDI Guitar Pickup System for Electric Guitar with Hexaphonic Pickup, Wireless Transmitter, Wireless USB Receiver, and Software Bundle - Mac/PC.
Two Notes Torpedo Wall of Sound III Plug-in for PC/MAC: $299
Advanced Power-Amp / Cabinet / Microphone Simulator Plug-in for your DAW.