PG Giveaways: Source Audio Fully-Loaded Pedalboard
March 17, 2014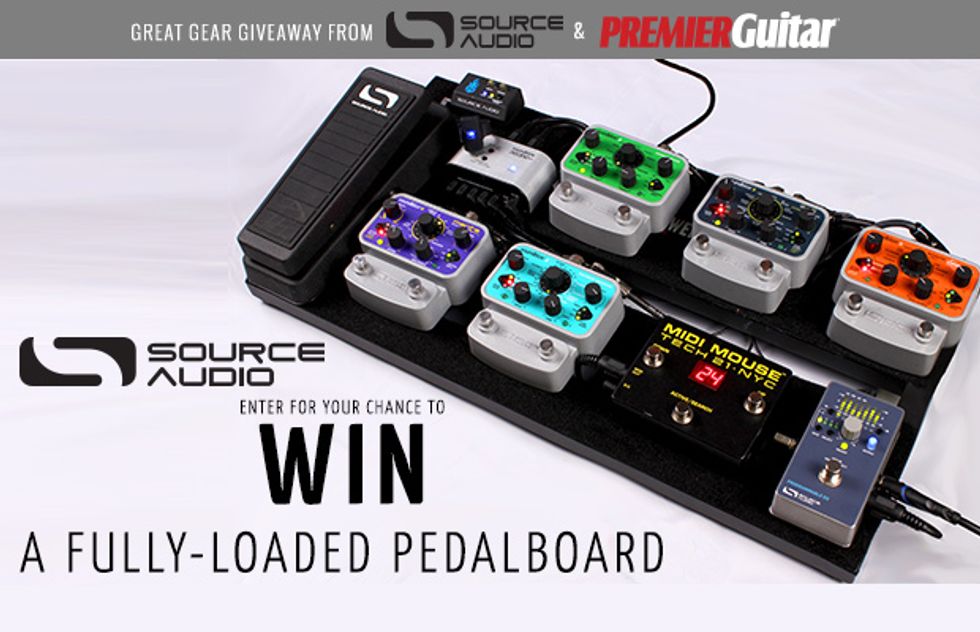 CLICK HERE TO ENTER.
Enter for your chance to win the Fully Loaded Pedalboard from Source Audio. Total retail value $2,661.00. Giveaway ends May 19, 2014. Open to all territories except where prohibited by law. Click here to read the full rules.

Source Audio is giving away a fully loaded MIDI controlled guitar effects pedalboard. The board contains the full line of Source Audio Soundblox 2 guitar effects pedals. It offers 36 types of distortion, overdrive, and fuzz (Soundblox 2 Multiwave Distortion and SB2 OFD Guitar microModeler), 12 filter effects (SB2 Manta Bass Filter), 3 chorus effects, 5 flanger effects, 5 phaser effects, tremolo, (SB2 Orbital Modulator) and 12 reverb and echo effects (SB2 Dimension Reverb). Each Soundblox 2 pedal has external expression capabilities via the Source Audio Dual Expression Pedal and the Hot Hand 3 Universal Wireless Effects Controller. The board also contains the Source Audio Programmable EQ, which offers 4 programmable presets with 8 adjustable frequency bands and 12 dB of output cut or boost.
The entire board has the capacity to save up to 128 mutli-pedal presets (i.e. "scenes") via a Tech 21 MIDI Mouse and the amazing Soundblox Hub v1. The Soundblox Hub v1 unites all your Soundblox 2 pedals into a thoroughly integrated multi-pedal system. Simply dial in your Soundblox 2 effects as you would any fully loaded pedalboard, hit SAVE on the Hub and your pedal settings are captured! Enjoy the power of one-step scene recall without the headache of navigating a complicated multi-effects processor.
The entire system is mounted on a Pedaltrain PT-1-HC Pedalboard (with case) and powered by a Voodoo Lab Pedal Power 2 Plus Universal Power Supply.

Pedals:
1. SA115 - Hot Hand 3 Universal Wireless Effects Controller (MSRP - $209)
2. SA161 – Source Audio Dual Expression Pedal (MSRP - $149)
3. SA164 – Soundblox Hub v1. (MSRP - $150)
4. SA170 – Source Audio Programmable EQ (MSRP - $209)
5. SA220 – Soundblox 2 Multiwave Distortion (MSRP - $249)
6. SA223 – Soundblox 2 Manta Bass Filter (MSRP - $249)
7. SA225 – Soundblox 2 Dimension Reverb (MSRP - $269)
8. SA226 – Soundblox 2 Orbital Modulator (MSRP - $249)
9. SA227 – Soundblox 2 OFD Guitar microModeler (MSRP - $249)
10. Pedaltrain PT-1-HC Pedalboard with Case (MSRP - $199)
11. Voodoo Lab Pedal Power 2 Plus Universal Power Supply (MSRP - $240)
12. Tech 21 MIDI Mouse (MSRP - $150)
13. 5 Instrument Connector Cables (MSRP - $60)
14. 2 MIDI Cables (MSRP - $30)
Total MSRP - $2,661.00