PG Giveaways: Schecter Custom Shop Pickups
August 18, 2014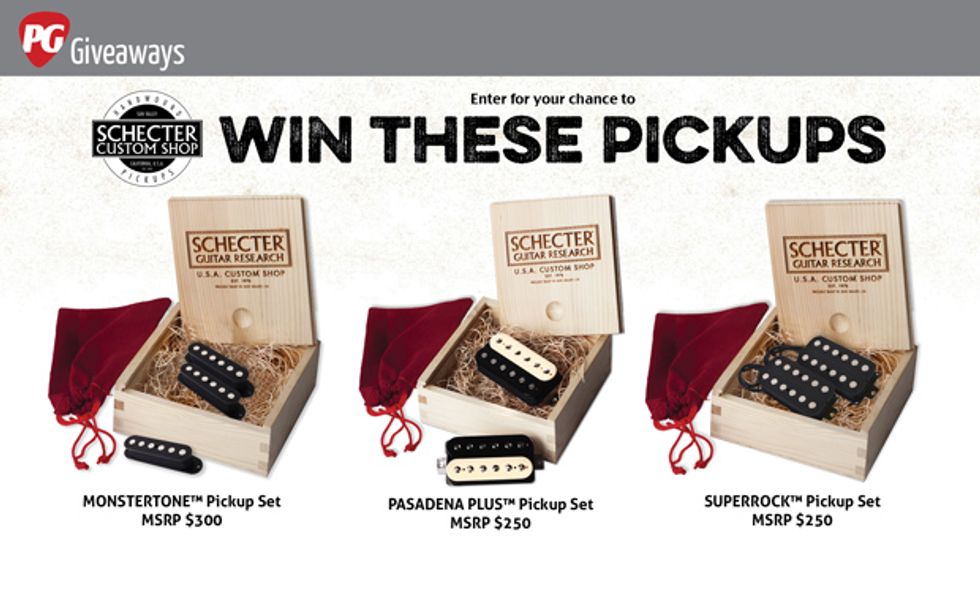 CLICK HERE TO ENTER.

Enter for your chance to win the Monstertone™,Pasadena plus/Pasadena™, or SuperRock™ pickup set from Schecter Custom Shop. Three winners will receive one set of pickups. Combined total retail value :$800. Giveaway ends October 20, 2014. Open to all territories except where prohibited by law. Click here to read the official rules.

SuperRock™ set - MSRP: $250
Big and open, SuperRock pickups embody the look and sound of Schecter Custom- Shop instruments. While delivering a unique musical and articulate tone, even the most complex of chords ring true. Running clean or distorted, and with the option of being coil-split, these pickups offer thick, clean and organic tonality, while also giving the choice of that chimey single-coil cut.
Pasadena plus/Pasadena™ - MSRP: 250
When bite meets crunch. Our Pasadena plus pickup, originally wound for Avenged Sevenfolds Zacky Vengeance, is the perfect compliment to our Pasadena pickup. While the Pasadena offers that classic output of heavy lows, beautiful articulation and punchy dynamics, the Pasadena Plus amplifies that. Allowing for a beautiful union of rich rhythm and scorching leads.
Monstertone™ set - MSRP: 300
This calibrated single coil set is the crème de la crème. While each pickup has a tapped design, your middle pickup is reverse wound with reverse polarity, allowing for TRUE hum cancelling in positions 2 and 4. Running the gamut of bright and crunchy in positions 1,3 and 5 to warm and round in 2 and 4, these pickups can fit any genre in any atmosphere and should be your go to set.