The Building of Peavey's PG/Dallas International Guitar Festival Custom Guitar
April 12, 2007

THIRTY YEARS AGO, the inaugural Dallas International Guitar Festival got underway in a Texas hotel basement. Meanwhile, Peavey founder and innovator Hartley Peavey was busy refining his first guitar, the revolutionary T-60.

As the first guitar made using CNC machinery, the Peavey T-60 bridged the gap between the vintage and modern eras in guitars. Hartley Peavey wanted to build instruments that feel as good as they sound. The problem with pre-CNC guitars, he maintains today, is that consistency among instruments was always an afterthought. You never knew what you were going to get.

So when Peavey launched its new Custom Shop earlier this year, we knew it would be an event. We stepped into the Peavey Custom Shop with an experienced group of luthiers to collaborate on a commemorative model of its HP Special guitar for the 30th anniversary of the Dallas International Guitar Festival. That this event coincides with another major milestone in guitars is mere serendipity.
Wood Selection and CNC
The Peavey HP Special guitar is an exercise in precision and expertise that can achieve a healthy range of humbucker and single-coil tones. It's also a model of craftsmanship – a combination of the machine precision, thoughtful design and hand finishing that Peavey brought to guitar making thirty years ago.

As all great instruments begin with a premium cut of wood, for our commemorative guitar Peavey hand-selected a basswood body with a Birdseye maple neck and premium ebony fretboard from its extensive collection of domestic and exotic woods.

---

Hand Detailing
In the modern era of guitar making, the craftsmanship is all in the details. Hand-operated pin routing carves the bay for the body binding. Then, using a high-grade epoxy, the builder carefully sets the binding by hand, helping achieve the striking, professionally appointed look and feel.

---

Fretting
The first neck cut is made by a CNC router to make room for the truss rod and dual reinforcement rods, specially made of graphite to strengthen and add rigidity to the Birdseye maple neck. Peavey adds these supports prior to shaping the neck so it doesn't bow in the building process. During this step, Peavey also adds its trademark neck shape, a distinctive asymmetrical neck curve with compound-radius fretboard that adds additional comfort and playability.

---

Crowning and Filing Frets
Design experience and genuine craftsmanship come together to shape the fretboard into a comfortable sonic palette. The builder uses a hardened stainless-steel straight edge to level the frets to the proper playing height, then crowns them to a perfect shape. One last round of hand sanding and buffing around the neck and fretboard ensures the finish is flawless.




---

Logo Placement
Meanwhile, the guitar body is base-coated and prepped for decal application. The artisans in the Peavey shop were painstakingly accurate with the detailing of the Dallas International Guitar Festival and Premier Guitar logos. They chose to set the red, black and white logos against an ivory palette to make them pop off the guitar nicely

---

Gloss Coating and Buffing
Once our commemorative guitar gets a top coat, it's ready for a three-stage sanding process that goes all the way down to a 15- micron paper to achieve an ultra-smooth finish. For reference, a single micron equals one millionth of a meter! Buffing refines the sheen and deep, creamy gloss of the ivory finish.

---




Guitar and Electronics Assembly
In the setup stage, Peavey installs its custom-voiced pickups, which they wind in-house to match the guitars in their line. These HP Special pickups are wound using two different wire gauges so you get a true single-coil tone when you use a coil tap – a stock feature on all HP Special USA models. Tremolo adjustments, stringing and intonation are also integral parts of the setup process.

---




Final Inspection
The Peavey Quality Assurance Team tests every instrument built in the Peavey Custom Shop to ensure that it embodies the feel, tone and attention to detail prescribed by Hartley Peavey. Every nuance must exceed expectations—from the voicing of the pickups to the comfort of the asymmetrically shaped neck, and down to the gleaming luster of a lovingly built instrument.

Premier Guitar's commemorative Dallas International Guitar Festival edition of the Peavey Custom Shop HP Special guitar is certainly an expertly crafted modern classic. Like our guitar? Build your own today at peaveycustomshop.com!

---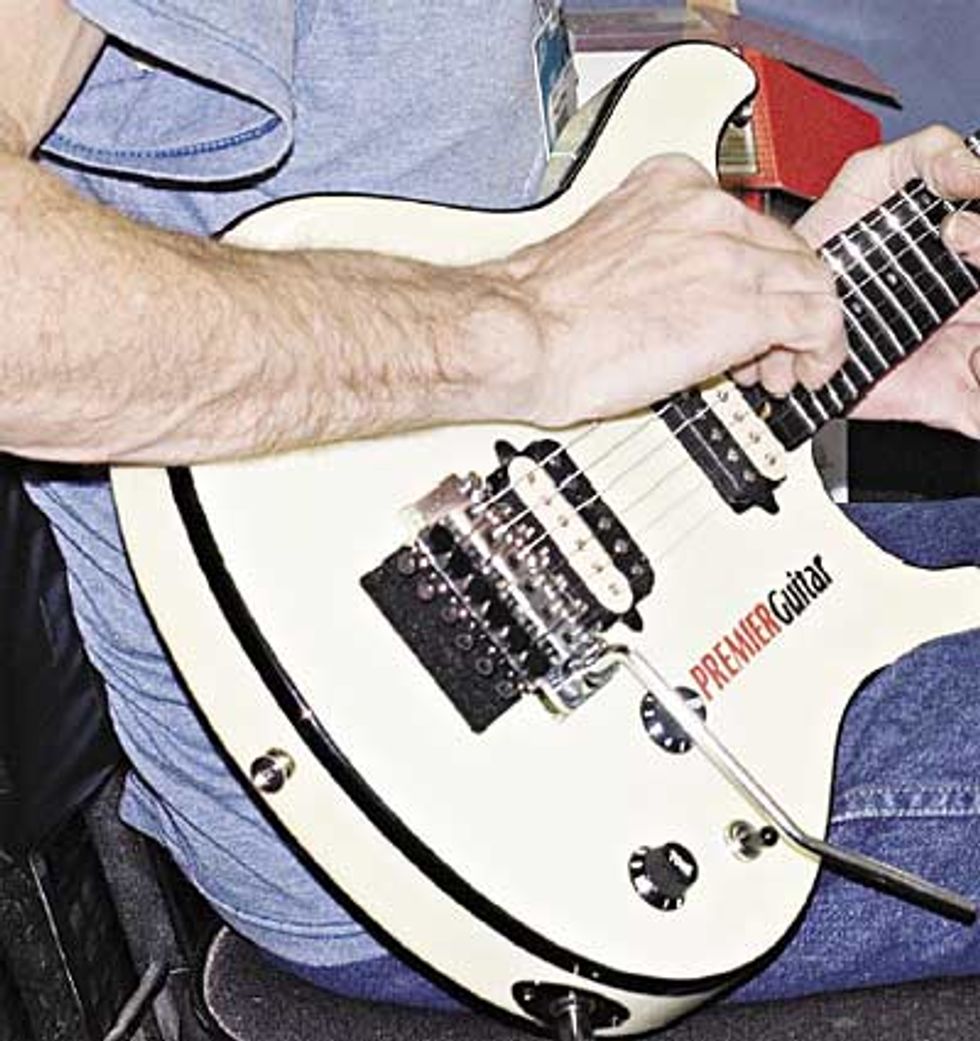 ---
Peavey
866-443-2333
peavey.com