---



O'Hagan Nightwatch Model

Hey, Zach:
Here's an oddball for you. I've had this old O'Hagan for many years (see images), having purchased it in the basement of the Guitar Madness show in Elgin, Illinois. The only thing the dealer could tell me about it was that it played as well as anything he had, and that it featured top-notch construction. It has a Les Paul Junior type of maple body with contoured routing, neckthrough design and maple fingerboard. I believe the pickups are DiMarzios, and the back of the headstock is marked "Made in USA. A Product of Jemar Corp." The serial number is A49020. This instrument is in excellent condition, plays and sounds like a dream, so any information would be appreciated, including current value.

Steve – Yankeetown, FL

---
Hi, Steve.

I hadn't seen nor heard of one of these for a while. Approximately 3,000 O'Hagan guitars were built in St. Louis Park, Minnesota (a suburb of Minneapolis) from 1979 to 1983. These instruments were distributed by the Jemar Corporation, also of St. Louis Park. Jerry O'Hagan was originally a clarinetist and music teacher. He began importing the Grande brand acoustic guitars from Japan circa 1975. In 1979 the O'Hagan Guitar Company was established to build quality, affordable solidbody guitars. Two years later the company incorporated as the Jemar Corporation, and this stenciled logo appeared on the backs of the brand's headstocks during late 1981. Because of the nationwide recession that began in 1983, and the proliferation of inexpensive guitars from the Pacific Rim countries, O'Hagan was forced into bankruptcy and its assets were auctioned off in late 1983.

Basically, four O'Hagan models were offered. The most eye-catching of them was the Shark (MSRP of $529 in 1979), which featured a rounded-off Explorer design with maple-and-walnut construction in a neck-through design. The company's most popular model was the Twenty-Two (resembling a Flying V, with an MSRP of $529 in 1980), and the Laser (a Strat-based design) was available as well.

Your O'Hagan Nightwatch model is the most common of the four, and was available as both a single- and double-cutaway Les Paul style of instrument. The images show that it has two DiMarzio humbucking pickups, a three-way selector switch, two volume knobs and one master tone control. As you've indicated, it has a three-piece maple body of neck-through construction with a 22-fret maple fingerboard, contoured/ radius heel and ebony dot inlays. The adjustable wraparound stop tailpiece with brass saddles is correct, as is the highgloss finish on the stained maple body, neck and joined headstock.

While I like the coolness factor of this guitar and its overall eye appeal, in terms of treasure it certainly isn't in the same league as other major makes and models from an era of guitar production that is typically dismal in terms of collectibility. Unfortunately, most of this guitar's current value has to do with its playability, condition and quality construction. Taking these factors into consideration, the guitar's current value is in the $450-$500 range. For comparison, a Fender Stratocaster in similarly original condition from the same time period is currently in the $1,250-$1,400 price range. Here's the good news. What else can you buy in this price range today that gets you this much quality, sound, playability and coolness without having a "Made in China" or "Made in Korea" sticker on it? So, the verdict is this: You have an affordable, semi-precious treasure!


---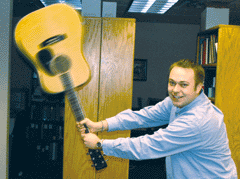 Zach Fjestad is the author of the Blue Book of Electric Guitars, Blue Book of Acoustic Guitars, and Blue Book of Guitar Amplifiers. These publications are available through Blue Book Publications. Guitar Trash or Treasure questions can be submitted to:

Blue Book Publications
Attn: Guitar Trash or Treasure
8009 34th Ave. Ste #175
Minneapolis, MN 55425
800-877-4867
www.bluebookinc.com
guitars@bluebookinc.com
Please include pictures of your guitars.