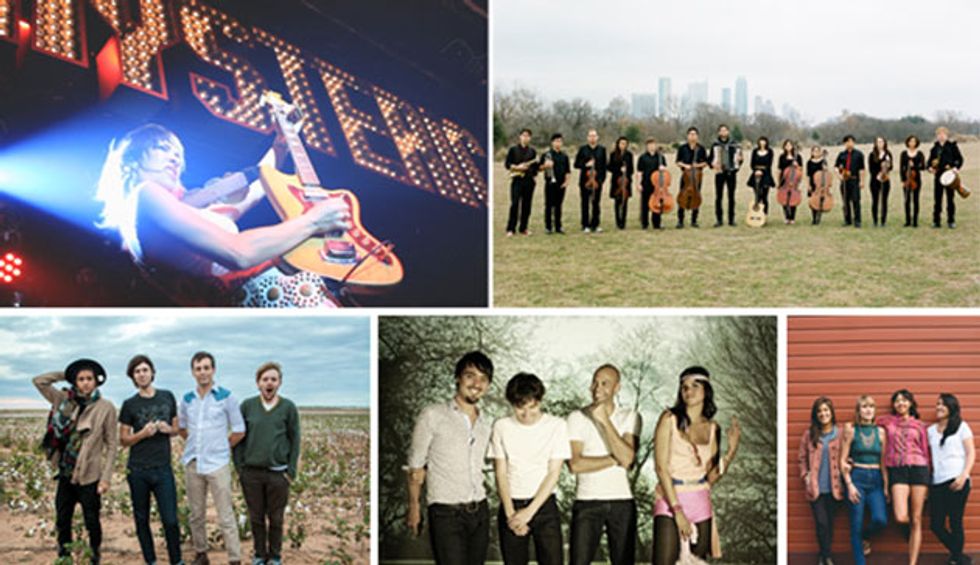 (Clockwise from top left: Carley Wolf of the Ghost Wolves, Mother Falcon, Hikes, Bomba Estéreo, and La Luz
Prior to the first South by Southwest Music Conference and Festival (SXSW) in 1987, Austin was more or less just a bigger Texas town whose honky-tonks were like those in the rest of the Lone Star State—full of bands playing 12-bar blues, ZZ Top-style rock, and various country tunes of the day. Twenty-eight years on, it's doubled in size and is touted as "The Live Music Capital of the World." SXSW has no doubt been a big part of that growth. Each year it welcomes more than 50,000 attendees, 2,000+ musical acts from scores of countries, and over $300 million in revenue, making it Austin's highest revenue-producing event. When the music portion of the festival is in full swing, as it was March 17–22, at any time of day you can walk through and find bands performing in hotels, warehouses, parks, museums, or posh theaters.
Although the unity and collaborative spirit amongst musicians and like-minded sponsors and audiences make SXSW an utterly unforgettable experience, if I had to describe the six music-filled days in three words, they'd be: expensive, exhausting, and invigorating. And that holds true whether you're an attendee or one of the musicians playing the festival. To get on the bill, you and your band need to have either already created quite a buzz in the industry—in which case you'll play a few sold-out gigs—or be like most of the official SXSW bands and perform two or three times a day for either $250 ($100 for solo acts) or a free pass to the rest of the event. Those in the latter camp go through a rigorous audition process and, if accepted, must pay their own way there—including travel, accommodations, and gear storage and handling. Total SXSW band expenditures tend to range from a few thousand dollars up to 10 grand. But for those who make the trek on their own dime, it's all worth it for the small hope of being the next big SXSW discovery.
This year, most media outlets were in a frenzy over the performances of established bands such as Spoon, the Damned, Courtney Barnett, and Angel Olsen—for very good reason, of course—but we had our eye on up-and-coming acts. It was tough to narrow down our picks, but we're confident the five bands here are ones to watch in the coming weeks, months, and years. They weren't just mind-blowingly amazing in their energetic performances—they were distinct in musicianship, tone, and execution.
---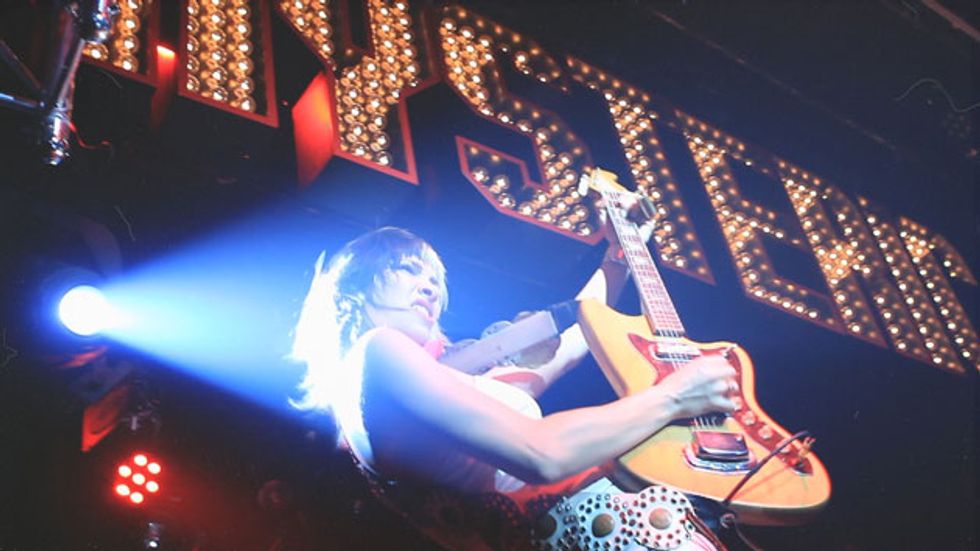 The Ghost Wolves
Before I could see who was onstage at Cheer Up Charlie's on March 18, I was sure I'd find a drummer flanked by at least two or three guitarists plugged into an assortment of distortion pedals and raging amps. But after pushing my way through the crowded room I found only guitarist/singer Carley "Carazy" Wolf and her husband, drummer/vocalist Jonathan "Little Hammer" Wolf. Wearing a white leather vest, white patent-leather pants, and white cowgirl boots that contrasted with Jonathan's all-black Western attire, Carley kicked her legs in the air, threw herself on the ground, and used her vintage Harmony Silhouette H19 and blaring amp stacks (two Music Man HD-130s driving 2x15 and 4x12 cabs) to produce some of the most corpulent, room-filling distortion I've ever heard. In fact, the Ghost Wolves revived my confidence in two-piece bands. Even when she switched to a '60s Teisco with just one string, Carley maintained a heavy low end that perfectly complemented Jonathan's vehement pounding. Although the Austin-based duo is still fairly new and has a couple of structural things to tighten up, in my book the Ghost Wolves win the award for most badass, face-melting tone.