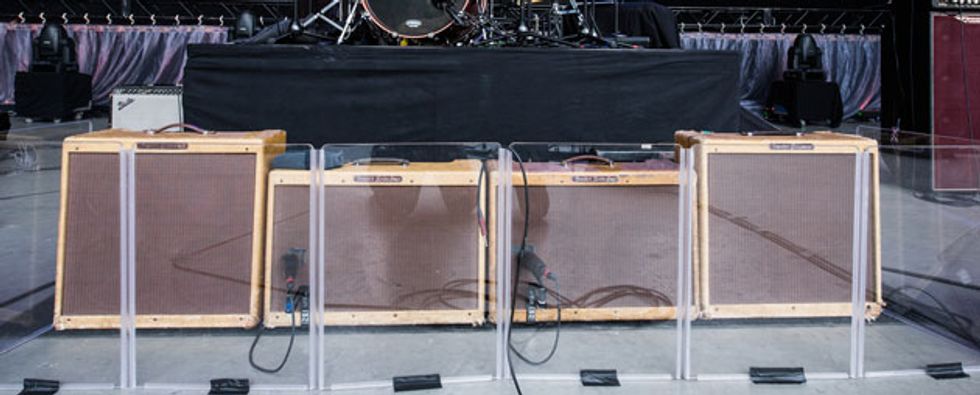 Bonamassa's arsenal of old Fender amps. Photo by Lindsey Best
Bonamassa's Three Kings amp setup ultimately comprised two 1959 Fender Twins and two Fender Bassmans (1957 and '58). "We run the volume at about 9 or so," he says, "with treble at 9, bass off, mids 9, presence 9." A Plexiglas wall isolated the amps behind Bonamassa, keeping onstage volume reasonable. Without the shield, he says, "It would be insanely loud—deafening. Back in the day, before modern P.A. technology was figured out, those guys—Freddie and Albert, and maybe B.B.—may have had some crazy stage levels. A Quad is not exactly a quiet amp." Only the two Twins were miked for the front-of-house mix.
Blues is a powerful art form, yet there's a certain intimacy to it. You'd think it would be hard to keep that sense of intimacy while playing to 5,000 or 6,000 people per night, as Bonamassa did on tour. But he maintains that size really doesn't matter: "You've got to play the same way that you would to a small club. It's that enthusiasm and the dynamic that bring it close. I learned from watching B.B. King in that type of venue. He could definitely play to the back of the room. Even in a big place, it still felt small."
YouTube It
Bonamassa tears up Albert King's "Angel of Mercy" on a 1958 Gibson Flying V.
Bonamassa wasn't the only guitarist onstage for the Three Kings tour. Just over his right shoulder was the mighty Kirk Fletcher, an L.A.-based bluesman who has backed Bonamassa on other projects as well. "Kirk," says Bonamassa, "is one of the best modern guitar players out there. He went on the last two tours with me, including our Muddy Wolf show at Red Rocks. He plays great rhythm and can also solo. Having him in the band allows me to be a singer. The Three Kings is a pretty demanding show as a singer."
Bonamassa also gives kudos to another player: Jimmy Vivino. Best known for his longtime gig leading the band on the Conan O'Brien show, Vivino is a killer guitarist with incredible knowledge of music history and guitar lore. Glancing around the Bona-seum, as he calls his collection, Bonamassa says, "There's a reason why right now I'm looking at nine Marshalls, 20 tweed Fenders, 20 brownface Fenders, and all these guitars. Jimmy got me into collecting. He also got me into Mike Bloomfield and into being a musicologist. I've known him for 20-odd years. I was very happy that he came to our show in L.A. He was so proud. He's seen me grow up in this music."
Most of the Three Kings repertoire comes from the '60s and the early '70s, before Bonamassa was born. What makes the blues vital today and what compels him to carry the torch? "They've been trying to write off the blues for years," Bonamassa says, "and then in the '80s Stevie Ray Vaughan came around. Then came Kenny Wayne Shepherd and Jonny Lang. In 2015, blues is an amalgamation of many styles. People are into new sounds and new technology—like loops and hip-hop—and those things are influencing the blues. It's an ever-changing event, being a blues musician."
Bonamassa and his band ended their Three Kings tour with a spectacular outdoor show at L.A.'s beautiful Greek Theatre. (I was there and had a blast.) The show was recorded, and Bonamassa plans to release a Three Kings DVD sometime next year.