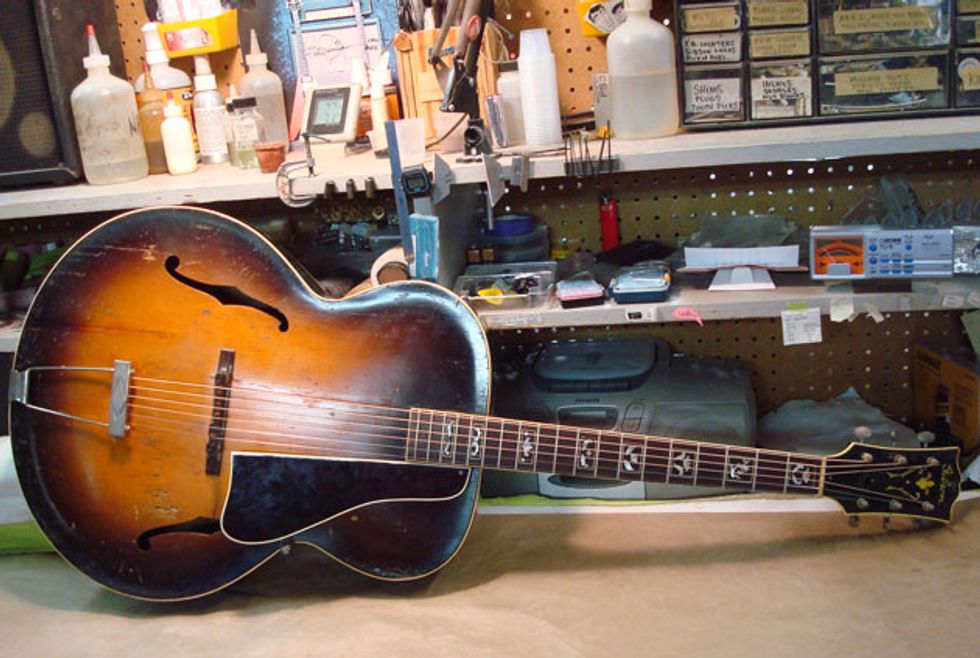 As we related in a separate post celebrating the centennial of guitar-legend Les Paul's birth, retired Mahwah, New Jersey, police officer Jim Wysocki became a longtime friend of the musical innovator through a chance meeting in their mutual hometown. Over the course of their 29-year friendship, Les gifted a handful of vintage guitars and musical artifacts to Jim, who now displays many of them in a museum located in Mahwah.
"One of the most interesting things I ever came across in Les' house—I guess it was late in the '80s—was an old, broken guitar that was sitting in a Seagram's 7 box in a corner of Les' basement," Jim recollected.
Les had called Jim and another friend over late one night to give him a hand fixing the furnace. As they were finishing up, Les asked Jim to bring the box over. "I told him it was junk," remembers Jim. "But he said, 'No, no. Bring it over.'" Jim retrieved the box and opened it. There was a dead mouse inside. "This right here," said Les of the old Gibson archtop, "this breaks my heart. Do me a favor, take this guitar and do the right thing—put it under your bed for a rainy day when you fix it."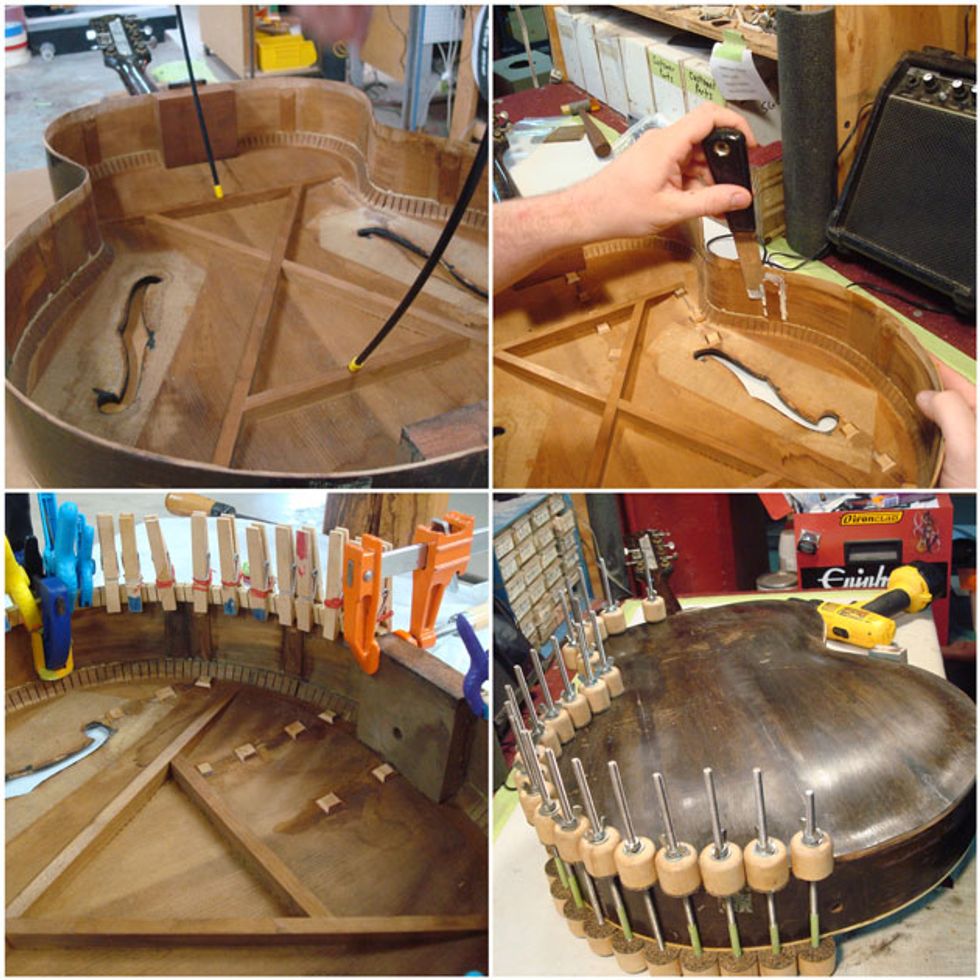 It wasn't until after Les had passed away that the proverbial "rainy day" finally arrived and Jim shipped the guitar to Gibson to have it restored. A year later the guitar was ready."
I flew down to pick it up, and when they presented it to me I was expecting some brand-new guitar," he recalls, "but here was this guitar that was rustic and old. It still had holes in the body—from bugs, as far as I could tell!"
The Gibson employees laughed at how appalled Jim looked. He clearly didn't know how special the instrument was. "Turns out," says Jim of the circa-1936 instrument, "it was one of Les Paul's first attempts at an electric guitar. What I thought were bug holes actually turned out to be where he took a record-player needle and jammed it in the body [in an effort to amplify the sound]."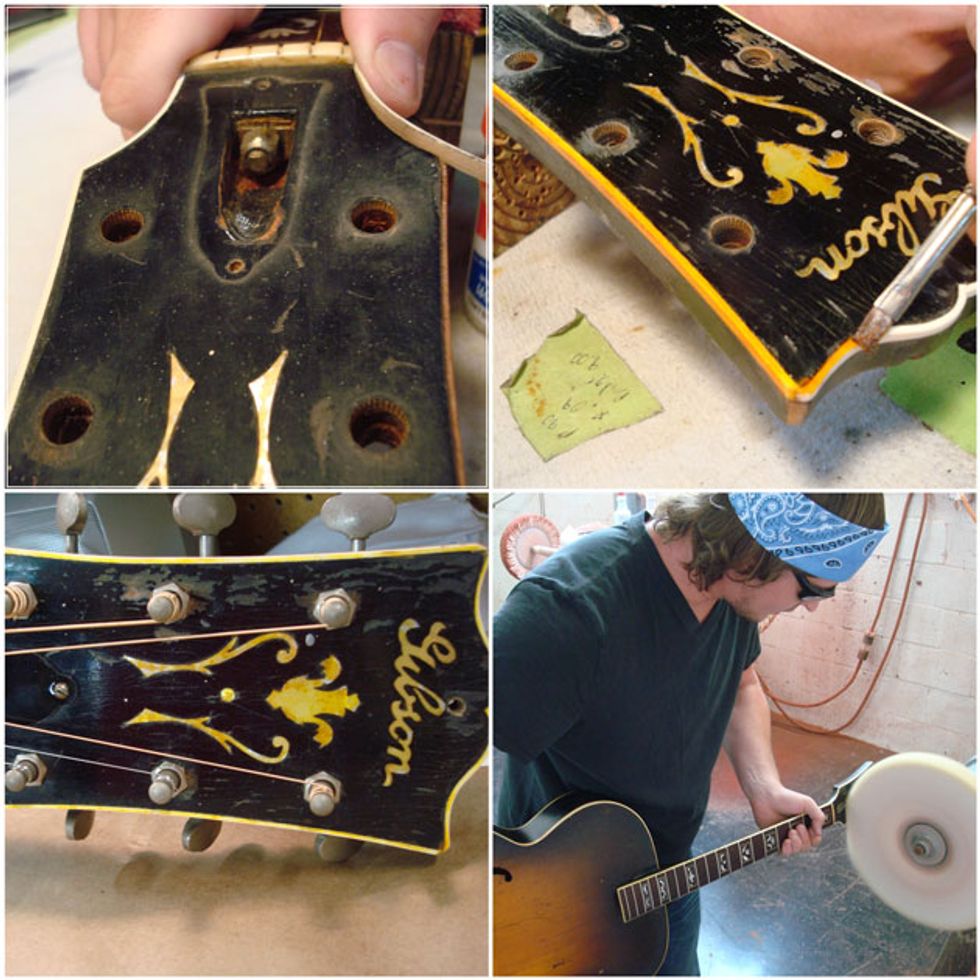 Jim took the guitar to vintage-guitar expert George Gruhn in Nashville to have it appraised and was laughed at yet again. He recalls George telling him, "You've got to be kidding me—I can't even think about putting a price on this!"
"It was probably one of the most valuable guitars out of Les' whole collection," Jim estimated. "He gave me that guitar to bring back to life—only to find out it was a Les Paul '36 or '37 L7. We're not even sure what year it was."
Dusty Lummus has been working at Gibson Restoration and Repair for many years, and had the great honor of restoring this legendary guitar when it came through the shop. While Lummus knew it belonged to Les, he wasn't aware quite how significant the guitar was until about midway through the restoration process.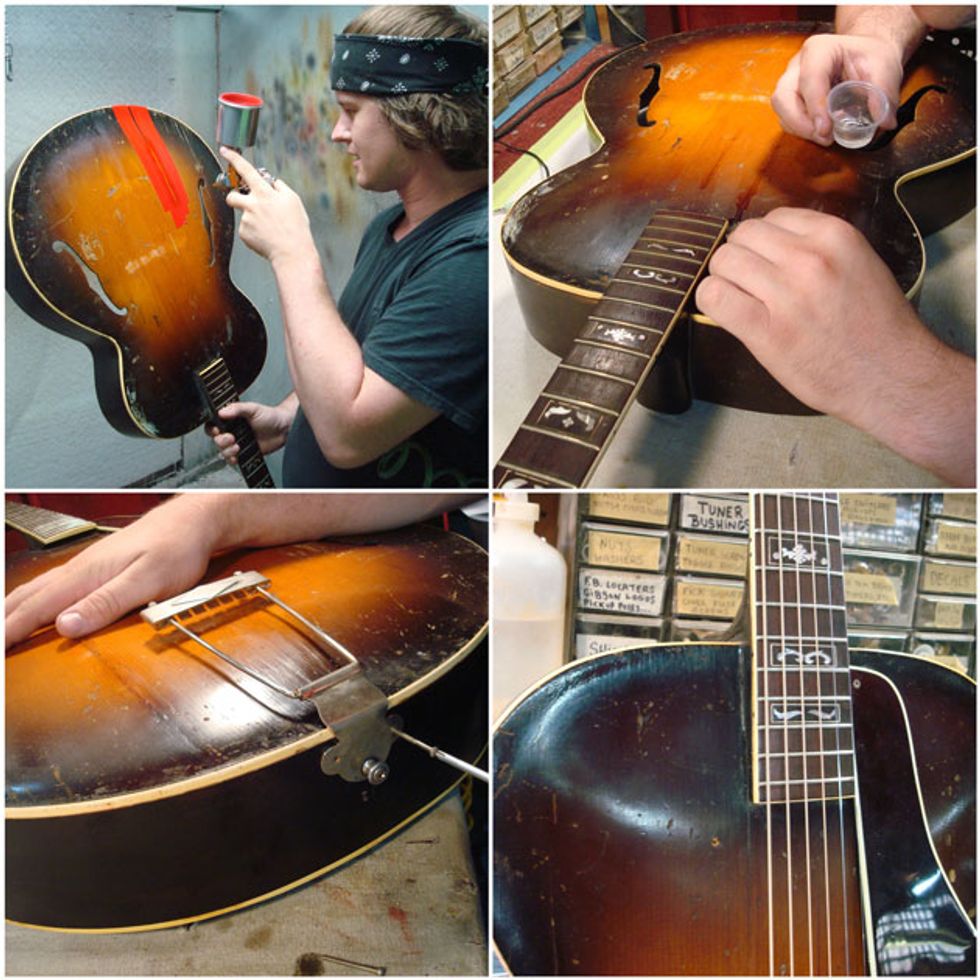 "I'd never heard the story," Dusty began. "I didn't know anything about the guitar when it was presented to me, and I think had I known that I may have not wanted to work on it, just for fear of tearing it apart."
As a result of water damage and other wear and tear, the guitar was grossly misshapen. This required Dusty to think outside the box when restoring it.
"I had to actually invent tools and jigs to make the pieces work," he explained. "I had to invent contraptions to hold these things in place and do all of this kind of creative stuff where I thought, 'Man, if [Les] were here right now he would really appreciate the fact that I had to invent something to make things work."
Halfway through the restoration, Dusty learned he'd been working on the world's first-ever amplified guitar.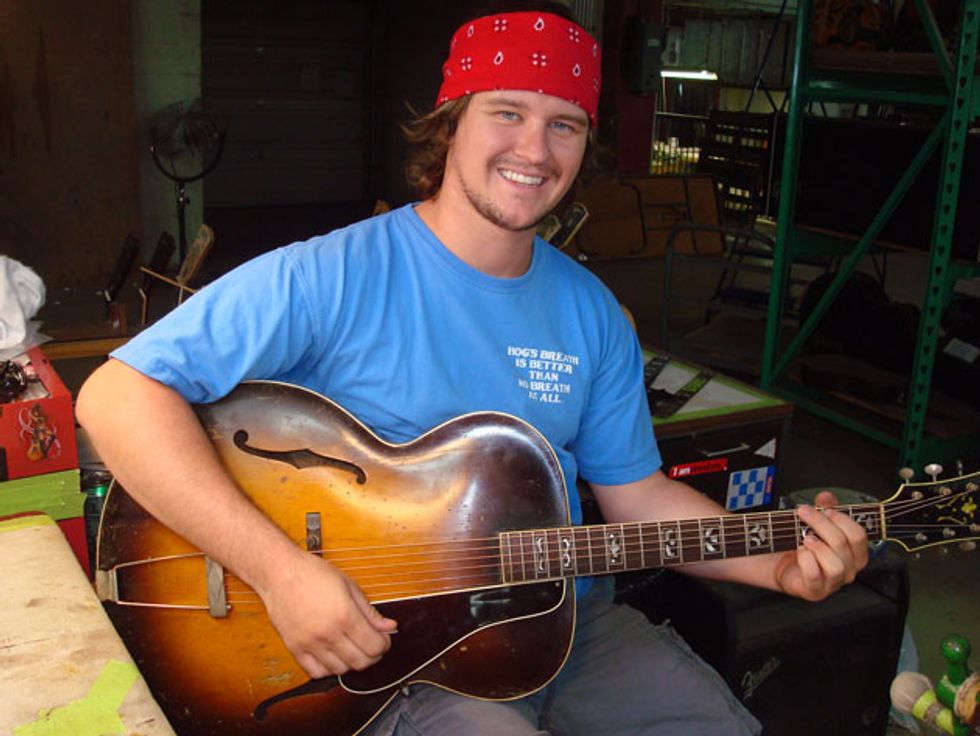 "I was just in awe," he said. "Every time I touched it, it was just amazing."
The following February, Dusty visited Jim in New Jersey to see the guitar on display at the Les Paul exhibit in the Mahwah Museum.
"It was neat to see a full, rounded view of everything—from it being torn into pieces and all warped and misshapen, to actually seeing it on display at a professional event," Dusty remembered. "It brought it home for me."
For more information visit American Music Supply.
Click here to learn more about Gibson Memphis Guitars.
Click here to check out more Les Paul guitars with Jim Wysocki.