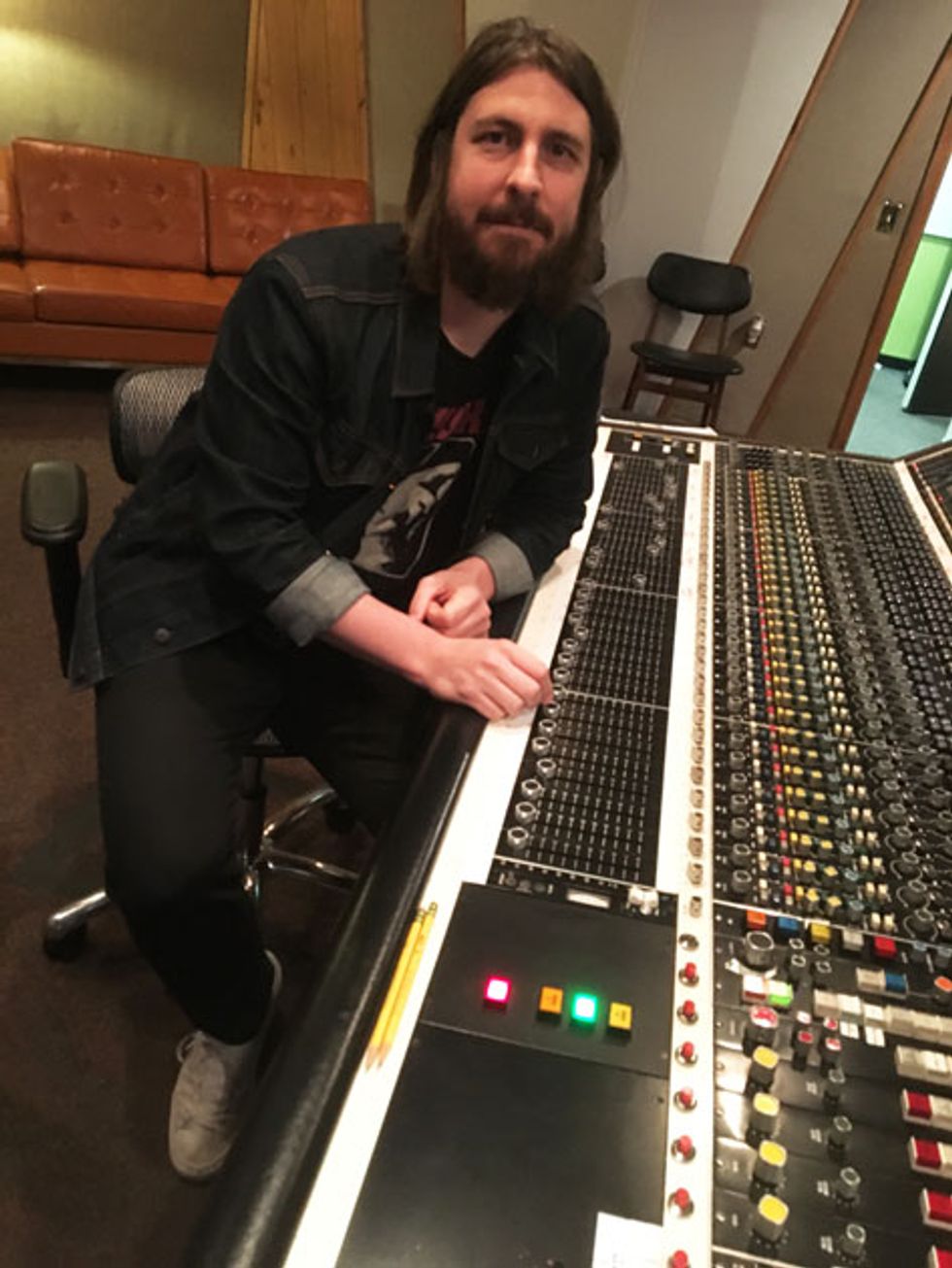 Dave Cobb behind the board at Nashville's RCA Studio A: "Somebody told me a long time ago that the sound doesn't happen in the control room." Photo by Ted Drozdowski
Dave Cobb: Let It Bleed
"Somebody told me a long time ago that the sound doesn't happen in the control room," says Dave Cobb. "There's an era of recording … A Sinatra record sounds so full, lush, and beautiful. Obviously they had the best players, the best studio, and the best microphones of the time. And then the late '60s happened and everything got really multi-tracked, and then in the '70s and '80s albums started sounding smaller because they put everybody and everything in a booth, tracking one piece at a time. You didn't get interplay, the dynamics of band playing, and that room sound.
"I'm super dorky about gear," he continues. "I need to find out exactly what a musician I admire used to get that sound. But ultimately I know the most important thing is the player's hands, the guitar, and the amplifier—and the gear in the control room is just there to document that."
And so the producer-guitarist with a pair of Grammys and two Americana Music Association Awards under his belt—the latter for producing breakthrough albums by Jason Isbell (2013's Southeastern) and Sturgill Simpson (2014's Metamodern Sounds in Country Music), the former for Chris Stapleton's 2015 Traveller and Isbell's Something More Than Free, from the same year—believes in tracking guitars live on the floor in full-band performances. "I even encourage singers to go for final performances with the band," he says. "If the guitarist and vocalist are playing together, the guitarist reacts to the dynamics and character of the vocal performance, and their tracks naturally fit together. That way, the album practically mixes itself."
That's an unconventional approach for the modern studio, but it's hard to argue with the results. "We recorded Metamodern in four days," Cobb relates. "There's a lot of sonic depth when everyone's in the room playing together. The guitar is bleeding into the vocal and the drums are bleeding into the guitar. It sounds full only because everyone is together—it is full—you can hear that interplay and interaction.
"I don't want to make records that don't have bleed," he continues. "It sounds more three-dimensional. If it doesn't have bleed, you have to use artificial reverb and things that make it sound like its goes together. I use Universal Audio's Ocean Way plug-in—which sounds like you've literally recorded in the A or B rooms at Ocean Way—if I'm recording tracks separately, and put them in that plug-in, so they sound recorded together, like a band.
"You can have the best rig in the world and it's still going to sound like sea turtles unless you practice your ass off and learn your instrument—and get your core tone in your hands." —Dave Cobb

"I also think that if you've got to make some compromises, it's okay. The Beatles are my favorite band, and they had to do a lot of reduction mixes to fit all the tracks they recorded. So maybe by the time they're close to done you can barely hear the snare drum. I've read where they'd sometimes have a roadie just play along later on a snare. Sometimes it's hip when things like that happen." Along those lines, Cobb confesses that he was primarily recording on a vintage Studer 8-track machine until recently acquiring a 24-track tape machine, which he runs alongside Pro Tools so each can work as a backup for the other in case of failure.

Cobb's studio experience began with his band the Tender Idols, in the '90s, as he watched and took notes on the producers the group worked with. He then got hands-on experience at Tree Sound Studios in Atlanta.
"When I was starting out, I would look at photos of Elvis in the studio, or sessions by the Beatles, or Glyn Johns, who is another one of my heroes, to see where they were placing the mics, what kind of mics they were using … anything that would be useful. We all learn by stealing a bit."
As a fan of room sounds, Cobb has made his current home base Nashville's historic RCA Studio A, a big room where Dolly Parton recorded "Jolene" and, on the day we spoke, he was producing guitar-fueled rockers Rival Sons. "I like to have enough space to have two or three different full-band setups at the same time, so if we're going to switch up the sound of the album, we don't have to break down and set up gear—just move to the other part of the room where we have another setup," he explains.
Those setups often include a spot for the producer himself. Taking a cue from Jimmy Miller, another hero who captured Cobb's heart with his production work on the Rolling Stones' Exile on Main Street and Sticky Fingers (among others), Cobb likes to play with the artists he's tracking. "I play mostly acoustic guitar to be a kind of human metronome," he explains. "That doesn't mean I have great timing, but if I want a performance to speed up or slow down, I'll do that. It's way to influence what's happening."
As for how to capture what's happening, Cobb says, "I live between the RCA 77—I love ribbon mics on guitars—and the Neumann U 67 condenser mic if I want a more direct kind of sound," he says. The guitars on Metamodern Sounds in Country Music were captured primarily by off-axis RCA 77s in front of small combos. "Those ribbon mics sound like the guitars on old records to me. And I've seen pictures where Glyn Johns has the mics three feet away from the amps, so I do that quite often, but I also put mics close on tiny amps to make them sound bigger. I think little amps in general record better, because they're more controllable and easier to balance out in the overall sound."
YouTube It
Want to see Dave Cobb at work? Here he is recording Sturgill Simpson and his band performing "Long White Line" from Metamodern Sounds in Country Music at Nashville's RCA Studio A. That's Cobb behind the board, and the band's set up exactly as Cobb prefers for recording: in a circle, within eyesight of each other, with sounds blending.
On acoustic guitars, Cobb likes Royer R-122s, for newer mics, but favors Beyerdynamic M 160s. "I like those for rejection, mostly," he says. "It's a really hypercardioid mic, so you don't pick up a lot of bleed from what's behind or beside you. I use them on acoustics in a band all the time." Positioning depends on the axe. "If a guitar is woolly and boomy, I move the mic toward the 12th fret, and for guitars that have a thinner sound, I aim it at the butt of the guitar, behind the bridge, which makes the sound bigger."
Although he's a fan of printing guitar effects as he records bands, Cobb tends to use stompboxes more often on vocals or to conjure sonic surprises from behind the board. "I like reamping vocals back through a guitar amp, and then adding a delay or a distortion pedal on the vocals," he says. Then he'll typically use the results to underlay and thicken the vocal performance.
"I understand guitar pedals better than I do rack effects," he says. "I'd rather use a two-knob pedal and move along than take the time to master a serious piece of outboard gear. There's an advantage to not thinking. The more you take the technical aspects out of the process, the better."
While Cobb favors a vintage Tone Bender, a Dunlop Echoplex pedal, and a Caroline Guitar Company Kilobyte Lo-Fi Delay for those adventures, he also just recently assembled his first pedalboard in the nearly two decades since he stopped regular touring in order to play in the house band of the Americana Music Association Honors & Awards program in September. It's a simple affair: a TC Electronic PolyTune 2, a J. Rockett Archer overdrive, an MXR Phase 90, and the Echoplex stompbox.
Meanwhile, Cobb is a Fender amp fan, with a few particularly treasured examples, including the Alexander Dumble-modified '60s blackface Deluxe that was used on Southeastern and Metamodern Sounds in Country Music. "It does everything from AC/DC to Nancy Wilson 'Bang Bang,'" he says. There's also a Milkman Creamer ready to rip atop a cabinet just past the guitar racks in the studio for the Rival Sons sessions, and Cobb's own amp du jour is a '50s tweed Champ with one of his ribbon mics on its front.

His recent 6-string acquisitions include a 1954 Les Paul and a white 1953 Fender Esquire he recently added to his arsenal after pursuing the guitar for eight years. For acoustic guitars, he's a Martin fan and has a 1940s vintage model along with an old Gibson J-200 for sessions where he wants a bigger sound.
The bottom line on cutting guitars, Cobb says, is that "if you don't have a good guitar tone, there's nothing anybody can do about it. Gear won't matter. Mic placement won't matter. You can use some effects to cover it up, but you can have the best rig in the world and it's still going to sound like sea turtles unless you practice your ass off and learn your instrument—and get your core tone in your hands. You could plug Freddie King into an iPhone, and I'll bet he'd still sound like Freddie King."