Lightning Wave
lwave.nz

Among other things, New Zealand's Lightning Wave effects provide a stompbox interface for creating modulation waves via other pedals. Their devices, like the Ghost, have dense functionality, making it possible to draw squiggly LFO shapes for guitar effects and plug into analog synthesizers (and other gear) at the same time. All Lightning Wave pedals can work as controllers for other pedals with CV or 0-5V expression inputs, applying their own weird mojo. While the company does use traditional Hammond-style aluminum boxes, LED-backlit faders and '80s-video-game-and-anime-inspired faceplates make these units stand out.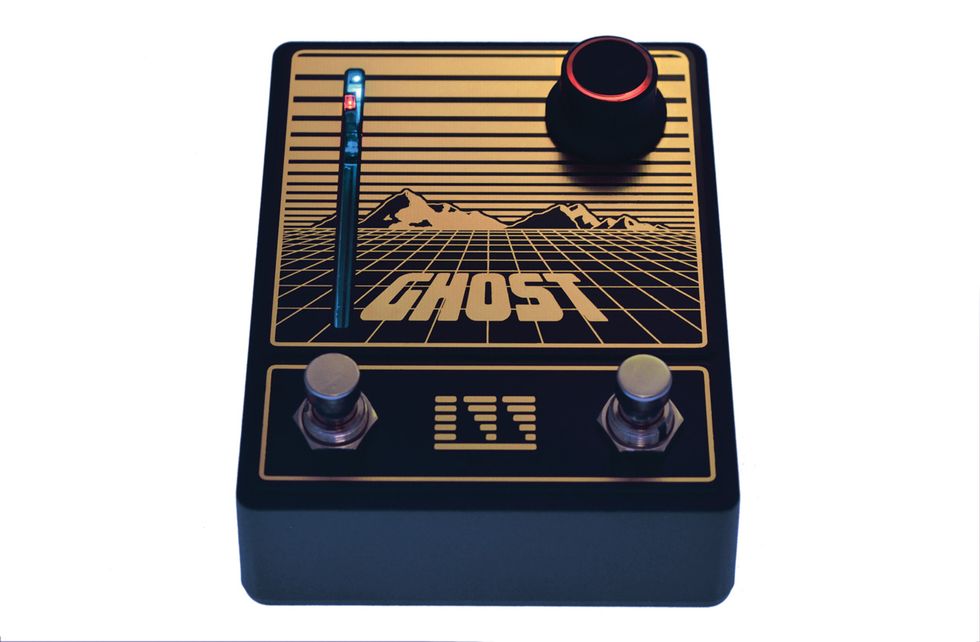 Although it has five presets, which can be customized, Lightning Wave's Ghost allows you to control the shape of waveforms, plus the wet/dry mix, with its slider. The large button at the top controls the depth and speed of its tremolo function, and the lower right button is a tap tempo. And yes, it's stereo and has other functions that go much deeper. Photo courtesy of Lee Nicolson/Lightning Wave

Co-founder Lee Nicolson has this to say about the Ghost—at its core, a tremolo that lets players draw their own sine waves. "I started with the aim to make an LFO pedal with an analog signal path, and the ability to draw custom waveforms. Once I started exploring the digital possibilities, all of the what-ifs that came up led to the concept going through something like five or six revisions before a release.
"It became a bit of a quest to fit every function we could into a standard, portrait 1590BB enclosure with top-mounted jacks, while still having a simple interface that didn't get in the way of a clear aesthetic. My friend Josh Hunter, a tattoo artist from Dunedin [New Zealand], helped to bounce around graphic ideas ranging from nostalgic video games to dystopian anime.
"It became a bit of a quest to fit every function we could into a standard, portrait 1590BB enclosure with top-mounted jacks, while still having a simple interface."—Lee Nicolson, Lightning Wave

The gold-and-black faceplates were actually a last-minute thing, because I couldn't find anyone to screen-print onto pedal cases in New Zealand. I think the fader idea might come from the Ibanez Standard Fuzz, but, instead of a fixed-function analog control, it was combined as a way to sketch the waveforms while recording, and as a depth control during playback."
While the Ghost is Lightning Wave's best-known creation, the company also makes the Doom pedal, which allows an automated or manual crossfade between two signals, and the Astro, which is an experimental MOSFET-based version of the Ghost.
Check out Lightning Wave's happily blinking Ghost pedal. Its unique functionality blended with sharp vintage-gaming aesthetics rocks—and shudders, and warbles.
---
ezhi&aka
ezhiandaka.com

The pedal company ezhi&aka is based in Yaroslavl, a historic city about 160 miles outside Moscow. This builder is best known for the Polarized Flutter delay, which is an infrared force-sensor-controlled lo-fi tape-stop emulator pedal. It might look like a conventional—if Soviet-era industrial-design inspired—box until you point your gaze to the bottom-left corner of its enclosure. What the heck is that? That weird, square-ish-looking thing is the
force sensor
.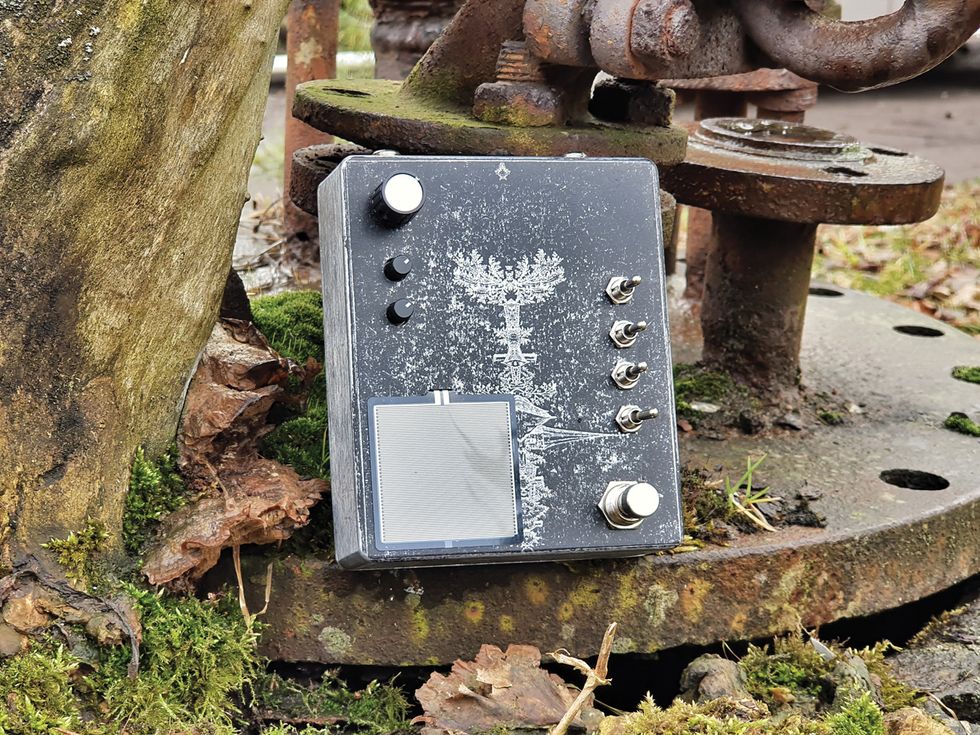 The Polarized Flutter blends controllable character with a degree of unpredictability, with options for lo-fi flutter, vibrato, a mean fuzz, and a clean blend that yields unusual chorus sounds. The infrared sensor works in light or darkness and allows pitch manipulation to create myriad fluttering and tape-stop and wobbling effects. Photo courtesy of Alexey Kruglov/ezhi&aka

The Polarized Flutter's creator, Alexey Kruglov, elaborates on how this thing works: "The force sensor lets you control how quickly and deeply your signal drops into a faux-tape-stop dive, via applying more pressure to the sensor in downward mode, but also has a polar different upward mode where your signal is not audible. You press hard to revive it, sending it back into unwinding-tape-like effects. These upward and downward modes are [the heart of the] Polarized Flutter. In aviation, having flutter means if you don't do anything, something will break. And upward mode here feels a lot like that. The Polarized Flutter also has the ezhi&aka Signature Fuzz built in. The sensor is strange and sensitive, so experimenting with pressing it with sponges, brushes, and the like is very fun."
"The sensor is strange and sensitive, so experimenting with pressing it with sponges, brushes, and the like is very fun."—Alexey Kruglov, ezhi&aka

Delay lovers out there are going to want this pedal, which has pitch, amplitude, mode, and fuzz controls, plus a wet/dry mix, and comes in several iterations—including the latest, with the sensor hidden from sight in the same bottom corner. The tape-delay sound itself is extraordinary, and that force sensor is just too cool. It's great to have a way to control functions on a pedal that isn't just knobs or faders. The force sensor's feel is reminiscent of Korg's Kaoss Pad touch control screen—used to great effect by Reeves Gabrels and a handful of other guitarists—in some ways, since it's best manipulated at arm's length. Many new sounds can be encountered using this fluid type of control over the effect. And Kruglov's Reverb/Pitch Shifter/Tape+ is equally unique.
Check out this weirdly and wildly expressive unit, and then try applying pressure to a corner of one of your own delay or overdrive pedals and see what happens. (Nuthin'!)
---
Landscape
landscape.fm

Speaking of different types of control interfaces, Brooklyn's Landscape is quite innovative in this regard. This is the company of instrument designer and musician Eric Pitra, who creates experimental electronic instruments influenced by obsolete technology, with interfaces that invite intimate human involvement within electronic sound creation. With his works, the human touch
is
the control.
The Landscape device that really caught my attention is the HC-TT, which is a compact cassette manipulation box that allows you to manually play a cassette with your hands. The resulting sound can be incredibly similar to scratching a vinyl record. Sound will only be produced while your fingers are turning either of the large playback knobs. By turning these knobs, you are directly rotating the cassette spindles, which moves the tape across the internal tape head. The knobs "play" a regular cassette forwards and backwards. There is no motor in this device, so direction and speed is left to the performer.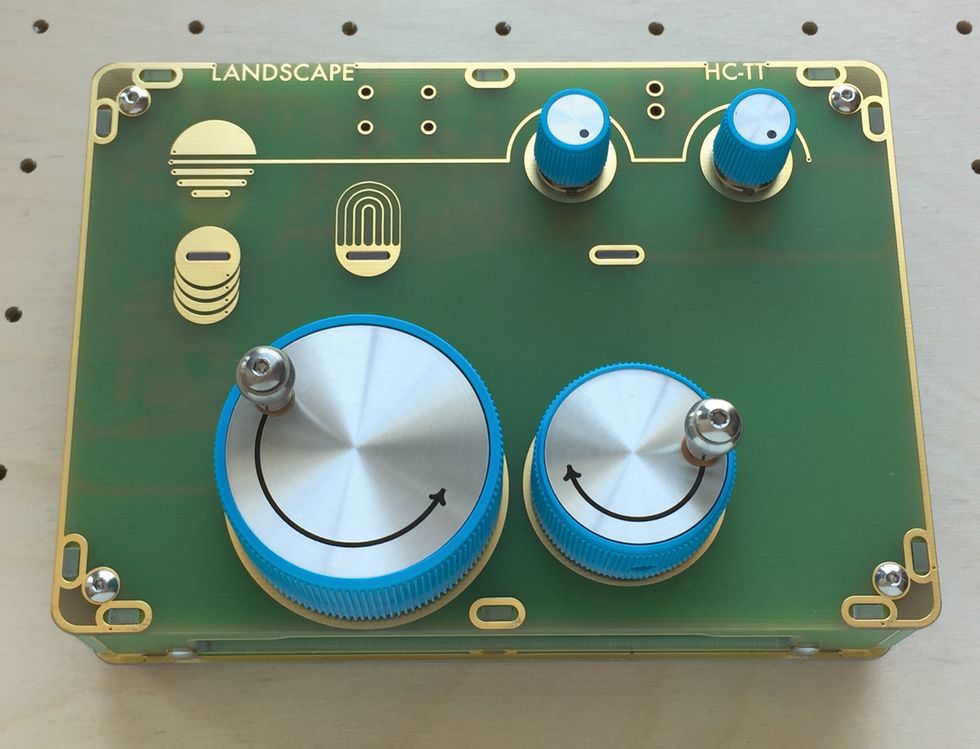 The HC-TT's ability to allow real-time tape manipulation with your hands opens up new sonic opportunities to accompany your live guitar playing or to manipulate pre-recorded music on cassette. Photo courtesy of Eric Pitra/Landscape

And yeah, there's more to it as well. The device has a momentary touch mute that's sensitive to the amount of skin touching its control pad—so sputtering sonic breaks to buzzing sounds are available. There's also a gain control, a lo-fi dirty tone control, a 3.5 mm CV input so the HC-TT can be used to modulate an incoming playback signal, and feedback touch points.
There is no footswitch on this device. But obviously the HC-TT is not a traditional guitar pedal. Or even, really, a guitar pedal. But these days, many of us guitarists and bass players are incorporating sound boxes of all kinds into our sonic palettes—expanding the boundaries. There really are no limitations when one starts to get creative with effects and sound generators. I'm seeing a lot of ambient looping artists out there using Landscape's devices, in conjunction with oodles of guitar pedals. And there's the similarly un-floor-bound Kaoss pad. But the HC-TT is so odd and wonderful that I couldn't help but include it. Landscape has other strange and useful creations, too, including the analog-synthesizer-like Stereo Field, which is packed with touch-plate controllers.
Cassette chaos in a box! Imagine laying down a loop of feedback with your guitar, and then sliding sustained notes with your left hand while manipulating a tape—perhaps one you recorded—with your right.
---