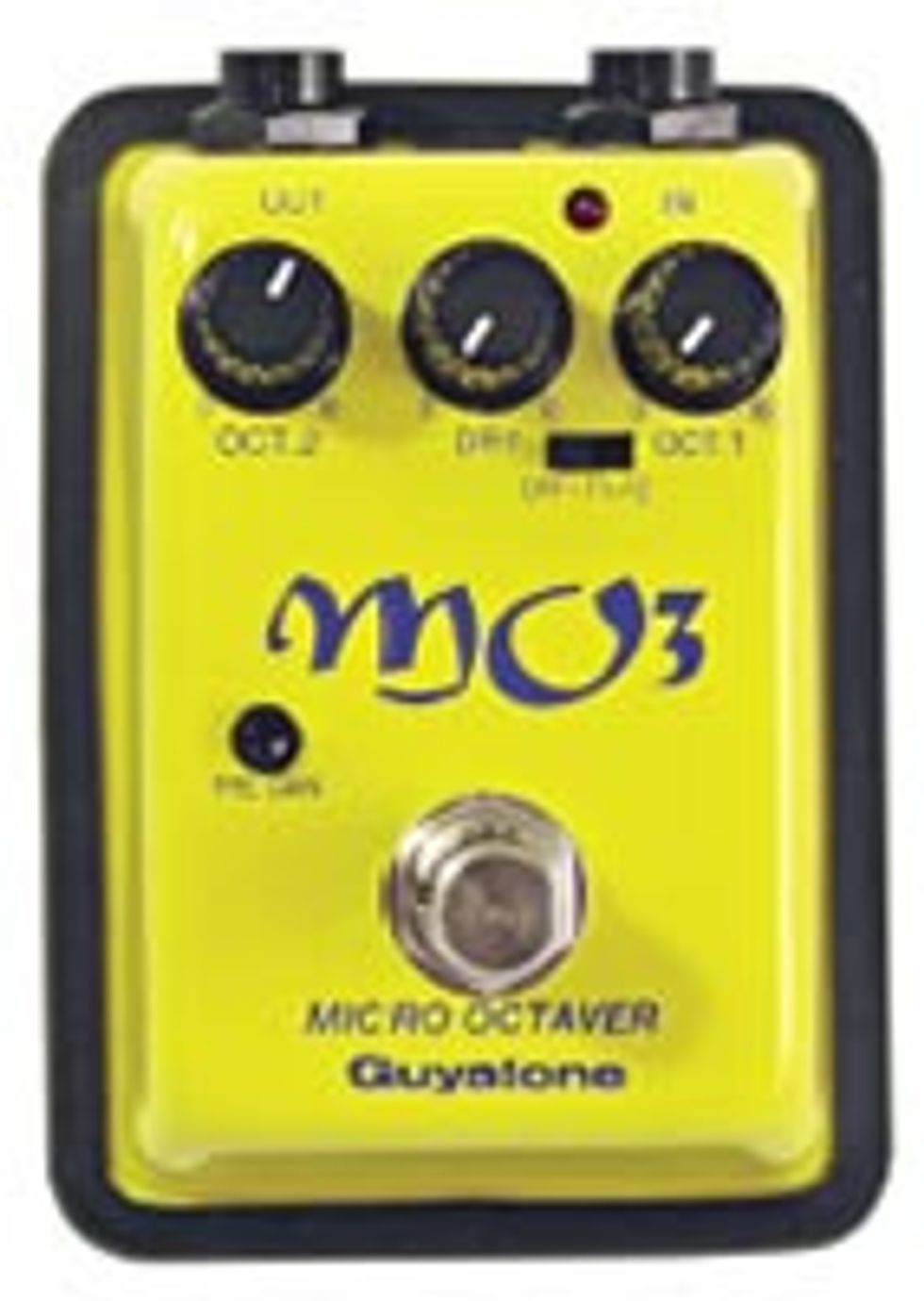 MO-3 Micro Octaver
The Micro Octaver is definitely meant for the more adventurous among us; even the spec sheet states, "If you are looking for pristine octave tracking with super clean tone, we suggest you look elsewhere." Thanks for the honesty.
The MO-3 hosts a mess of controls onboard to create its sonic chaos – a Dry knob adjusts the output level of the unaffected signal, the Oct.1 knob adjusts the output level of the one octave down effect and the Oct.2 knob adjusts the output level of the two octave down effect. A Filter Shift switch allows you to slightly roll off the distortion effect (F1), reduce the distortion further (F2) or turn off the filter completely, so you get the sound of fully distorted octaves – it should be noted that each of these settings affects the octave tracking differently. The Pre-Gain control, which is actually a screw located on the front panel, controls the output level of the preamp feeding into the octave circuit and can be used to make adjustments for high-output and passive pickups.
This pedal has a crazy range of sounds, from deep, crackly, distorted sounds at the lower end of the fretboard to slightly smoother lower octaves when played with higher notes, almost resembling a synth bass at times. The spec sheet recommends picking cleanly and evenly and I found that if notes were struck erratically or with varying force (in particular when struck lightly or played at low volumes), the notes tended to break up, almost like the sound of a bad cable. The MO-3 generated smoother, deeper fuzz-like sounds when playing above the 12th fret, but even then it was nothing even resembling a harmonized guitar. Certainly not for the faint of heart, this pedal could be the magic ingredient in the studio, creating that experimental sound you didn't even know you were looking for.
Buy if...
you are looking for some fun, experimental sounds
Skip if...


you are not independently wealthy and still need to take care of basics


Rating...
 
The Final Mojo
Overall, these tiny offerings from Guyatone serve up some good tones for those looking to avoid breaking the bank. Pedals like the OD-2+ Overdrive and the CB-3 Cool Booster could definitely operate as pedalboard workhorses and the other models will appeal to guitarists looking for a specific sound in their rig. The rubber gasket may be a pain for those planning on using battery power, but if you have a pedalboard and a power supply, you'll sidestep any issues. And while there may be lots of other pedals out there with more versatility, if you're looking to try something new without making a giant commitment, this isn't a bad place to start.
---
Guyatone
guyatone.com
Our expert has stated their case, now we want to hear yours. Share your comments and ratings below.