20 Best Moments of Crossroads 2013
Highlights from both nights of Crossroads, with videos
Since 2004, Eric Clapton's Crossroads Guitar Festival has taken place every three years. Previous festivals took place in Dallas, Texas, and Chicago, Illinois. This time around, Clapton brought the show to the Big Apple's Madison Square Garden.
Coinciding with the show was the "Guitar Center Road to Crossroads" exhibit in the terrace level of the Garden, which displayed Clapton's new line of guitars in partnership with Guitar Center, Fender, Gibson, and Martin, along with several historically significant guitars including perhaps the most important Strats of all time—Clapton's "Blackie" and "Brownie," and Stevie Ray Vaughan's "Lenny." These instruments were on loan from the Guitar Center Legends Collection and the Rock and Roll Hall of Fame.
Tickets for the 2013 Crossroads Festival went on sale last November and sold out within minutes. The lucky few that were able to snag a ticket were treated to what can inarguably be described as the ultimate guitar concert. Over a two-day period on April 12 and 13, the biggest guitar stars on the planet—a diverse cast featuring Clapton, Jeff Beck, B.B. King, Allman Brothers Band, Brad Paisley, Vince Gill, Keb Mo, Keith Urban, Kurt Rosenwinkel, and Allan Holdsworth, among many, many others—all came together to perform under one roof.
Here are PG's top 20 moments of the show—10 for each night—in chronological order.
Night One: Friday, April 12
By Joe Charupakorn

Eric Clapton, photo by Kevin Mazur/WireImage
1. Eric Clapton's Opening Acoustic Set
While most first acts on a big bill can tend to be dull, Clapton wasted no time getting the 2013 Crossroads Festival off to a grand start. His acoustic band opened up Friday's show and soon after commencing, went straight to his mega-hits including "Tears in Heaven" and "Wonderful Tonight." Guests for this set included Andy Fairweather-Low and Vince Gill.
2. Booker T. and All-Star Band
After Clapton's acoustic set came a groovy change of pace. A Stax-inspired electric set featuring a star-studded lineup of Booker T., Steve Cropper [original guitarist for Booker T. & the M.G.'s], Matt "Guitar" Murphy, Albert Lee, Blake Mills, and Keb' Mo' trading licks on classics like the Santo & Johnny instrumental "Sleepwalk," Albert King's blues staple "Born Under a Bad Sign," and Booker T. & the M.G.'s signature hit "Green Onions."
3. Robert Cray, Eric Clapton, B.B. King, and Jimmie Vaughan
A killer set by Robert Cray (who had just about the most incredible tone of the evening) got guitar fanatics pumped up and ready for the mega jam that followed. The blues elite—Clapton, B.B. King, and Jimmie Vaughan—all joined Cray onstage and schooled everyone on what the blues is all about. King's darker tone provided a great contrast to the trebly Strat sounds of the other blues masters. For blues aficionados, this jam was the highlight of the night.

Philip Sayce, photo by Kevin Mazur/WireImage
4. Ernie Ball and Guitar Center Play Crossroads 2013 winner Phillip Sayce
Phillip Sayce first came to prominence as a sideman in Melissa Ethridge's band, but the buzz was that he was a killer artist in his own right. For some reason he entered the Ernie Ball Play Crossroads 2013 competition and, of course, he won. At the Crossroads Festival, he went up solo and shook the house with a performance so devastating that it would have made "Eruption" sound like a nursery rhyme.
After his solo performance at the show, Sayce told us, "It's all about the music. Everybody gets caught up in competition and shit but this is all about being in a community of musicians and supporting each other. This is another chapter and something I've been dreaming about doing my whole life. Eric Clapton's been my hero since I was in the womb so to be in Clapton's house tonight through Ernie Ball is overwhelming."
5. Earl Klugh jazz duo
There certainly was something for everyone at the show, and jazz purists got a chance to enjoy an intimate rendition of the Jobim standard "How Insensitive" played by Grammy-award winning, fingerstyle master Earl Klugh. The song's intricate harmonies combined with Klugh's subdued, gentle touch, and the purity of his unprocessed nylon-string had the capacity crowd so mesmerized, you could have heard a pin drop.
6. The Kurt Rosenwinkel band with Allan Holdsworth and Eric Clapton
A Dumble and some Yamaha Magicstomps on the same stage? A wacky pairing for sure but there was nothing funny about the ridiculous virtuosity heard on the most daring set of the night. After some technical glitches with his tabletop of Magicstomps, Holdsworth played an unaccompanied solo full of his signature "outside" legato excursions. His acapella intro led into Rosenwinkel's composition "Gamma Band." While you might have expected blues purists to see this heavy fusion set as an opportune moment for a bathroom break, that was not the case. Clapton personally selected the artists for the program and even as challenging as this pair may have been to listen to, the attentive audience was a testament to his impeccable judgment.
After Holdsworth left the stage, Clapton joined Rosenwinkel and his band in a rendition of "If I should Lose You" and "Way Down the Lonesome Road." The contrast in styles—melodic blues phrasing versus fluid sixteenth-note scalar lines—worked much better than might be expected.

John Mayer and Keith Urban, photo by James K. Belmont
7. John Mayer and Keith Urban
Mega stars John Mayer and Keith Urban proved that they have just as much guitar cred as the old blues dudes by tearing it up with a vengeance. On a cover of the Beatles' "Don't Let Me Down," the duo's rhythm section brought it down in the middle giving Mayer and Urban a chance to trade licks. The suspense was heightened when Urban's strap came loose. Mayer graciously helped get the strap back on as Urban held a bend on a high F# note, and then the kid gloves came off. The Strat vs. Tele duel raged on, building up to an insane climax that had the audience roaring.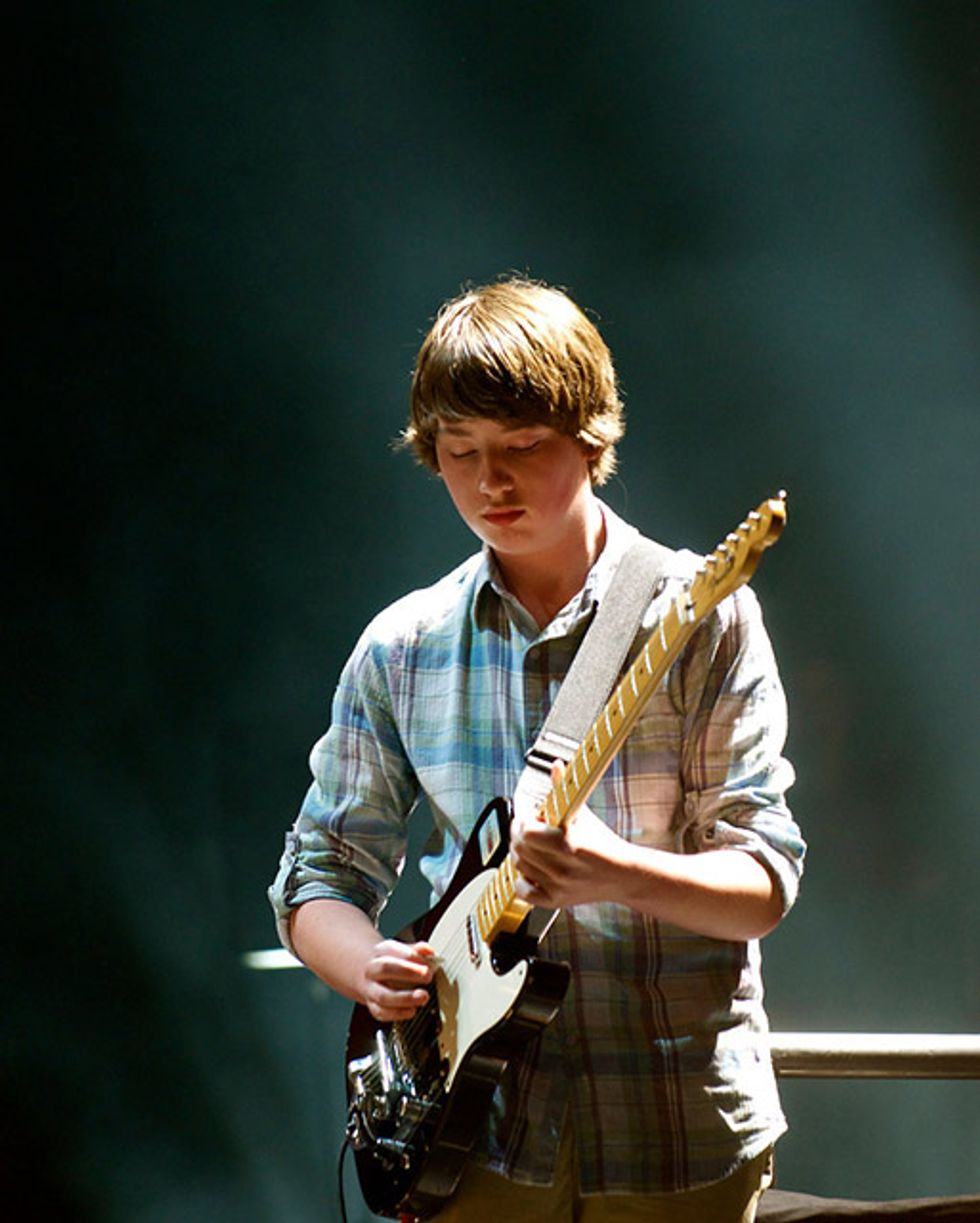 14-year-old Quinn Sullivan, photo by James K. Belmont
8. Buddy Guy, Robert Randolph, and Quinn Sullivan
Buddy Guy and his young protégé, 14-year-old phenom Quinn Sullivan, along with pedal steel virtuoso Robert Randolph had perhaps the most electrifying set of the evening. Quinn's performance, in particular, was the unexpected surprise of the night and perhaps got the loudest applause. The audience literally had to pick their jaws up off the floor as they witnessed his rapid-fire repeating licks and screaming bends, all played with as much authority as the masters that went on before and after him. Joe Bonamassa watch out, the next guitar hero is here.
9. Dan Aykroyd and Keb' Mo'
Blues Brother Dan Aykroyd, who had been announcing the festivities all night, stepped up to the plate for the penultimate number and sang "Got My Mojo Working." He was accompanied solely by Keb' Mo's driving acoustic guitar. To add some grease to the number, Aykroyd pulled out his blues harp midway through the song and took a wicked solo.

Cesar Rosas, Derek Trucks, Warren Haynes, Taj Mahal, David Hidalgo, and Oteil Burbridge, photo by Kevin Mazur/WireImage
10. The Allman Brothers Band
For the grand finale, the Allman Brothers Band took the stage and was joined at various points by Clapton, Taj Mahal, and members of Los Lobos [David Hidalgo and Cesar Rojas]. A historic highlight took place on "Why Does Love Got to be So Sad?" On this number, Derek Trucks played Duane Allman's iconic 1957 Les Paul Goldtop, which was used on the original recording from Layla and Other Assorted Love Songs. The guitar was personally brought to NYC by E.J. Devokaitis, curator of the Allman Brothers Band Museum at the Big House in Macon, Georgia. The Allman Brothers classic "Whipping Post" brought the evening to a triumphant ending.
Click here for highlights from night two...
Night Two: Saturday, April 13
By Jeff McErlain

Derek Trucks and Sonny Landreth, photo by Kevin Mazur/WireImage
1. Sonny Landreth and Derek Trucks
Sonny Landreth and Derek Trucks opened up the second night and set the bar for the already promising evening. The two slide virtuosos complemented and pushed each other to one of the evening's high points. These two are clearly friends and admirers and it was awesome to hear their distinctive voices work together on "Congo Square."

Doyle Bramhall II and John Mayer, photo by Kevin Mazur/WireImage
2. Doyle Bramhall II and John Mayer
Next out was Clapton sideman, songwriter, and producer Doyle Bramhall II for an acoustic set, kicked off by a Delta-certified version of the Hendrix classic "Hear My Train A Comin'." John Mayer then joined him for a duet performance on acoustic 12 string of the SRV classic, "Change It," which was written by Doyle's father, Doyle Bramhall Sr., who passed away recently.
3. Jimmie Vaughan Band with Lou Ann Barton
Jimmie Vaughan stepped onto the stage with his super-classy band to perform a great set of classic blues. Complete with horns, Jimmie kept it traditional yet completely entertaining. His trademark sharp Stratocaster guitar tone was a great juxtaposition to the smoother sounds of many of the other players. Lou Ann Barton's tune was fantastic. It was great to hear the duo together live on the heels of a great album.
4. Los Lobos and Susan Tedeschi
Crossroads favorites Los Lobos hit the stage with Susan Tedeschi on backup vocals. David Hildago was playing a vintage Tele while Cesar Rosas sported a red metal flake Gibson 335, both sounded huge. Tedeschi's vocals were an excellent addition and a great choice—though it highlighted the fact that there were no female guitar players either night. Robert Cray and Eric joined the band to round out the set.

Gregg Allman and Warren Haynes, photo by Kevin Mazur/WireImage
5. Derek Trucks, Warren Haynes, and Gregg Allman
The second night's Allman Brothers set was a true show stopper. Derek and Warren both donned slides to play "Old Friend," and it was as deep as it could go—these two have played countless hours together, and it shows. Gregg Allman came out to wild applause and sang a poignant cover of Neil Young's "Needle and The Damage Done." Gregg's voice sounded fantastic. To close out the acoustic set, Gregg strapped on a guitar and broke into a beautiful version of "Midnight Rider" for one of the night's greatest moments.
6. Vince Gill, Albert Lee, and Keith Urban
First up for the trio of country pickers was a butt-kickin' version of the Rodney Crowell classic " I Ain't Living Long Like This," and all of these great players shined. Albert Lee sounded particularly amazing on this tune. Urban destroyed it on guitar and vocals on a great cover of the Stones' "Tumbling Dice"—his solo on that was perfection. They rounded out the set with Dire Straits classic "Setting Me Up." All three guys are monster players and the high level of musicianship made this set was a standout.
7. Gary Clark Jr.
There is a lot of hype surrounding the now ubiquitous Gary Clark Jr., and he proved that the hype was justified. Steeped in blues, rock, and soul, Clark produced some of the deepest vibe of the evening. I hate to use the Jimi comparison, but I have to say he channeled that energy while maintaining his own voice—quite a feat when playing fuzz-infused blues-rock. His vocals were excellent, and the crowd was on fire. He tore through "When My Train Pulls In" on his Epiphone Casino, switched to a Strat for "Please Come Home," and ended back on the Casino with "Bright Lights, Big City."

Jeff Beck, photo by Kevin Mazur/WireImage
8. Jeff Beck
Jeff Beck ruled the evening from his very first note. Dressed in black and white, he was joined by the fantastic Tal Wilkenfeld on bass, violinist Lizzie Ball, and drummer Jonathan Joseph. First tune was "Mna Na Heireann," a beautiful Irish melody with fantastic interplay between Beck and Ball. Next up was a killer version of the Mahavishnu classic "You Know, You Know" that solidified that at age 68 Beck is at the top of his game. This was also Tal's time to shine as she launched into a smoking solo with great playing by Joseph to back her up. The blues kicked in when Beth Hart came out to rock out the classics "I Ain't Superstitious" and "Going Down." The general consensus in the room was this was the pinnacle of the show.
9. Buddy Guy Acoustic Set
What needs to be said about living legend Buddy Guy? The man is the blues, one of the archetypes, and a national treasure. Not only is he a master on guitar, his vocals are even better. He never fails to get the audience in the palm of his hand with his humor and musicality. Guy's set was a total joy to watch and hear. He played with "74 Years Young," only to remind us he recorded it two years earlier and then changed the lyrics to reflect his true age. Awesome. His version of "I'm in the Mood" had the audience laughing and touched by the depth of this man's ability. Awesome.

Eric Clapton, photo by Kevin Mazur/WireImage
10. Eric Clapton
The man behind this whole evening quietly took the stage with his band to close the night. When the lights went up, the crowd went wild. A second later, another light went on to reveal surprise guest Keith Richards and the place went crazy—a great moment. They broke into "Key to The Highway" and Chuck Berry's "Sweet Little Rock and Roller" with Keith and Eric trading licks and vocals, writing a new piece of rock and roll history.
Next, Eric brought out Robbie Robertson for "He Don't Live Here No More' and "I Shall Be Released." It was cool to see Robertson back onstage with Clapton. EC continued with "Gin House," " Got to Get Better in A Little While," "Crossroads," "Little Queen of Spades," and "Sunshine of Your Love." Eric sounded great, but seemed to play better when challenged by Doyle. Eric would solo, then Doyle would rip into it, then Eric would bring it up a notch—a fun experience to see and hear.
To close the night Eric brought out 19 of the guitarists in the festival for a grand finale jam session. This was both super-fun and plagued with sound problems, as the sound guys struggled to figure out who to turn up at what time. Kurt Rosenwinkle even had to hand Gary Clark Jr his cable so he could solo! Noticeably missing from the group extravaganza were Jeff Beck and John Mayer.