Here are the albums that teased PG editors' ears and made our heads explode with delight! Plus, some of the most-anticipated recordings—real or wish-listed—of 2023.
Jason Shadrick — Associate Editor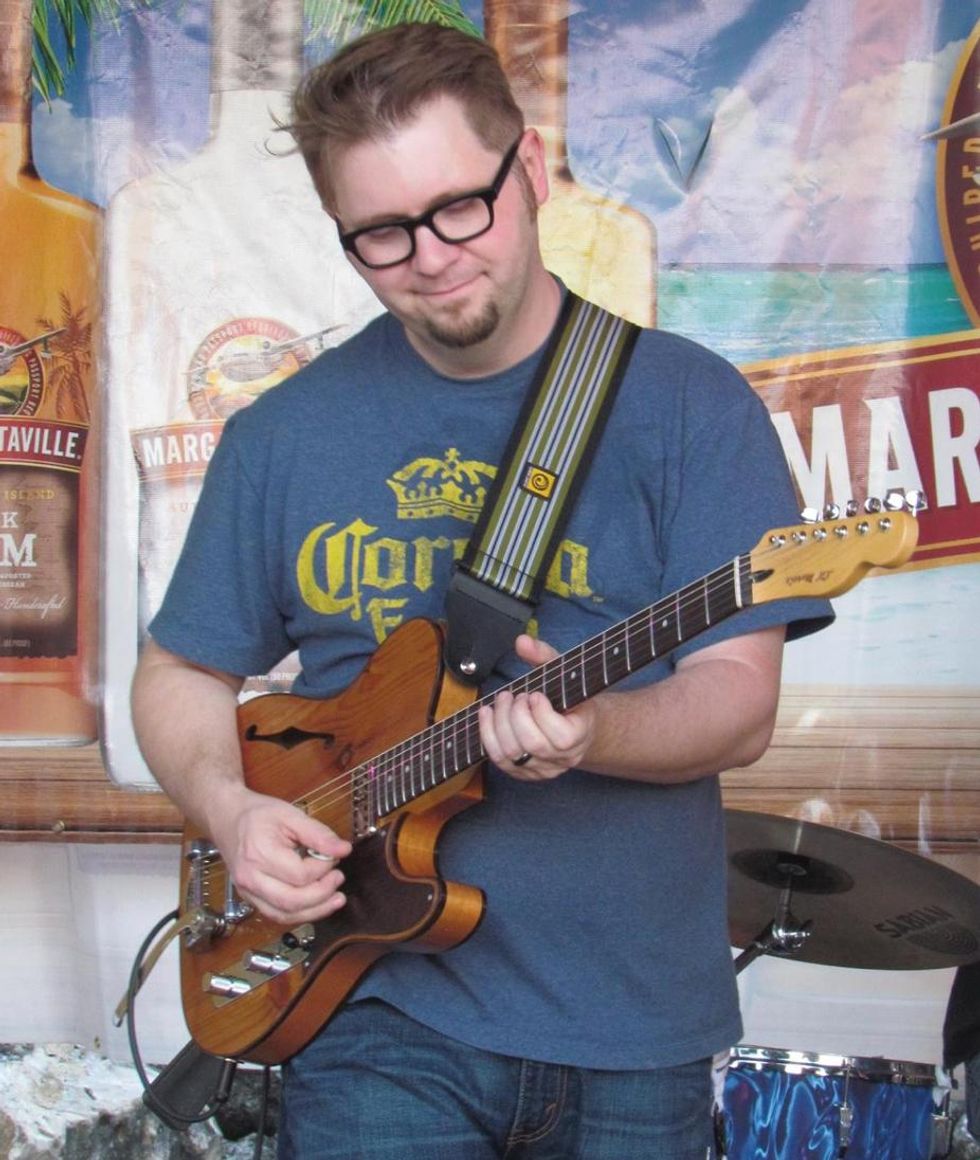 Molly Tuttle & Golden Highway
Crooked Tree
It seemed like this year the "young lions" of bluegrass guitar finally broke through. While Billy Strings was on his way to arena-level stardom via the jam band crowd, Molly Tuttle took a less experimental route with a dynamite new album (produced by bluegrass legend Jerry Douglas) and new band. At times her voice echoes Alison Krauss, but her playing is firmly influenced by Tony Rice, Bryan Sutton, and Doc Watson. Songs like "Flatland Girl" and "Over the Line" are bouncing bluegrass jams that move with such a level of relaxed comfort it's not until Tuttle's break that you realize she's straight up shredding. There's also a fierce and undeniable force in Tuttle's rhythm playing. At times she can play like a high-speed freight train on cruise control, but she can also dial it back without losing any intensity—just check out her incredible duet with Dan Tyminski on "San Francisco Bay Blues." It's easy to see why ripping acoustic guitar is popular again with albums like this.
Must hear tracks: "Flatland Girl," "Dooley's Farm," "Goodbye Girl"
Molly Tuttle & Golden Highway - Crooked Tree (Live at the Station Inn)
Madison Cunningham
Revealer
After Madison's last full-length album, Who Are You Now, I was very intrigued as to how she could put a bigger spotlight on her devastatingly great playing. Thankfully, Revealer has done the job—and then some. Cunningham combines low-tuned oddball guitars with an always-on swirly dual vibrato in the background to amazing effect. It's a sound in which she not only feels comfortable but thrives in a way few singer/songwriters can. Her riffs and parts are surprising in a way that forces you to listen deeper each time around. The lead single, "Hospital," has a gritty, nasty tone that is such a welcome juxtaposition against the rather pretty melody that it makes me think of the best of Elliot Smith at times. It's obvious that her playing style isn't an accident, but rather a well-focused and deliberate path that will inspire many young songwriters to go beyond simple strumming.
Must hear tracks: "Hospital," "Life According to Raechel," "Our Rebellion"
Madison Cunningham - Life According To Raechel (Live At Sonic Ranch Big Blue)
Cardinal Black
January Came Close
About a year ago Chris Buck dropped a video debuting his new band, Cardinal Black. The tune "Tell Me How It Feels" was incredibly crafted and featured Buck's signature emotive style. Now, a year later, the band's full-length album is out, and it delivers. The rich tones that Buck coaxes out of his Revstar are rooted in classic rock and blues, but in the context of Cardinal Black they have more textural elements than the typical pentatonic bashing found in so many blues players. "Half Way" sports a massive chorus that brings to mind the best power-pop tunes of the 1970s. You could see this band rocking an old-school blues club and Royal Albert Hall (which they just recently did with Peter Frampton.) Great tunes, great playing, and great tones. What else can you ask for?
Must-hear tracks: "Tell Me How It Feels," "Half Way," "Warm Love"
Cardinal Black - Ain't My Time (Abbey Road Live Session)
Most-anticipated 2023 releases: Metallica's (probable) return to old-school thrash, Nickel Creek, a live Julian Lage album, and at least 12 Cory Wong albums.
Tessa Jeffers — Managing Editor
Wu-Lu
LOGGERHEAD
In the middle of his song "South," Miles Romans-Hopcraft, aka Wu-Lu, lets out a scream so guttural and jarring, you might wonder if he's okay. But it's so deliciously cathartic to the core that I understand why primal scream therapy is trending in this year of our lord 2022-almost-2023. Wu-Lu's shrieky bellow will get your attention but stick around for his mad-scientist kitchen of sounds. This debut album is an arresting amalgamation of truly original inception. He filets disparate instrumentation and influences into modern hip-hop infused songs wrapped in an entrée of punk. The best part is, he's sampling himself. After recording late-night, guitar-improv jams, Wu-Lu dissects and distills them into usable musical spices to sprinkle into his songs. I'm amused, entertained, made happy by artists who construct in a way I've not quite experienced before, and Romans-Hopcraft's process floors me. Guess what else? Wu-Lu is even better live, in the flesh, 3D, outside the Matrix. Watch the performance video below while I go scream primally into a pillow as an ode to Wu-Lu for the drum-n-bass wonder he's done.
Must-hear tracks: "South," "Blame"
Wu-Lu - Echoes with Jehnny Beth - @ARTE Concert
Angel Olsen
Big Time
I recently read a book about poets who lived during the first half of the 20th century. It explored how word troubadours were the first rock stars, the champions of counterculture and leaders in expression arts before rock music gave way to a new generation of minstrel messengers. Angel Olsen writes songs how poets be poet'ing. It's all storytelling, but magic comes in making choices of movement, placement, adding, taking away, and, oh, the vulnerability. Making a twangy "Nashville Sound" heartbreak album suits Olsen's truth-tellin' ways. A few months ago, I attended a solo acoustic performance by Olsen, where she plucked out each emotion dynamically on her strings, light touch, and with tortured spacing, hard land. She bared some soul, made it accessible, and by doing so, commanded all attention in the room, stared down hard moments, made jokes in between, and shared personal vignettes of painful and beautiful shuffling around this orb of topsoil, water, wind, and fire. This is her take on a country-fied album, but Angel is a rock star.
Must-hear tracks: "All the Good Times," "Ghost On"
Angel Olsen - All The Good Times (Official Video)
Nick Millevoi — Associate Editor
​Bill Orcutt
Music for Four Guitars
The coolest, most intriguing album of guitar music I've heard this year is, without a doubt, Bill Orcutt's quartet for overdubbed 4-string electric guitars. Over the course of 14 tracks—each of which comes in around a short-and-sweet two minutes—Orcutt writes in the familiar vocab of his improvised work. But here, his riffage is focused into contrapuntal cellular structures that evoke minimalism by way of composers Glenn Branca (in the overtone puree of "Or from behind") and Louis Andriessen (in the angular dissonance of "Only at dusk"). There's also major-key melodic eloquence (on "At a distance") that borders on Reichian, but with a raw-er, more treble-soaked tone than anyone who's tackled the composer's "Electric Counterpoint" has dared to attempt (to my knowledge, at least). Throughout the album, repeated listening reveals new shapes and structures, and I keep coming back, ready to discover more. Bonus: The digital release comes with an 84-page PDF score, hand-tabbed by forward-thinking guitar adventurer Shane Parish, so anyone can play along once they cut a couple strings off their guitar and detune.
Must-hear tracks: "Or from behind," "Only at dusk," "At a distance"
Hermanos Gutiérrez
El Bueno Y El Malo
I knew I'd love this album as soon as I saw the video for the first single, "El Bueno Y El Malo." I was right, and I've since become a huge fan of all the Hermanos' records. These guys just have their aesthetic completely dialed in, and their songs draw from classic sources like Santo & Johnny, Neil Young, and Ennio Morricone. It helps that they recorded this one at Easy Eye Sound, but the Gutiérrez brothers would sound good if they recorded on an iPhone. When I saw them live this fall in Philadelphia, I was truly blown away by the nuances in each brother's playing, but even more by the focused energy they conjure with their playing. This is serious vibe music, fit to accompany a modern Western or a long drive on an open road.
Must-hear tracks: "El Bueno Y El Malo," "Thunderbird," "Tres Hermanos (feat. Dan Auerbach)"
Hermanos Gutiérrez - "El Bueno Y El Malo" [Official Music Video]
Various Artists
Imaginational Anthem vol. XI: Chrome Universal - A Survey of Modern Pedal Steel
The latest in an ongoing series of well-curated comps from Tompkins Square, this one has easily become my favorite. Compiled by Nashville's Luke Schneider, volume XI focuses on the wide world of contemporary pedal-steel players. Each of the nine featured artists reach beyond the stratosphere to create mostly ambient explorations that challenge the common notions of what their instrument is capable of. I was drawn to this set because it includes three players whose work I greatly admire: Susan Alcorn, Rocco DeLuca, and BJ Cole. I've since spent time deep diving through the works of every player on the album, getting to know and love each of their distinct voices. Much more than a great playlist that serves as a strong introduction to each steeler (which, of course, it is), I keep thinking of this record as a single work, which is probably as big an endorsement of Schneider's curation as I can imagine.
Must-hear tracks: "An Ode to Dungeness" by Spencer Cullum, "Lysglimt" by Maggie Bjorklund, "Gilmor Blue" by Susan Alcorn
Lysglimt - Maggie Bjorklund
Charles Saufley — Gear Editor
​Necronomicon
Tips zum Selbstmord
I burn out on guitar rock pretty easily these days. That doesn't, however, mean I need the adrenaline rush it provides any less. In these moments, I tend to look to primal sources. Thankfully, my buddy Ben tipped me to this 50th anniversary reissue of the stupidly rare Tips zum Selbstmord, a lost masterwork of brilliant-to-demented German prog/psych-punk hybridization. Tips… is pretty intense at times. Well, most of the time. There are traces of Deep Purple, Pink Floyd, Iron Butterfly, maybe even some Stooges and fellow heavy Krautrock freak vanguards like Guru Guru and Amon Duul II. (Necronomicon also share AD II's affinity for unexpected, inexplicable bursts of distinctly untrained, quasi-operatic vocals.) But while Necronomicon clearly worked hard in the practice room, and gave these sprawling arrangements much thought, there is an atavistic edge and immediacy here that suggests a band creeping forth from primordial muck. Best of all, it feels utterly, amazingly lacking in self-awareness—a thrilling thing to hear in an era of relentless, calculated self-presentation.

Necronomicon = Tips Zum Selbstmord - 1972 - (Full Album)
Misha Panfilov
The Sea Will Outlive Us All
The cover of The Sea Will Outlive Us All, pays homage to private press LPs of the late '60s and early '70s. In some ways, Estonian multi-instrumentalist Misha Panfilov wears musical influences from that period on his sleeve too. But while it's easy to hear trace elements of Franco/Italian soundtrack gems and circa-'69 Pink Floyd, these instrumental meditations exist quite outside of time. And like a lot of music I cherish, they suggest utopian possibilities, future/past fusions uncolored by cynicism, and endlessly unfolding days when summer looms ever closer.
Misha Panfilov - The Sea Will Outlive Us All (Full Album 2022)
Ted Drozdowski — Editorial Director
​The Linda Lindas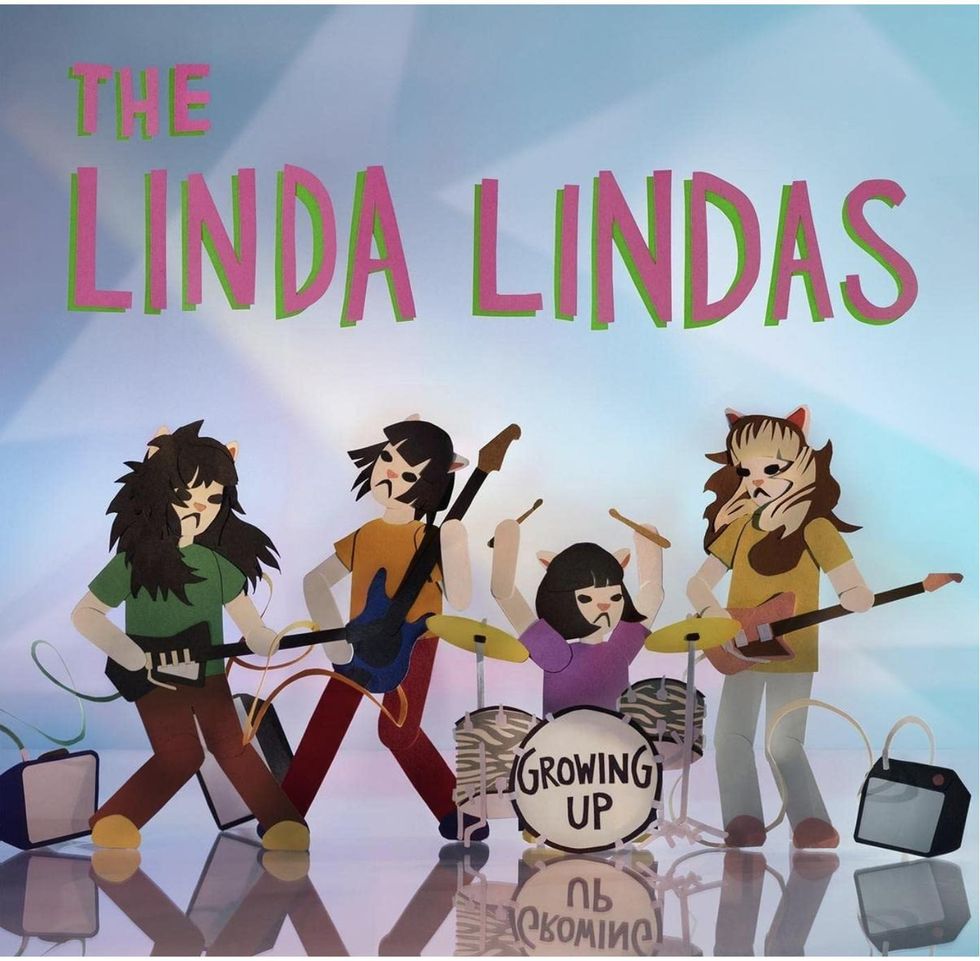 Growing Up
Even I'm shocked that my favorite album of the year is by four teenaged girls from Los Angeles. But I love this record! Bela Salazar and Lucia de la Garza slam down a wall of guitars that resonates between the Ramones and epic '90s alt-rock. All four Lindas sing killer harmony, and they've got great hooks and melodies in their pockets. And listening to their lyrics about the trials and trips of young life makes me wish I was as smart and self-aware as they are when I was their age. Oh, and they're tough onstage, too. Check out the performance video of their song "Racist, Sexist Boy" … at the L.A. Public Library, of all places. The icing for me was interviewing Salazar and de la Garza for our "10 Young Guitar Players to Watch" feature in the November PG. They were funny, poised, and candid about just how much they didn't know about playing guitar—and that takes way more confidence than I had as a teenager. In today's music, the Linda Lindas are the cool kids.
Must hear tracks: "Growing Up," "Talking to Myself," Racist, Sexist Boy," and "Nino."
The Linda Lindas - "Growing Up"
Valerie June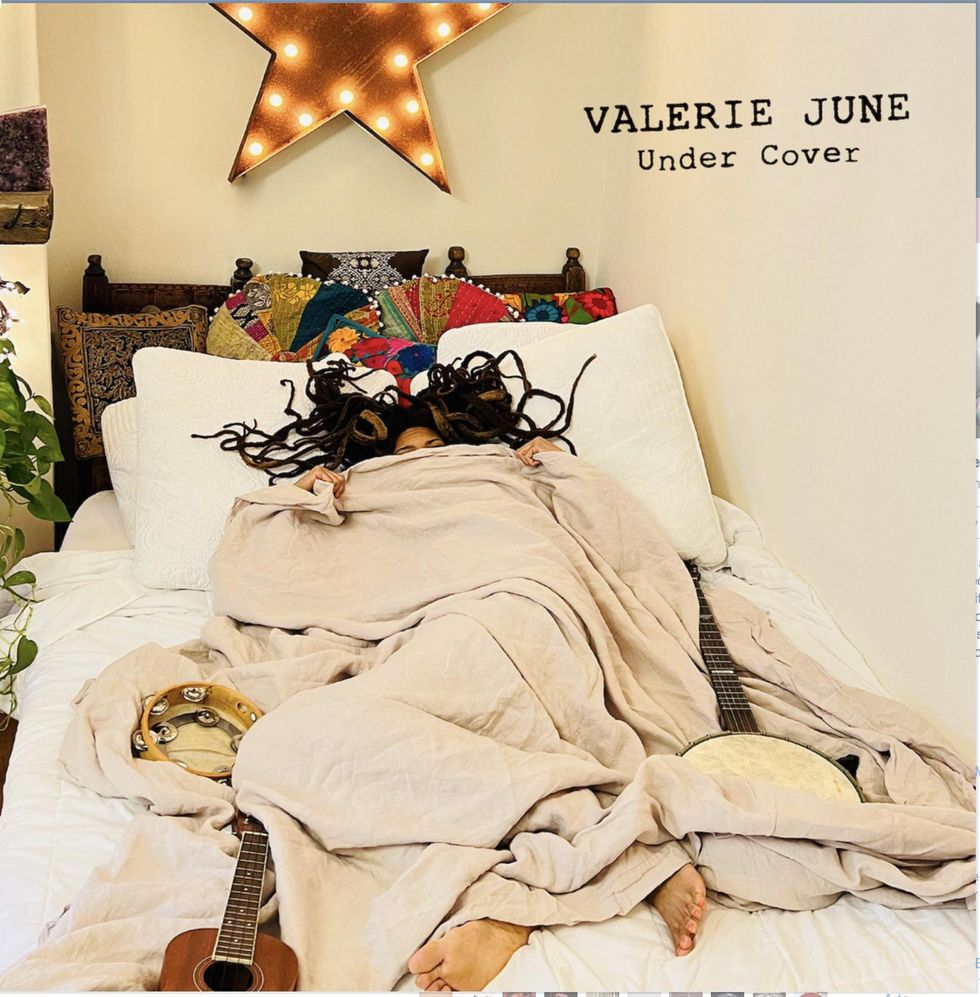 Under Cover
Sure, it's a covers album, but I could listen to Valerie June sing a menu and be entirely satisfied—especially if she was able to layer her vocals and use reverb the way she does here as co-producer with Jack Splash, whose own credits run deep in the contemporary R&B world. The spare-to-perfection instrumentation adds the right emotional underpinning, too. She turns great songs by Nick Drake ("Pink Moon"), Nick Cave ("Into My Arms"), John Lennon ("Imagine"), Mazzy Star ("Fade Into You"), Joe South ("Don't It Make You Want To Go Home"), and others into magic carpet rides. I find that irresistible.
Must-hear tracks: "Fade Into You," "Pink Moon," "Imagine"
Valerie June - Fade Into You
Charlie Musselwhite
Mississippi Son
When I profiled this old lion of the blues in PG over the summer, in a piece titled "Charlie Musselwhite Goes Back to the Delta," I described this album as "beautiful as a fresh magnolia blossom with hints of dust on its petals." But it also contains the mysticism of the greatest of Mississippi's traditional music—partly gothic, reflective of the history and the soil it took place upon, echoing with the voices of the past that still resonate—particularly in Musselwhite's head and heart—like Big Joe Williams and John Lee Hooker. Fans of the harmonica virtuoso have known of his estimable skill at Delta-style country blues guitar for ages, but in more than a half-century of recording he's not revealed it until this album. Ricocheting between original songs and durable classics, Musselwhite sounds like an oracle—especially on the talking blues "The Dark," a Guy Clark number. His message—to paraphrase Sam Phillips: This is music that comes from a place where the soul of a man or woman never dies.
Must-hear tracks: "The Dark," "Pea Vine Blues," "Crawling Kingsnake"
The Dark
Most-anticipated 2023 releases: Hummmm, maybe that Sonny Sharrock tribute album Carlos Santana has been putting together? And the new Messthetics project, plus more work by Mike Baggetta, Bill Frisell, and PJ Harvey. And—I know, I ask every year—new music by Tom Waits? More gems from Dan Auerbach's trove of unreleased historic live blues recordings would also be welcome. And Dan, isn't it time to produce an album for Kenny Brown? And finally, that new Metallica album is on the way! Thank you, Santa.
You could win a Lightcycle Phaser Pedal Kit from StewMac in this 24 hour giveaway!
Feeling limited by phasers that are one-knob-wonders? Not anymore! This is our take on the revered Mu-Tron Phasor II—the most versatile phaser ever made! A studio-quality optical phaser, we pack all the tone and legendary flexibility of the original in a pedalboard friendly box.
Designed to recreate double tracking and synths studio sounds, the Mu-Tron Phasor II gave players a dynamic and lush phase sound right at their feet. Finally players could recreate those complicated textures live—and nothing was the same after. From rotary speaker shimmer or wild spacey soundscapes, every knob twist sparks inspiration.
StewMac
Art-rockers Conrad Keely and Jason Reece make whopping orchestral waves on their 10th studio album, X: The Godless Void and Other Stories.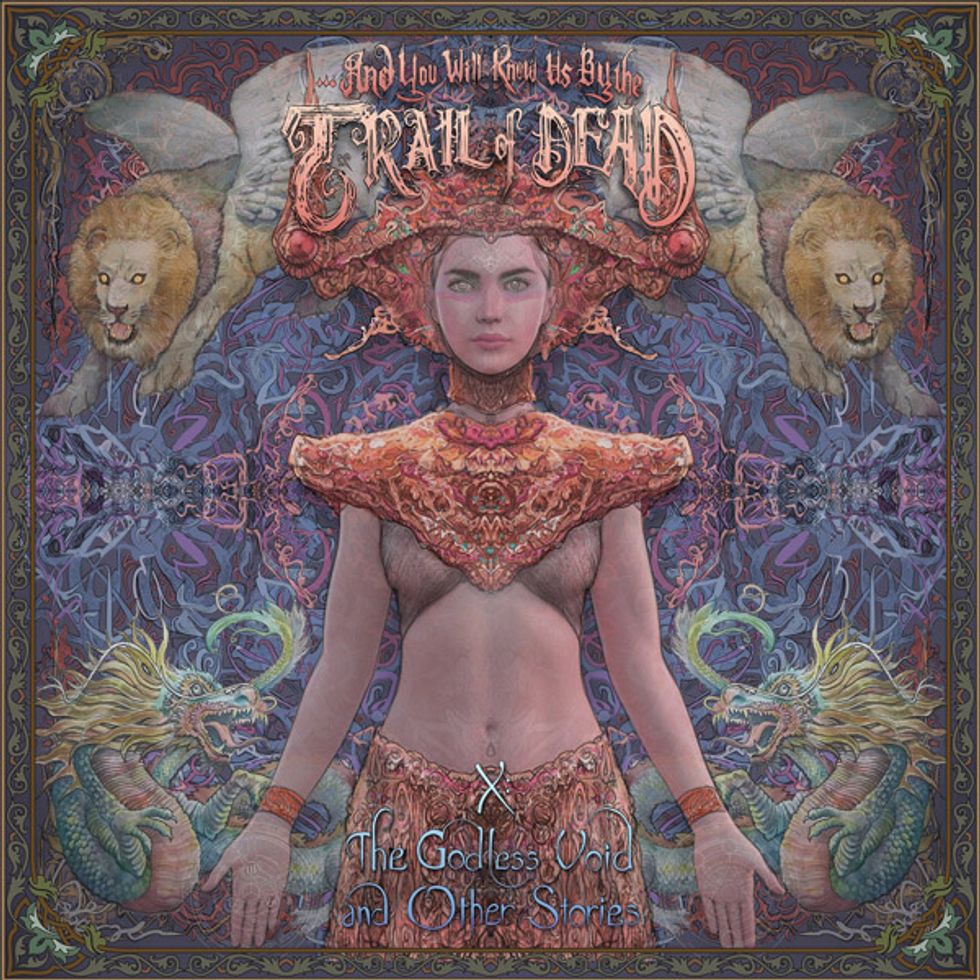 …And You Will Know Us by the Trail of Dead
X: The Godless Void and Other Stories
Trail of Dead formed in 1994. I'd heard the name often but never heard them. Now that I have, there's a lot to unpack about this epic, symphonic art-rock and its progressive accessibility. Godless Void combines post-punk angst and remarkable musicality akin to T.o.D's own influences, Rush and Sonic Youth, and matches it with spirited urgency.
Conrad Keely and Jason Reece alternate on vocals, drums, and guitar, resulting in captivating mood changes and fascinating breakdowns. In "All Who Wander," massive percussive tsunamis rip into wailing, down-tuned guitar arpeggios. Emotional, anthemic vocals call Morrissey to mind, and even the band's use of synths is choice. On "Gone," piano and cascades of guitar delay blossom over ominous industrial beats.
Speaking of crescendos, "The Opening Crescendo," starts the journey and sets the pace for pummeling buildups and melodic reprises. Keely says the album was built around the cyclic manipulation of one musical motif. It sounds incredible.
Must-hear tracks: "All Who Wander," "Who Haunts the Haunter"
A gentle giant of guitar enlists Petra Haden and others to raise the standard for standards.
Bill Frisell
Harmony
When I first heard Harmony, I'd hit a rough patch and my normal diet of grooving music wasn't cutting it. From the opening strains of the first track, "Everywhere," I felt as if I'd stepped through the looking glass into an alternative sonic universe, one both melancholic and divine. Ah—just what I needed.
At the center of this strange brew is Petra Haden, whose beautiful, sometimes ethereal voice casts a spell across the entire album, which consists of Frisell originals, standards, and folk songs. Whether it's Billy Strayhorn's "Lush Life" or "On the Street Where You Live" by Lerner and Loewe, the quartet—which includes cellist Hank Roberts and guitarist Luke Bergman, both of whom also sing—puts a fresh twist on jazz-leaning vocal ensembles. And were he still alive, I can imagine Pete Seeger wiping away a tear after hearing his "Where Have All the Flowers Gone?" rendered so poignantly. Throughout Harmony, Frisell's guitar rings like a bell, and his rich voicings recall jazz piano genius Bill Evans. Moody sounds for tumultuous times. —Andy Ellis
Must-hear tracks: "God's Wing'd Horse," "Where Have All the Flowers Gone?"
We round the year's corner with our annual staff picks, notable mentions, and our most-anticipated releases of 2020.
In a banner year of explosive music, these are the gems we couldn't get out of our heads—the ones that brought us happiness, punched us in the guts, lit our fires and kept them blazing. As they say, this is what it's all about.
We hope this list—which runs the gamut from newgrass to avant jazz to fiery blues to acoustic singer/songwriters to every color of rock's ever-changing rainbow—brings on a few discoveries for those listening. Please let us know in the comments what your picks of the year are, and don't be shy to tell us what we missed … because sharing is caring!
As we bask in reflection and head chin-up toward 2020, we wish you an illuminating year ahead, full of all the things you love, which most surely includes, since you're reading this, plenty of musical delights and revelries.

ANDY ELLIS — SENIOR EDITOR
Billy Strings
Home
I can't get this guy out of my head. Fortunately, Billy's feral flatpicking, emotive voice, and extraordinary (and often unsettlingly autobiographical) originals are welcome ricocheting around in there. The album's foundation is 100-percent bluegrass: High, lonesome vocal harmonies hover over virtuosic banjo, fiddle, mandolin, and upright bass. Yet Billy is obviously from another planet. His tones run the gamut from shimmering acoustic to stone psychedelic amped-up flattop, and he plays with the intensity of a man possessed. Bluegrass from Mars? I'll take it.

Jimi Hendrix
Songs for Groovy Children: The Fillmore East Concerts
When Band of Gypsys was released in March 1970, the U.S. was in turmoil. Cities were literally burning. Tear gas was in the air. At Kent State, student protesters were shot dead by the National Guard. There was a growing generational clash between kids my age and the establishment: Civil rights, women's rights, and, of course, the Vietnam War were driving seismic societal change, and it wasn't pretty. Fronting his new trio, Hendrix captured the zeitgeist with songs like "Machine Gun," "Changes," and "Power of Soul," and in a real way—at least to this guitarist—the music heralded the end of the flower-power era. Band of Gypsys was culled from four shows recorded on New Year's Eve 1969 and the following night. With Songs for Groovy Children, we can now hear all four sets Hendrix and his bandmates Billy Cox and Buddy Miles performed over the course of 48 hours. It's fascinating to hear Jimi tackle his new material—including the epic "Who Knows" and "Message to Love"—multiple times, giving each version a cosmic twist. The music sounded amazing then and feels equally relevant today.
Most-anticipated 2020 releases: Ben Harper, oud wizards Trio Joubran, and Jerry Douglas.

CHARLES SAUFLEY — GEAR EDITOR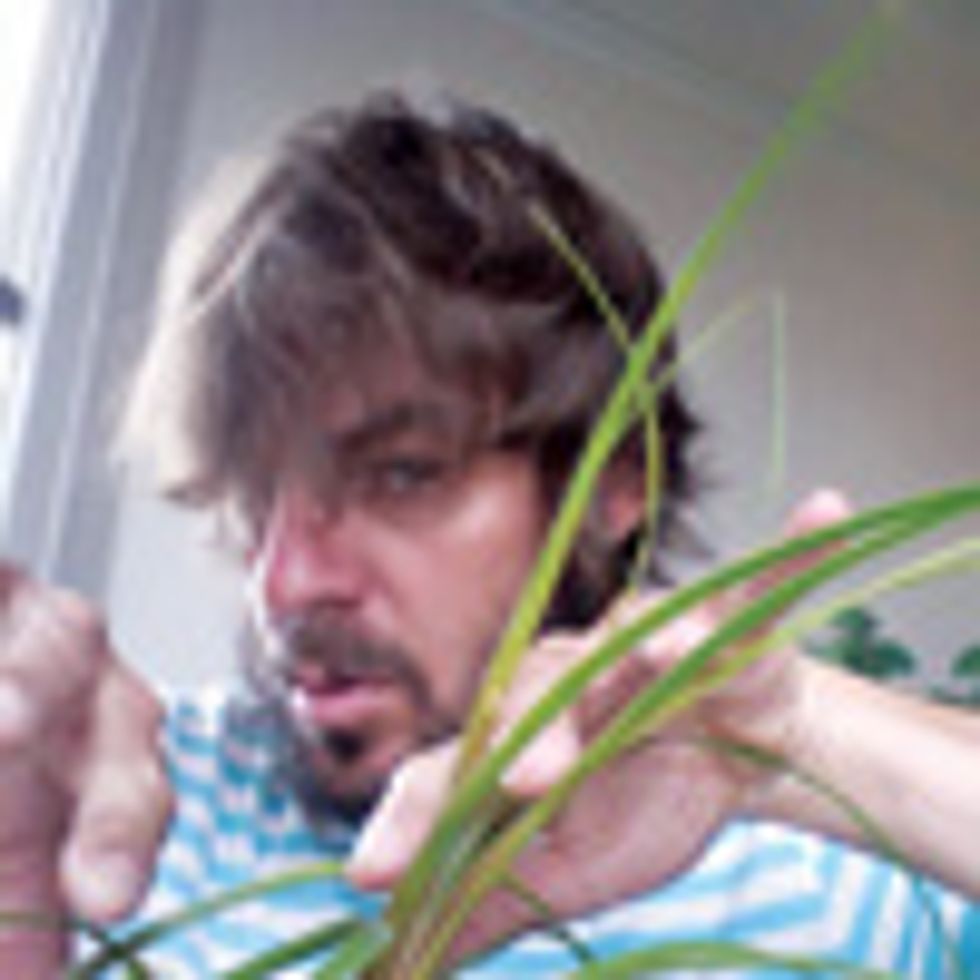 Wet Tuna
Water Weird
Few artists conjure the spirit of gentle, benevolent anarchy quite like Vermont's foremost homebrew psychedelicist, Matt Valentine. His recent records with MV & EE and as a solo artist are dreamy, hazy artifacts that simultaneously let mind and body wander while thrillingly asserting psychedelic music's folk-art origins and potency. Here, on Wet Tuna's second LP outing, he rejoins fellow New England sojourner and Tower Recordings collaborator Pat Gubler (aka P.G. Six) for a joyful, irreverent exercise in space-rock deconstruction that ultimately coalesces into an enveloping, intimate whole as warm and welcoming as firelight on a cold New England night.

Possible Humans
Everybody Split
Grafting a sprawling "Like a Hurricane" solo to a Flying Nun-style Oz/Kiwi-jangle nugget? Sounds like perfection—or heaven—to me. And Melbourne, Australia's Possible Humans gave us this very gift in the form of "Born Stoned," an 11-minute centerpiece on a slab otherwise peppered with three-minute jangle-pop gems.

Jason Shadrick — ASSOCIATE EDITOR
Julian Lage
Love Hurts
Over his last three solo albums, Julian Lage has started to cement his place as your favorite guitarist's favorite guitarist. His great Tele experiment was born on Arclight, matured with Modern Lore, and reached peak melodicism with this collection of mostly covers. Even through the prism of tunes by Roy Orbison, Nazareth (!), Keith Jarrett, and Ornette Coleman, Lage's otherworldly command of melody, touch, and dynamics is astounding. Big shout out to bassist Jorge Roeder and drummer Dave King for pushing and pulling the music in all the right places.

Ben Rector
Magic: Live From the USA
This album totally caught me by surprise. I wasn't familiar with Ben's music at all until I heard him on the supremely excellent podcast Sterloid Talks. Not only are the tunes a collection of finely crafted sing-alongs (imagine a millennial Billy Joel fronting a synth-rock quartet), but the musicianship is outstanding. The rhythmic push and pull on "Old Friends" and the long-jam version of "Loving You Is Easy" are standouts.

Cory Wong
Live in the U.K.
This was the year when musos made their mark. Vulfpeck guitarist Cory Wong dropped three live albums and a studio album in 2019, but this U.K. recording stands out for me. The monologue Wong drops in the opening track, "Lunchtime," is a how-to guide on how to spot the musicians in the crowd. "You ready to hear some diminished chords?" His tight-as-hell band rips through 20 tracks and sound like they just downed a sixer of Four Loko on "Encore Jam/I've Lost My Chops."
Most-anticipated 2020 releases: Pat Metheny's From This Place, Sierra Hull, Martin Sexton, and I'm still waiting for one last great Clapton electric blues album.
Rich Osweiler — ASSOCIATE EDITOR
Superchunk
Acoustic Foolish
Full disclosure: I've been a Superchunk fan for, gulp, close to three decades now. They were a huge influence on my music writing and leanings towards power-pop-punk band scenarios in the '90s. No Pocky for Kitty and Foolish were in my cassette deck or microwave-sized CD player almost always. So, when I first learned about an acoustic rework of Foolish, I was for sure curious, but didn't have huge expectations. I just figured it would be a made-for-MTV Unplugged scenario or frontman Mac McCaughan strumming my favorite old tunes on an acoustic. I was wrong. Sure, it's got the trip-down-memory lane aspect to it, but I wasn't prepared for how well these newly arranged tunes—with piano and strings no less—come together. Few bands, in my opinion, have been able to create such memorable power-pop hooks and structures. The energy and angst in the adrenaline-infused tracks on Foolish lured me in 25 years ago, and the stripped-down Acoustic Foolish is further testament to the strength behind the songwriting. Bravo, Superchunk!

Psychedelic Porn Crumpets
And Now for the Whatchamacallit
When this record arrived in my inbox this past spring, the band and album names demanded I listen to it right away. How could I not? Whatchamacallit was my favorite candy bar as a teen, and like the teen-pimple-producing treat, I've been overconsuming And Now for the Whatchamacallit since the first spin. Hailing from the hallowed psych-rock grounds of Perth, there's almost a Beatles-esque musicality about these lads. (No, they don't sound like the Beatles.) I'm huge into psych rock, but I often find some others going too far with noise and effects just for the sake of noise and effects—with little substance underneath. The Crumpets are fun, straight-up, dirt-laden goodness with big nods to mushroom-washed and fierce classic-glam rock to hard rock, and with a lot of great melodic songwriting sandwiched in. On a side note, "Hymn for a Droid" and "Keen for Kick Ons?" have been added to my very selective playlist for the Squaw Valley parking lot this season.
Most-anticipated 2020 releases: Green Day, Cornershop, Greta Van Fleet, My Bloody Valentine, Lady Gaga

shawn hammond — Chief Content Officer
Particle Kid
Window Rock
It can feel crazy-weird how much Micah Nelson's voice sounds like his dad, country legend Willie Nelson, on the sophomore effort from his Particle Kid project—particularly when it's emanating from thudding drum crescendos full of fuzzed-out, feeding-back guitars, and bookended by keyboards that sound like retro video games or laser vortexes being sucked into oblivion. But it never comes across as bullshit aping for nepotistic gain. In fact, one needs no inclination whatsoever toward the elder Nelson's music to enjoy Particle Kid's glorious crunch, bristling grooves, and casually hooky melodies. The main musical DNA they share is a laidback ease and soulfulness that transcends genres.

J.R. Bohannon
Recôncavo
With its cascading arpeggios, lilting slide melodies, lo-fi feel, and plentiful room ambience, this solo acoustic outing carries heavy, welcome whiffs of John Fahey, the more baroque tendencies of John Renbourn and Stefan Grossman, and perhaps a bit of the haunted musing in Sir Richard Bishop's work. If you crave engrossing, pensive, adventurous flattop playing with an old soul, the work of this 30-something Southerner who moved to New York to escape his musical past—only to fall in love with it and merge it with his experimental side—then Recôncavo is definitely worth a spin.
Honorable mentions: Billie Eilish's When We All Fall Asleep, Where Do We Go?, the Yawpers' Human Question, Chai's PUNK
Most-anticipated 2020 releases: Come on, Division of Laura Lee—please!?

Ted Drozdowski — Senior Editor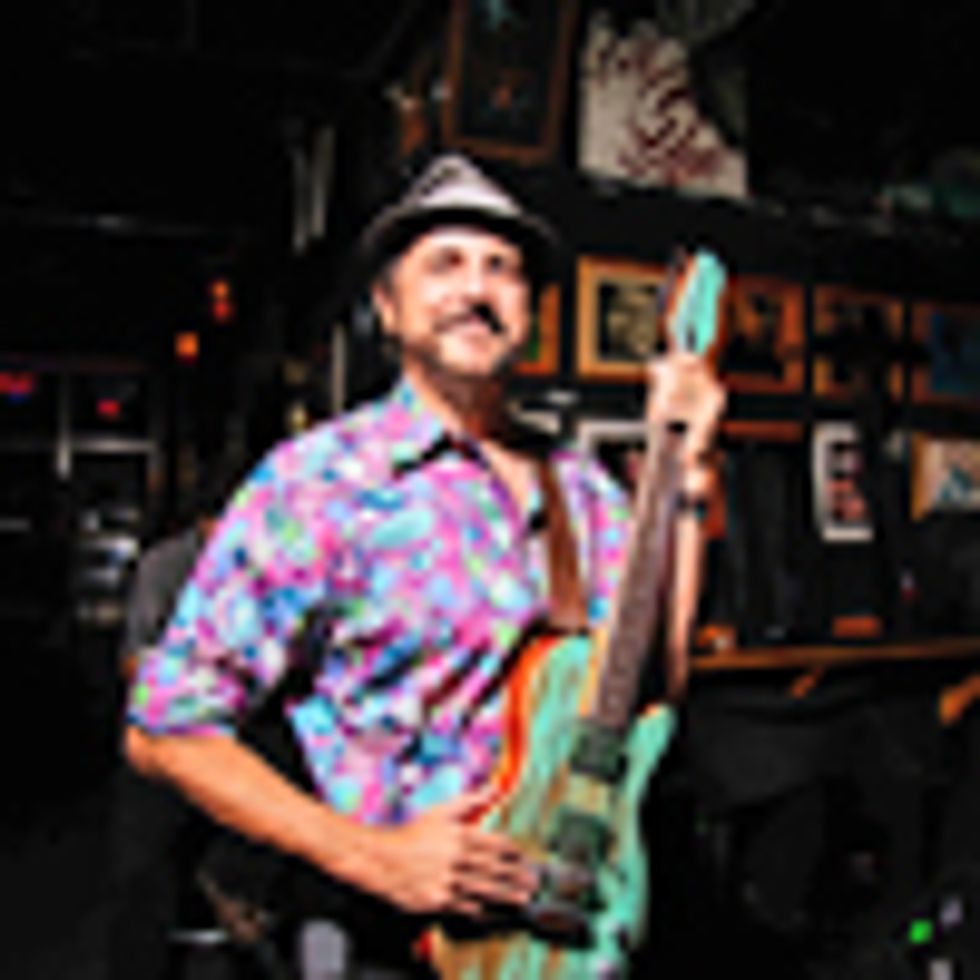 The Messthetics
Anthropocosmic Nest
Instrumental music really grabbed my ear in 2019, and none harder than the Messthetics'. Why? Anthony Pirog is the most exciting, accomplished, and eclectic guitar virtuoso I've encountered in years. And the ex-Fugazi rhythm section of Brendan Canty and Joe Lally can knock down houses or build cathedrals. These 11 tunes are a starry night in sound—full of wonder and delight, whether improvised, composed, or both, and always revealing more with further investigation. And their concerts are equally stellar … or interstellar. But what's especially hip is how their deep rock roots underline (nearly) all their work with beatific accessibility.

Five Times Surprise
Five Times Surprise
What? Pirog again? Yes, but also improvising guitar guru Henry Kaiser, bass great Andy West, violin superhero Tracy Silverman, and drummer supreme Jeff Sipe—all serving the inspiration of the Mahavishnu Orchestra. If you dig the original Mahavishnu, Miles' wildest electric music, and other playing with a fat melodic backbone and an unbridled sense of adventure, you'll love this. Their take on Mahavishnu's "You Know You Know," with Silverman breathing fire, is magnificent and worthy of holding the torch high. Plus, originals like the opener "Haboob" and the 40-minute improv "Twilight of the Space Gods" are flamethrowers. And hearing Kaiser and Pirog lord over the tonal landscape is a constant delight!

Samantha Fish
Kill or Be Kind
The rising blues star becomes a nova with her eighth album, illuminating a new level of artistry in her songwriting and guitar playing. The set is packed with spanky slide and growling leads, wild bends, and even a few dabs of atonality, reverse delay, and other sounds that typically make the genre's purists dyspeptic. (Go, Samantha!) And she wields a mean cigar box. The songs break through the blues envelope to embrace roots rock, soul, and funk, too, without waddling in cliché, as the genre so often does. And she's singing better than ever. The mainstream awaits!
Most-anticipated 2020 releases: The Slo Beats' (Kenny Vaughan and Dave Roe) debut, Wire's Mind Hive.
Wish list: After years of begging, the new Tool album arrived (my fourth favorite of 2019), but I'm still waiting for Tom Waits to throw us a bone, please. And Nashville legend Stan Lasstier needs to make an album with his scalding new trio, Madmuse.

Tessa Jeffers — Managing Editor
Susto
Ever Since I Lost My Mind
I played this record while writing my year-end reflection on music and found myself singing along to every song. I knew so many of the words, I could slay some karaoke. Simultaneously, memories floated into my mind from that time early in the year when I first discovered Ever Since I Lost My Mind. What are the best albums if not the literal soundtracks to your life? Susto's third album benefitted definitely from having Ian Fitchuk (who won a Grammy for Kacey Musgraves' Golden Hour last year) at the helm, but these songs stand just as strong with only an acoustic guitar and frontman Justin Osborne's masterful storytelling. I was lucky to see both a stripped-down version and the full band treatment live this year. Both approaches worked equally well because Osborne's narrative and melodies have that sticking power: I believe what he's saying comes from a place of truth.

Raconteurs
Help Us Stranger
This is the album I listened to on a sunset drive after a long day, window rolled down, blasting my favorite song of 2019, "Help Me Stranger," so I could feel alive in modern times where we're glued to devices for most of our waking days. My albums of the year are ones that I actually listened to from beginning to end, in my personal time, because they excited me, brought me in, and kept me coming back for more. This rare, unadulterated rock gave me a shit-eating grin when I first heard it. Jack White slapped me upside the head with inventive, bull-in-a-China-shop riffs and Brendon Benson held me close with a keen sense of melody. Pretty incredible for an album that came more than a decade after their last to miss no beats. It's constant motion, formidable swing with impeccable timing and phrasing, light-dark storytelling, and an intangible quality that shows up when groups have unflappable chemistry, like … dare I say—the Beatles. It's an instant, timeless classic that I'll listen to 20 years from now. In our PG interview, Jack White said: "When you write or record or produce something, your hope is that you'll be able to change somebody's mood when they're listening to it." Well Jack, there you have it. The mood I got was: Let's RAGE!
Honorable mentions: Lana Del Rey's Norman Fucking Rockwell!, Orville Peck's Pony, Liam Gallagher's Why Me? Why Not., Neil Young and Crazy Horse's Colorado
Most-anticipated 2020 releases: Red Hot Chili Peppers with John Frusciante, Kasabian, Alanis Morissette's Such Pretty Forks in the Road, The 1975's Notes on a Conditional Form