Photo by Diane Allmen
Cheap guitars, cheap booze, and amps on stun—the shaggy tale of the legendary court jester of Chicago slide-guitar blues.
What magicians really practice is subterfuge. The noisy blues mage Hound Dog Taylor was a master. His quote, "When I die, they'll say 'He couldn't play shit, but he sure made it sound good,'" is emblazoned on a T-shirt, over a photo of his 6-fingered fretting and sliding hand. And his stage persona—laughing and joking at warp speed and bullhorn volume, drunk, Pall Mall dangling from his lips, a huge slide raking his Kawai Kingston's strings in a way that made his amp detonate fragmentation bombs—was that of a barroom jester. But there is genuine magic at the nucleus of Hound Dog's wild-ass playing, for the effect it had on audiences and the story in sound it still tells.
"Anybody who heard Hound Dog live and says they didn't have a good time is lying," attests John Sinclair, the American counterculture hero who helped present Taylor while serving on the board of the Ann Arbor Blues and Jazz Festival in the early '70s. "He'd start his sets by yelling, 'Let's have some fun!' And everyone did. He's my all-time favorite artist."
The perpetually struggling musician from Natchez, Mississippi, could barely read words, but Hound Dog read his audiences like Shakespeare, using songs like "Wild About You Baby" and "Give Me Back My Wig," and his trio the HouseRockers' almighty groove, as helium for lifting hearts. He also knew how to find the soft spots in aching souls, with his tear-wringer "Sadie" or the nakedly abject "She's Gone."
"Anybody who heard Hound Dog live and says they didn't have a good time is lying."— John Sinclair
As a Black man raised in the depths of the Jim Crow Delta, then living and performing mostly in the hardscrabble urbanity of Chicago's South Side, Taylor knew the score and used his music to settle it. Although Hound Dog's been gone for 46 years, defiant joy still rings in the sound of the three singles and two studio albums he cut in his lifetime. And especially in live recordings, where he and his team, because they were more than a band, of co-guitarist Brewer Phillips and drummer Ted Harvey ran wild—as loud, carefree, and outrageous as they cared to be, not giving a damn about anything. Their brash, braying, and self-possessed music is the sound of freedom and, in the context of African-American history, even rebellion. And those who can't hear that through the raggedy tones and occasional hiccups are making the mistake of merely listening with their ears.
Young Dog's Blues
Theodore Roosevelt Taylor was born in either 1915 or 1917 in Natchez, about 85 miles north of Baton Rouge, on the banks of the Mississippi. The small city's boomtown days were past. Its status as the lower river's nexus of steamboat traffic was erased by the expansion of railroads. But it continued to be a lively music town. In 1940, Natchez was the site of the infamous Rhythm Club fire, where 209 people lost their lives after being trapped inside the wood and steel building where Walter Barnes, a well-regarded contemporary of Duke Ellington, was leading his Royal Creolians orchestra.
By then, Taylor—whose first instrument was piano—was playing guitar and singing all over the Delta, when he wasn't driving a tractor on the farm where he worked. He had even appeared on Sonny Boy Williamson's popular King Biscuit Time live radio show on station KFFA in Helena, Arkansas. Two years later, Taylor hastily relocated to Chicago after the Ku Klux Klan burned a cross in front of his home in retaliation for an affair he'd had with a white woman. For the first day, he crawled through drainage ditches and hid in fields as he made his way north.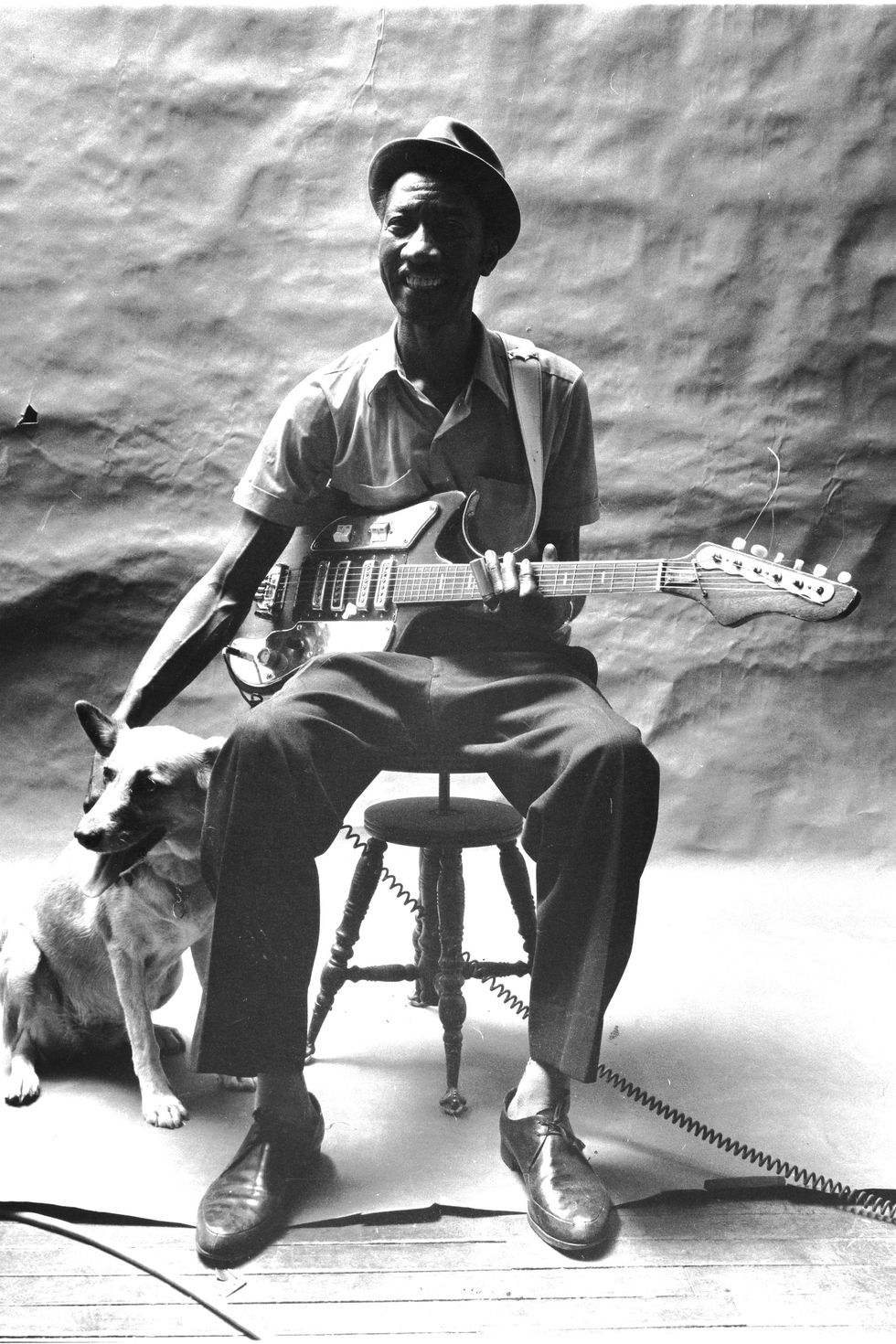 In this out-take from the photo session for his debut album, Taylor has his Kingston with a metallic pick- and body guard—and an amiable canine companion.
Taylor was born with polydactylism, a condition that causes the formation of additional fingers or toes. Both his hands had six fingers. Although the sixth wasn't functional, his fifth was extra-large, and some theorize that its additional bulk and strength may have helped him more aggressively pin the strings with his slide. At one point, as fable has it, he tired of being razzed for his difference and used either an axe or a straight razor to cut off the extra finger on his right hand. The resulting pain and blood led him to leave the left alone.
For his first 15 years in Chicago, Taylor played gigs but made a living via day jobs. Under the spell of Elmore James, whose early '50s singles established him as a star, the Dog began playing more and more slide, crafting his own raw distillation of James' keening, cutting, aggressive style and even copping his bawling vocal approach. In 1957, Taylor was building cabinets for televisions when he made the decision to chase the muse full time. Two years later, he met guitarist Brewer Phillips on a gig, and the HouseRockers began to gestate.
Through the '60s, Taylor eked out a living in Chicago's Black working-class bars, which stayed open long and late. At some point, he got the nickname Hound Dog, which, let's face it, is cooler than Teddy Roosevelt. Tales vary, but it was either bestowed upon him because of his tireless pursuit of members of the opposite sex, or because he actually did look like a canine, with his prominent ears, large nose, and rounded eyes. He reportedly developed a pre-show ritual of downing a shot of whiskey, a mixed drink, and a beer in quick sequence just before taking the stage, which he'd then command for a series of sets sometimes stretching to six hours or more. The typical fee was $30 for the band, bumped up to $45 on weekends.
Hound Dog Taylor, natty as always, digs in hard for some single notes. See the steel pick on his right index finger? That's part of why his sound is often so explosively bright.
Photo by Jack Lardomita
In 1965, he and Phillips added drummer Ted Harvey, and their sound coalesced. With Harvey as their tireless sparkplug, they developed a loose but brilliant language by meshing their guitars. Mostly Hound Dog took the lead, with his slide and howling voice, while Phillips laid down a stone-finger-buster riff as a bassline. Often when you hear an instrumental by the HouseRockers, like "Phillips Screwdriver," that's Brewer at the fore, aggressively playing patterns or fiendishly mean 'n' dirty single-notes in a style gleaned from his early lessons with the great 6-string innovator Memphis Minnie. In truth, Phillips was a better player than Taylor, but Hound Dog had the schiznit, and—with his crew at his side—laid it down like Godzilla.
Enter the Gator
Three singles between 1960 and '67, including a release on the Chess subsidiary Checker, did nothing to enhance their fortunes. In '67, Taylor somehow obtained a slot on the American Folk Blues Festival tour of Europe, but he hated the experience, because his style didn't mesh with his fellow travelers, which included Little Walter, Koko Taylor, Son House, and Sonny Terry & Brownie McGhee. But in 1970, the coin flipped. Music-loving, recent college grad Bruce Iglauer had moved to Chicago for a job at Bob Koester's famed Jazz Record Mart and Delmark Records operation, and to chase the city's thriving blues. Taylor had told him about a regular Sunday gig he held down at Florence's Lounge, at 5443 Shields Avenue, on Chicago's South Side. It was a classic workingman's bar in a standalone building made of brick and cinder blocks, with a cubed-glass window and a dark, wood-paneled interior. As anyone who has pursued regional music styles to their depths knows, this is the kind of lair where wizards can sometimes be found. And on one afternoon in 1970, that's where Iglauer found Taylor, Phillips, and Harvey.
Iglauer recounts that afternoon, right down to the beads of sweat trickling down Taylor's cigarette-smoke-clouded face, in 2018's Bitten by the Blues: The Alligator Records Story, which he co-authored with Patrick A. Roberts. Talking about that gig 51 years later, revelation still rings in his voice. "It was the most fun I'd ever seen anyone have playing music," he attests. "I remember grinning all afternoon. They were so happy that it was like watching kids pretend to make music with brooms instead of guitars. Ted Harvey worked at a loading dock for Montgomery Ward, and Brewer Phillips worked construction. Hound Dog was the only one who made a halfway living playing music. So their only motivation for being there was to have fun."
The meeting of Hound Dog Taylor and Bruce Iglauer was a turning point for both men. Taylor rose from Chicago's working-class bars to club, festival, and college stages around the world, and Iglauer became the proprietor of what would become the leading independent blues label, Alligator Records.
Photo by Nicole Fanelli
Beside colorful stories about his travels with the group—how Ted Harvey rarely drove because he'd end up motoring against traffic on the wrong side of a superhighway, Taylor sitting up all night in his hotel room with the lights on because he was frightened of having a repeated dream about being chased by wolves, Taylor's epic slide-guitar battle with J.B. Hutto, the trio's relief finding a Kentucky Fried Chicken in Australia after resigning themselves to starvation—the period also gave Iglauer an intimate view of what and how they played.
That day was transformative for both Iglauer and Taylor. After failing to get his boss to sign Taylor to Delmark, Iglauer used a $2,500 inheritance to pay for two days of studio time, then started Alligator Records to put out the results, Hound Dog Taylor and the HouseRockers, in 1971. Natural Boogie followed in 1973. Today, Alligator is the world's largest independent blues label, celebrating its 50th anniversary and a storied history that includes hundreds of titles by Albert Collins, Johnny Winter, Son Seals, Lonnie Brooks, Lonnie Mack, Koko Taylor, Buddy Guy, Junior Wells, and other legends. But for the next four years, Iglauer shepherded Taylor, Phillips, and Harvey in the studio and across the world's stages. He describes the trio's chemistry as "equal parts brotherly love, vicious adolescent rivalry, and Canadian Club."
How They Rocked
Taylor's main amp, the one heard on Hound Dog Taylor and the HouseRockers, was a Silvertone 1400-series piggyback 6-speaker combo—a 60-watter he turned about as high as possible. That's the key to Taylor's gleeful distortion: funky gear and sheer volume. But Iglauer notes that he also witnessed Hound Dog play through a Peavey 1x15 and a Fender Super, and even, during a soundcheck at the Ann Arbor festival, into a Fender Twin with a Gibson Les Paul. "Hound Dog always sounded exactly the same."
The HouseRockers' chemistry was "equal parts brotherly love, vicious adolescent rivalry, and Canadian Club."—Bruce Iglauer
Taylor's guitars of choice were a pair of Kawai-made Kingston S4Ts, with fat necks, whammys he didn't tend to use, an on/off slider for each of four pickups, and master volume and tone controls. One had a Telecaster pickup subbed in, plus a metal pickguard and upper body protector, and both of these then-$50 pawnshop specials were difficult to keep in tune, but perfectly suited to Hound Dog's raw exhortations. Dan Auerbach owns one of these guitars and played it on the Black Keys' most recent album, Delta Kream. (For more on this guitar, see "Dan Auerbach Summons the Ghosts of Mississippi Blues" in the May 2021 issue.)
"Hound Dog did not dampen the strings like some slide players do, and essentially approached the instrument like Elmore James, but in an even more aggressive fashion," says Iglauer. Taylor also made his own slides. He'd slice metal tubing from a kitchen chair, long enough to extend across his guitar's neck, and then pound a piece of brass tubing into it, so it would fit his finger better and have more weight.
Listening to Taylor's first two albums, plus the posthumous live release Beware of the Dog! and the live-and-studio-leftovers Release the Hound, provides a strong vision of the trio's dynamic. Harvey is a surprisingly adept drummer and takes breaks where his rhythms veer in jazz-inflection directions. Taylor is heavy handed, tempering his ringing, grinding, often-turbo-speed slide with barking single notes to open up his verses, and chords that smash with sledgehammer audacity. The steel pick he wore on his right index digit adds to the shrillness of his tone—especially when he pecks out single notes like a brawny rooster. And Phillips plays far more than basslines on his guitar, even when fulfilling that role. His figures are packed with nimble variations, although he never shortchanges the pulse, and his solos offer a scalding challenge to copycats.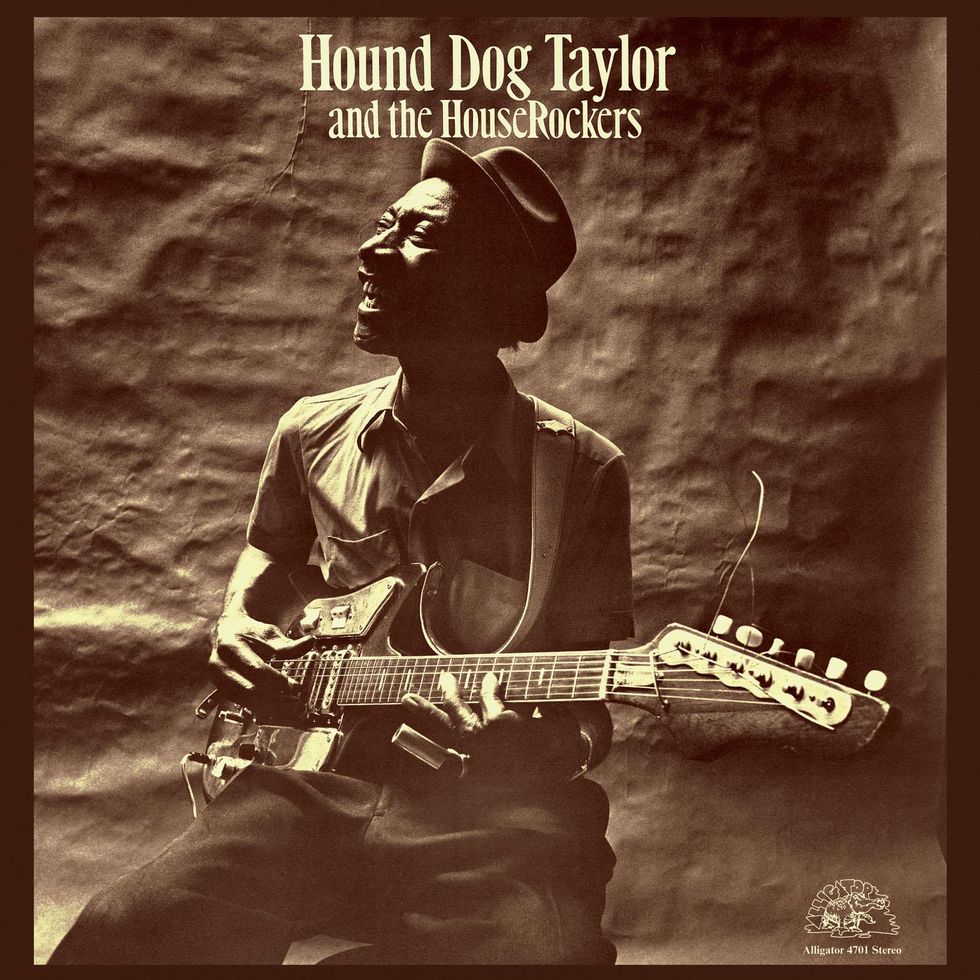 Taylor's debut album was produced and released by Bruce Iglauer, and established his Alligator Records imprint. The label is celebrating its 50th anniversary this year.
"Hound Dog's tuning was typically somewhere between open E and open D," Iglauer continues. "They tuned by ear, so it was relative." Especially after the night wore on and the whiskey bottle emptied. "Once, Hound Dog tried to quit drinking, but it was terrible. His hands couldn't stop shaking, and he couldn't play, so he started again."
The Other Side of the Dog
Like the animal whose name he wore, Hound Dog Taylor loved being with people. Fans around the world knew him as funny, warm, smiling—the perpetual genial host. "Even when he was at home, he was 'on,' just like he was onstage—the life of the party," says Iglauer. And whenever the young record man visited Taylor's apartment, it was buzzing with visiting friends and relatives. But in his quiet times, Taylor often appeared sad and regretful. "He seemed to feel that he missed out on a lot of things in life," says Iglauer. And he persecuted himself over what he saw as a lack of musical and practical education. "I don't believe he appreciated the depth of his own soulfulness or the transcendent joy that his music created."
Oddly, one of Taylor and Phillips' joys was argument. Once, they bickered all the way from Boston back home to Chicago, a 983-mile trip, about whether Hub City radio station WRKO was AM or FM. "One morning, after an all-night drive, Hound Dog woke up in the back seat of the car and noticed Ted Harvey was asleep in the front," recalls Iglauer. "He smacked Ted on the back of the head and yelled, 'Wake up and argue.' This was not always good or funny. In his book, Iglauer recounts finding Taylor and Phillips in a violent argument behind a club, knives drawn and out for blood. "I don't know what would've happened, because their tone made me feel like they really wanted to kill each other." Acting fast, he reminded both men they had a show contract to fulfill, and the battle stopped. "I think they were looking for an excuse to put their knives away," he says.
Hound Dog Taylor - 15 minute LIVE Ann Arbor 1973 Video
In May 1975, they went too far. During a visit to Taylor's home, Phillips made a tasteless joke about having sex with his wife, so Taylor shot Phillips in the arm and thigh with a .22 rifle. That ended the HouseRockers, and a few months later Taylor was in the hospital with inoperable cancer in his lungs and neck—his last stop before the great gig in the sky. Iglauer was a frequent visitor, and on his final stop-by, two days before the Dog slipped away, he was leaving as Phillips arrived to make amends with his friend. Taylor died on December 17, 1975.
"I don't believe he appreciated the depth of his own soulfulness or the transcendent joy that his music created."—Bruce Iglauer
Because of his half-century helming Alligator Records, Iglauer has known nearly every major electric blues artist, to varying degrees. When asked where Taylor fits in the pantheon, he pauses a moment, and then mentions George Thorogood, the band GA-20 … just a tablespoon full of direct torchbearers compared to the likes of Alberts King or Collins, or B.B and Buddy, or, of course, Stevie Ray Vaughan. "What Hound Dog did in terms of technique is not difficult," he says. "You can put your guitar in open tuning and find his notes. Hound Dog played simplified Elmore James, with slide chords and sliding and single notes on individual strings, but that groove …. his rhythm. Hound Dog was all about that groove."
That raw sound, that groove, and the pure joy of being alive that resonates in the music of Hound Dog Taylor makes me think of a quote from another great record man, Sam Phillips. The Sun label chief famously described the music of another musical canine, Howlin' Wolf, as coming from "a place where the soul of man never dies." Hound Dog Taylor's music also comes from that place.
Inside of a Dog—Approaching the Style of Hound Dog Taylor and Brewer Phillips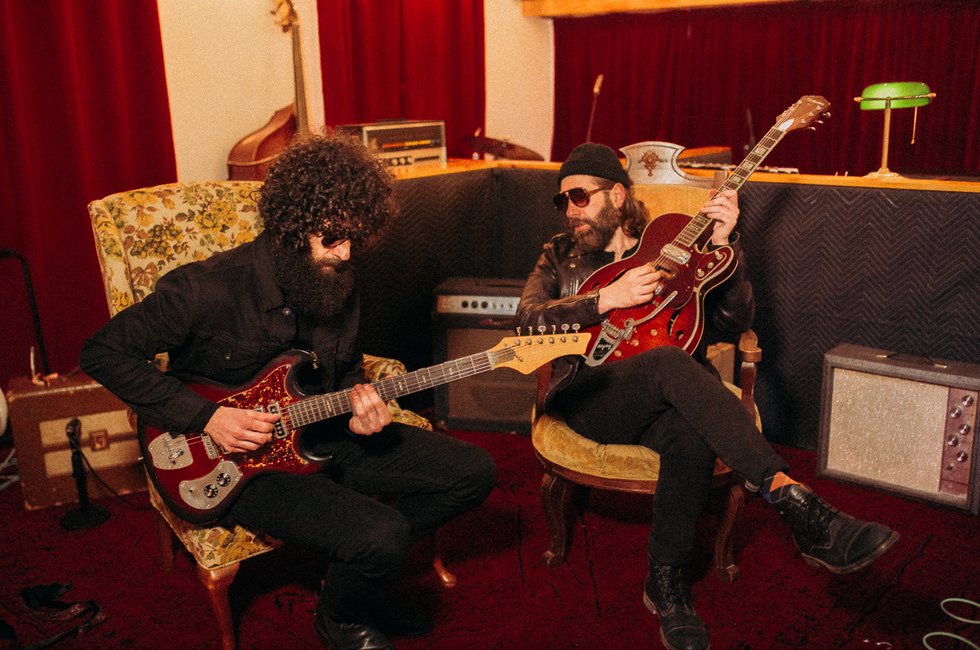 Pat Flaherty, left, and Matthew Stubbs took on the roles of Hound Dog Taylor and Brewer Phillips for their band GA-20's new album.
Dissecting the music of Hound Dog Taylor and the HouseRockers is like conducting an alien autopsy. Things might sound and look kinda familiar, until you get deep inside, where offbeat stops and turnarounds, staggering shuffles, fast-flowing arteries of single notes, and fat-ass grooves abound.

GA-20 guitarists Matt Stubbs and Pat Faherty took their scalpels to the task to prepare for their new album, GA-20 Does Hound Dog Taylor: Try It … You Might Like It! "We've always loved Hound Dog's stuff, and real Chicago blues," explains Stubbs, whose main gig is with blues legend Charlie Musselwhite. And GA-20's two-guitars-and-drums lineup also makes the HouseRockers a natural frame of reference.
For their tribute album's 10 songs, Faherty played the role of Taylor and Stubbs chased Phillips' approach. Faherty found a Kawai-made relative of Hound Dog's Kingston, a Teisco, on eBay just before the sessions. "The sound is really in those pickups," he observes. "As far as intonation goes, you can't get the cheaper versions to go in tune past the second fret, and their strings couldn't even be lined up over the pickups correctly. So you have to get a better model, like Hound Dog had. I need a little tension when I pick, because the guitar is tuned to open C#, so I used .012s. Hound Dog would use that tuning, and his version of Elmore James's 'It Hurts Me Too' is almost in F." Faherty figures Taylor tuned mostly in the neighborhood of open D or Eb, and adds that E tuning is audible on the live recordings.
Faherty's initial experience playing slide was as a student at Berklee, under the guidance of jazz and textural guitar guru David Tronzo. "Hound Dog's style is super-loose, and the thing about his tone that makes him different from a lot of other slide players is that when he goes for it, he digs really hard. You can tell by the shrill attack that he's not smooth. The sound is very biting and in-your-face."
Stubbs offers that "Brewer was the secret weapon in the band. He solo'd like a madman. I've listened to Hound Dog my whole life, but had never gone through Brewer's style with a microscope before. Some of the turnarounds he used to play, like in 'Give Me Back My Wig'.… I remember thinking, 'Man, if I'm going to get close to this, I'm really going to have to double down.' He filled all the gaps with some really sophisticated playing. Brewer wasn't just following Hound Dog. He was constantly creating these little melodies on the side. And there are places where they dropped bars and changed rhythms, and you'd think they messed up, but then you listen to the live recordings and find out they made these changes together every time."
Stubbs favored a '51 Telecaster for the sessions at his home studio, and a reissue when he needed to tune down to C#. For amps, Faherty mostly used a Silvertone 1471, 5-watt, 1x8 combo. As for Stubbs' own main amp, it was their band's namesake: a 16-watt Gibson GA-20 combo.
Photo by Scott Kowalchyk
The self-described "utility knife" played drums with John Scofield and Marcus Miller and spent time in the studio with Q-Tip before landing on Stephen Colbert's show as a multi-instrumentalist member of the house band. Now, he's taken over as the show's guitar-wielding bandleader and is making his mark.
It's a classic old-school-show-biz move: Bring out the band, introduce them one by one, and build up the song to its explosive beginning. It's fun, dramatic, audiences love it, and that's how every The Late Show with Stephen Colbert taping starts.
By this time, us audience members have been sitting in Manhattan's chilly Ed Sullivan Theater for about 90 minutes. We've gotten our seats, had a bathroom break after getting settled, and had some fun with warm-up comic Paul Mecurio. The first musician summoned by announcer Jen Spyra is drummer Joe Saylor. Wearing his trademark cowboy hat, he jogs out, gets behind the kit, and kicks off an up-tempo second-line groove. Next comes upright bassist Endea Owens and percussionist Nêgah Santos. The band's trumpeter, Jon Lampley, is introduced, and he's brought along his bandmates in the Huntertones as guests, so saxophonist Dan White and trombonist Chris Ott come out as well.
Louis Cato feat. Stay Human "Look Within"
The multitalented Louis Cato leads the Stay Human band through a special rooftop performance of his song "Look Within," from his album, Starting Now.
The audience is now on its feet, the band's pocket is thick, and the energy is building. When bandleader Louis Cato charges onstage, he reaches his mic on the bandstand and shouts, "I feel good today!" with explosive enthusiasm and a big grin, and the band launches into Jon Batiste's "I'm from Kenner." Cato sings the catchy and gleeful refrain: "I feel good, I feel free, I feel fine just being me / I feel good today." And the audience is feeling the love. Almost everyone is bouncing and clapping along.
A couple minutes in, when it seems like the song has reached its super-positive-vibe, high-energy climax, Cato shouts into his mic, "How do you feel today, Stephen?" And with that, Colbert comes running out from the middle of the set. Cato leaps from the bandstand toward the host as the crowd explodes. The two grab hold of each other and attempt to spin around, but the bandleader, holding his black-sparkle Tuttle T-style, loses his grip and goes sliding across the shiny stage. There's a second where both are comically stunned—Kevin McCallister Home Alone-expressions on both of their faces—but Cato quickly jumps to his feet, both he and his guitar unharmed, and runs back to the bandstand, where he keeps the song moving along with his bandmates, who haven't missed a beat.
All this excitement isn't even for the TV audience! Colbert is coming out for the un-televised pre-show Q&A. In a few minutes, they'll do a new taped intro that looks more like what we see every night. But they've gotten the crowd energized, and we need to keep it up. They need our energy to do their jobs.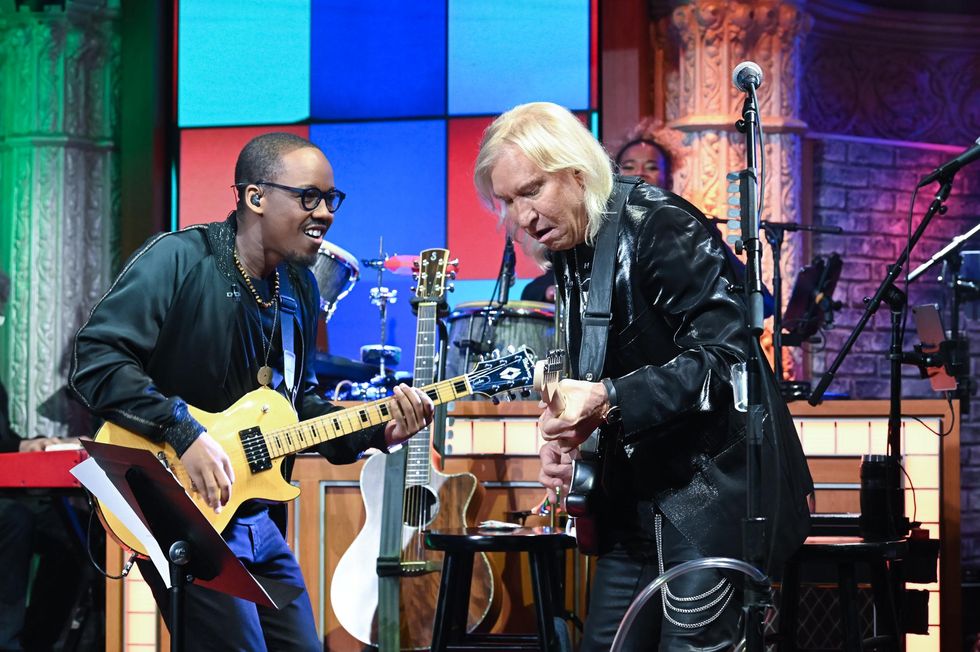 The Late Show Band welcomes a lot of guests up on the bandstand. Here, Cato and Joe Walsh boogie down.
Photo by Scott Kowalchyk
As Cato sees it, that's what his role as bandleader is all about: keeping the audience engaged and amplifying the drama and action of the show. "That translates to the energy that the viewers get at home," he explains. "For all of us here, we're able to feed off that energy and do the best possible show that we all can."
Colbert agrees with that job description and adds that the bandleader himself has the same contagious effect on his players. "Louis is an extraordinarily gifted multi-instrumentalist," he says, "whose spirit of creativity and collaboration not only elevates everything the band does musically but inspires me to be better at my job." He adds, "I'm so happy to call him my friend."
Beyond his infectious energy and charisma, there are a lot of ways Cato keeps the Late Show Band invigorated from night to night. For one, he keeps the music fresh by tackling a new cover song every day. That doesn't mean running down rote note-for-note charts. Cato and the band take a reconstructionist approach that fans of his work—whether from his collaborations with artists such as the Huntertones, Scary Pockets, or Vulfpeck, or from his regular Instagram cover-song posts—will recognize.
"Louis is an extraordinarily gifted multi-instrumentalist whose spirit of creativity and collaboration not only elevates everything the band does musically but inspires me to be better at my job."—Stephen Colbert
On this evening, the band runs through a host of multi-genre reinterpretations during the two-episode taping, including a slow-burning and soulful "Smokestack Lightning," a New Orleans-style "Down by the Riverside," and a fingerpicked, acoustic-led take of Joni Mitchell's "Free Man in Paris" that gets Colbert lip syncing along off camera. On a horn-driven arrangement of Stevie Wonder's "Love's in Need of Love Today," there's a re-worked bridge that creates a generous feature spot for the guest horn players.
Every arrangement brings a new and unique perspective to a classic track, to ensure the band is "not just a wedding band doing a cover of a song on the radio." Cato adds, "We're arranging it and making it our own—because that's the sonic fingerprint of our show."
St. Vincent jams with Louis and crew.
Photo by Scott Kowalchyk
A Lifelong Path
Listening to the story of Cato's musical life, it seems that this job—with its demand for a blend of careful strategizing and on-the-fly creative thinking, as well as effortless instrumental skills and charismatic showmanship—is what he's been training for since the beginning.
On the morning of the taping I attended, I meet Cato in his dressing room. Painted with sky-blue walls and a cloud mural on the ceiling, it's a comfortable place to hang. The bandleader is wearing slim-fit floral pants, a hoodie over a black T-shirt, and a long necklace. He sits across from me on his couch, next to a guitar stand that holds a few instruments—including his Tuttle, a Jesse Stern-built baritone acoustic, and his Univox LP-style—and a '65 Deluxe Reverb reissue with a Universal Audio Dream '65 pedal plugged into it.
"There's not a time in my brain when I was not making music in some way or form," Cato says. His mother, a pianist in the Church of God in Christ, bought her son a Diamond drum kit that he recalls having paper heads when he was just 2 years old, and she started teaching the toddler to accompany her. "I marvel at my mom," he laughs. "Like, who buys their 2-year-old a drum kit?" After playing those drums every day for a year, he started accompanying her at services.
The family moved around a lot. Cato's father was in the Air Force, and Louis was born on a base in Lisbon, Portugal, before moving to Dayton, Ohio. Not long after he started playing in church there, they moved again to Washington, D.C., and when Louis was 5 they settled in Albemarle, North Carolina. A few years later, Louis started playing guitar on a "little burgundy sunburst acoustic. Eventually, I busted a string and busted another string and just kept playing with four strings. I delved more into bass from playing bass lines on the acoustic guitar. So, for my 9th birthday, my dad bought me a 4-string bass."

"I'd show up to Tip's and we'd do a week of writing sessions with John Legend or have André 3000 in the studio for a couple of weeks."
While it was strictly pragmatic reasons that initially drew him to the bass, he says his biggest inspiration was the bass player he knew best: his mother's left hand. Her playing, rooted in the COGIC (Church of God in Christ) style, "involves heavy left-hand bass. I wasn't as psyched to play bass in church since the way my mom plays is very defined. But eventually I kind of had to learn how she plays. It was always just her and me playing. And I had to learn to move with that and follow that. She's a great bass player."
Along the way, Cato picked up more instruments. By the time he headed to Berklee, he was playing drums, guitar, and bass as well as tuba, trombone, and euphonium. "I was going from being a big fish in a small pond to a small fish in a large pond of super-talented people who had heard oodles of music I had never dreamed of," he recalls. So, he decided to focus his studies on the instrument he'd played the longest.
Louis Cato's Gear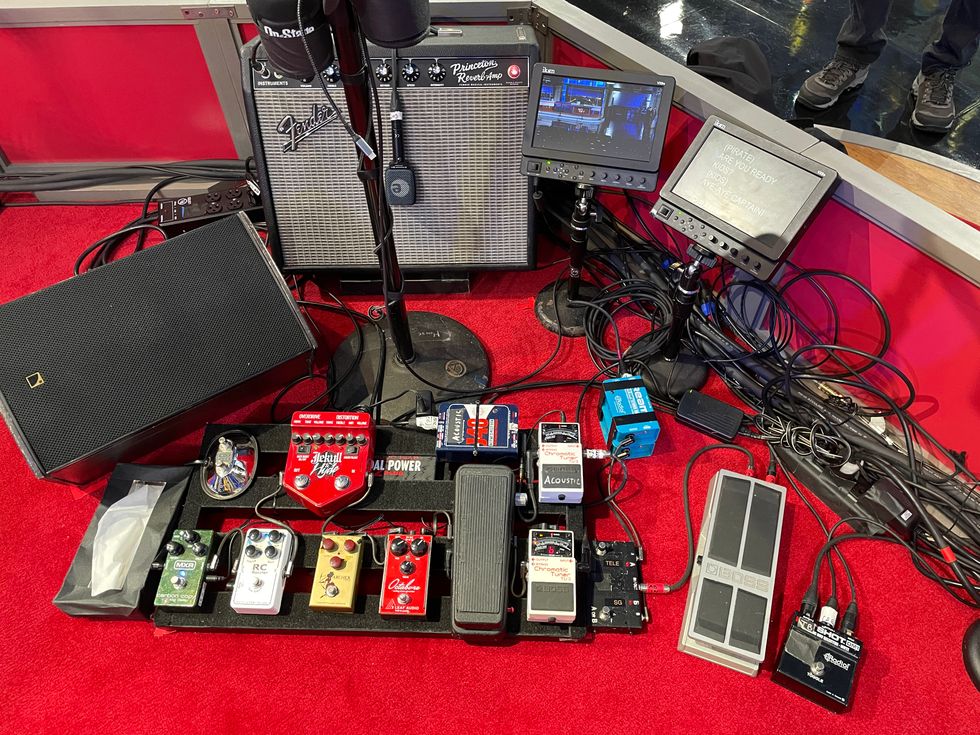 A glimpse at Cato's pedals and amp, which mostly live outside of the camera's eye, behind his stage monitor.
Guitars
Univox LP-style
Tuttle Custom Hollow T
1961 Gibson SG reissue
Martin OM-28
Amps
'65 Fender Princeton Reverb reissue
Effects
Boss FV-500H Volume Pedal
Boss TU-3 Chromatic Tuner
Dunlop Cry Baby
3 Leaf Audio Octabvre
J. Rockett Archer
Truetone Jekyll & Hyde
Xotic RC Booster
MXR Carbon Copy
Strings and Picks

D'Addario EJ16 (.012-.053)
D'Addario EXL110 (.010-.046)
Dunlop Max Grip .88 mm
Cato completed just two semesters—fall '03 and spring '04—before deciding to concentrate on playing the gigs that were paying his bills. "My rationale was, much to my parents' chagrin, here's an opportunity where I can keep learning on the job and be working my way out of the debt I went into in this year."
Gigging with wedding and church bands gave the multi-instrumentalist an opportunity to keep all his instrumental and vocal skills alive. "My oldest daughter was born soon after that," he recalls, "so I felt really, really aware of how lucky I was, how lucky any of us are, to make a living and support a family as a musician." Cato spent five years in Boston, playing various instruments in gigging bands, and he frequented local institution Wally's Cafe Jazz Club, just two blocks down the street from Berklee, "for self-education and inspiration. When that felt like I hit a ceiling, I looked at where I could go to continue my inspiration and working on the kind of projects I wanted to be working on, and that led me here."
By that time, Cato's friend Meghan Stabile, had moved to New York and created the promotion and production company Revive Music, which was dedicated to the kinds of jazz and hip-hop collaborations he wanted to pursue. Cato moved to Bushwick, Brooklyn, with his band Six Figures— "There were six of us; we did not make six figures!"—and would head back to Boston each weekend for the gigs that were paying his bills. Eager to soak up the New York scene, he'd return to New York on Sunday nights and go directly to jam sessions.
All that time back and forth on the Northeast Corridor paid off. A self-described musical "utility knife," Cato's multi-instrumentalism, as well as his talents as a songwriter, arranger, producer, and engineer, made him a major asset as a collaborator, and the New York scene took notice. Soon, he established essential connections that would affect his career, forming "an instantaneous brotherhood that continues to this day" with producer Kamaal Fareed, aka Q-Tip. "Through that, I ended up really delving into a lot of relationships and credits."
The two artists worked on high-level collaborations that not only bolstered Cato's reputation but served as a major piece of his education. "I'd show up to Tip's," he explains, "and we'd do a week of writing sessions with John Legend or have André 3000 in the studio for a couple of weeks. Sometimes things would come from it, and sometimes nothing would come from it. But being in the creative process on that level in a trusted space was invaluable for me. I learned so much."
Outside of Q-Tip's studio, Cato was learning from plenty of masters, mostly from behind the kit. "It's really special when you find yourself learning things you connect to," he says about his work alongside artists such as bassist Marcus Miller, keyboardist George Duke, and guitarist John Scofield. "And I learned so much about myself from connecting to some of these people."
Staying Human
Back in 2015, Cato received a phone call from pianist Jon Batiste. The two had never met, but Batiste rang him up about a mysterious project—a theme song for a TV show that he couldn't disclose. "I had a wisdom tooth appointment back in Boston, and I got a random call," Cato remembers. "I think his exact words were, 'I'd love to have your ears on it.' And I followed my gut, rescheduled my trip, stayed in New York an extra day with an abscessed wisdom tooth."
The two got together to co-write and produce "Humanism," which would become the theme song for the Stephen Colbert-hosted Late Show. Batiste played piano, Cato played the guitar, bass, and drum parts and "put on my editing hat." They brought in Joe Saylor—who would become the show's drummer—to play tambourine, as well as saxophonist Eddie Barbash. "After the session," Cato remembers, "I went back, got my wisdom tooth out, and went back on the road with John Scofield."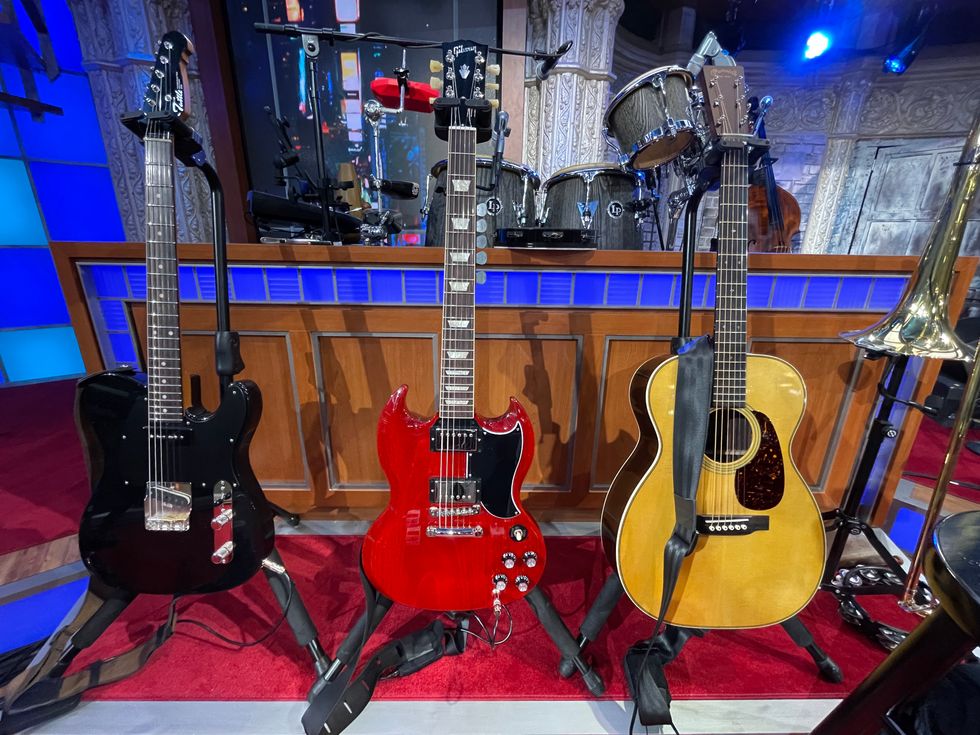 Three of the four go-to guitars Cato uses on The Late Show: a black Tuttle T-style, a cherry-red Gibson SG, and a Martin OM-28.
At first, Cato played the multi-instrumental role of his dreams, attempting to surround himself with every instrument he could play. "That lasted about three days before reality set in," he laughs. "Slowly, one by one, things started disappearing—a floor tom going away here, a Pro Tools setup going offstage there. Eventually, as the band formed out, I moved around to what was needed. I was the utility guy—played a lot of kazoo, a lot of cowbell."
While on the road drumming with Sco', Cato got the invite from Batiste to join the show's band, Stay Human. "It was a huge life shift for me," Cato explains. "I was making really good money on the road with really good musicians, which was really fulfilling. And I took a chance. I loved the idea of being a part of something creatively from its inception."
Eventually, Cato settled into a more consistent electric bass role, until Batiste brought in upright player Endea Owens, and he moved to guitar, where he's mostly stayed. When Batiste left the show last year, Cato took over as bandleader—officially starting this season, back in September—and decided he'd lead from his role as guitarist. "Of all the places I occupied," he says, "guitar was the easiest and most natural to me to lead the band, in the energy. From behind the drums, it's a different thing, and we've done it when Joe was out. But it just was a really natural progression."
Same Show, New Job
In just a few months, Cato's new role as bandleader has had an impact on the show. The renamed Late Show Band's engine seems to be burning on a new kind of fuel. And it feels as though that energy is coming directly from Cato.
When we talk, the guitarist is deeply engaged, in a kind of hyper-focused way that is not intense but more casually un-distractable. He brings that same focus to the show. While Colbert delivers monologues, Cato is zoomed in on the host, listening to every word, often riffing around on his guitar to contribute musical commentary. During interviews, he's taking cues and following the tone of the conversation, looking for ways to adapt.
The bandleader gig requires loads of big-picture improvisation, but also lots of prep. Cato explains that each week he makes a set list, but the band will react and make changes in the moment. "My job ends up being a lot of judgement calls that affect the flow of the show," he says. "We have a group of compositions we wrote for the show that can complement different moments. If there's a major energy shift in an interview that takes a turn or something happens in the day, like a tragedy, we'll call one of the songs we wrote for the show for a moment such as that. Recently, we had a guest on that started improvising a song. So, I have on our in-ear mic and call out the key and start playing, and we all jump in, and now we're doing this instead."
Cato poses with his black-sparkle chambered T-style, made by Tuttle. "When I'm checking off core priorities in sound," he says, "if I'm going for rhythmic things, I go to the Tele."
Photo by Scott Kowalchyk
Watching the Late Show Band in person, I see this play out as Treasury Secretary Janet Yellen explains the steps the U.S. can take to avoid a recession. It's a heavy and heady conversation, and, frankly, it's anything but fun. Cato knows he'll need to pick the audience back up. As he watches from the bandstand, he gives tempo cues to the band, who nod along, so they can effectively shift the energy and get the audience re-focused for the next guest, actor/director Sarah Polley.
As a guitar player, Cato says he sticks to playing things that feel most natural to him so he can concentrate on his bandleading duties. He adds that he considers himself more a rhythm guitarist than a lead guitarist. (It's worth noting that his delineation is more conceptual than musical: Cato is an inspired and dynamic melodic lead player, but his deeply rooted phrasing and feel is at the forefront of everything he plays, so the rhythm-first thing applies to it all.) "This is not a space as a guitar player where I'm jumping out of the box trying any and everything and exploring," he explains. "You get to some of those places. But for me, it always has to start from something I can do while leading the band and reading the energy and making judgement calls."
"We're arranging it and making it our own—because that's the sonic fingerprint of our show."
That rooted, pragmatic ethos applies to the gear he chooses as well. "I never was a big gear person," he admits. Luckily, he has Late Show Band tech and informed gearhead Matt Mead to help him keep his pedalboard well-stocked. "There's so many things I'm learning about the job and trying to keep straight in my head that this ends up getting the short end of the stick, and it wouldn't work if there was not a Matt Mead to make up the rest of that stick and make it sound good."
"The show throws a lot of curveballs," Mead points out. "He steers the boat as far as the tones he's looking for and if there's a particular sound he's looking for. Sometimes, I'll recommend stuff and say, 'Hey I notice you're doing this, maybe we should try this.'"
Cato's collaboratively curated pedalboard is pretty simple at its core: It starts with a Boss FV-500H volume pedal, a Boss TU-3, a Dunlop Cry Baby, and 3 Leaf Audio Octabvre. Cato shows me how he uses the latter for more traditional, Hendrix-style playing, but he points out that the band plays a lot of montunoes, and he tends to use the octave pedal for those. For drive, he uses a J. Rockett Archer and a Truetone Jekyll & Hyde, which are followed by an Xotic RC Booster and an MXR Carbon Copy, all into a Fender '65 Princeton Reverb reissue, and powered by a Voodoo Labs Pedal Power Plus.
In live performances outside of The Late Show, Cato uses various guitars, but says that the studio's cold temperature doesn't do many favors for instruments such as his Gibson Luther Dickinson ES-335 or some of his acoustics, so he's careful when selecting which guitars come on stage at the Ed Sullivan Theater. The three guitars that most commonly appear on the show are his black Tuttle Custom Hollow T, a cherry red Gibson SG 1961 Reissue, and a Martin OM-28.
Another guitar that sometimes appears on the Late Show is his LP-style Univox, which I ask Cato about in his dressing room. "If I need to be altogether comfortable," he explains, "I pull out the Univox, because it's my earliest guitar. I've had this since high school."
Cory Wong "Lunchtime" - The Late Show's Commercial Breakdown
When musical guests visit The Late Show, they get the full-band treatment from Cato and company. Here, Cory Wong sits in for a rhythm guitar showdown of the highest level.
Back when he first got the guitar, Cato remembers, it was in rough shape, desperately in need of wiring and pickup repairs and a new set of tuners. It stayed that way until he was in Boston. When he picked up a wedding band gig playing trombone and guitar, he was lucky enough to have a roommate who could get the Univox performance-ready by replacing the original tuners with locking units, cleaning out the electronics, and swapping the pickups for a pair of Seymour Duncans.
"I didn't even know there was a such thing as a professional musician."
But Cato says that even before those repairs, he's always "loved it because it's all I had. I remember I was playing a little Vox amp, and this guitar had a feeling out of that amp. This guitar just became home base and felt super natural to my fingers. If I need to just not be thinking at all, this is home."
Did he ever dream he'd be on television every night, holding this Univox and chumming with a late-night host? "Never! Not once!" he says. "It was just a product of my nurture growing up in a small town. I didn't even know there was such a thing as a professional musician." And yet, Cato pursued music as fully and single-mindedly as he could. "I just knew that I liked it and felt connected to it."
Photo by Frank Chino
From his family bluegrass band to joining the Byrds and driving the invention of the StringBender, White's hybrid style and repertoire has inspired generations of pickers since he came on the scene as an in-demand session player in the '60s.
In the mid 1960s, the Byrds were one of a handful of bands that defined the era. Built around tight vocal harmonies and Roger McGuinn's jangly Rickenbacker 12-string, their chart-topping music incorporated elements of folk, early rock, country, and psych. But by 1968 the original lineup had disbanded and version two—featuring multi-instrumentalist and vocalist Gram Parsons—was also ending. By mid-year, McGuinn was the only remaining original member. But he had an ace up his sleeve: In July of that year, he reunited with founding bassist Chris Hillman and they recruited guitarist Clarence White into the band.
White wasn't just another guitarist. As a session musician, he had already played on three Byrds' releases. He was also a bluegrass wunderkind. Though he was only 24 years old, by 1968 he had almost a decade's worth of recording and touring experience, and his early recordings with the Kentucky Colonels had redefined the role of bluegrass guitar.
When he joined the Byrds, White was a relative newcomer to electric guitar, but he would soon innovate a way of playing that instrument. He and his bandmate Gene Parsons (no relation to Gram) invented the StringBender (often called a B-Bender), which let him execute pedal-steel-like bends without taking his hands off the neck.
White's originality and mastery of the instrument put him in the unique position of revolutionizing not one, but two distinct styles of guitar playing. Whole schools, encompassing acoustic flatpickers such as Tony Rice to steel-inspired Tele players like Brad Paisley and Marty Stuart, trace straight back to White. And yet White, despite his stature, remained an understated team player.
"His concern was to make the artist sound good," says Gene Parsons. "He was a minimalist, just putting in what was really necessary. He used to say to me, 'What you don't play is as important as what you do play.' Some of the things he originated, you'll hear guitar players emulate today. The turnarounds, phrasing, and off-time things he used to do have inspired guitar players for the last 50 years."
White, in spite of his resume and extensive discography, was just getting started when he was killed by a drunk driver in 1973. But his legacy lives on. We spoke with his older brother Roland White (whose incredible book, The Essential Clarence White: Bluegrass Guitar Leads, explains the intricacies of his brother's bluegrass playing), Clarence's close associates Parsons and Herb Pedersen, and even some of his musical heirs, like Brad Paisley, to tell White's story.
Going to California
Clarence White was born on June 7, 1944, in Lewiston, Maine. His family was French-Canadian (their last name was originally LeBlanc) and music was an important part of their lives. His father, Eric, was a multi-instrumentalist, as were his father's siblings who lived nearby. Clarence's mother often played their massive collection of country and popular records around the house, and his older brothers and sister sang, harmonized, and played instruments. Between the radio, singing, and practicing instruments, music was ever-present.
White began playing guitar when he was 5, although his father gave him a ukulele to play until he was big enough to handle the larger instrument. By the time the family relocated to Burbank, California, in 1954, the White siblings—Roland on mandolin, Eric junior on banjo, and Clarence on guitar—had the beginnings of a band and, judging by what happened next, they were already somewhat accomplished.
Soon after moving to California, the family band—first calling themselves the Country Kids and then the Country Boys, before finally recording as the Kentucky Colonels—began winning talent contests and performing on local radio and television. They shared stages with established greats like Joe and Rose Lee Maphis, Lefty Frizzell, and many others, and eventually landed a spot performing on the nationally televised The Andy Griffith Show.
"When the show broadcast a few weeks later, we started getting calls from our cousins in Maine," recalls Roland White. "They said, 'We saw you on TheAndy Griffith Show, how did you get that job?' I thought it was just a local show. We didn't know it was nationwide."
White's originality and mastery of the instrument put him in the unique position of revolutionizing not one, but two distinct styles of guitar playing.
In 1959, the Country Boys started playing at the Ash Grove in Los Angeles. Their lineup at that point was Roland and Clarence on mandolin and guitar, Eric on bass, plus Billy Ray Latham on banjo, and LeRoy Mack on Dobro. The club was the local center of the then-booming folk revival. It was their first time playing through a proper PA, with onstage monitors, which was the kick Clarence needed to step up as a soloist. "It made it a heck of a lot easier," Roland says about being able to hear themselves play. The club was also their introduction to a more sophisticated, college-educated audience, and connected them to other like-minded musicians their age.
"I met Clarence in Los Angeles in about 1963," says multi-instrumentalist Herb Pedersen. "My band, the Pine Valley Boys—a bluegrass group from Berkeley—came down to play at the Troubadour, which at that time had an open mic on Monday nights. It featured artists like the Kentucky Colonels, David Crosby, and Roger McGuinn as single artists, Chris Hillman was in the Golden State Boys at the time, and that was right around the time I met Clarence. It was just astounding to meet these guys."
White recorded his first album, The New Sound of Bluegrass America, with his band, renamed the Kentucky Colonels, in 1962, when he was just 18. In addition to White, the album features Latham on banjo, Mack on Dobro, and Roger Bush on bass—Roland had been drafted, stationed in Germany, and missed those first sessions—and Merle Travis, Johnny Bond, and Ralph and Carter Stanley all had a role in its production, while Joe Maphis wrote the liner notes. Featuring cross-picking and other advanced techniques, White's lead style had evolved from his first days at the Ash Grove, and the album represented a new stream in bluegrass music with guitar as a prominent lead instrument.

An early White family band photo of the Country Boys, taken in the 1950s. The lineup included siblings JoAnne White on bass, Roland White on mandolin, Eric White on banjo, and Clarence White on guitar. Photo courtesy of White Family
"Doc Watson was one of the first lead guitar players on acoustic guitar," Pedersen says. "He played fiddle tunes on the guitar and that was pretty amazing. But Doc's style was pretty rigid: It was pretty much note-for-note, and it didn't swing all that much. He just played the fiddle tune like you'd hear it on a fiddle. But with Clarence, he would incorporate different little push beats and that kind of thing. He was a very sly guitar player. He would sneak things over on you and you had to pay attention."
After Roland's discharge from the army, the band did a number of East Coast tours, which included shows in New York, Boston, and a feature at the Newport Folk Festival, and recorded a second album, Appalachian Swing!, in 1964. White's guitars at this time were a duo of Martins: a D-18 and his iconic D-28 Herringbone (now owned by Tony Rice), although the guitars suffered their share of abuse. In addition to manhandling his instruments (He filled one guitar with sand and shot the D-28 with a BB gun.), he ran over both guitars one evening after a gig in Massachusetts, doing significant damage to the D-18. The guitars were repaired at Herb David Guitar Studio in Ann Arbor, Michigan, which White claimed improved the sound of the D-18.
White was a discerning musician, but a utilitarian gearhead. Consider the humble beginnings of his D-28. "We found that in McCabe's Guitar Shop in Santa Monica," Roland White says. "We would go to pawnshops once a month in L.A., and we went by McCabe's and there was this guitar in the corner. The fingerboard just had tape around it, but it was taped to the neck. We asked, 'What do you want for that as it is?' The guy went back and talked to his boss and I think he said either $25 or $35, so we bought the guitar. It was Clarence, my brother Eric, Billy Ray, and myself, and we scraped up money and gave it to him. We took it home and my dad said, 'I can't fix that.' So we took it to this guy in L.A., Milt Owen. He said, 'I can put the neck back on there.' But he looked it over, and the top had been sanded thin. He said, 'You'll never be able to use heavy Martin strings on there. You're going to have to use light-gauge strings, because the top will bulge. You won't be able to play it very well.' He put the guitar neck and fingerboard back on there, strung it up, and I think we paid him $15 to do it. We picked it up a week later, brought it home, and Clarence played it a bit. But he said, 'I can't play it with these strings. I'm going to put on some heavy-gauge strings.' Sure enough, the top bulged up at the bridge. The only way he could play it would be in open G or put a capo on to play the G chord like an A, and then after that it would get real sharp."
Photo by Ebet Roberts
A punk-era artist-as-sideman who simultaneously embraced and shattered rock's conventions with Lou Reed, Richard Hell, Matthew Sweet, and others.
Much has been written about New York City's late-'70s punk scene. The term "punk" was coined by critics and applied to a disparate collection of artists working at CBGB, a grimy hole-in-the-wall on the Bowery. It didn't represent a genre as much as a scene, and applied to the lifestyle and fashions of its participants as much as the music. The hype, if you believe it, idealized a raw, visceral return to basics, and implied—at least musically—amateurism and a distinct lack of chops.
Except that wasn't the case.
Whether you're talking about the polyrhythmic complexity of bands like the Talking Heads, the understated virtuosity of Television's Richard Lloyd and Tom Verlaine, or even the deep chops of drummer Marc "Marky Ramone" Bell (Dust, Voidoids, Ramones), the punk scene was a wellspring of talent. Punk's focus, for the most part, was song-centric and eschewed extended jamming, and the scene's musicians prized restraint, as opposed to flash. But ability—despite their short hair, leather, and safety pins—wasn't lacking. They were a reaction to the milquetoast fluff on popular radio (Debbie Boone, the Eagles), and took pains to distinguish themselves as misfits. But even the punks had their outliers, and a prominent delegate was guitarist Robert Quine.
Quine was an idiosyncratic force of nature. He was much older than most of his colleagues, he didn't dress like a punk—he wore sport coats and cheap button-down shirts, and his guitar playing was a synthesis of his eccentric, yet specific, aesthetic. He was a master musician, but he wasn't a jack-of-all-trades, and his instrumental voice was cultivated and singular.
Quine's breakout recording, Richard Hell and the Voidoids' Blank Generation, was released about a month before his 35th birthday, in 1977. It was an unconventional and abrasive, yet sophisticated and important, release. Over 40 years later, young artists still cite it as a primary influence. The Voidoids recorded their follow-up, Destiny Street, in 1982, but by that point, punk's glory days were nearly a distant memory and Quine was on to other things. His next major project was a contentious, yet fruitful, stint with Lou Reed, followed by about 20 years as a sideman with numerous artists.
Quine was a niche player, yet somehow fit in multiple contexts—whether commercial pop or confrontational art—and was at home on projects by artists as diverse as Matthew Sweet, John Zorn, Lloyd Cole, and Lydia Lunch. He played for the song, didn't overplay, but stood out anyway. You can always identify Quine on a track, even though his playing is tasteful and song-appropriate. It's also high-mid focused and unpredictable. He preferred plugging into a Deluxe Reverb's left channel and cranking it up.
When Quine died in 2004, he had never released a solo album. He was a sideman, except that he wasn't a studio ace. He's not that anonymous guitarist on countless jingles and hits. He was an artist and a stylist. He was complex, and his career—like most things Quine—was a paradox.
"I just don't give a shit, maybe because I'm such a lovable genius." —Robert Quine
"The fact is that critics like me because I am a cult figure, which means I'm not really successful," Quine told writer Jim DeRogatis in an interview for his book, Let It Blurt: The Life and Times of Lester Bangs, America's Greatest Rock Critic, published in 2000. "I'm not big enough of a target. About every five years, I do a record with someone and magazines are interviewing me again. It works for me a lot where I can do no wrong. I'm not a major success or anything, but I seem to have been a survivor, and I play better than I ever have. When I look around at other people from the era, I seem to have done OK, and the reason is I truly don't give a fuck. I honestly believe that rock 'n' roll was pretty much finished by 1961. The atrocities I've pulled ... I just don't give a shit, maybe because I'm such a lovable genius." Quine was an enigma, but he cared more than he let on.
For this feature we spoke with Quine's bandmates Richard Hell and Ivan Julian, his longtime collaborator Fred Maher, songwriters Matthew Sweet and Lloyd Cole, disc jockey and author James "the Hound" Marshall, and others.
Becoming a Voidoid
Robert Quine was born on December 30, 1942, and grew up in Akron, Ohio. Music was a constant from early on—from his interest in Gene Autry to whatever his parents played around the house."I was 12 in '55, when rock 'n' roll hit," Quine told Jason Gross in a 1997 interview for Perfect Sound Forever. "It just completely transformed me. I was getting into Frank Sinatra before that. But when that hit, it was all over. It was raw. The first rock record I bought was Frankie Lymon and the Teenagers' 'Why Do Fools Fall In Love?' The sax solo in the middle was completely inappropriate. It almost sounds like Albert Ayler. But it was lyrical. That was my obsession."
That music—early rock 'n' roll, but with an ear for the freest streams in jazz—was a constant throughout his life. He was passionate about guitarists like Link Wray, Mickey Baker, and James Burton—not to mention Buddy Holly and Chuck Berry, whom he saw on a double bill in high school—as well as Ornette Coleman, Albert Ayler, Impulse!-era John Coltrane, and Miles Davis' '70s electric output. That formed the foundation of his playing, especially in the ways he phrased his lines and took risks in solos, and it was how he connected with bandmates and friends.
Quine started playing the guitar as a teenager. He learned Chuck Berry songs and played along to Ventures albums. He bought a Strat in 1961—inspired by Ritchie Valens—and that was the model he used for most of his career, although his initial inspiration was a Telecaster.
"I remember him telling me about the thing that really made him want to get a guitar," says James "the Hound" Marshall, a close friend of Quine's throughout his years in New York. "There's a bowling alley in Akron called the Fairlawn Lanes, and the Caps were playing. The Caps were like the local rock stars. They had this almost-hit called 'The Red Headed Flea.' They were either sound-checking or rehearsing, and Quine remembers the guitar player sitting on his amp with a Tele and a cigarette dangling out of his mouth, just playing whatever, and that was the coolest thing he'd ever seen."
Robert Quine was 12 when he first heard rock 'n' roll in 1955. "It just completely transformed me," he told Jason Gross in a 1997 Perfect Sound Forever interview. "When that hit, it was all over. That was my obsession." Photo by Willard Van Orman
Quine graduated from Earlham College in Indiana in 1965 and earned a law degree from Washington University in St. Louis. He passed the Missouri Bar and in the late '60s moved to San Francisco. While still in college, he discovered the blues and listened to John Lee Hooker and Lightnin' Hopkins, as well as jazz, from artists like Ramsey Lewis and Bill Evans, to the more adventurous musicians mentioned above.
Quine played in bands throughout college and law school, usually covering songs by groups like the Kinks, the Rolling Stones, and the Byrds. He was also one of the earliest, and most dedicated, fans of the Velvet Underground. He was a regular audience member, befriended the band, and taped hundreds of hours of material at concerts in San Francisco and St. Louis. In 2001, Polydor Records released three discs gleaned from his recordings as Bootleg Series Volume 1: The Quine Tapes.
"The second album [1968's White Light/White Heat] completely changed my life," Quine said in that same interview with Jason Gross. "I spent thousands of hours on headphones wearing that out. What Lou Reed did, he actually listened to Ornette Coleman, and deliberately did off-harmonic feedback and the deliberate monotony of it. This stuff is like Jimmy Reed—it's monotonous or it's hypnotic. For me, it was hypnotic."
Quine relocated to New York City in the early 1970s. He got a job writing about tax law for a New Jersey-based law journal, but by 1975, he'd had it. He was already in his 30s and wanted to try making it as a musician. He quit the law journal and started working at Cinemabilia, a Greenwich Village film memorabilia shop, which was where he met coworkers Richard Hell and Tom Verlaine, both—at that point—from the band Television.
Quine's efforts at landing a gig were fraught with frustration. He was bald, which in hyper-fashion-conscious mid-'70s New York was a major liability. He didn't dress the part, was a decade older than many of his peers, and his sometimes caustic personality rubbed people the wrong way.
"He didn't have a shag haircut," Marshall says about Quine's struggles finding work. "At one point, through mutual friends, he tried for a job playing with Art Garfunkel. He got drunk and told him he thought Simon & Garfunkel were for people too stupid for Bob Dylan. Garfunkel punched him in the nose."
By early 1976, Richard Hell was no longer with Television. He had also left his next project, the Heartbreakers, which he started with former members of the New York Dolls. He was offered a production deal, which he accepted, and recruited Quine for his new band, the Voidoids.
"This was the chance Quine had been waiting for, for a long time," Hell says. "Nobody wanted to put a bald-headed old guy in a band. He knew this was like his big break. But he was kind of an alien in this theater of CBGB and he wasn't sure what I wanted from him, and he was tentative. He was definitely tentative. But I knew what he was capable of, because we'd become really good friends. I spent night after night over at his house listening to records with him. He had a few tapes of his bands from college. I knew what he liked in music, which corresponded almost exactly to what I liked, and I could hear on the live tapes of his college band that he could really tear it up, if he could shake the inhibitions and anxieties or whatever. But as it turned out, I really had to push him."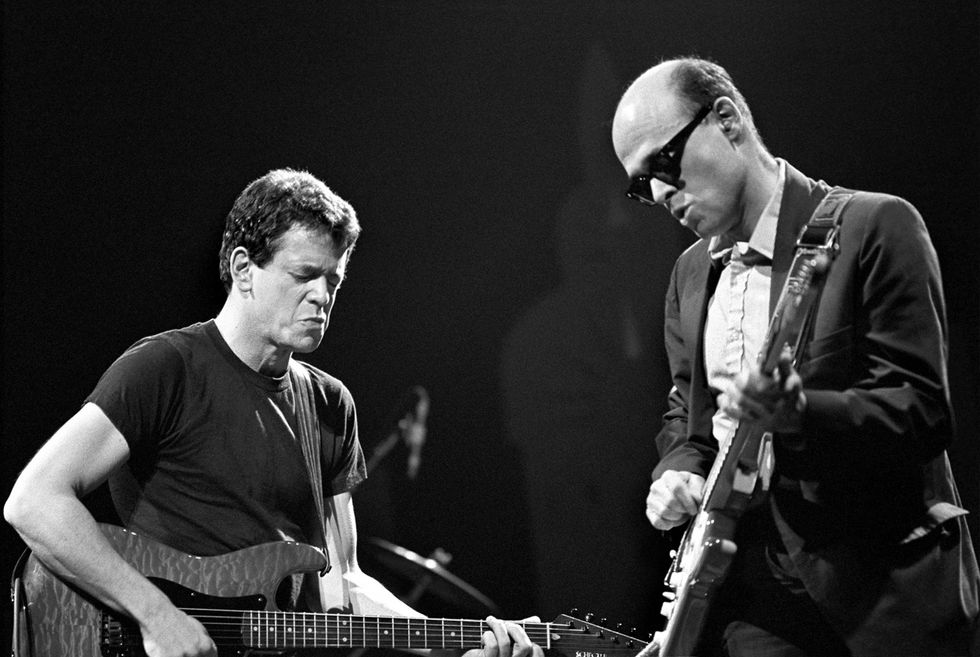 Lou Reed and Robert Quine performing at the Beacon Theatre in New York City, October 18, 1984. A huge fan of the Velvet Underground, Quine talked Reed into returning to the guitar—igniting a flame that Reed fanned for the remainder of his own life, even going on to record instrumental albums. Photo by Ebet Roberts
The Debut
Richard Hell and the Voidoids released a three-song EP, Another World, on Ork Records in late 1976, under Hell's name only. It was followed by their epic and influential full-length debut, Blank Generation, almost a year later. That release, which featured Quine, Hell on vocals and bass, second guitarist Ivan Julian, and drummer Marc Bell (later to become Marky Ramone of the Ramones), put Quine on the map.
Blank Generation is a showcase for many of the hallmarks of Quine's style. From the twisted-'50s leads on "Love Comes in Spurts" to the bluesy neck-mangling stutters of "Betrayal Takes Two" to his tight interplay with co-guitarist Ivan Julian­—it's all there. His tone varies throughout the album, though it's often thin, and sitting just at the edge of breaking up. Quine has no songwriting credits on the release, which was a constant throughout his career. He had a singular sound and a specific aesthetic sense, but, ultimately, he was a sideman.
"Bob didn't really have ambitions beyond being a sideman," Hell says. "I would push him. And the way I composed songs was I would come up with a series of chord changes and the bass playing I thought suggested what the structure and feel of the song was. Sometimes I would come in with some kind of reference, saying, 'I hear this as a kind of drive that's on 'Paint It Black' or something like that.' We'd start jamming and then I would nudge Bob and Ivan in certain directions, but just with a bass line that indicated chord changes I would tell them to play. They would improvise what their rhythm parts were and then I would try to push them this way or another, to get them closer to what I heard in my head."
That twin-guitar approach of bands like the Rolling Stones, the Yardbirds, and the Velvet Underground was a stylistic touchtone for Quine. Despite his idiosyncratic playing, almost his entire catalog features at least one other guitarist. That was an important part of the Voidoids' sound, and Quine and Julian took pains to make it work.
"We outlined the band so there wasn't a rhythm guitar player and a lead guitar player," Julian says. "We both just played guitar. One thing we did was never play any song on the same part of the neck. For example, you'll never find both of us doing a G chord in first position. If one was playing one thing when we were working out the song, then the other would work out some other way to play it."
"He tried for a job playing with Art Garfunkel. He got drunk and told him he thought Simon & Garfunkel were for people too stupid for Bob Dylan. Garfunkel punched him in the nose."
—James "the Hound" Marshall
Blank Generation was recorded twice. The first sessions were in March 1976, at Electric Lady, the studio Jimi Hendrix built in the Village. The album was rerecorded in late June and early July, at Plaza Sound in Midtown. Most of the final release—except for three songs—was taken from the Plaza Sound sessions. Quine brought two Strats and a Bigsby-equipped Tele to the sessions. (Julian used Quine's Tele for his solo on "Liars Beware.") Julian played an Ampeg Dan Armstrong clear Lucite guitar and an SG, though for the second sessions he mostly used a Strat.
Blank Generation is mixed with Quine panned hard to one side and Julian to the other—a trick they learned from the Yardbirds' album Over Under Sideways Down—with the solos right up the middle. For most of his solos, Quine played through a Fender Champ or a small Pignose amp, and sometimes had an MXR Dyna Comp out front.
"Pignoses didn't have a tone control, so Quine would open and close the cabinet to get however much treble or bass he wanted," Julian says. "They took a little tiny mic to it, and he had it up on a stool. When we recorded the album the first time, we were at Electric Lady Studios and we were told not to bring our own amps. They had these giant amps there for us—giant by today's standards. They had Twins and I remember they had Peter Frampton's Marshall that was left there. We were trying to play solos through that and it just didn't work out at all."
Link Wray and Robert Gordon were in the next room, recording the 1977 release Robert Gordon with Link Wray, which was also produced by Blank Generation producer Richard Gottehrer. "Robert loved Link Wray and he borrowed his Ampeg. I think it was a Reverberocket, some kind of trashy amp like that," says Marshall.
Quine is noted for his soloing, but his rhythm playing is just as important. He was a huge fan of the Byrds' guitarists Roger McGuinn and David Crosby, and brought an encyclopedic breadth of knowledge to the table.
"Quine had a really great touch and instincts for rhythm playing," Hell says. "He was so knowledgeable about the whole history of guitars that his repertoire and his mind was just infinite. He had a great sense for propelling a song and keeping it interesting. Bob and Ivan both knew—and clearly we all agreed about this—that I liked the classic interlocking riffs of the two-guitar bands. Where it's not exactly polyrhythmic, but it takes advantage of what you can do having two instruments, where you're not simply reinforcing each other. There's this counterpoint going on."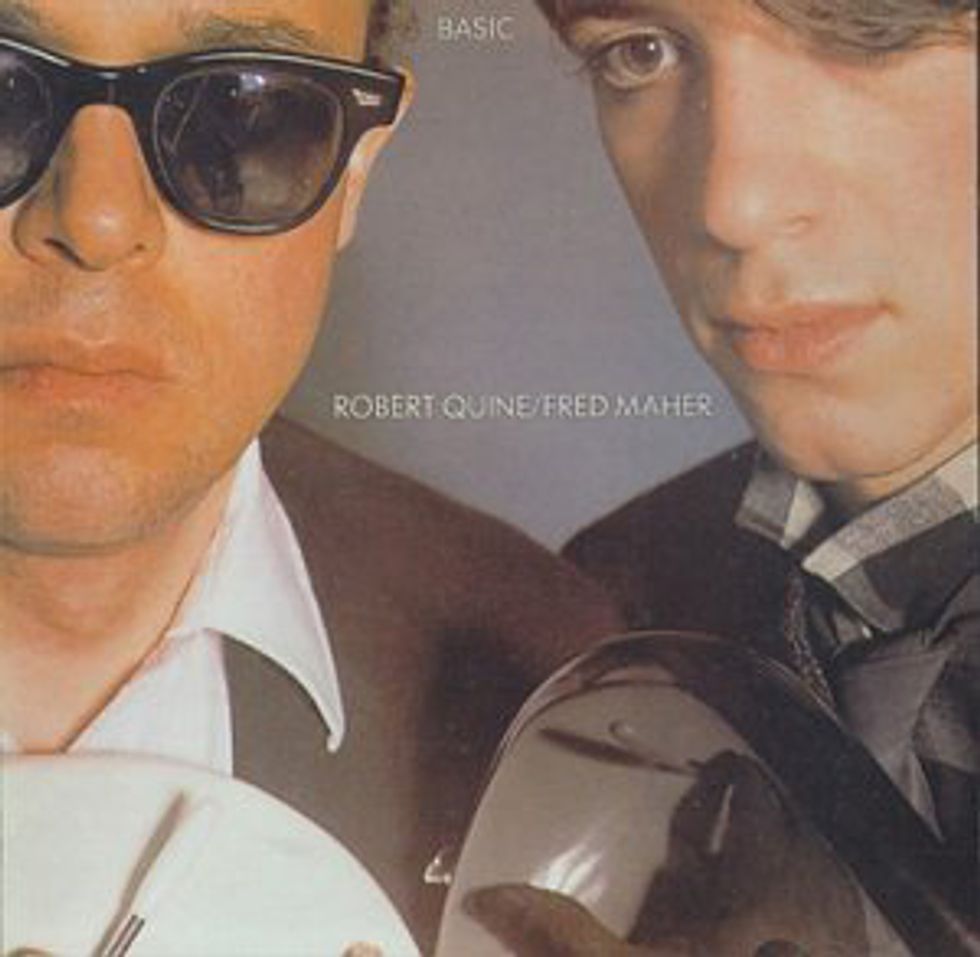 Quine never released a solo album, but the closest recordings are his two duo records: 1984's Basic, with drummer/producer Fred Maher—pictured here—and 1981's Escape, with guitarist Jody Harris.
Back to Basic
Drummer and producer Fred Maher, who's helmed albums for Scritti Politti, Lou Reed, and many others, met Quine backstage at CBGB at the tail-end of the 1970s. Maher, along with bassist Bill Laswell and keyboardist Michael Beinhorn, was a member of the New York avant-funk band Material. Following that meeting, Quine joined Maher, Laswell, and Beinhorn as a member of Deadline, the touring band that backed Laswell's electronic music project with drummer Phillip Willson from the Art Ensemble of Chicago. The project was short-lived, but it marked the beginnings of a collaboration between Quine and Maher, which lasted well into the '90s.
While working on other projects, Quine and Maher recorded their 1984 duo release, Basic, at Quine's apartment in the East Village, using a Tascam 4-track Portastudio and an Oberheim DMX drum machine. The album was recorded over a six-month period and, along with the 1981 release Escape, with guitarist Jody Harris, was the closest Quine came to a solo album.
Basic, for the most part, is a low-key album and showcases a very different side of Quine's musical personality—something you don't hear on many of his recordings as a sideman. Check out the track "'65." Quine's tone leans on the single-coil vibe of a Strat, but is enhanced with a generous helping of slapback echo. The chord motion is thick and repetitive, yet also subtly evolving, and modified with standout treble or lead voicings, and whammy-bar warbles. He does similar things on tracks like "Pickup," although his tone is even cleaner and the whammy warbles more extreme, and the album's closer, "Village."
"That was all direct," Maher says. "It was probably whatever Whirlwind direct box was available at the time. The only constant with Quine would be the Electro-Harmonix Memory Man. But he could have been using any combination of things. He was an aficionado of pedals. He had anything and everything, or he would have tried anything or everything that was available at the time."
Quine and Maher also worked together on Destiny Street, Hell's 1982 follow-up to Blank Generation. The album was recorded during a dark period in Hell's life, when drugs were taking their toll, and during his frequent absences from the studio, Quine—according to Maher—figured the only thing to do was to record more guitars.
"Quine went crazy," Maher says. "But that wasn't necessarily him proactively saying, 'I've got an idea and I want to do this.' It was more, literally, just to fill the time, because there was nothing to do. Between him and the other guitar player, Naux, it was pretty ridiculous."
Photo by Ken Settle
The guitar anti-hero who started the Stooges and changed the sound of rock 6-string's future, paving the way for … everything.
Late 1960s Ann Arbor, Michigan—a sleepy college town about 45 minutes west of Detroit—is the unlikely birthplace of punk. But it was there, led by a local band called the Stooges, that America's most visceral, degenerate export was born.
The Stooges weren't Eastern Michigan's most popular band at the time. That honor went to the MC5. But the Stooges may have been the most important—even compared to Michigan artists like Bob Seger, Alice Cooper, and Ted Nugent, that would go on to sell out arenas in the next decade. The Stooges classic songs, like "T.V. Eye" and "I Wanna Be Your Dog," have been covered over and over by numerous artists. The chaos they inspired is today standard behavior at most punk, hardcore, alternative, indie, and metal shows. They embraced noise. They were aggressive and confrontational. They weren't hippies, despite their late-'60s pedigree. They were ahead of their time and—this isn't clichéd or hyperbolic—pioneered the next half-century of alternative rock.
In addition to his band's influence, the Stooges' guitarist, Ron Asheton, made a significant impact as well. He embraced power chords. His tone was grating and jagged. He didn't play with that vintage tube warmth associated with many of his contemporaries. And he loved feedback and noise. As his band's only guitarist, he found ways to make his 6-string sound like more than one instrument. He explored non-Western tonalities and experimented with drones.
In hindsight, the Stooges are famous for their nihilistic, antagonistic performances and their lead singer's self-destructive antics—some say Iggy Pop invented stage diving and crowd surfing—as well as their straightforward, no-nonsense songwriting, and Asheton's innovative guitar playing. But at the time, no one was interested. The Stooges released three albums that didn't sell well. They played to half-empty clubs and were taunted and harassed by their audiences. They didn't have a loyal fan base and they weren't popular overseas. In 1974, plagued by drug use and mismanagement, the Stooges broke up.
Not that anyone noticed.
But payback is sweet. The mainstream may have ignored the Stooges, but the underground grew to adore them. Over the next three decades, young bands dissected their music, copied their sound, and used them as a starting point to invent new genres and movements. Their legend grew and their albums, while never radio-friendly, continued to sell.
"Ronny never got into the drugs," Kathy says. "He was very angry when the Stooges broke up, because he was just sitting by and watching this all deteriorate." —Kathy Asheton
In 2003, after a 29-year hiatus, the Stooges regrouped with Mike Watt on bass for a one-off performance at the Coachella Valley Music and Arts Festival. That performance led to a tour, which led to a full-fledged reunion. But unlike the old days, the reunited Stooges headlined major festivals and played to enthusiastic crowds numbering in the tens of thousands. What's more, they weren't a nostalgia act. Their audiences were young and the old-timers kept their distance. It was as if the culture had finally caught up with them.
Ron Asheton died in 2009, and although the Stooges' story has been told many times over, those retellings usually focus on the band's iconic countercultural status and Iggy Pop's larger-than-life persona. Much less has been written about Asheton's guitar playing, sonic choices, and gear. Our hope is to remedy that. We spoke to his family, roadies, old friends, collaborators, and bandmates, and bring you this picture of an important and influential talent.
The Beginning
Ron Asheton was born in Washington, D.C., on July 17, 1948. His father's business took the family to Davenport, Iowa, and then, following his dad's heart attack, to Ann Arbor, Michigan. "Our mom's parents and family were in Michigan," Kathy Asheton, Ron's younger sister says. Ron was the oldest of three siblings. Stooges drummer Scott Asheton was in the middle. "They decided—not sure how our dad would be doing—to move so we could be near family. Sadly, about a year later, our father passed away, in December, 1963."
Asheton's mother, while still in Iowa, encouraged her children to take music lessons. Ron studied the accordion, Scott—years before discovering rock 'n' roll—took drum lessons, and Kathy sang. Those music lessons stopped with the family's move to Michigan—along with the uncertainty that accompanied their father's illness and early death—and Ron put his interest in music on hold.
At least, until the Beatles played The Ed Sullivan Show. "The Beatles came in February of '64, right after our father passed away, and that got Ronny going," Kathy says. "From that point on, that's what he wanted to do. He wanted to play guitar. He wanted to be the Beatles. So that's how that started for him."
With "I Wanna Be Your Dog" and "1969," the Stooges' 1969 debut alone would be enough to qualify Ron Asheton, at right, just behind Iggy Pop, as a guitar giant. His drumming brother, Scott, is at center, with bassist Dave Alexander at rear.
He also traveled to England, along with future Stooges bassist Dave Alexander, during his senior year in high school. "There was a good friend of his—also from a very good family in Ann Arbor—and they had moved to England," Kathy Asheton says, putting to rest a number of myths about her brother's early days. "It wasn't like he was just floating off into a land of strangers. He had a family connection there, which was part of the, 'yes, you have permission to go.' It was the biggest thing. He'd write letters. Ronny wrote letters to Bill Cheatham—who was his best, dearest friend [Editor's note: Cheatham was a roadie for the Stooges and also played second guitar in the band for a short period, before being replaced by James Williamson.]—saying that he met Ringo. They started a rumor in high school that 'Ronny met Ringo.' But it was really a joke. He never did meet anybody. He saw the Who there, but he didn't meet any of them."
After he returned, Asheton played bass in a number of local bands, often running through a fuzz pedal and wah-wah, including the Chosen Few, which included future Iggy and the Stooges guitarist James Williamson. He also shared a stage with the Prime Movers, whose drummer was Iggy Pop.
"He met Iggy at the local Discount Records," Kathy says. "That's where Iggy worked, and that was the music hub of Ann Arbor, where everybody connected."
Ron—as a guitarist—started the band that would eventually morph into the Stooges original line-up, featuring Pop, Alexander on bass, and his brother Scott on drums. "We were all shook up when our father passed away, but Scotty took it very hard," Kathy Asheton says. "He was hanging out with, say, the wrong people and our mom was concerned about that. Ronny took Scotty under his wing and took him to all the Chosen Few shows, just to keep an eye on him. Scotty was like their little roadie at the gigs. He would help out with the drum kit, and that's when he started taking more interest in playing drums."
The band's original name was the Psychedelic Stooges, which was a tip of the hat to the Three Stooges. "Ron was a huge fan of the Three Stooges," says Deniz Tek, the guitarist in the legendary Australian punk band Radio Birdman and an old friend of Ron's from Ann Arbor. "At one point, when he was a kid, he was the president of the Three Stooges fan club. Later, when Ron was living in Hollywood, he knew Larry Fine from the Three Stooges. Larry was in a nursing home in Beverley Hills and Ron would often go visit him and help him out with answering his fan mail and stuff like that. He would get cigars and whisky for him."
The early Stooges didn't sound like anything else. They were loud, raucous, raw, free, and improvisatory. They didn't have a set list—or even established songs—and crafted each performance to fit the event. Their focus wasn't developing a repertoire, but putting on a show and making each night an experience.
"They were doing what they called 'Energy Freakouts,' or jams," Tek says. "It was fascinating to me as a teenager to attend those shows, because I never saw anything like it. Scotty would bang on 44-gallon oilcans with steel pipes. Iggy made noise, putting mics in blenders and things like that. Ron just had this raw guitar mayhem. They would adapt it to the gig."
"The gigs were one big jam," Mike Watt (Minutemen, Firehose) says. Watt was the Stooges' bassist throughout their 2003-'14 reunion. "Ronny told me about making noise with an electric blender, Dave Alexander throwing the amp down to make sounds, and Scotty beating oil drums with their horoscope signs painted on them. It was a whole different thing than what we know from Stooges' albums."