6 for Swapping: 8" Speaker Review Roundup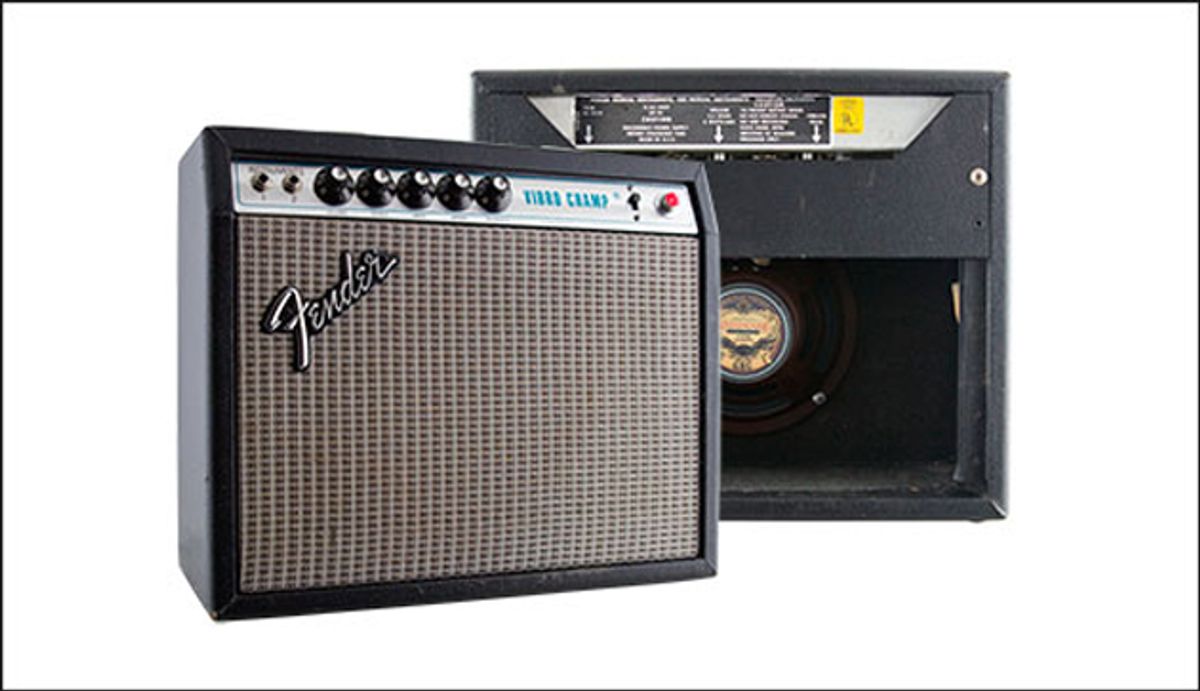 PG corrals a half-dozen of the market's most compelling 8" replacement speakers, from budget delights to high-end heavyweights.
Everyone questions their existence, yet we all hold out hope for a sighting of our own. No, I'm not talking about yetis or UFOs. I'm referring to the phenomenon of stumbling across big-name vintage gear being sold at a decent price. For most of us, stories about finding, say, old Fender or Gibson gear at anything other than multiple times its original price is nothing short of urban legend. But I'm here to tell you this stuff does still happen.
My story isn't about an amazing score of a $200 '67 Jaguar or anything, but finding a silverface Fender Vibro Champ for significantly less than six or seven bills is still unusual. Unusual enough that I was tempted to dismiss the Craigslist ad with a single blurry photo and an asking price of $400. Was it real? Was it busted? Was it ruined by a stupid mod?

When I showed up to test the little 1x8 combo, Telecaster in hand, the owner led me to his garage and proceeded to relate how he got the amp: A friend had purchased a repossessed cabin still stocked with the previous owners' contents—including a Fender M-80 combo in pretty bad shape, and a Peavey amp that they'd decided to throw in a bonfire with other junk they determined wasn't worth a drive to a second-hand store. (I was tempted to ask if alcohol was involved in this careless, dangerous decision, but I bit my tongue.) Neither guy played guitar, but the nice fellow I was dealing with had recognized the Fender brand name, figured he could make a little money, and stopped his buddy from burning the M-80 and Vibro Champ.

The 6V6-powered combo was dusty, scuffed, and pretty dirty, but to my great surprise everything functioned properly when I plugged in, strummed, and twiddled the knobs. Flipping the cab around, I examined the tube chart and serial numbers, quickly cross-referencing online tools to determine that it was built in 1976. As I noodled for a few more minutes to make sure it didn't fart-out under consistent use or heavy playing, the only thing I couldn't figure out was why it was so much quieter and less dynamic at full-bore than the silverface VC I'd (stupidly) sold years before. So I took a closer look at the speaker and discovered it was a cheapo replacement that looked like something a budget-strapped teenager might throw into a makeshift extension cab for his car stereo.

I explained to the owner that the horrible speaker wasn't original, he knocked $50 off the price, and I headed home with the grimy little thing—crossing my fingers that the speaker was the only real issue. Not being remotely qualified to open it up and diagnose its health, I then sent my "new" Vibro Champ off to amp guru Tim Schroeder at Schroeder Amplification in Chicago. A few days later, Tim called to say the amp checked out fine and was all stock—he'd simply cleaned it up a bit, upgraded the power cable, and swapped out a 12AX7. It was now ready for our voyage into the adventures of speaker replacement.
The Methodology
Replacing an 8" speaker isn't remotely as daunting as looking for a new 12" speaker. The total number of models from all mainstream manufacturers is a tiny fraction of what a single big company offers for full-size amps. Even so, we didn't have the resources to test every compelling 8" on the market and were forced to narrow it down to six 4-ohm models.

Each speaker was installed in the '76 Vibro Champ—which features a tube complement of a single 6V6 in the power section, two 12AX7s (one for the preamp, one for the tremolo circuit), and a 5Y3 rectifier—and tested with a Telecaster and a Schecter Ultra III. The Tele is outfitted with vintage-voiced Curtis Novak pickups (a traditional Tele unit in the bridge, and a Jazzmaster neck unit), while the Ultra III has a TV Jones Magna'Tron bridge pickup and Duncan Designed mini humbuckers in the middle and neck positions. I tested each speaker at various settings, but to streamline the sound samples I recorded each speaker at two settings: with volume, treble, and bass all at 5, and then with them all at 10. The samples were captured with a Royer R-121 dead center on the speaker and up close to the grille. For much of the playing, I also used a J. Rockett Audio Designs Archer (with output and treble at noon, and gain at minimum) to push the amp a little. I also used Catalinbread Topanga and MXR reverb pedals, and at times engaged a Jordan Fuzztite.
Jensen P8R
Specs:
7-oz. alnico magnet
25 watts
---
Clip 1—Schecter Bridge + Fuzztite & Vibro Champ - Vol, Treble And Bass - Max
Clip 2—Tele Bridge & Vibro Champ - Vol, Treble And Bass - 5
Clip 3—Tele Bridge & Vibro Champ - Vol, Treble And Bass - Max
Clip 4—Tele Bridge + Neck & Vibro Champ - Vol, Treble And Bass - 5
Clip 5—Tele Neck & Vibro Champ - Vol, Treble And Bass - 5
---
Since being original equipment on the very first Bassman, Deluxe, and Twin Reverb amps (among others), Jensen speakers have become practically synonymous with vintage Fender tone. And the P8R reviewed here has a pedigree that goes back just as far: While Fender's most popular blackface and silverface Champs and Vibro Champs used Oxford 8EV speakers, the company's first 1x8 combo, the Champion 800 (released in 1948), featured a P8R.
Although current-production P8Rs retain old-school design elements such as an alnico slug magnet covered by a U-shaped, bent-steel cover, the model has, of course, evolved a bit over the ensuing decades. It originally sported an unfinished stamped-steel frame with teardrop-shaped cutouts, whereas today it features a deep green finish and elongated vents running parallel to the outer edge. According to Jensen reps, however, the company has made extensive efforts to manufacture modern P8Rs so that they sound as close as possible to what a vintage specimen would've sounded like new. These efforts include using the same materials specifications—including paper-pulp formulas used for cones in the '50s and '60s—and employing various mechanical treatments to produce the frequencies measured from vintage reference speakers. The biggest difference between current and vintage Jensens, the company says, is that early models used a cellulose-based composite glue that tends to dry out, disintegrate, and lead to decreased treble response, whereas current models use glue not prone to this degradation.
Installed in our silverface Vibro Champ, the P8R delivers the types of tones one would expect, reinforcing its reputation as a solid choice for this style of amp. With volume and EQ all parked at 5, the VC and P8R delivered classic "American" tones in all Telecaster pickup positions. Middle-position tones were soulful and nicely compressed, great for old-school rock, blues, or jazz, while the neck pickup sounded reassuringly warm and round. The bridge pickup, too, yielded useful tones, although aggressive pick attack, even at moderate amp settings, did tend to elicit a strident response.

Dialing in pleasing tones with the amp's volume and EQ knobs pushed to their upper regions was a bit more problematic. With soft or moderate attack, you still get a nice range of nuanced sounds, but digging in with aggressive attack (either with the Tele or the Schecter's old-school humbuckers) results in a fizzy, fuzz-like response. To be sure, it is a perfectly viable tone for certain applications—but it's likely not what's sought by players looking for bedroom-volume overdrive similar to what larger, more powerful amps yield when pushed. That said, if you're looking for a range of clean-ish tones faithful to the early Leo years, this historic design should yield a lot of satisfaction.
Jensen C8R
Specs:
10-oz ceramic magnet
25 watts
---
Clip 1—Schecter Bridge + Fuzztite & Vibro Champ - Vol, Treble And Bass - Max
Clip 2—Tele Bridge & Vibro Champ - Vol, Treble And Bass - 5
Clip 3—Tele Bridge & Vibro Champ - Vol, Treble And Bass - Max
Clip 4—Tele Bridge + Neck & Vibro Champ - Vol, Treble And Bass - 5
Clip 5—Tele Neck & Vibro Champ - Vol, Treble And Bass - 5
---
With its prominent gold-and-orange label, the P8R's younger cousin looks a lot more like the speakers we've been seeing in the back of Fender combos for decades now. The C8R has the same power rating as its elder relative, but a big difference here isn't just that its magnet is three ounces heavier and a ring instead of a slug—it's also made of ceramic rather than alnico. This is key to its tonal differences.
Of all the speakers in our roundup, the C8R may well be the most compressed and hi-fi-sounding—but not in a sterile or lifeless way. On the contrary, at moderate volumes the C8R is sweeter and livelier than the P8R, with a slightly leaner but more focused low-end response that yields snappy sounds great for funky rhythms or chewy, hybrid-picked country lines. Yet when you bring up the amp's volume or EQ a bit, you get a nice, articulate grittiness, with bass frequencies that open up and a responsiveness that sags under heavier attack in a very organic way. At more extreme amp settings, the C8R does get less distinct as it begins to growl, sometimes teetering on the edge of unwanted nastiness (particularly with a bright bridge pickup), but when maxed out it never veers into the harsh, fizzy sounds of its vintage-pedigreed cousin. In all, the C8R has a lot going for it—especially considering its reasonable price.
Mojotone American Vintage AV8C
Specs:
16-oz. ceramic magnet
15 watts
---
Clip 1—Mojotone American Vintage AV8C Review
Clip 2—Tele Bridge & Vibro Champ - Vol, Treble And Bass - 5
Clip 3—Tele Bridge & Vibro Champ - Vol, Treble And Bass - Max
Clip 4—Tele Bridge + Neck & Vibro Champ - Vol, Treble And Bass - 5
Clip 5—Tele Neck & Vibro Champ - Vol, Treble And Bass - 5
---
Mojotone has built a name for itself by offering guitar and amp parts that aim for the looks, vibe, and sound of big brands at a fraction of the price. But it's not just budget shoppers who dig the North Carolina outfit's wares—a lot of boutique amp builders use Mojotone-built cabs, and plenty of DIY nerds dig the company's amp kits. Even so, you don't typically hear guitarists talking about Mojotone aftermarket pickups and speakers as much as you do more marquee brands. My guess is that this is at least partly due to the fact that many of us think you've got to spend a lot to sound really good.
In fact, I'll admit that, despite the company's admirable track record, I was skeptical that a $28 speaker—one of the most affordable 8" models on the market—could possibly be remarkable. I'm now happy to say my cynicism was grossly unfounded: The American Vintage AV8C's magnet may not look robust, and the oval cutouts in its somewhat shallow, stamped-steel frame may be a bit reminiscent of a budget car speaker, but, hooked up to the Vibro Champ, the AV8C's seamless paper cone consistently wowed me.

The AV8C's voice is possibly the brightest of the bunch, and with the VC set at high volume and EQ settings, the Tele's bridge pickup (and to a lesser extent, the Schecter's bridge humbucker) sometimes yielded a spiky response that staid, traditional players may find excessively harsh. But otherwise the speaker exhibited a shockingly clear and sweet character. With more moderate amp settings and soft or medium attack, the Tele's bridge unit had respectable snap for chicken-pickin' tones, the middle position yielded everything from bell-like chime to spunky compressed sounds great for funk and nasty rock, while the neck pickup gave up round, bluesy resonance that was still wonderfully clear and free of flab. In sum, it's tough not to say that, pound for pound, dollar for dollar, the AV8C is one of the industry's better-kept secrets.
Warehouse American Vintage G8C
Specs:
18-oz. ceramic magnet
20 watts
---
Clip 1—Schecter Bridge + Fuzztite & Vibro Champ - Vol, Treble And Bass - Max
Clip 2—Tele Bridge & Vibro Champ - Vol, Treble And Bass - 5
Clip 3—Tele Bridge & Vibro Champ - Vol, Treble And Bass - Max
Clip 4—Tele Bridge + Neck & Vibro Champ - Vol, Treble And Bass - 5
Clip 5—Tele Neck & Vibro Champ - Vol, Treble And Bass - 5
---
Over the last few years, Kentucky-based Warehouse Guitar Speakers (WGS) has emerged as one of the biggest success stories in the face of longtime industry dominators, offering American- and British-voiced replacement speakers (as well as bass and P.A. designs) that rival the big guns—often at a significantly lower price.
Although the American Vintage G8C reviewed here is Warehouse's only 8" model, it packs serious punch—especially considering its ultra-reasonable $39 price tag. It sports both a unique, classy aesthetic and super-solid build quality.

How would I describe the G8C's tones? In a word, rich. In two words, rich and loud—the loudest of this bunch. Might I add fantastically flexible? The "vintage" descriptor gets tossed around rather liberally in the guitar-gear industry, but in the G8C's case the label really is apt: It sounds broken-in straight out of the gate. Even with the Vibro Champ's controls maxed and my Tele's bridge pickup soloed, the WGS went from firm and in control under delicate fingerpicked attack to absolutely raging—in all the right ways—sans icepick-y drawbacks. In the Tele's middle position, moderate EQ and volume settings yielded remarkably round and characterful tones perfect for old-school R&B and funk. Meanwhile, Tele neck-pickup tones were surprisingly fat, and Jordan Fuzztite-fried TV Jones tones tore out of the G8C without sounding undesirably nasty.

In all, the G8C offers superb enjoyment for at-home playing and, with a quality mic, yields tones so grand that many listeners will balk when told they come from such a small speaker—let alone one that's brand new.


Weber Alnico Signature 8S
Specs:
7-oz. alnico plug magnet
15 watts
---
Clip 1—Schecter Bridge + Fuzztite & Vibro Champ - Vol, Treble And Bass - Max
Clip 2—Tele Bridge & Vibro Champ - Vol, Treble And Bass - 5
Clip 3—Tele Bridge & Vibro Champ - Vol, Treble And Bass - Max
Clip 4—Tele Bridge + Neck & Vibro Champ - Vol, Treble And Bass - 5
Clip 5—Tele Neck & Vibro Champ - Vol, Treble And Bass - 5
---
For the last two decades, Weber speakers have been the replacement speaker of choice for hordes of Fender amp owners. That's because late company founder Ted Weber painstakingly analyzed the myriad materials and specs used in countless specimens in an effort to improve on the classics, as well as bring his own unique designs to market. The company has yet another distinction to brag about with regard to the subject at hand: No other manufacturer boasts a broader line of 8" replacement speakers—15 as of this writing.
The Alnico Signature 8S reviewed here is one of Weber's most affordable models, and you can clearly surmise from both its looks and tones that early Jensen designs were heavy inspirations. It exhibits very similar aesthetics and construction style, though to my hands it feels heftier than the P8R.
Thrown into the Vibro Champ, the seamless cone of the 8S broadcasted impressive amounts of that old-school character, with a sweeter high-end response that was more forgiving to my Tele's bridge pickup—though there was still some slight spikiness under heavy attack, even with all knobs at 5. Beyond that, the Weber reacted to middle-position rhythms with squishy, mid-scooped spankiness, while the Tele's neck pickup had a pleasant woodiness and subtle grainy undertones. Like its inspiration, the 8S can sound a little scraggly with amp controls gunned and a Tele bridge pickup feeding it, but in contrast to the P8R the response is more gritty overdrive than fizzy fuzz. The Schecter's Magna'Tron, meanwhile, sounded tough yet warm and well rounded, even with the amp maxed out.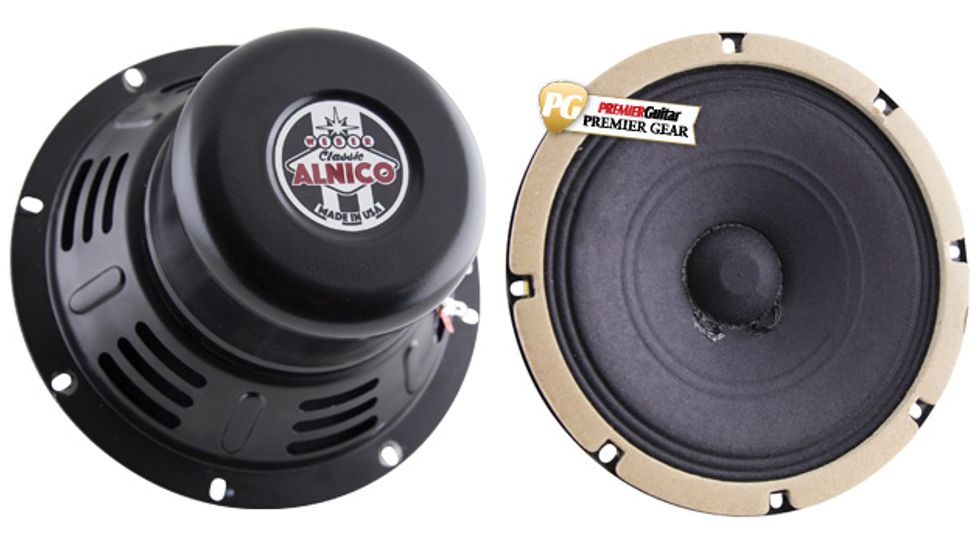 Weber 8A125
Specs:
11-oz. alnico magnet 20 watts
---
Clip 1—Schecter Bridge + Fuzztite & Vibro Champ - Vol, Treble And Bass - Max
Clip 2—Tele Bridge & Vibro Champ - Vol, Treble And Bass - 5
Clip 3—Tele Bridge & Vibro Champ - Vol, Treble And Bass - Max
Clip 4—Tele Bridge + Neck & Vibro Champ - Vol, Treble And Bass - 5
Clip 5—Tele Neck & Vibro Champ - Vol, Treble And Bass - 5
---
Spend some time on forums where avid gearheads discuss the best speakers for Champ-style amps, and you're bound to come across a lot of players singing praises to Weber's 8A125. Like its sibling in this roundup, the Alnico Signature 8S, it features a seamless cone and vintage-Jensen-like construction, but with an even heftier design—from all appearances, the most robust in this roundup.

But despite its visual similarities to the Signature 8S and P8R, the 8A125 has a decidedly different voice. In fact, the pricier Weber's sound is significantly different from all the speakers in this roundup in that it has the richest, mellowest overall response. This darker shading enables it to handle a wide range of pickups with minimal harshness, regardless of volume. Even with my Tele's bridge pickup and the Vibro Champ cranked, it was virtually impossible to get the 8A125 to sound piercing—yet it still had a nice, elastic snap that worked wonderfully with hybrid-picked country-ish lines. And with a brutal attack, it howled and groaned deliciously. Meanwhile, neck and middle positions had a warm roundness that actually made the amp sound and feel a little larger than its humble dimensions. The darker, bigger sound also enabled me to get looser, meaner, and more grooving sounds out of my Schechter's humbuckers.

In all, the 8A125 is a fine choice for a variety of applications, provided you're looking for a little more fatness and body and don't mind sacrificing a little brightness and spank.