A positively luxurious stomp nails the liquid textures of brown-panel Deluxe bias tremolo.
Top-shelf quality. Immersive, liquid, trem' textures that meld seamlessly with guitar and amp tones. Elegantly simple but capable control set.
5
5
4.5
3.5
Editor's note: Deluxe61 Amp Tremolo & Drive is the updated name of the Origin Effects pedal that debuted under the name REVIVALTrem.
Some gear nerd debates get pretty pointless. Disputing the merits of different op-amps in two late-model RATs? Maybe that time would be better spent practicing. But tremolo circuits are another matter. The differences between bias, optical, and harmonic tremolo can be audible and profound. Each has its merits and champions. But in terms of soul and musical utility, it's hard to beat bias tremolo's soft, contoured pulses and mellow-to-throbbing range.
Origin Effects' all-analog Deluxe61 is based on the power tube bias tremolo from the brown-panel Fender Deluxe—a circuit many players regard as the silkiest ever built. Authentically reproducing such a circuit is no task for the timid. Then again, Origin made its name reproducing the topology and performance of the legendary UREI 1176 studio compressor in stompbox form. So it's no surprise they would tackle an effect so nuanced and full of sonic intangibles. What's impressive is how the Deluxe61 nails those elusive, intoxicating bias tremolo colors.
Wave-Riding Luxury Liner
If you love the sense of craft that goes missing in much modern technology, the Deluxe61 will be a treat. It's built almost absurdly well by stompbox standards. Ever wondered what the Rolls-Royce of pedals looks and feels like? This is certainly a contender.
A two-tiered circuit board accommodates the many high-quality components that make up the modulation and drive circuits. (The latter is derived from the company's excellent Revival Drive.) Soft-relay footswitches and jacks are all chassis-mounted independent of the circuit boards. The enclosure feels close to bulletproof. Clearly, the Deluxe61 was built for heavy touring and meant to be serviced in the unlikely event a component fails.
The control set is smart, logical, and simple in practice. Even the two footswitches, which cleverly enable operation of the drive channel independent of the tremolo, are thoughtfully situated toward the outboard reaches of the enclosure—reducing the risk of hitting both switches simultaneously.
There may be more radical tremolos, but few achieve such musical seamlessness.
Watery Wobbles
In some respects, it's easy to characterize the modulations the Deluxe61 produces. They're exceptionally smooth, liquid, and very dreamy. But they are also beguilingly complex. Some stronger settings subtly suggest pitch shifting and phasing without suffering the dynamic penalties those effects can incur—a remarkable bit of sonic trickery. A/B'd against the optical tremolo in a recent-vintage '65 Twin Reverb reissue, the Origin is clearly more complex and watery, its undulations less binary and harsh, and its effects on picking dynamics less intense. Compared to a near-50 year old Vibro Champ that utilizes a preamp-bias tremolo circuit, the Origin nails the very best of the vintage amp's sounds and responsiveness, but sounds richer and offers much more expansive fine-tuning range in the pots.
There are trade-offs for all this intoxicating aqueousness. The Deluxe61's most intense modulations might not be intense enough for players that like the hard pulses of a Vox Repeater circuit or the angular textures of an optical black-panel Fender tremolo. Nor does the Deluxe61 get as woozy as a Magnatone-style circuit (a harmonic tremolo to which brown-panel Deluxe tremolo is often likened). But the payoff is clarity and presence that makes nuanced, complex, and melodic musical passages sound perfectly interwoven with the modulations. There may be more radical tremolos, but few achieve such musical seamlessness.
Then there's the versatility afforded by the extra modulation and drive controls. The 3-position "multi" toggle significantly extends the range of the speed control, enabling super-fast flutters amp trem' can't deliver and giving expressive fodder to experimental tremolo fans. Another toggle activates a harder, almost triangle-shaped wave to generate more intense modulations. The post-drive EQ switch is invaluable for making the effect more subdued or pronounced when switching between dark and bright amps or pickups, but also offers a flatter-response option if you want to route directly to a recording interface or a desk. The drive channel, meanwhile, is delicious—generating sweet and malleable low-to mid-gain drive and body that you may never want to remove from your tone equation, tremolo or not.
The Verdict
The Deluxe61 is expensive at 430 bucks. But the quality is absolutely top shelf and the sounds are, too. What's more, you can enjoy the benefits of bias trem without the extra wear and tear that bias trem circuits inevitably inflict on your tubes. If you're on the fence, perhaps those cost savings can help justify luxuriating in this pedal's priceless tones.
Origin Effects Deluxe61 Tremolo & Drive Demo | First Look
[Updated 10/6/21]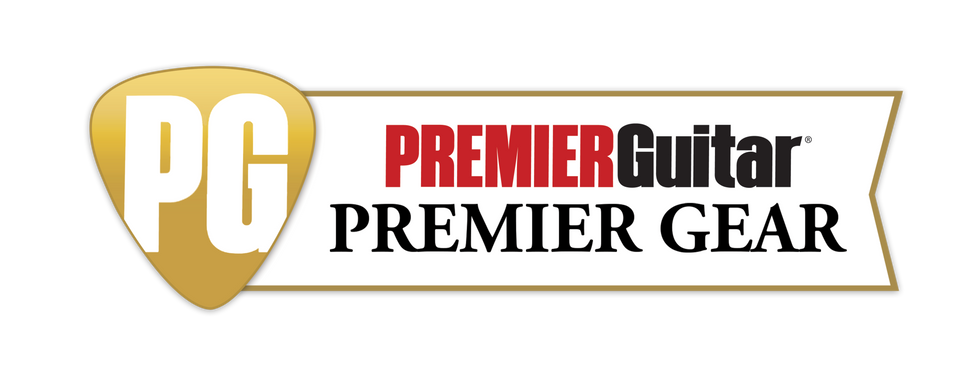 Photo by Ebru Yildiz
On their new album, In Between Thoughts… A New World, the acoustic duo goes half-electric, plumbs programmed beats, adds slide guitar, and explores nondualism—following a creative path that opened due to the Covid shutdown.
Grammy Award-winning guitar virtuosi Rodrigo y Gabriela started recording what would become their latest album, In Between Thoughts… A New World, in February 2021. At the time, crafting a new album wasn't the catalyst for making new music. They really just wanted to write, jam, and record without an agenda while locked down during the pandemic.
"It was just something to kill time," admits Gabriela Quintero, one half of the Mexican guitar duo. "Just to be in the moment and not to think too much about it, even though here in Zihuatanejo it was more like the tropical version of the apocalypse [laughs]."
The other half of the duo, Rodrigo Sánchez, concurs that the pandemic presented a unique set of circumstances that allowed them to be creative without the added pressure of making a record, going on tour, or meeting a deadline. "Musically speaking, it was a very unusual process for us," he says. "We weren't really thinking about recording a new Rod and Gab record, and we didn't really know what was going to happen. It was a really detailed process we never had done before, because we never had this amount of time to record an album."
Rodrigo y Gabriela - True Nature (Official Audio)
"True Nature" is off Rodrigo y Gabriela's first album in 4 years. The album 'In Between Thoughts...A New World' is available now on limited edition vinyl, CD...

Guided by spiritual practices like Buddhism and nondualism, Rodrigo y Gabriela's presence-of-mind approach to the guitar has led them on a fantastic, fulfilling journey from their humble heavy metal beginnings in Mexico City, to busking on the streets of Ireland, to performing in front of tens of thousands of people on the world's biggest stages, opening for Muse and others.

Formed in 1998 out of the ashes of their heavy metal band, Tierra Ácida, Rodrigo y Gabriela left their hometown of Mexico City to pursue their musical ambitions in Dublin, Ireland, where they first began busking with their acoustic guitars on tourist-heavy Grafton Street, mixing elements of flamenco, rock, and heavy metal. In 2002, they released re-Foc, showcasing their virtuosity on guitar and their unique fusion of musical styles—even incorporating elements of the Irish folk music they had immersed themselves in while living abroad. In 2006, the duo released Rodrigo y Gabriela, a mix of original compositions and covers of classic songs by early influences Led Zeppelin and Metallica. The album was a commercial success, reaching the top of the Irish album charts and earning them a nomination for the Mercury Prize, awarded for the best album released in the United Kingdom by a British or Irish act. In 2008, they released 11:11, which featured 11 original compositions—each dedicated to a different musician who had influenced their music. In January 2020, Mettavolution, their fifth album, won Best Contemporary Instrumental Album at the Grammy Awards, cementing Rodrigo y Gabriela's status as one of the most innovative and exciting guitar duos in the world.
"Gab has seven piezos inside her guitar, and everything is very tight. And I have five piezos."—Rodrigo Sánchez
Gabriela Quintero's Gear
Lead guitar provides the flash, but Gabriela Quintero's right hand is what keeps the party jumping, with a driving, uncommon approach drawn more from traditional Irish music than flamenco.
​Photo by Jim Bennett
Guitars
Yamaha NCX5 Signature Model
Effects
Boss FV-500L Volume Pedal
Boss OC-3 Super Octave
Boss TU-3S Chromatic Tuner
Dunlop Cry Baby Standard Wah
Dunlop DVP4 Volume (X) Mini Pedal
Lehle P-Split III Box
Strings
D'Addario Pro-Arté EJ45 Normal Tension
Self-produced by Rodrigo y Gabriela at their studio in the resort city of Ixtapa, Mexico, In Between Thoughts… A New World reasserts their seemingly innate ability for cultivating a musical repertoire that captures the zeitgeist. And while it may have begun without intention, that doesn't mean In Between Thoughts lacks direction. Like its predecessors, there's a familiar and explosive display of virtuosic guitar craft, including all of the hallmarks one would expect from Rodrigo y Gabriela. The powerful, percussive playing of Quintero and the deft melodicism of Sánchez remain the duo's calling cards. But new, unexpected sonic elements abound as well, including the reverb-drenched slide guitar on "Egoland," the energetic percussion on "Descending to Nowhere," the kinetic electronic beats on "The Ride of the Mind," the passionately chanted vocals of "Broken Rage," and the dreamy mystique of the robotic vocal effects embedded within "Finding Myself Leads Me to You."
In fall 2020, while recovering from Covid, Sánchez stumbled upon an online video on nondualism—the notion that there is a "single, infinite, and indivisible reality, whose nature is pure consciousness, from which all objects and selves derive their apparently independent existence," as defined by author/teacher Rupert Spira. "Advaita Vedanta, or nonduality, is often called the direct path—accepting what is," explains Sánchez. "We're not saying that everything in this structure of the body/mind we live in is right. It is just what is, and we cannot really argue with that."
"The beauty about music is that it's always expanding."—Gabriela Quintero
During the early stages of the pandemic, Rodrigo y Gabriela did what many other artists did: They turned to social media, posting short anecdotal performances from their studio. But when they finally got bored of that, they started to write music based on the concept of nondualism without really thinking it would become their new album. "It was just a project," emphasizes Sánchez. "We were just here in the studio doing things that we would never dofor Rod and Gab. I started to work with electronics, I left my acoustic guitar [at home] and just took my electric guitars [into the studio]. We started writing the music at the same time as we were writing a story based on this philosophy that we were so much attracted to. If we had known that it was going to become the Rod and Gab album, we probably would've limited ourselves in terms of not using electronics, or not using too much electric guitar. But we didn't really think that way. That's how the album came about."
Their new album began as a pandemic songwriting and recording project, and took shape almost by accident as they accumulated tracks and tunes.
As for Quintero, she took a slightly more pragmatic approach to the endeavor, particularly regarding nondualism. "I think me and Rod, we share a lot of things that we like, and we feel attracted to, but we process differently," she explains. "That's where the nondualism becomes dual [laughs]. I discovered these teachings through a book called The Power of Now [byEckhart Tolle]. To me, that book was incredibly insightful and practical, and such a 'no rules' type of thing. I tried to meditate but there was too much discipline with some of the spiritual teachings. I remember when Rod was into Buddhism, and he was meditating a lot of hours a day and learning some mantras that were very strict. And for me, it was too much of a discipline. When I discovered The Power of Now, it was like, 'Oh great, you don't have to basically do anything [laughs].' And then, when the pandemic came in and Rod discovered these videos about nondualism, the way he presented them to me sounded super confusing and too much like nihilism. So, we were constantly having friendly debates here in the studio. And I was going, 'This is too crazy.' It felt to me that it was denying this existence. But then we discovered these are the same teachings as The Power of Now, but in different words, in a different way. Then we stopped the debates."
Quintero, very late into their writing and recording process, asked Sánchez if they were, in fact, writing their next record. "And then she asked, 'When are we going to record it?'" says Sánchez. "We'd been recording [what we were writing] from day one with quality, and so I went back to the studio that afternoon and I checked all the recordings and all the levels, and we had produced the album already. We had the record."
"We love flamenco. My best friend in that scene, Vicente Amigo, is one of the best. But no, we never play flamenco."—Rodrigo Sánchez
As for how they record, Sánchez says it happens all sorts of ways—sometimes tracking together, sometimes individually. Sánchez says the acoustic guitars get picked up by German-made Schoeps MK 4 mics, recommended to him by his close friend, Spanish guitar maestro Vicente Amigo. They also adopted some of what he calls his "old-school metal techniques" for recording. "Knowing that we were going to have orchestra and electronics and all that, I used room mics for Gabs—and instead of just copying her track, I have her record two guitars exactly the same," he explains, noting he did not use the copy/paste shortcut many musicians use nowadays. "She would do one guitar rhythm and then she would double that to make it sound bigger. Overdubbing the same rhythms and the same parts actually give her much more presence on top of the electronics. And she's so good at it."
Due in large part to Quintero's right-hand technique, which Sánchez recorded so well on In Between Thoughts, "heavy metal flamenco" is a label often applied to the duo. "Ah, the 'F' word," laughs Sánchez. "We love flamenco. My best friend in that scene, Vicente Amigo, is one of the best. But no, we never play flamenco. I understand some people are confused because of Gab's rasgueado[gesture to invoke her right-hand technique], but actually she's not doing the flamenco technique at all. She learned most of these techniques from an Irish bodhrán player, Robbie Harris."
Rodrigo Sánchez's Gear
Rodrigo Sánchez wears his musical roots on his chest,
in a t-shirt proclaiming his fan status for the Bay Area metal band Testament.
Photo by Dan Locke/Frank White Photo Agency
Guitars
Yamaha NTX5 Signature Model
Fender Jaguar
Amps
Fractal Audio Axe-Fx II XL+
Marshall JCM900 4100 Hi Gain Dual Reverb
Effects
Boss DD-3 Digital Delay
Boss FV-500L Volume Pedal
Boss OC-3 Super Octave
Ibanez WH10 V3 Wah Pedal
Lehle P-Split III DI Box
MXR M133 Micro Amp
MXR M234 Analog Chorus
One Control Minimal Series AB Box
TC Electronic Ditto X2 Looper
Truetone 1 Spot Pro CS7 Power Supply
TWA WR-03 Wah Rocker
Strings & Picks
D'Addario EXL115 (.011–.049
D'Addario Pro-Arté EJ46 Hard Tension
Jim Dunlop Jazz III Black Stiffo
The bodhrán is a frame drum used in traditional Irish music that Quintero learned about when they moved to Ireland. "At the time, I was trying to imagine how flamenco players played their rhythms," she explains. "I couldn't figure it out, because back then there was not YouTube—there was nothing. Nowadays, you can go and say, 'How to play rasgueado flamenco, how to play rhumba,' and you'll find something, but not back then. And I always got it wrong. And then I discovered the bodhrán."
In the old days, the bodhrán was played with hands, not with a stick, as is often seen presently, and she says the Irish kept telling her she actually exhibited the movements of a bodhrán player, but on guitar. "They encouraged me to do certain rhythms. So, just watching them, it was easy to emulate a lot of the movements—it just came organically. The beauty about music is that it's always expanding."
"If I came back to a solo bit or something, there was not that beat—people were not jumping anymore, and it was like, 'Ah, we're losing the audience,' so I tried to become more the drummer of the band."—Gabriela Quintero
After weaning his guitar craft on West Coast thrash metal bands Testament, Megadeth, and Slayer, and New Yorkers Anthrax, Sánchez's nylon-string style was originally grounded in a lot of the palm-muting he carried over from that style of electric playing. "First of all, I had to translate my palm muting [from electric to nylon string]," he explains. "Then, I used a little bit more of Al Di Meola's technique, but he was playing steel-strings, right? So, I was like, 'Okay, how can I translate this into nylon?' And then I started to listen to Strunz & Farah, and they are incredible. I listened to the way they played, especially Jorge Strunz, who is so clean and so fast. And I started to learn some of his licks here and there, so I was in that zone already."
They want a whole lotta folk! Rodrigo y Gabriela get down on the Newport Folk Festival's Harbor Stage in 2014.
Photo by Tim Bugbee/Tinnitus Photography
It's worth noting that the nylon-string guitars Rodrigo y Gabriela play live are the result of years of practical research and application in collaboration with Yamaha and are not models or designs your average nylon-string player would use, nor are they commercially available. "It's not like any nylon-string guitar can just go and play in the middle of a festival of 40,000 people," explains Sánchez. Originally, they were using guitars made by Irish luthier Frank Tate, which they still use at home and in the studio. But the guitars they now use live were specially designed over a 14-year period by Yamaha's Japan-based Custom Shop for arena-concert environments. "These guitars have a very special system for us to sound the way they sound live," he says. "Gab has seven piezos inside her guitar, and everything is very tight. And I have five piezos, which is really important for those kinds of shows."
Within the duo, both players are very melodic and very rhythmical, but Quintero did gravitate to doing more of the beats, simply out of necessity, once they started playing bigger shows. "At the beginning when we used to play together, we swapped all the time—solos, arpeggios, and all of this," she explains. "Eventually, when we started playing rock festivals, because I was the one who played the chords and the beat, if I came back to a solo bit or something, there was not that beat—people were not jumping anymore, and it was like, 'Ah, we're losing the audience,' so I tried to become more the drummer of the band."
Jumping from a metal band in Mexico City to an acoustic guitar duo busking the streets of Ireland seems quite serendipitous and grounded in the kind of ideology they eventually discovered via nondualism. Circling back to Quintero's The Power of Now-influenced, pragmatic approach, she jokes that the decision was really quite simple. "Eventually, we were so internationally non-famous and miserable, we decided we're going to quit the band," she chuckles. "But we're not going to quit music. We wanted to travel the world. So, our new goal was to travel and play guitar."
YouTube It
While this live performance doesn't capture the duo's current blend of acoustic and electric sounds, it does afford a close-up look at their playing technique. In particular, check out Gabriela's right-hand approach, which is based on the traditional Irish instrument called the bodhrán.
Unique, complex reverb tones lurk in a fun and imaginative stomp that's an ergonomic and utilitarian delight.
Recorded via Apogee Duet to Garage Band with Fender Jazzmaster, and Fender Vibro Champ.

Drum machine recorded with room mode reverb.

Rhythm track uses room setting at 20-30% FX level, and modest modulation rate and depth.

The lead track moves through room, digital, peak, and gate reverbs in that order.

At 1:28 the gong reverb appears on a separate track along with the wave reverb set to high depth and modulation rates.
Ratings

Pros:

Scads of unusual, vast-to-tasteful reverb tones. Thoughtful, ergonomic, flow-oriented design. Great contrasts between modes. Fun!

Cons:

Doesn't do super-accurate spring or plate sounds. Some digital artifacts. Expensive.

Street:

$395

Death By Audio Rooms Stereo Reverberatordeathbyaudio.com

Tones:Ease of Use:Build/Design:Value:
As wild as reverb pedals can be in this digital epoch, I find many of them a little same sounding—even in their spaciest incarnations. Leave it to Death By Audio to shake that up with Rooms. The digital Rooms makes many unusual and unpredictable sounds—but it's not so quirky that you can't dive in intuitively and fearlessly. It's just as capable of beautiful, subtle-to-lush reverbs. It's forgiving. And it's potent and varied in ways that transcend guitar use. In fact, Rooms sometimes feels and functions like outboard studio gear. It's also incredibly fun and sends you along many unexpected creative trajectories. If you can't have fun with Rooms, you might just be a zombie.
Space Brick
Rooms was designed with little concern for the miniaturization trend. In my humble opinion, it's a better, more useful pedal for it. The controls are easy to identify, and there is great ergonomic satisfaction in being able to move assuredly among the controls, confident in the function and the results. The critical bypass and "alt" switches, which enable movement between two very different settings, are far enough apart to avoid accidental activation. The powerful, expressive time knob is outsized and situated prominently so you can make adjustments with your toe. (There is also an expression-pedal jack for controlling the time or frequency in the alt mode.) The independent effects mix and dry controls, meanwhile, open up endless possibilities for foregrounding, backgrounding, or adding clarity to the most radical sounds. (Both controls also function effectively as boosts.)
Individual controls have huge range, and the resulting sound-crafting potential is immense. Given Rooms' lack of presets (unless you count the single "alt" setting), that range and sensitivity may give control freaks fits. But I returned to near-identical or approximate settings with ease, and was happy to be unburdened by preset recall functions. Switching between primary and alt settings can also generate transitionary sounds like pitch swoops and slides that could become killer song hooks.
If you can't have fun with Rooms, you might just be a zombie.
To the Valley Below…and Spaces Above
Rooms is overflowing with tasteful-to-powerful sounds. And in each mode the function of the frequency and depth controls shifts to suit the mode. Room reverb mode is capable of subtle and cosmic-scale sounds that are well suited to volume swells. Digital mode sounds are less colored by overtones at equivalent settings, but can still go positively interstellar. The peak mode is awesome—particularly if you've wearied of high-octave-emphasized "choral" verbs. Peak mode achieves the less cheesy side of that ambience, but the filter frequency function in this mode also enables you to emphasize heavy low-frequency reverberations to awesome ends. Applied to detuned guitars, the effect yields massive, ominous, deep-Earth tones.
Gated mode helps create solo and chord textures that have the attack and mood of super-splashy ambience, but won't bury everything else with dense, runaway reverb trails. The modulating wave mode generates a range of undulating textures that can be shaped into dry, in-your-face '80s Brit-chorus (Cure, New Order) or super-spacious, high-speed vibrato sounds. (Another awesome possible contrast you can exploit with the alt switch.) The ultra-fun gong mode, meanwhile, creates unorthodox near-fuzz tones at settings with quick decays and low-mid frequency emphasis, or—at the right frequency and time settings—ring modulated colors that sound like a gamelan-and-sitar duo lost in the bowels of an endless cavern.
The Verdict
Impressively, the many possibilities described merely scratch the surface of Rooms' capabilities. In fact, the only vaguely crappy thing about Rooms is the price. For me, the $395 sticker price is justifiable: First, because much thought, labor, and development went into this circuit, but also because I can imagine using it with other instruments, in composition, or, more intriguingly, in mixing, where the bounty of unexpected sounds and stereo output functionality could yield truly unique outcomes. If you're strictly a gigging player who likes occasional extreme-reverb colors but generally sticks to simpler fare, there are cheaper options. But if you're fascinated with the outer limits of pedal reverb and sound design, you have to try it. Rooms isn't for everyone, and it favors an impressionistic, not-too-precious approach to sound creation. But for those who relate to its quirks, the fresh ideas it inspires are likely to flow hard and fast.
Hear how close the EHX Soul Food, J. Rockett Archer, NUX Horseman, Wampler Tumnus, and Way Huge Conspiracy Theory come to nailing the tone of a legend.
It's been more than a quarter century since the Klon Centaur overdrive debuted. So why are we still talking about it?
The Klon became a cult item soon after it appeared, celebrated for its transparent overdrive. "Transparent" isn't exactly a scientific term, but it makes sense when comparing the Klon to the popular overdrives that preceded it—notably the Ibanez Tube Screamer, which to this day provides the template for a large percentage of overdrive pedals.
A Screamer trims highs and adds a prominent midrange bump at around 750 Hz. A Klon's core sound is less highly colored, with clearer highs and greater clean headroom. A Screamer's compression smoothes out note attack, while a Klon delivers faster, crisper transients. Screamer tone never cleans up completely, even with the gain knob at minimum. But a Klon with its gain knob fully counter-clockwise delivers a pure clean boost. (Though it might not sound clean, depending on how hard the Klon's output is slamming your amp's input.) To many ears, the Klon was a sonic upgrade over previous overdrive pedals. When the guitar magazine I worked for in the '90s covered the initial version, I bought the review model. I used that pedal (serial number 309) for reference while exploring our five klones.
Secrets of the Klon Kult
How does the Klon work its magic? Like most overdrives released since the 1970s, it owes its tones to an overdriven op amp, with extra color and compression from a pair of clipping diodes. Klon fanciers tend to focus on those two parts: the TL072, a low-noise, JFET-based op amp, and two NOS germanium 1N34A diodes.
Generally, germanium diode distortion is slightly softer and "spongier" relative to brighter, crisper-sounding silicon diodes and LEDs. But you only hear the diode's character at the circuit's highest gain settings—most of the distortion comes from the op amp. Meanwhile, the TL072 is a common and inexpensive part. But even if it weren't, any number of op amps would yield similar results.
My tests suggest that the Klon's character comes from its ingenious circuit topology, and not from "magic" parts. There's a charge pump that generates 18 volts from a standard 9-volt power supply, and you hear the difference—tones are sparklier and more dynamic, with more clean headroom. The gain architecture is even more innovative. Incoming audio is split into three paths, one of which passes through the distorting op amp and diodes. Another path sends undistorted lows to the output, anchoring the bottom end. Meanwhile, the third path is a relatively hi-fi clean boost. The pedal's gain knob simultaneously controls the levels of both the distorted and clean boost paths. Turning the pedal's gain knob clockwise emphasizes the distortion while lowering the clean signal, and vice versa.
Other factors include an especially nice-sounding input buffer that prevents guitar pickups from loading down the circuit, a handsomely voiced treble-cut tone control, and memorable cosmetics. Original Klons have expensive, custom-cast enclosures with that striking bronze-and-oxblood color scheme. And, of course, there's the sword-wielding centaur icon, usually referred to as "the horsie." (Horsie Klons have the highest resale value.)
Klon vs. Klone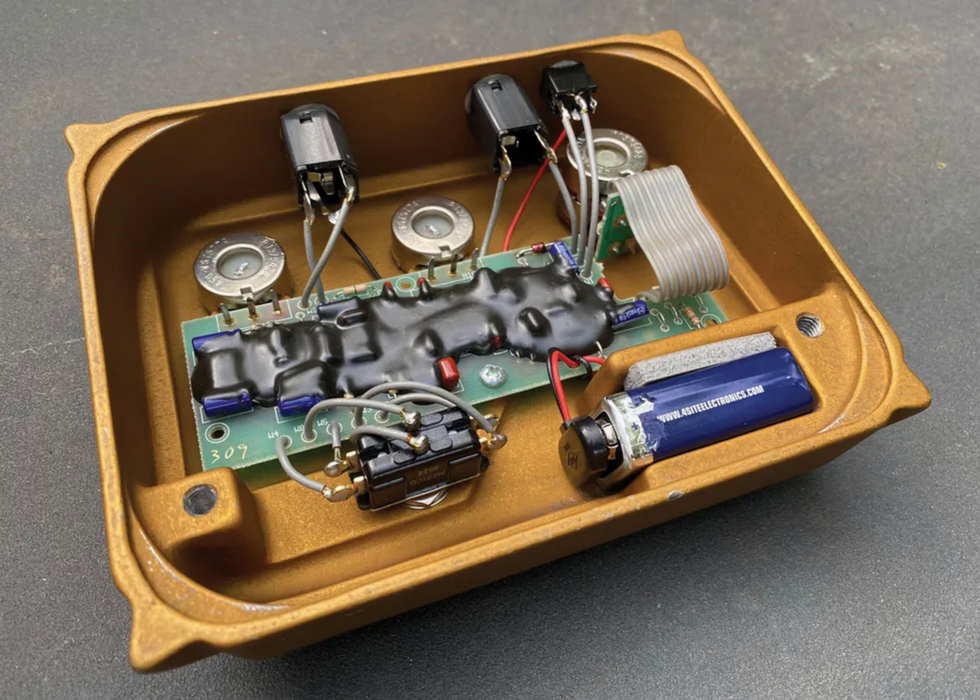 Image 1 — Original Klons obscured their circuitry with black epoxy. That trick never works! The Klon schematic is readily available online.
Original Klons tried to maintain circuit secrecy with a coat of black epoxy (see Image 1).
It didn't work. The schematic is widely available. Copyright law doesn't protect circuits, so the schematic is free for the cloning. On the other hand, copyright law says you can't mimic a product's "trade dress"—the visual appearance that identifies it to consumers. But that hasn't prevented klones from paying "tribute" to the original's gold/bronze enclosure, dark red knobs, and centaur sketch.
The original Klon employed traditional through-hole parts. Our contender klones have modern surface-mount components, which facilitate automated production and keep list prices low. Two of them employ NOS through-hole germanium diodes, while the other three substitute modern silicon ones. All are scaled-down relative to the original, with enclosure sizes ranging from a standard B-sized box down to tiny AAs. There's also a dramatic price spread: from $69 to $199. All pedals run on standard 9V power supplies.
Testing Procedures
To keep things as objective as possible, I recorded the demo clips straight into my DAW with no processing, and then re-amped them through each of the klones. That way, you hear the identical performance through each pedal. Aside from switching klones, nothing in the signal chain changes. For the audio-only clips (see the page at the end of this article) I used a Fender Telecaster Deluxe with Lollar Regal wide-range humbuckers, a clean-toned Carr Telstar amp, and a Royer R-121 ribbon mic, recorded into Logic Pro via a Universal Audio Apollo interface. For the video I used a "parts" S-style guitar with Lollar Firebird pickups and Fender-style Carr Skylark.
In the audio-only clips you'll hear four audio comparisons arranged into four playlists. First, there's a 1:23-long passage with all pedal knobs set to noon. Next comes a gain test: You hear each pedal, first with the gain control at minimum (that is, in full clean-boost mode) and then at maximum. The third comparison displays the full range of the tone controls, first at minimum, then at maximum, and then back to the noon position. The final test compares the output controls. First, you hear the passage with a low output setting, with the knob around nine o'clock, and then at maximum. The low output setting is too quiet to overdrive the amp, isolating the distortion color produced by the pedal, as opposed to how that sound interacts with an overdriven amp.
Image 2 — A spectral comparison of a passage played through the original Klon and through the EHX Soul Food reveals that their EQ curves are nearly identical. Other comparisons yielded similar results.
In each case, you hear the original Klon first, followed by the five modern pedals in alphabetical order, from Electro-Harmonix Soul Food through Way Huge Conspiracy Theory.
Spoiler alert: These pedals sounds remarkably similar, and that's not just a subjective impression. Consider Image 2, which compares the spectrum (EQ curve) of a passage recorded through the original Klon and through the EHX Soul Food.
The orange portion depicts the Klon, the blue portion the EHX. Their EQ profiles are superimposed in the main window. The orange and blue lines track so closely that it's sometimes hard to discern two separate measurements. Comparisons between the Klon and the other contenders yield similar results. In other words, prepare to listen for very subtle distinctions.
​Diodes to Die For?
Finally, a word about those germanium diodes: Judging by the online forums, this is the crucial feature separating the Klon from the klones. Even Klon founder Bill Finnegan cites particular germanium diodes (from his stash of NOS 1N34As) as the most important ingredient in the Klon casserole.

I think the audio suggests the opposite.
Klon vs. Klones by premierguitar
Ratings

Pros:

Great price. Excellent overdrive sounds. Adapter included.

Cons:

Keen ears might miss low-end weight.

Street:

$86

Electro-Harmonix Soul Foodehx.com

Tones:Ease of Use:Build/Design:Value:
Electro-Harmonix Soul Food
Priced at a modest $86, EHX's Soul Food is the second-least-expensive pedal among the five competitors. It lives in a standard B-sized enclosure large enough for a battery compartment. You can also use standard 9V power supplies. (Soul Food is the only pedal in this roundup that comes with an AC adapter.)
The Soul Food circuit board employs mostly small, surface-mount components, with the exception of several capacitors and the clipping diodes. The latter are silicon in lieu of the Klon's germanium. Still, as Image 2 above shows, the Soul Food's tone profile matches that of the original Klon almost exactly. At heavy settings, I think I hear slightly more compression and gain from the Soul Food, but I'm not always certain. We're quite close to Klon here.
Hear for yourself: As mentioned, most of the Klon's overdrive comes from the TL072 op amp. The clipping diodes are only a factor at high-gain settings. For the clearest comparison of diode color, listen to the second halves of the clips in the Gain Control playlist, where the gain knobs are at maximum. Even here, the two tones are quite similar. The Soul Food is a little brighter at the very top end, and the Klon has a wee bit more weight under 100 Hz. But these differences are far from dramatic.
Soul Food has a secret trick: a small internal switch to select between true bypass mode (the default) and buffer bypass mode. Again, the differences are extremely subtle, unless you're connecting a retro-style fuzz downstream from Soul Food. (A germanium Fuzz Face, for example, is likely to sound too thin and bright when placed after a buffered effect.)
Ratings

Pros:

Exceedingly accurate Klon sound. Germanium diodes. Extraordinary build quality.

Cons:

Relatively costly.

Street:

$199

J. Rockett Archerrockettpedals.com

Tones:Ease of Use:Build/Design:Value:
J. Rockett Archer
The Archer, a klone from J. Rockett, stands out from the herd even before you plug it in. While all the pedals covered here sound convincingly Klon-like, the Archer clearly aspires to the original's build quality, too. Measuring 4" x 2.25" x 1.25", it is slightly smaller than a standard B-sized box. The top-mounted jacks will suit overpopulated pedalboards, but there's still enough room for a 9V battery. The enclosure isn't quite as deluxe as the original Klon's sculptural, custom-cast shell, but it has a similar heft. The Archer is this roundup's most reassuringly solid stompbox. And at $199, it's the most expensive.
The Archer's circuit board features a roughly 50/50 mix of through-hole and surface-mount parts. The op amp is a TL072, while the clipping diodes are NOS germanium. Clearly, the Archer aspires to be as Klon-like as possible, as if that weren't already clear from the round oxblood knobs and a weapon-wielding mascot with hooved hindquarters. Mission accomplished! While all five of these pedals get close to the Klon sound, Archer is one of the nearest dead-ringers. I wouldn't be able to differentiate the Klon and the Archer in a blind listening test.
Ratings

Pros:

Absurdly low price. Dual buffer and gain modes. Good tones.

Cons:

Klon-like, but not quite as Klonic as some options. Inexpensively made. No battery compartment.

Street:

$69

NUX Effects Horsemannuxefx.com

Tones:Ease of Use:Build/Design:Value:
NUX Horseman
Original "horsie" Klons currently fetch $3,000 on Ebay. For that price, you can buy 43 1/2 NUX Horseman pedals. Yup—this klone sells for a mere $69. It's the only contestant to be built in China. (All the others are made in the U.S.)
The Horseman's stable is a tiny AA-sized enclosure, which means there's no battery compartment. That makes it about 1/6 the size of the original Klon. It's a bit surreal to see that legendary circuit crammed into a device requiring only a sliver of pedalboard space. Unsurprisingly, given its low cost, the parts and build quality don't quite match those of the pricier options. But you can't argue with the Horseman's excellent tones.
The electronics layout is interesting, with two circuit boards facing in toward each other. Silicon Schottky diodes replace the original's germanium parts. Compared to the Klon, the Horseman's tones are marginally less sparkly and a bit boomier below 200 Hz. Transients are slightly less crisp. But even if this pedal's sound is the easiest to differentiate from the vintage Klon, it's still awfully close. I'd have no qualms gigging with this bargain-priced burner.
The Horseman can do a few extra stunts. Like the EHX Soul Food, it offers a choice of true or buffered bypass, depending on whether you hold the bypass switch down during startup. Again, the sonic differences are usually negligible, though the setting can affect the tones of retro-style fuzzes placed after the Horseman in the signal chain. You can also press the footswitch for a few seconds to select between "gold" and "silver" modes. According to NUX, gold mimics the gain character of the original bronze Klon, while silver evokes later silver-colored models, which are a bit gainier. Yes, high-gain silver mode settings are slightly more distorted than the same settings in gold mode, though the distinctions remain subtle. A small secondary LED indicates the status.
Ratings

Pros:

Highly accurate Klon tones. Excellent build. Ultra-compact.

Cons:

No battery compartment.

Street:

$149

Wampler Tumnuswamplerpedals.com

Tones:Ease of Use:Build/Design:Value:
Wampler Tumnus
Brian Wampler's pint-sized klone replaces the horsie with a goatie. The pedal is named for Mr. Tumnus, the friendly faun from C.S. Lewis's Narnia books. It occupies a tiny AA box like the NUX Horseman, but it's even a bit smaller. (Obviously, there's no battery compartment.) Tumnus's build quality is superior, as you'd expect for a pedal costing twice as much. It's also attractive, with its enclosure painted a deep gold color and bedecked with subtle figuration.
Tumnus nails the original Klon tone with great accuracy. This is interesting, given that it employs surface-mount silicon diodes in lieu of germanium. Clearly, you could argue that it's a further refutation of claims that rare diodes are essential for Klon-like tones. Again, I refer you to the second part of the relevant clips in the Gain Control playlist, where diode color is most evident. Even here, the two sounds are almost indistinguishable.
Wampler also loaned us their newer Tumnus Deluxe pedal. We don't have space for a standalone review, but we can summarize what it brings to the party: The control layout on the relatively large 125B-sized enclosure retains the usual treble-cut tone control (which functions just as it does on the original) but adds active bass and midrange controls. There's also a buffer bypass switch and a "hot" switch that boosts gain.
The Deluxe model can sound as Klon-like as the mini version, but it can also veer in different directions. The bass control can add thudding lows and low mids that you won't get from a straight klone. The midrange control also unlocks many new sounds. At extreme settings, this filter gets nasal and resonant, almost like a notched wah pedal. There's a demo clip in the Extras playlist called 1. Tumnus Deluxe (various settings), where I work the tone controls while the demo riff plays. On a Klon, it's hard to dial in a bad sound. The Tumnus Deluxe makes it easier—underscoring the balance and smart design behind the original control set. Of course, those "bad" sounds may be perfect in context and represent interesting possibilities. Notice how thrashy everything gets when I flick on the high gain switch at around 1:08. At $199, Tumnus Deluxe is perfect for a player who wants great straightforward Klon overdrive and many usable variants.
Ratings

Pros:

Excellent overdrive sounds. Quality build. Germanium diodes.

Cons:

Ever-so-slight bump in low-mids might distract some original Klon purists.

Street:

$129

Way Huge Conspiracy Theoryjimdunlop.com

Tones:Ease of Use:Build/Design:Value:
Way Huge Conspiracy Theory
Way Huge's Conspiracy Theory is yet another fine-sounding Klon klone. It uses modern surface-mount parts, except for a pair of NOS germanium diodes. The op amps are TL072s. Its folded-metal enclosure matches the scaled-down proportions of the J. Rockett Archer, but the material is light aluminum rather than heavy steel. (At $129, the Conspiracy Theory is $70 cheaper, too.) Red pointer knobs and a gold finish evoke the original Klon design. The scaled-down enclosure is still large enough to accommodate a battery.
The Conspiracy Theory's voice is ever so slightly warmer/darker than that of the original Klon, with just a hair more low-mid weight under 500 Hz or so. I still gave this pedal a maximum tone score, because the differences are extremely subtle, and some players will probably prefer the Conspiracy Theory's slightly warmer character—if they notice it at all.
The Verdict
All five of these effects get very close to the sound of a first-generation Klon Centaur. In other words, they sound terrific! Reviewing them taught me a lot about the original—most notably the fact that its character has little to do with specific clipping diodes, despite countless claims to the contrary. The J. Rockett Archer uses old-school germanium diodes, and it's nearly indistinguishable from the Klon. But then so is the Wampler Tumnus, which substitutes silicon surface mount diodes. As far as I'm concerned, the germanium clipping diode is a big, fat red herring.
The Electro-Harmonix Soul Food gets close to Klon despite using silicon clipping diodes. At $86, it's a steal. At high-gain settings it's ever so slightlybrighter than the original, but that's not necessarily a bad thing. It even comes with an adapter.
J. Rockett's Archer, with its germanium clipping diodes, is the Klon's sonic twin. It's easily the most rugged of the klones, with a reassuring heft that evokes the original. But quality isn't cheap—at $199, the Archer is the most expensive option. If cost is no object, it's my No. 1 pick.
Nux Effects' Horseman sells for a remarkably low $69. Of the five pedals, it's the easiest to distinguish from the original Klon, but that's not saying much. It still gets quite close, and some players may even prefer its slightly rougher sound. Its AA-sized enclosure is a panacea for overpopulated pedalboards. This is the no-brainer bargain pick.
Wampler's $149 Tumnus is pretty and petite in its tiny AA enclosure. It rivals the Archer for most authentic Klon sound, even though it employs silicon diodes. The construction is lovely. We also took a quick peek at the $199 Tumnus Deluxe, which adds a high-gain mode and 3-band tone stack that yield many variations on the famous formula.
Way Huge's Conspiracy Theory also gets extremely close to the Klon sound. It sometimes sounds a wee bit warmer/darker, but some players may prefer this profile, assuming they ever notice it. It's the least expensive option to include germanium diodes.
Admittedly, it sounds terminally wimpy to conclude with, "Gosh, they all sound great." But it just happens to be true. (Well, they are clones!) I'd use any of these onstage or in the studio without hesitation. Your choice may be more about price and pedal size than any minor tonal discrepancies.
Oh, one last fun detail: After recording all the re-amped examples into a single Logic Pro session, I thought it might be fun to hear the Klon and the five klones simultaneously. That's the last item in the Extra playlist (All at Once!.mp3). I panned the six tracks in stereo, but there's no additional processing. I expected a bloody mess. But it sounds pretty much like a Klon—just like everything else here.


[Updated 9/10/21]