Sloped shoulders and a beautiful burst hint at a dreadnought classic, but inside lurks a thoroughly modern approach to flattop design.
Super-slinky and inviting playability. Balanced output across the frequency spectrum. Top-shelf build quality.
Fans of traditional slope-shouldered dreads might miss the huskier, dustier voices associated with the type.
4.5
4.5
5
4
The great guitars that Taylor produced in nearly 50 years of existence would probably justify cruising on the back of past successes. But Taylor still seems to genuinely enjoy pushing back against flattop design dogma. They're very much at ease with the notion that their guitars are alternatives to more traditional fare and perceived in some quarters as "modern" sounding—which in Taylor's case is generally shorthand for meticulous balance between high, middle, and low registers, immaculate intonation, and easy-on-the-engineer recordability.
Taylor's 417e doesn't look particularly modern at a glance. It looks fancy, certainly. But at most angles, the slope-shoulder Grand Pacific profile and tobacco sunburst finish make the Taylor look like a loving, upmarket homage to the Gibson J-45. Prominent as the J-45 influence is, it's mostly skin deep. Taylor's V-bracing instead ensures that the 417e tones shine with the modernity that sets many Taylors apart. And the combination of mid-century aesthetic, silky playability, and bright, lively personality make the 417e an inviting instrument that can be hard to put down.
Wave Relations
I once heard Taylor master designer Andy Powers liken his thoughts about sound waves to the experience of watching waves from high on a bluff. When you look inside, or at a picture of a cross section of the 417e's bracing, it's easy to see manifestations of that sound-and-sea point of view. The back braces are angled forward toward the bass side of the instrument like breaks coming off a point. The V-bracing on the top, meanwhile, tapers back toward the endpin like the prow of a ship. It's hard to quantify the effects of different bracing arrangements. But Powers insists that V-bracing improves volume and sustain, and generates more even harmonic response, which is already a Taylor trademark. It only takes a few strums to hear that none of those claims are a stretch.
While the combination of Indian rosewood back and sides and a Sitka spruce top guarantee snappy response in just about any well-made guitar, the 417e is pretty bright for a dreadnought. There's a lot of high midrange, too. But none of that top-end frequency emphasis results in harshness or stridency. And for all the push in those toppier ends of the frequency spectrum, each of the highest strings exhibits contoured attack and a soft decay. In fact, there were times I felt the attack and decay were almost too civilized on the third and fourth strings. That's a very personal observation—I'm sure most players would dig the 417e's even response. (I frequently gravitate toward an aggressive flatpicking touch and certain "ugly" sounds on an acoustic.) Whatever your approach, the combination of soft attack, extra sustain, and gentle decay results in great balance—almost as if you put studio compression on a recording of the instrument.
The 417e's capacity for sustain, meanwhile, pairs nicely with its capacity for volume. While individual notes don't always bloom the way they do on some dreadnoughts, the 417e's sustain means there is room to let notes linger in space. That's the kind of dynamic that can reshape a songwriter's compositional perspective. It also makes the 417e a great fingerstyle dread—an animal not often seen nor heard in the wild.
Immaculate Execution
It almost gets boring talking about the construction quality of high-end Taylor instruments, because I never see one that's anything less than immaculately put together. The 417e is more of the same. Go ahead, look it over with a microscope. You're not likely to find an obvious flaw inside or out. You should expect as much for nearly $3k, and the 417e delivers. Some small details, like the inlay and rosette, may be just non-traditional enough to put off purists, but the deviations from old-school ways are subtle and distinctive. Some standard Taylor features, like the plastic truss-rod cover, seem a little cheap given the top-shelf price. I also wouldn't mind seeing the controls for the excellent Expression System 2 electronics moved to a less obtrusive location like the soundhole, but there's no questioning how easy they are to see and use in a performance situation.
The Verdict
Players that gravitate to the 417e in part for its handsome, J-45-like slope-shoulder profile and pretty tobacco burst finish should expect a guitar that sounds very different than the old Gibson workhorse. It's louder, brighter, and less dusty. And for a lot of players, the marriage of traditional slope-shoulder style and a balanced-but-high-mid-forward voice will be a winning one. It's a very forgiving guitar in recording situations. The playability is as nice as you will find on a flattop, and its dynamic and touch-sensitive qualities combine with its volume and headroom to make it well-suited to nuanced fingerstyle every bit as much as hard and heavy strumming. Such range makes the 417e a great performance instrument and helps justify the premium price. And if the 417e's convergence of "now" tones and mid-century American style suits your own, it will not be hard to extract every penny of that investment from this beautiful and beautifully made guitar.
Taylor 417e-R Demo | First Look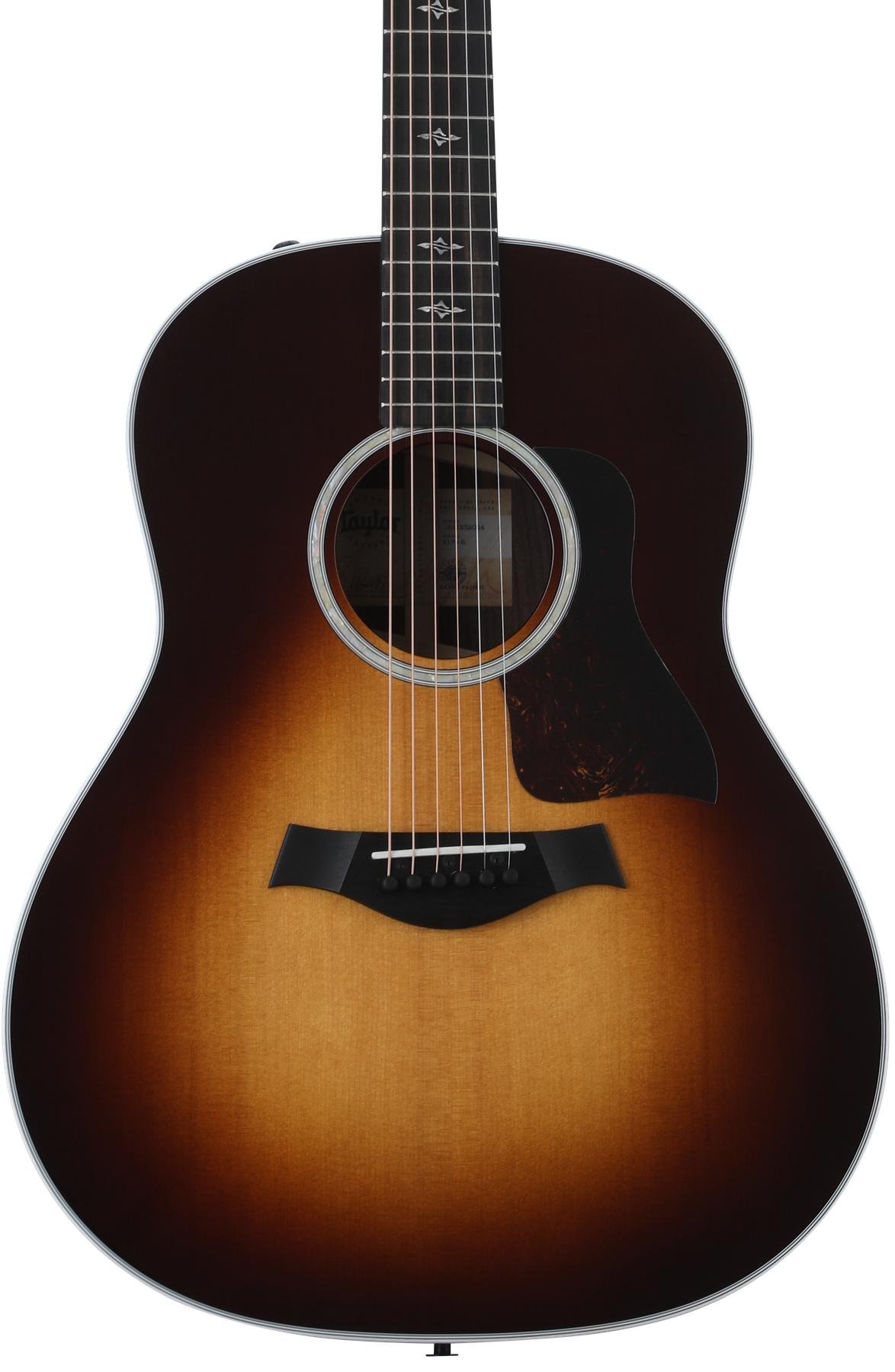 Taylor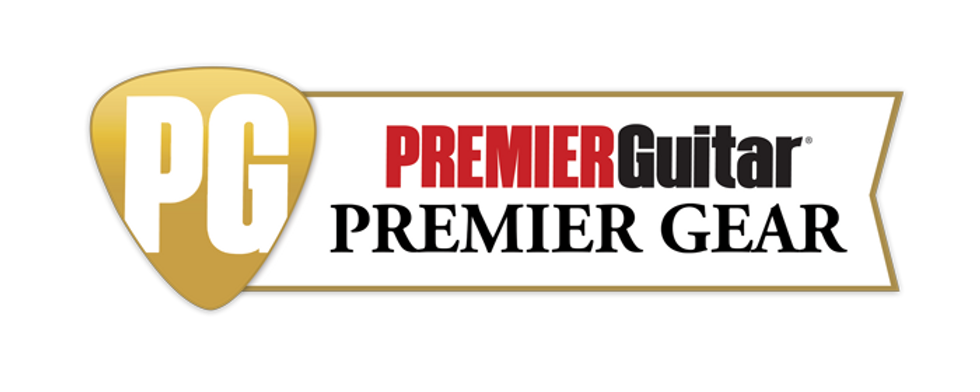 Making a living doing the thing you love is great—in fact, it's something that so many players aspire to. But it changes the relationship between player and instrument when the instrument is a source of work. How do they stay excited about their work? And how do they get excited when they're in a lull? What keeps their creativity flowing? These are big questions, but our hosts are both having their own renaissances with their guitars. And—surprise!—it's because they've both come into some new key pieces of gear.

On this episode, Rhett and Zach discuss the relationship that they each have with the guitar at this point in their careers. Making a living doing the thing you love is great—in fact, it's something that so many players aspire to. But it changes the relationship between player and instrument when the instrument is a source of work. How do they stay excited about their work? And how do they get excited when they're in a lull? What keeps their creativity flowing? These are big questions, but our hosts are both having their own renaissances with their guitars. And—surprise!—it's because they've both come into some new key pieces of gear.
Zach reports that he has been rippin' totally sweet Metallica licks on his sick new ESP LTD Kirk Hammett Signature Series KH-602. He's a longtime fan of the band—and has conveniently fallen back in love with Kill 'Em All and Ride the Lightning—and says he's wanted a Hammett signature guitar for his entire guitar-playing life. When he saw this one at Nashville's Guitars To Be Played, he fell in love with everything, from the skull and crossbones fret markers to the Floyd Rose. And you know what? The Floyd Rose isn't hard to set up. This guitar, Zach says, is kickstarting his "love of the guitar again."
Meanwhile, Rhett has been enjoying his new Soldano SLO-100head and matching 4x12 cabinet, even if he does keep the cab a few flights below his control room. He's stoked about the story of Soldano, who he admires for being one of the early boutique amp builders, and has been playing this new 100-watter all week.When it's time to dip a rig, it's hard to find any faults. No spoilers, but it's a nice one (and an easy gig load).And in the shill zone, Zach talks about the importance of running a brown box for owners of older amps and talks briefly about the difference between the Brown Box and a Variac.
Simplicity sings in an elegant Electra Distortion-derived overdrive.
Stupidly simple. Dynamic and touch responsive. Beautiful distortion profile that mixes a creamy core with sizzle around the edges.
Bridge-position single coils can sound crispy.
4.5
4.5
5
4.5
If you've ever considered a monkish withdrawal from pedal maximalism, Ananashead's Cream Amp is a fine place to start your journey. It's a low- to mid-gain distortion derived from the legendarily simple Electra Distortion, a gain device built into Electra guitars in the 1970s, which later found favor among DIY pedal builders and modders. In this Barcelona-built take on the circuit, it's easy to hear why this simple circuit maintains such enduring appeal.
The distortion characteristics of the Cream Amp are quite different from a clean boost. It's generally dirtier, and at higher pedal-gain settings, where the Cream Amp is happiest, it has a treble-forward tone profile that makes it a fantastic companion for PAF pickups, which balance and flatter the edgier output. Single-coils sound awesome, too, though I gravitated toward the way the Cream Amp fattens a neck-position pickup rather than bridge-position tones, which can sound comparatively brittle. The Cream Amp also works agreeably with other overdrives and Big Muff-style fuzzes that aren't too peaky in the top end. But I derived the most joy from the Cream Amp when it was the only pedal between my guitar and amplifier—a role that highlights its dynamic and touch-responsive characteristics. If you're similarly interested in uncomplicated, organic routes to dirty tones, the Cream Amp is a reliably satisfying way to get there.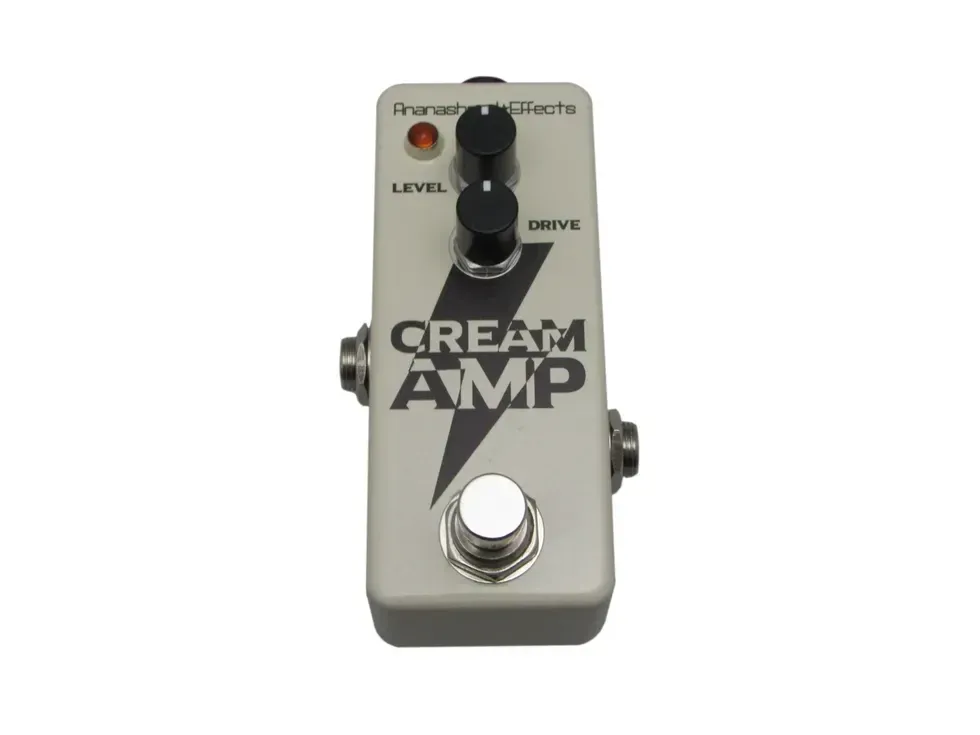 Ananashead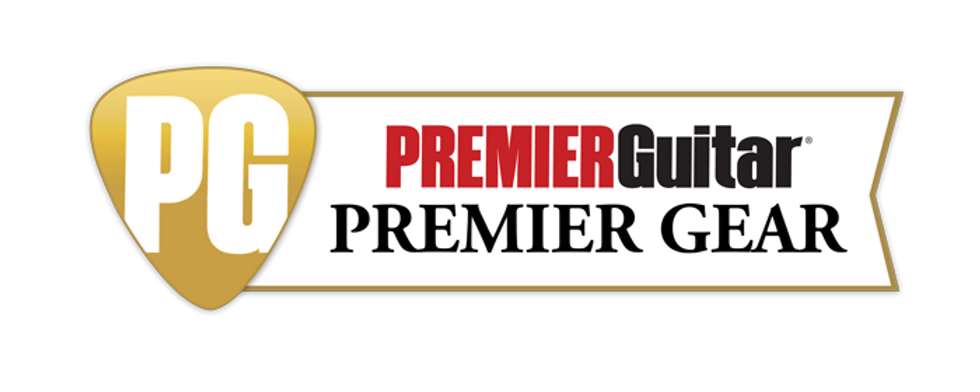 A tasteful but extroverted design mashup that yields myriad tone and playing possibilities.
A beautiful, tasteful, but still extroverted fusion of design elements. Super playability. Unique tone signature from mini humbuckers.
Lower-output pickups might be more versatile. Midrange-heavy tone profile can obscure some nuance
4
4.5
5
4.5
Purists may beg to differ, but irreverently recombinant guitar design makes the electric guitar world a lot more fun and interesting. Not every design mashup works, of course. Some attempts at blending influences end up about as elegant as grafting a pine tree to a cactus. But the Gold Foil Jazzmaster is a truly beautiful mutation. It gathers together Gibson-like attributes, like a mahogany body and mini humbuckers (yes, we'll get to that), with Fender's shapely, comfy Jazzmaster profile and 25 1/2" scale, as well as curiosities like a Jaguar-inspired pickup selector and a Bigsby into a lively-sounding whole that's genuinely exciting to play.
Fender, to their credit, always seems up for playing fast and loose with tradition these days. But this unorthodox assemblage manages to be every bit as much substance as flash—and there is a lot of flash here.
Gold Is Only Skin Deep
First, though, the curious name of this instrument: The Fender Gold Foil pickups that provide its handle aren't gold-foils at all—at least not in the traditional sense. Instead, they are alnico-based mini humbuckers. But it's hard to argue about how completely cool they look. And in the 3-pickup configuration used here, they offer players a multitude of sounds to work with.
The output from the three pickups inhabits a genuinely unique timbral space. In the bridge pickup, for instance, you can hear a cool cross between the clear, airy tonalities of a Stratocaster single-coil and the heft of a PAF. At other times, I heard the concise punch of a Rickenbacker Hi-Gain with more sustain. In general, they are heavy on high midrange—a mirror image of most classic Fender pickups. That midrange emphasis means they dovetail nicely with black-panel Fender amplifiers—particularly with a minimum of effects and amp volume bumped up to louder, grittier zones.
The three mini humbuckers give you a cool palette to play with. The hot-Strat attributes, for instance, give the Gold Foil Jazzmaster the personality of a bossy, extra-brawny surf machine when you add heaps of reverb. The same characteristics make it ace for overtone- and feedback-heavy Neil Young sounds (which are aided and enhanced in no small part by the Bigsby).
The modes that combine adjacent pickups lack some of the snappy and quacky charm of a Stratocaster's 2 and 4 positions. Yet, on the Gold Foil Jazzmaster, these settings have their place. In general, they have a muted and subdued voice that's not especially responsive to picking dynamics, but they are perfect for softer melodic leads and rhythm parts that rely on tempered, regular accents. They can sound really cool, tight, and focused through a fuzz as well. But the mini humbuckers shine best in isolation or in the neck-and-bridge setting, which makes some of the loveliest sounds in the guitar and evokes the combined neck and bridge settings on a traditional Jazzmaster, which are one of that guitar's great strengths.
Crazy, Mixed-Up Kid—Sure Is Handsome Though 
As we said at the top, Fender was not shy about the flash when they put together this Jazzmaster. The guitar can be had in Candy Apple Burst, which looks pretty mean, but not nearly as slick as it does in shoreline gold. The post-CBS-style block inlays are a particularly effective design element. Visually they echo the pickup array, but they're also an effective bridge between early and late-'60s Jazzmasters. Other elements, like the white plastic keys that top the vintage Kluson-style tuners, provide visual cohesion between the white neck binding and the post-CBS-style volume and tone knobs. But both the control knobs and the tuning keys feel a little down-market compared to the rest of the instrument's luxe aura.
By the way, about that Bigsby: It's loads of fun, it looks awesome, and it is very tuning stable. But if you're accustomed to a classic Jazzmaster or Jaguar vibrato, the Bigsby can feel limiting. For me, that's down to the fact that you can't pull the vibrato arm toward you past the position where the arm is parallel with the strings. If you're used to Bigsbys, or new to vibrato in general, you might not find this a limitation. But to me, the ability to pull the long arm of a traditional Jazzmaster vibrato past that point, and the ease with which you can hold it in your palm while you perform more complex picking maneuvers, is a big part of a Jazzmaster's unique playability and appeal. And I missed it a lot as I attempted to get weirder with the Gold Foil Jazzmaster. That complaint aside, the Bigsby is awesome, and despite the limitation based in my own traditional Jazzmaster bias, it invites all kinds of radical and tasteful vibrato adornments that spice up this Jazzmaster's already wide sonic range.
The Verdict
I'm fascinated with late-'50s and early '60s car interiors, and I love the Jazzmaster silhouette. So, the Gold Foil Jazzmaster is a beautiful thing. But even if you don't align with the design aesthetic at work here, you'd have to be pretty freaking grumpy to be totally turned off by this well-executed and balanced amalgamation of hardware and trim. For me, it works. Nothing seems forced, and, if anything, it evokes a tastefully executed bit of custom-car-design work, which, of course, underscores the distinctly California relationship between guitar and automobile that informed so many cool Fender designs in the first place.
The playability is superb. Build quality is excellent. And I love the many tones available here, too. The mahogany body may or may not add some midrange to the tone spectrum—such assertions are hard to quantify on solidbody instruments. And depending on your perspective and tone predilections, the pickups could be a little more nuanced and complex. Maybe making them a little less hot and midrange focused would be nice. But the abundant switching options put a lot of sounds at your fingertips. There are many possibilities here, and all in an instrument so aesthetically inviting that it will be hard to put down—or stop staring at.
Fender Gold Foil Jazzmaster Demo | First Look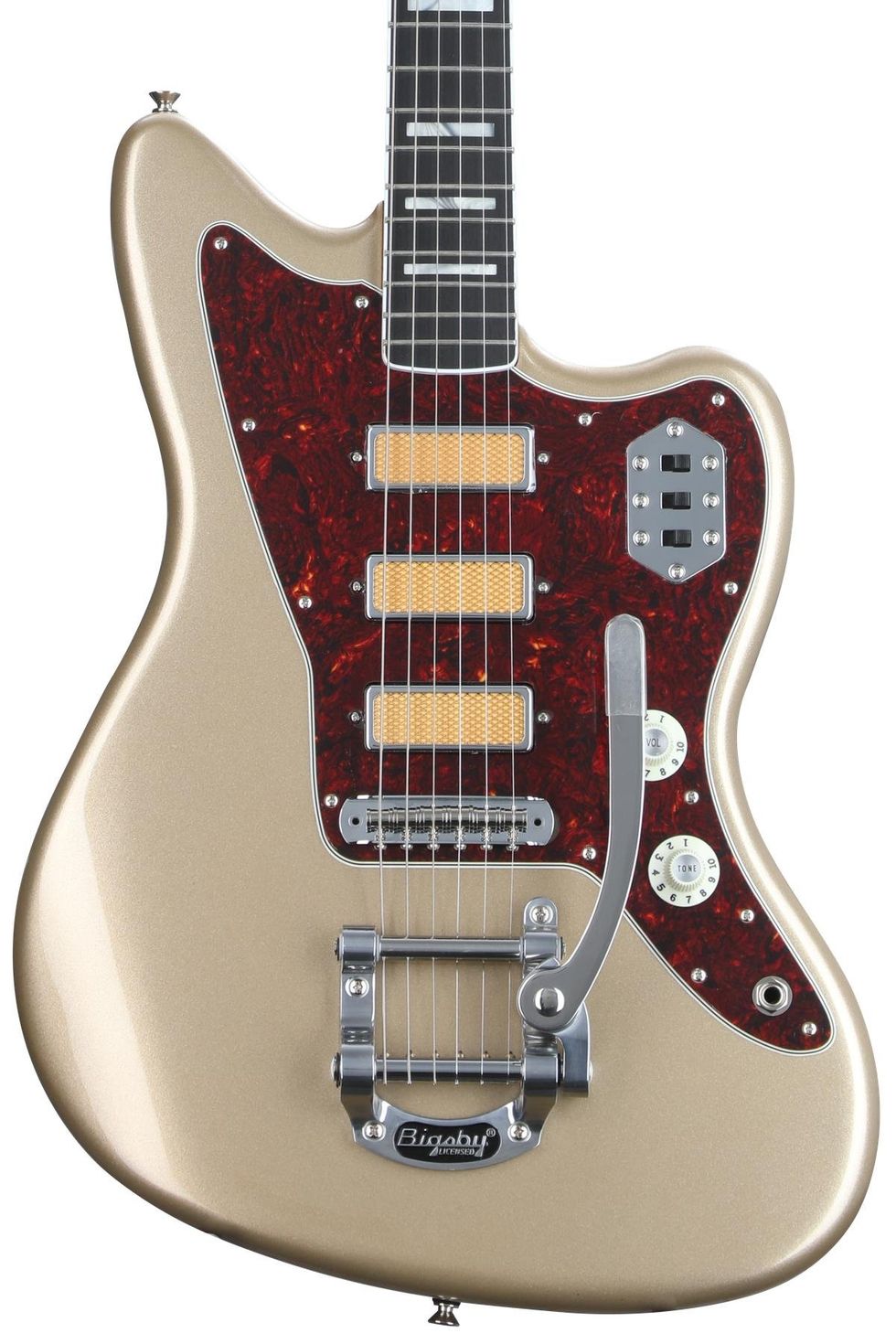 Fender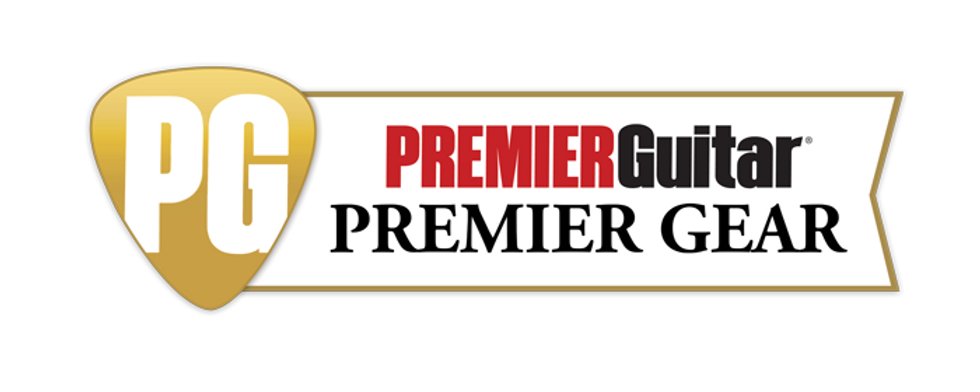 The rowdy spirit of the Tube Screamer's burlier distortion cousin lives on in a brilliantly executed reinterpretation.
Great string detail. Brilliant balance of muscle and melodic properties. Solid build quality. Loads of rowdy fun.
5
4.5
4.5
4
It's easy to end up the weird kid brother when you have a legendary relative like the TS9. Ibanez's SD9 (the SD is for "sonic distortion") suffered this indignity—at least to the extent inanimate objects can suffer such things—for many years. Players, many who probably never touched the thing, sometimes lazily classified the pedal as a more powerful TS. That assessment is pretty off, though. Had more potential customers known how nasty and huge it could sound, they might have taken more notice.
Scott Henderson did. As a fusion-jazz master with heavy rock and blues-tone leanings, it's easy to understand why. The original SD9 is a perfect match for his articulate, precise, and heavy style, particularly because it lends clear but singing mass to individual notes across the whole of the fretboard. TWA's SH9 Scott Henderson Signature Distortion is a high-quality, refined take on the SD9, built with input from Henderson and the guiding hand of Mr. Susumu Tamura, who designed both the Ibanez TS9 and the SD9. That's a lot of experience to draw on. And the effect of the combined expertise is audible. The SH9 is a rich, detailed, and responsive distortion.
The Road Less Taken
The tale of the SH9 would take a while to tell. It's one of intercompany intrigue, an artist reluctant to be involved in a "signature edition" effort, and a very resourceful team of circuit-design masters up for the challenge of chasing details that, perhaps, only dog ears (and a certain Mr. Henderson) can hear.
"The mid-scooped profile yields throaty, punchy distortion sounds, but can range to fuzzy extremes."
The tale has a very happy ending, though. Scott Henderson gets a pedal that betters his original SD9 in most respects. The SH9 also ensures that the ideas behind an earlier collaboration, the Maxon SSD-9, live on. Mr. Tamura made sure that much of the SSD-9's lineage remained in the SH9. There are ALPS pots, Marushin jacks, and WIMA metal film capacitors. The build quality feels every bit as good as the pedals TWA and Godlyke built with Maxon, which were beautiful pieces of hardware. The dials feel great. The true bypass 3PDT switch is quiet, and the circuit board, while inverted to conceal its components, is a picture of near-perfect order. The pedal is substantial, too. It almost feels carved from marble.
Muscle and More
There are many compelling, rowdy, and vocal sounds in the SH9. The mid-scooped profile yields throaty, punchy distortion sounds, but can range to fuzzy extremes. It can even sound a little like a low-gain Big Muff—particularly with neck pickups. It's an awesome texture to have at your disposal when you want the suggestion of weight and aggression, but need more definition from note to note. The SH9's mid-scooped profile also means that it has traces of overdriven Fender black-panel amp lurking at some settings—another bonus when you want to extract more detail from high strings, but also a testament to how natural the SH9 can sound and feel.
The SH9 makes room for high-string output and top-end harmonics to shine and breathe at most gain levels. I'd guess this quality had much to do with Henderson's attraction to the SD9 in the first place. But the way the SH9 walks the line between hot and not-too compressed is very impressive. It makes fast flurries of lead notes sound extra articulate, but it can also make simple movements in folk chord shapes sound thrilling.
 The Verdict
Three-hundred bones is a lot for a distortion pedal. But the SH9 excels at mating clear, present, melodic properties to straight-ahead muscle. It covers a lot of ground, too. It's organic and detailed enough to stand in for hot Marshall tones. It will flirt with fuzzy textures. And, as you'd expect, it'll rip in the heated lead zones Henderson inhabits. If I was in the studio and I needed a great distortion sound fast and with no fuss, I know what pedal I would reach for.