Kick off the holiday season by shopping for the guitar player in your life at Guitar Center! Now through December 24th 2022, save on exclusive instruments, accessories, apparel, and more with hundreds of items at their lowest prices of the year.
We've compiled this year's best deals in the 2022 Holiday Gift Guide presented by Guitar Center.
---
Gibson
The newest addition to Gibson's Traditional series, the Trad Pro V electric shares the same DNA as a Les Paul—mahogany body and neck, carved maple top—but adds modern advancements. It's super comfortable thanks to its weight-relieved body, and it feels awesome in your left hand with its asymmetrical neck shape. Playability is paramount: the compound radius rosewood fretboard makes it easy to bend strings cleanly high on the neck. You'll hear the difference, too: With its dual Tradbucker pickups and advanced electronics – allowing coil splitting and tapping – this versatile tone machine can handle almost any musical style. If you're looking for a guitar that combines the best elements of classic Gibson mojo and modern features, you'll find it here.
Positive Grid
It might be tiny, but Positive Grid's Spark MINI delivers a huge quantity of tones…and fun. This 10-watt practice amp sounds great with electric, acoustic and bass. It's battery-powered and easily recharged via USB, and is barely larger than the palm of your hand. It contains four onboard guitar tones (Custom, Solo, Lead, Rhythm) and access to 33 amps and 43 effects via the free Spark app. The app also offers educational and play-along tools, and makes it simple to post your performances to social media. It's rare to find a product that has so many potential uses: sidewalk busking, songwriting, practicing, home recording and more. No matter what style you play or your level of experience, you'll find a lot to like in this amp.
GAMMA
Looking for a flexible amp that's equally at home for practice, rehearsal, or live gigs? Check out the GAMMA G50 and take advantage of its special holiday pricing. This 50-watt, dual-channel 1x12 combo amp delivers all-analog tone in a lightweight package – a perfect grab-and-go companion. It's loaded with features like Bluetooth connectivity and multiple amp voices, so it can cover any music style or genre. With its premium quality True Blue High Headroom speakers, the GAMMA G50 also provides clear, punchy clean tones, making it a great choice as a pedal platform too. If you're in the hunt for a portable, powerful and affordable amp this holiday season, be sure to include the GAMMA G50 on your wishlist.
Fender
Here's a guitar stand that's as eye-grabbing as the instruments it's holding! The Fender Classic Series 5 Guitar Case Stand boasts a classic vibe, from its tweed exterior to its rich red plush lining. And it's great for gigging. The Classic Series 5 looks like a traditional case, but easily turns into a roadworthy, super stable guitar stand. Rugged features include a 3-ply hardshell wooden case, vinyl-wrapped steel carry handle and steel latches. The interior plush lining ensures that your guitars are protected from scratches and dents. If you want a great-looking way to display your guitars at home, or if you're looking for a backstage/onstage solution to safely hold multiple guitars, here's a handsome option.
Fender
Here's the perfect stocking stuffer for every guitarist and bassist: grab a bunch of these Fender Pluginz Guitar Plug Keychains and spread the holiday cheer with your friends and fellow musicians. This cool keychain features a genuine Fender guitar plug. If you already have a Pluginz Jack Rack key holder, this will fit right in. By the way, you can also use these as tree ornaments if you're looking to add a dash of rock 'n' roll to your holiday spirit.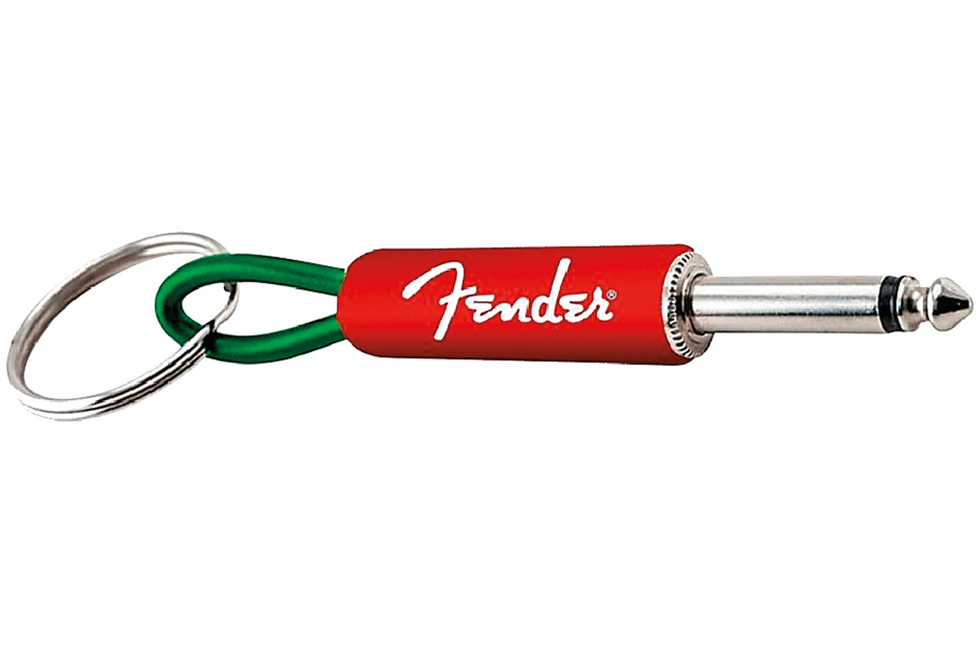 Fender
It's an annual tradition: each year the folks at Fender reveal their newest limited edition holiday sweater, and it's a smash hit. This year's model is particularly sharp looking: black sleeves emblazoned with the famed Fender logo, and a torso adorned by red, white and green seasonal graphics. Don't miss out: grab your sweater while supplies last, because this limited edition item will sell out faster than you can say "winter wonderland."
Harbinger
The Harbinger MLS1000 Personal Line Array offers a professional PA solution with big sound and a wonderfully compact footprint. Acoustic musicians, DJs and bands will find it a great choice when performing in small venues, coffeehouses and practice spaces. But don't be fooled by its modest size: the MLS1000 delivers the perfect blend of mobility, robust sound and full-featured electronics. Its built-in mixer supports up to five sources at once, including Bluetooth audio. You can go from the car to the stage in a single trip, set up in two minutes and give your audience a well-balanced sound that evenly fills an entire room. Built-in reverb, chorus and 2-knob EQ per input allow an ideal mix for vocals and instruments, while a 10" subwoofer and a six-speaker vertical array cover the full frequency range with high-quality sound. Comes with a column bag and sub cover to protect the system for transport and storage, and Smart Stereo capability gives you the option to link two units for unified sound, control and signal routing.
Sterling Audio
If you're looking for an affordable microphone for acoustic guitars, amps, snare drums, and more, meet the P10. Sterling Audio's dynamic instrument mic is an all-purpose champ, ideal for live shows, practice spaces and home recording. It complements acoustic and electric instruments alike: Its custom-tuned microphone capsule focuses on bringing your sound to front-of-house, with crafted mid-range and high-frequency detail. The cardioid polar pattern provides superior off-axis noise rejection on stage, ensuring that your instrument is heard, while an isolated custom capsule suspension system minimizes stage noise and rumble. And it's rugged: the reinforced grille and die-cast head assembly and body are designed to survive the rigors of the road. Includes protective microphone pouch and mic stand adapter – a complete, road-ready package.
Sterling Audio
The Sterling Harmony H224 audio interface is a dynamite choice for recording in a home/project studio or mobile sound environment. Compatible with popular recording apps, it offers studio-grade circuitry and flexible monitoring, all optimized for desktop recording. With the H224 it's easy to achieve clear, transparent sound. Its class-leading NXS mic preamps deliver less noise and a cleaner signal for all your recordings, while its front panel instrument inputs have their own optimized circuitry that makes the H224 one of the best interfaces for recording guitar or bass. The advanced flexibility of its four (4) output design allows for two separate stereo output mixes at once, so you can easily have a separate mix for performers, route tracks for re-amping or run separate A/B studio monitors or other independent audio outputs. Plus, the H224 is fully USB-powered, so you can record without a separate power supply, and the included MIDI I/O connections allow your hardware to perform as a MIDI interface too, so you can layer your projects with specialty instruments, MIDI controllers and synths alike.
Apogee
Whether you're a musician, podcaster, content creator or livestreamer, you can now get legendary Apogee sound with ease. The BOOM 2x2 allows you to capture high-quality audio in your bedroom or on the go with a streamlined and user-friendly interface. The two input / two output format makes it simple: just connect your mic and guitar or synth to your inputs on the front, and your speakers or headphones to your outputs on the back. BOOM features Apogee's legendary AD/DA conversion and preamps, so you'll get world-class audio quality. And it's powered by your computer — no separate power supply required. Apogee BOOM is compatible with any iOS device. If you've got the urge to create, you don't need to wait: get Apogee BOOM and you're on your way.
Photo by Fabrice Bourgelle
On Loggerhead, Miles Romans-Hopcraft chops and dices his own improv jam sessions—sampling his personal archives to create a new synthesis of hip-hop, jazz, grunge rock and more, all wrapped in a punk ethos.
South London artist Miles Romans-Hopcraft works under the moniker Wu-Lu. His pseudonym is a play on the Amharic word for water, wuha, but modified to avoid confusion with the Busta Rhymes track, "Woo-Hah!! Got You All in Check." It's a fitting handle, too, in that, like water, it's indicative of Wu-Lu's form-fitting, genre-fluid adaptability.
Romans-Hopcraft lives at the intersection of hip-hop, free improv, and grunge—imagine a Frankensteinian mashup of DJ Shadow and Slipknot, but looser—and crafts songs built from the lo-fi samples he rips from his extensive personal archive of tapes, mostly of open-ended jam sessions, that he then uploads to an Akai MPC sampler and drum machine.
South London—the triangle of Brixton, New Cross, and Lewisham, which sits south of the touristy city center along the River Thames—looms large in Romans-Hopcraft's world. Owing, in part, its musical pedigree to the Trinity Laban Conservatoire of Music and Dance located a stone's throw from the New Cross Gate tube station, the neighborhood is the epicenter of the city's vibrant and bustling new music scene. It's also Romans-Hopcraft's home turf.
Wu-Lu - South (Official Video) ft. Lex Amor
"It just happened that everyone happened to be in Lewisham somehow," he says, marveling at the near miracle of growing up in the right place at the right time. "I went to the studio, and I saw Nubya Garcia [critically acclaimed saxophonist and bandleader], Joe Armon-Jones [keyboardist for Ezra Collective, Nubya Garcia], and Oscar Jerome [solo artist] up there, and I was like, 'What are you lot doing up here? My grandma lives here, and my auntie lives around the corner. That's why I'm here.' Lewisham is a far part of South London to be in, but people are here because it's cheap to live. Before my generation came through, there was a whole instrumental scene in South London with bands like United Vibrations, Polar Bear, and Acoustic Ladyland. A lot of people outside of South London started taking notice of what was going on and a lot of it gets coined as the 'South London Jazz Scene,' but the way I see it, it's just instrumental music: people using their talent to be able to improvise in a feeling that they have."
Romans-Hopcraft's rich musical background is more than a matter of just living in the right neighborhood. His father is trumpeter Robin Hopcraft (most recently a member of Soothsayers, but with an extensive history playing Afrobeat, reggae, and jazz), and he's also got an identical twin brother, Ben, who's an accomplished artist as well (formerly Childhood, and now Insecure Men, Warmduscher, and something in the works under Sean Lennon's direction). Plus, he's closely associated with a coterie of artists like songwriter and guitarist Lianne La Havas, saxophonist Garcia, Black Midi drummer Morgan Simpson, and many others.
"A lot of people outside of South London started taking notice of what was going on and a lot of it gets coined as the 'South London Jazz Scene,' but the way I see it, it's just instrumental music: people using their talent to be able to improvise in a feeling that they have."
LOGGERHEAD, Romans-Hopcraft's full-length debut, is an amalgamation of his experiences and aesthetic. "South," the album's lead single, is a slow crescendo that layers an acoustic guitar, raw hip-hop groove, and dub-style vocals before finally exploding at the chorus with a bloodcurdling scream (and featuring an outro rap from Lex Amor). "Times," featuring Simpson, could, at points—both texturally and, maybe, because the Big Muff features so prominent—be at home on a Dinosaur Jr. record, if not for the tight, groove-centric drumming. And the eerie and melodic "Broken Homes" is a nuanced showcase for Wu-Lu's songcraft, although, again, buried under layers of feedback and noise.
The whole album is like that. Intense, overwhelming, and constructed from scratch through an arduous process of scrolling through files and tapes, finding bits—be those inspired jams or someone dropping a cymbal—and then, slowly, honing those into complete, evocative, emotional masterworks.
"It might not even be part of a song," Romans-Hopcraft elaborates about his crate-digging approach to samples. "It might be a drum break, or it might be something that was recorded on the wrong mic. It might be that I was playing guitar, ran into the control room, fiddled around, and when I listened to it later, discovered that when I put down my guitar, I was touching the guitar mic—and that would then become a whole inspiration for a completely different song. I can probably still go back into all those jams and pick out different stuff and make different music from that."
Wu-Lu's debut album isintense, overwhelming, and constructed from scratch through an arduous process of scrolling through files and tapes, finding bits—be those inspired jams or someone dropping a cymbal—and then, slowly, honing those into complete, evocative, emotional masterworks.
For example, the aforementioned "Times" started out as a birthday jam session with Simpson. "We were playing some beats—I was playing along with him—and someone in another room was filming us on their phone and sent me the video," he says. "I heard this little 'weee-weee' sound and I was like, 'That would be a sick idea.' Morgan was playing something similar to what that was. I listened to that video intently. I programmed a drum beat on my MPC that I thought would work, built up a whole track, and eventually decided to re-record it [with Morgan]. On that tune I played all the guitars, the bass, all the synthesizers, and everything apart from the drums. But I programmed that beat beforehand. I told Morgan, 'This is what I want you to play, but obviously add your feel to it.'"
Sampling your personal archives has other benefits as well. "Like avoiding royalties," Romans-Hopcraft says, maybe slightly tongue-in-cheek … but only slightly. "I once asked about using a sample for something on a mixtape and they quoted some crazy, crazy price. I was like, 'No more of this,' and I started sampling myself. Plus, I like being able to look through stuff. The track 'Blame' came from being in the studio, doing long late-night jam sessions, and then having a few hours of jams I needed to look through to see what I could pick out. I sampled things, pulled stuff out of it, and then started remixing and overdubbing."

Wu-Lu's Gear List
Wu-Lu often builds his compositions around an initial sample from his own jam sessions, but the feeling from that original jam session is key to the song's final form—even live.
Guitars
Fender Player Plus Meteora
Fender Marauder IBL
Amps
Roland Jazz Chorus JC-120
Pearl Duo Reverb
Effects
Electro-Harmonix Big Muff Pi

JOYO JF-01 Vintage Overdrive
Electro-Harmonix Stereo Memory Man with Hazarai
Electro-Harmonix The Worm (wah/phaser/vibrato/tremolo)
Boss RV-6 Reverb
Strings & Picks
Rotosound Strings (.011–.048)
Dunlop Tortex Green Picks .88 mm
But that freeform, loose, experimental approach ends once the song is completed. When it comes to reinterpreting those tracks live, Romans-Hopcraft plays what's on the record. "I stick pretty loyal to the recording," he says. "The live band setup is drums, bass, two guitars, and vocals—everyone's on vocals—and also another drummer, but his kit isn't a traditional drum kit. It's like an MPC with loads of samples taken from the songs. For example, if we're playing 'Blame,' that'll be a drum break from the original track that I sliced into pieces where he can play the samples like a drum kit. It's the original sounds, but he can play it."
Romans-Hopcraft's production techniques may be sample-centric and high tech, but he creates his music with inexpensive instruments and tools. "All my stuff is basically from car boot sales," he says. A car boot sale is an English yard sale ("car boot" is British slang for "trunk"), and he's amassed a bevy of inexpensive amps, old-school synths, and multitrack tape machines.
"All my stuff is basically from car boot sales."
He favors Fender-style guitars, and their bolt-on necks and distinctive jangle is central to Wu-Lu's sound. He runs them through a thick layer of fuzz, and, at times, will divvy that up between multiple amps. "I got a headphone splitter and plugged my output into that and then split my signal into like three different amps," he says. "But the main thing I use is the Big Muff and this mini green pedal—a JOYO Tube Screamer-like pedal—that I got on Amazon for £15, which is like a high-gain pedal."
But, more than anything, Romans-Hopcraft's music is about the vibe. A composition may be a studio creation built up from an initial sample, but, even many iterations later, the mood from that original jam session is key.
"It might be that I was playing guitar, ran into the control room, fiddled around, and when I listened to it later, discovered that when I put down my guitar, I was touching the guitar mic—and that would then become a whole inspiration for a completely different song," Wu-Lu says.
Photo by Machine Operated
"'Broken Homes,' the last song on LOGGERHEAD, is a real special one," he says, reflecting on the song's mood and origins. "We made that in lockdown, and it was just me, my boy Jae [Jaega Francis McKenna-Gordon] on the drums, and my boy Tag [Tagara Mhiza] on bass. We went to jam in this pub that was empty—because it was Covid lockdown—and it was half six in the morning and we were about to go to bed. But my friend Jae was like, 'Let's just play one more time—one more time—let's have a vibe one more time.' That was the beginnings of 'Broken Homes.' We recorded the whole thing to tape. It was a 20-minute thing that I edited down and reworked. My twin brother, Ben, helped me finish it—there were moments in it where I thought, 'These are really good moments, but something's not hitting'—and my brother, being a songwriter, suggested adding little ideas in how to change the arrangement to make it feel full. I was like, 'Alright,' and it was finished."
That commitment to a song's emotional, somewhat mystical, origins, coupled with a hyper-focused work ethic, is definitive of how Romans-Hopcraft operates. And, like most of his story, he also attributes that to his South London neighborhood."
A lot of what I got from a lot of the people that I've met along the way is the thing I think they got out of college, which is learning how to practice," he says about the many local graduates of the Trinity Laban Conservatoire he knows. "It's learning how to be productive with your practicing, and that's what I've applied to my own stuff, too. I'm like, 'I'm not the greatest guitar player or bass player—I can hold my own for my own thing—but I'm going to learn how to make the MPC groove or take bits and create that into something.' I took that and applied it to my own craft. And I had the support of all the other people around me as well."
Wu-Lu - live from The Room
This vintage LG120T wasn't in production long, but its movable neck pickup still might seem like a fresh idea.
So many novel guitar ideas have been forgotten to time. If you're a guitar designer and you think you've come up with some epic concept, chances are that someone somewhere already tried it. This month, I was thinking about a rare vintage Guyatone that featured a design that still seems novel when builders toy with it today: the movable pickup.
This instrument probably wasn't the first guitar to use something like a movable pickup. It's worth noting that DeArmond's famed Rhythm Chief pickups, which debuted in the 1940s for mounting on round-soundhole acoustic guitars and hollowbodies, offered a pole along which the pickup could be slid to different positions beneath the strings. But for some, the LG120T was probably a wild introduction to varied sonic possibilities. Introduced in the Japanese domestic market in May 1966, the LG120T was a bit like those old science kits you could buy as kids. Maybe you remember those old sets where you could connect wires and make lights flash?
"The LG120T was a bit like those old science kits you could buy as kids."
The body is similar to that of the Kent guitars offered here in the States, but the electronics were unique for Guyatone. Check out those mini switches above the pickups. They offer options such as "cool" and "hot." But what they really do is select phase, tone cut, and pickup options. Those two switches really provide a lot of sounds.
Then, of course, for even more tones, you have the movable neck pickup, which is attached to the pickguard via two screws, allowing it to rotate. Sliding the pickup around accentuates the bass or treble response. It's a subtle change in tone, but it's still cool and innovative for the time.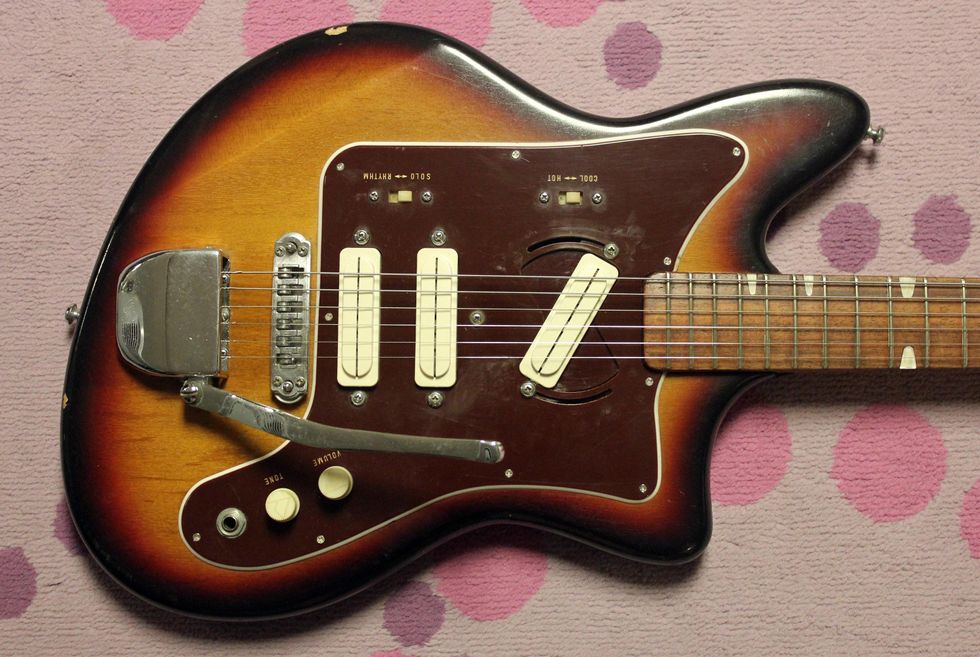 Look closely and you'll see the "solo/rhythm" and "cool/hot" switches, plus those fretboard inlays are pretty hip. But the neck pickup is the real showstopper.
There were problems with the design, though. The pickguard on these guitars often cracked due to movement, and the neck pickup wiring is prone to disconnect after many rotations. That was the case with this month's guitar when I acquired it, so it needed to be rewired at the neck.
Otherwise, the LG120T featured some typical Guyatone design cues of the time, such as a solid wood body and decent tuners. This model clocked in at the lower end of the price range and cost 16,000 yen back in the day. In comparison, the awesome LG180T Telstar was priced at 32,000 yen. The tremolo was somewhat unique on this model. It has a cool-looking arm with a rounded end. It's a little detail, but I like it! This model also featured the roller bridge found on the much more expensive Guyatone Sharp 5. But man, those old roller bridges can be tough to set up!
There were two types of pickups featured on the LG120T, but they are basically the same. This guitar features the plastic covers with a slit across the front, and some models had a more open design where you could see the magnet slugs.
These LG120T guitars only lasted for a year or two. By 1967, Guyatone was really starting to struggle. Their guitars might have been popular, but they were being relegated primarily to the Japanese market. It's sort of a bummer, but that's business, I suppose. It's no surprise that these days they're really hard to find—especially in working condition. Every now and then, you can still see a new take on the movable pickup design, even though it's never caught on en masse.
Designed for utmost comfort and performance, the Vertigo Ultra Bass is Mono's answer to those who seek the ultimate gigging experience.
Complete with a range of game-changing design features, such as the patent-pending attachable FREERIDE Wheel System, premium water-resistant and reflective materials, shockproof shell structure and improved ergonomic features, the Vertigo Ultra Bass takes gear protection to the next level.
The Vertigo Ultra Bass features:
Patent-pending FREERIDE Wheel System that allows for wheels to be attached on the case in no time, giving you the option to travel with it seamlessly
Upgraded materials, including a water-resistant 1680D Ballistic Nylon outer shell, plush inner lining and new reflective trim for maximum backstage and night visibility
Enhanced protection with a shockproof shell structure and heavy-duty water-resistant YKK zippers for protection from the elements
Improved ergonomics and functionality including added back support and load-lifting detachable shoulder straps with side release buckles
Flexible storage options with added space for touring essentials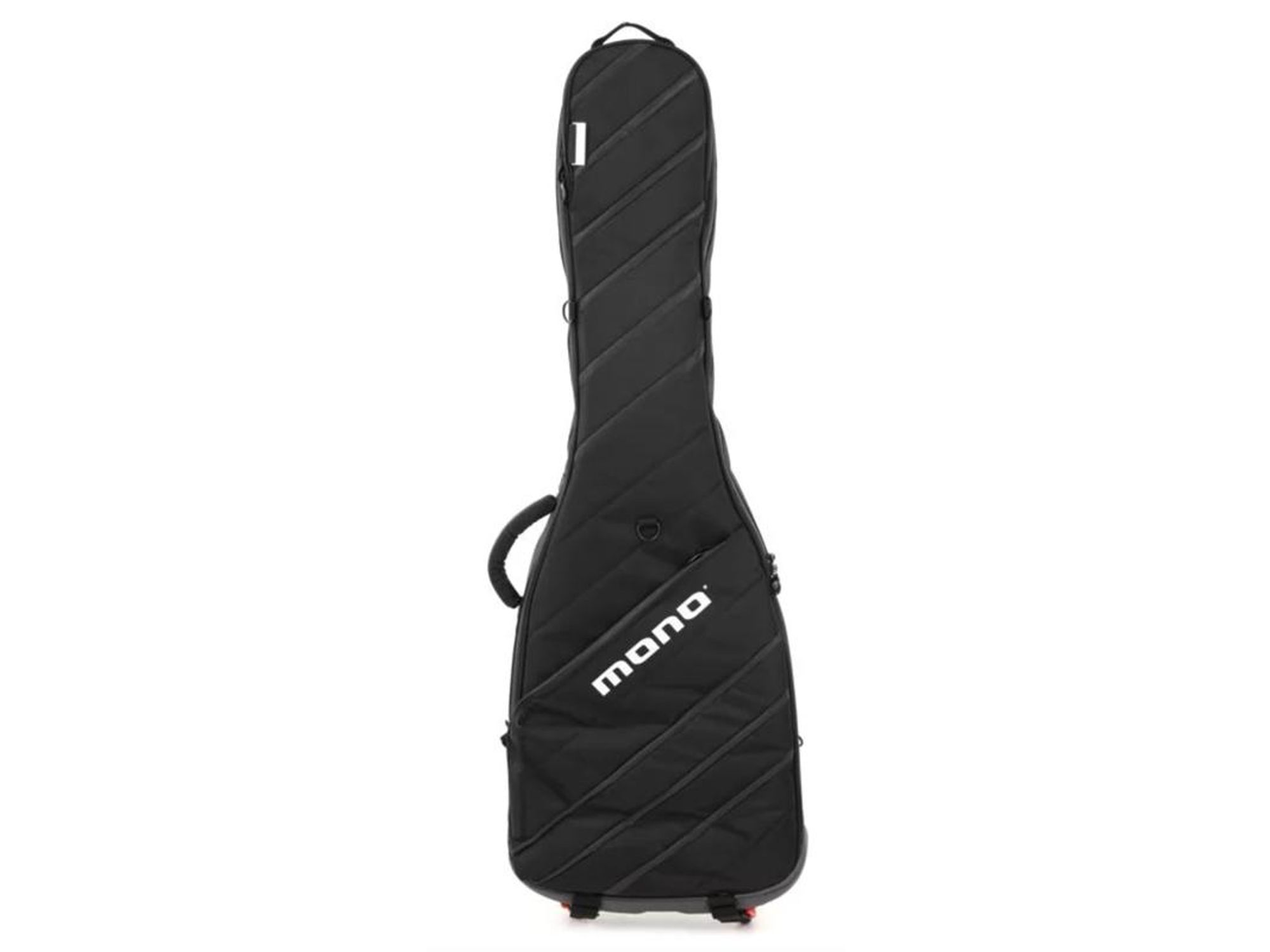 For more information, please visit monocreators.com.
Mono