Guitars and Gear 2015 - Electro-Harmonix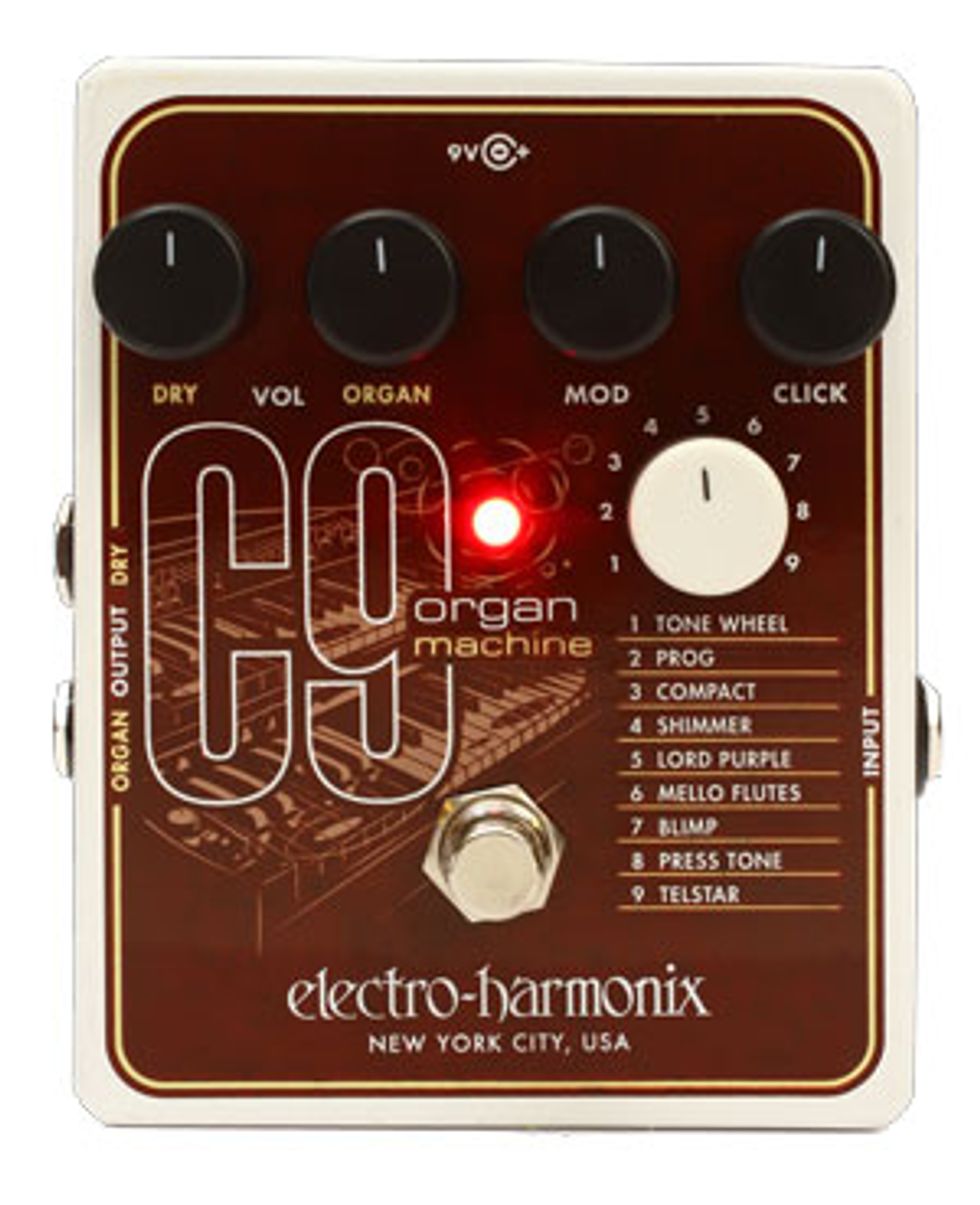 Electro-Harmonix C9 Organ Machine - Value: $220.30
If you're a fan of the now-legendary Electro-Harmonix B9, then you'll definitely dig the C9 Organ Machine. Packed with nine new presets, the C9 provides you with ultra-realistic electric organ and vintage electronic keyboard tones. Whether you want a Doors-esque Farfisa tone, Deep Purple-esque sludge, or a Zeppelin-esque harmonic extravaganza, the C9 delivers. You get the same intuitive controls as the B9, letting you creatively tweak your sounds' modulation and click sounds. And if you already own a B9, you can send each pedal's signal to separate amps to sound like two individual players, or combine them for a massive stereo spread. At Sweetwater, we were blown away by the original B9, and we're just impressed by the Electro-Harmonix C9 Organ Machine.
Electro-Harmonix Pitch Fork Polyphonic Pitch Shift Pedal - Value: $131
The electro-harmonix Pitch Fork polyphonic pitch shifter effects pedal brings a new realm of sound to your playing. Turn your 6-string guitar into an 18-string guitar or send single notes soaring into the stratosphere with razor-sharp precision. You can set the Pitch Fork for your desired pitch shift or use an expression pedal for continuous control of sweeps and multi-octave jumps. We love innovative products at Sweetwater, and the electro-harmonix Pitch Fork pedal delivers a rock-solid pitch shifter in a small package. Get yours today!
Electro-Harmonix Nano Looper 360 Pedal Looper Value: $135.00
The electro-harmonix Nano Looper 360 lets you record 11 different loops and store them for later recall - that's a lot of looping power in a compact pedal! Guitarists and bassists at Sweetwater love practicing with looper pedals to explore new song ideas, and the creative possibilities for live performance are vast. The Nano Looper 360 will reward you with uncolored, dynamic sound thanks to its high-quality 24-bit digital converters. And with a single footswitch for control over record, overdub, undo-redo, and loop erase, the electro-harmonix Nano Looper 360 is an easy-to-use looper that will become incredibly addictive.
Learn More


Click here to see the whole Guitars and Gear Showcase!