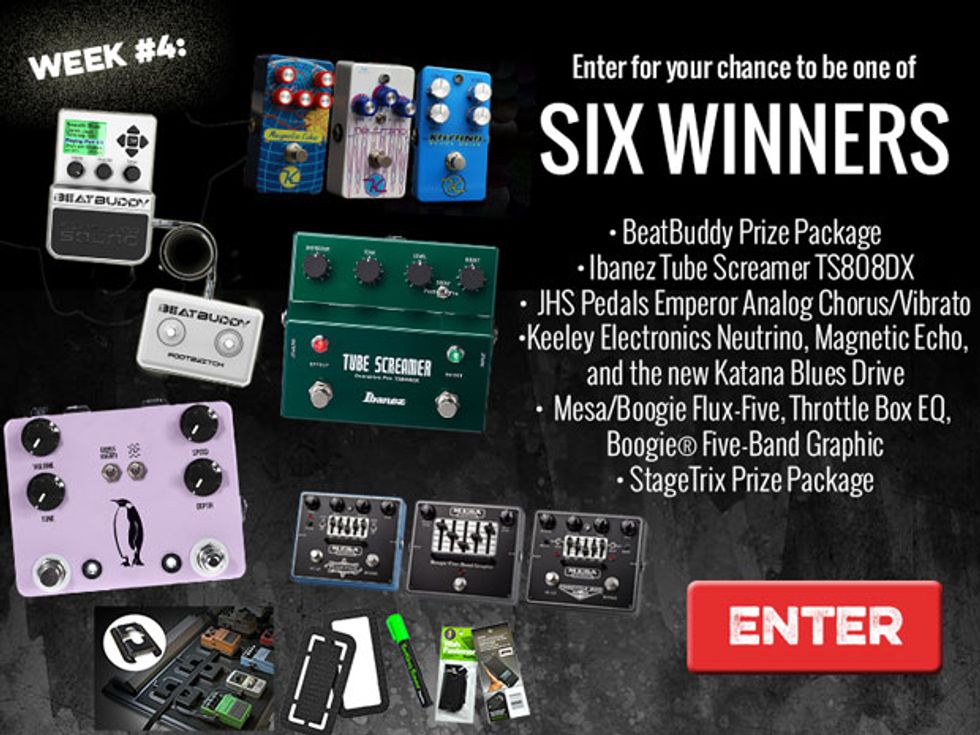 CLICK HERE TO ENTER.
 
Enter for your chance to be one of 6 winners during week 4 of Pedalmania!  Giveaway ends September 29, 2014. Entries will be accepted from anywhere in the world where permitted by law. Six winners will be drawn.
BeatBuddy Prize Package - Value: $417

BeatBuddy is the first drum machine in a guitar pedal format that enables full hands-free, creative control of the beat. Musicians can effortlessly insert fills, transition from verse to chorus, add accent hits, throw in drum breaks, and more, to create an unprecedented live drummer effect. BeatBuddy also features a first-of-its-kind visual display of the beat on its LCD screen, which makes it easy to improve your rhythm and learn new time signatures. Included are ten hyper-realistic drum sets that can play the BeatBuddy's 200 songs in a wide variety of genres -- and more content is available for download from the BeatBuddy Online Library, or you can create your own songs and drum sets with the included PC/Mac software, or discover user-generated content on the BeatBuddy Community Forum.

Other features include hands-free song navigation and tap tempo control (with the footswitch attachment), MIDI sync for integration with MIDI-based devices, a headphone jack, SD card slot, mini USB connection, full stereo sound and more.
 
Ibanez Tube Screamer TS808DX- Value: $357.14
A TS808 combined with a Boost Circuit capable of adding up to 24db, the DX features two individual, true bypass switches, allowing Overdrive and Booster to be used  separately or in combination. A toggle switch allows for selection of Boost placement  (Pre or Post the Overdrive section) and a rear panel switch offers the option of 9 or 18-volt operation.

JHS Pedals Emperor Analog Chorus/Vibrato - Value: $299
 
We are proud to bring you the Emperor true analog chorus and pitch vibrato with tap tempo, waveform selection, rotary speaker simulation, true stereo output and more. Starting with the coveted vintage Arion SCH-1 chorus topology, the Emperor's design and engineering expands further into new heights of what real bucket brigade tones (via a 3207 chipset) can offer. The end result allows you to have a host of vintage modulation tones at your disposal with the amenities and modern flair that only we can offer. From vintage Boss VB-2, CE-2, CE-1, as well as the legendary and rare SCH-1, the Emperor lets you explore true analog modulation at it's best.

Keeley Electronics Neutrino, Magnetic Echo, and the new Katana Blues Drive - Value: $587

Magnetic Echo – Street Price: $189

The Mag-Echo pedal simulates tube tape echo sounds by using the PT-2399 and a little bit of modulation. Tape echos have long been regarded as a warm and very guitar friendly form of delay. The Mag-Echo achieves similar results by using a touch of Lo-Fi delay, a filtered echo response, and some modulation. Modulation, or "Wow and Flutter" in the tape world is a slight pitch shift or wavering that occurs as the tape is pulled across the heads. The modulation we use is similar to what we use in our Seafoam Chorus, a slight wavering of pitch on the trails of the repeats. With a simple set of controls for the delay – Time, Regen, and Level and with the "Wow and Flutter" controls – Depth and Rate you can create some very vintage or rather unique tones.

Neutrino Envelope Filter – Street Price $199

The brand new Keeley Neutrino Envelope Filter and Auto-Wah! This funky, tripped-out circuit is something I've wanted to do for over a decade. Reviews have been stellar. Each opto-coupler is tuned to perfection; every Keeley Neutrino is like finding a magical vintage unit with that perfect tone. 
The Keeley Neutrino gives you all the classic, funk, auto-wah sounds and that Jerry-In-A-Box sound. We have used the classic opto-coupler design for a rich and warm depth to the effect. Envelope filter sound is an effect triggered by your pick attack or strength. The harder you pick, the harder it "wahs"! Sounds bubble up from a deep rounded warmth to a shinning brilliance. Solo notes are individually expressive based on how hard you play. Create incredible vowel sounds… Can you say "Let's get it on"?!? Chord-work "stabs" sound right out of the disco dictionary, play that funky music white boy!
Katana Blues Drive – Street Price $199
 
The all new Keeley Katana Blues Drive. A musically rich and dynamic overdrive for the most discriminating guitar player. After more than a decade of building great guitar tone from the ground up, Keeley has crafted an overdrive that is destined to be a classic. It's about tone and feel. The Katana Blues Drive captures the best elements of tubes with a transparency that allows your guitar's full tonal range to shine through while at the same time delivering dynamics that are sensitive to the touch. This pedal cleans up perfectly, just roll your guitar volume back and let it shine.

Mesa/Boogie Flux-Five, Throttle Box EQ, Boogie® Five-Band Graphic - Value: $847

FLUX-FIVE™
The FLUX-FIVE™ overdrive is a supercharged version of our popular FLUX-DRIVE™ that features a "shrunk-to-size" version of our classic Boogie® Five Band Graphic EQ and new added versatility thanks to footswitchable HI/LO performance Modes. The LO Gain Mode is the original FLUX-DRIVE in every way and now on this wider platform a new higher gain version of this soulful sound appears in the HI Mode. The Graphic EQ can be applied to both HI and LO Gain Modes enabling you to have a global EQ curve or apply it to either Mode separately. A HI TRIM pot allows the volume level of the HI Mode to be boosted in relation to the LO Mode. However you choose to utilize all this potential, the rich FLUX-FIVE overdrive is sure to inspire you and bring out your best. 
 

THROTTLE BOX EQ™
With the worldwide success of the THROTTLE BOX™, we saw potential for an even more powerful version that included our classic Boogie® Five-Band Graphic EQ. With this added tone-shaping power, the THROTTLE BOX EQ™ can go anywhere stylistically. Like the original, the THROTTLE BOX EQ includes two Modes, HI & LO, but here they're controlled by a footswitch for instant live performance access. There are also dedicated HI & LO LEVEL Output controls, allowing you individual volume control. The Graphic EQ can be assigned to either or both Modes so it activates when the desired Gain Mode is selected. And it wouldn't be a Throttle Box without the powerful MID CUT and selectable BOOST from the original. We're confident this pedal will exceed your expectations. 
 
BOOGIE® FIVE-BAND GRAPHIC
For well over four decades now, the Boogie® Five-Band Graphic EQ has been at the heart of chart topping guitar sounds and it's impossible to ignore the impact of its classic "V-Curve" on modern guitar tones and popular music. The new BOOGIE® FIVE-BAND GRAPHIC gives guitarists this powerful tool in a stand alone pedal format, packing the exact same premium-quality components, tone shaping power and hand-built quality as those found in our high-end amplifiers such as the famous Mark Series.

 
StageTrix Prize Package -  Value: $111.91

4x Riser (MSRP 16.99)
Most pedalboards have only one level and therefore require an awkward tap dance to access the second row of pedals without stomping on others accidentally.
The Pedal Riser raises your second row of pedals to the perfect height, and has drop-in-from-the-top™ cable routing features that clean up your messy cables.

2x Pedal Fastener (MSRP 9.99)
The Pedal Fastener is a hook fastener designed specifically for attaching pedals to pedalboards. It features industrial strength adhesive optimized to stick to the rubber on the back of most pedals and hold fast up to 200 degrees Fahrenheit (93 degrees Celsius).
The optionally removable center preserves the specification sticker. Now players can move beyond over-sized rolls of low-quality generic fastener and attach pedals the professional way.

1x Wah Fastener (MSRP 11.99)
The Wah Fastener has been designed to fit on any wah that has the traditional classic shape you instantly recognize from Cry Baby and Vox. The design allows you to use the same screws with which the rubber feet are secured to your wah. Simple remove screws form the rubber feet and optionally use the included washers and secure the to plates of the Wah Fastener to your favorite wah pedal.

2x Setting Saver (MSRP 5.99)
The StageTrix Setting Saver had been originally announced during the 2012 NAMM Show in Anaheim California for late Spring release. In making sure all beta testing was completed, and striving for affordable recyclable packaging, we are finally ready to start shipping the Setting Saver™.
We have seen multiple ways for people to mark the settings on their amplifiers, effects pedals and mixing consoles, but non seemed easy and convenient. Everything now changes with the introduction of the Setting Saver™. A marker that applies a clean, bright fluorescent green ink to mark your settings. The ink is easily removed by wiping it off with your finger, and will not leave any markings when removed (use only on smooth, non-porus surfaces). Donnie Spada (guitar tech for No Doubt, The Offspring, 311) said this about the Setting Saver™: "Easy to read, easy to clean, no more pieces of tape or grease pens". 
 
Click here to read official rules
.
The Wah Fastener has been designed to fit on any wah that has the traditional classic shape you instantly recognize from Cry Baby and Vox. The design allows you to use the same screws with which the rubber feet are secured to your wah. Simple remove screws form the rubber feet and optionally use the included washers and secure the to plates of the Wah Fastener to your favorite wah pedal.