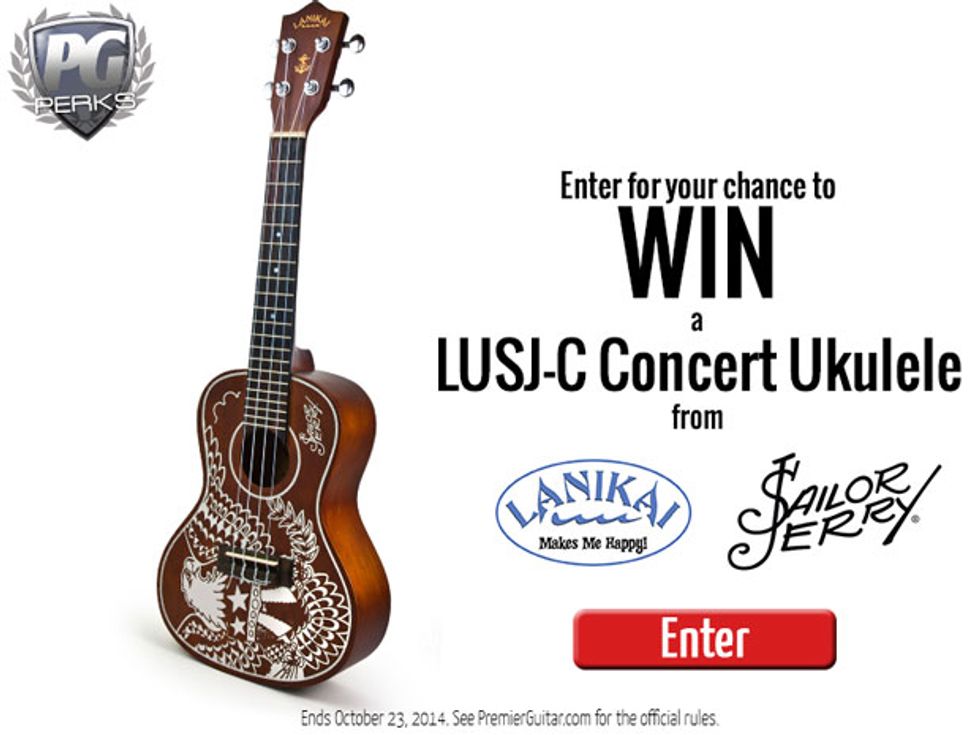 CLICK HERE TO ENTER.
 
Enter for your chance to win an LUSJ-C Concert Ukulele form Lanikai and Sailor Jerry!  Giveaway ends October 23, 2014. Entries will be accepted from anywhere in the world where permitted by law.
 
Lanikai Ukuleles and Sailor Jerry are proud to present the LUSJ-C Concert Ukulele.  Bearing the traditional flash art of Norman "Sailor Jerry" Collins, this all Mahogany ukulele pays homage to the Hawaiian legend and father of Traditional American Tattooing.  This concert size ukulele features classic Sailor Jerry tattoo designs on the top and back, with a special anchor print on the headstock and Norman Collin's birth and death dates hand-etched on the all rosewood fingerboard.  Ready to play and built to last, this Lanikai Sailor Jerry ukulele is perfect for any player, collector, or devotee of the Sailor Jerry's own ethics of hard work and dedication that form the cornerstones of the style that has inspired generations of artists and musicians.  "My Work Speaks For Itself." – Norman "Sailor Jerry" Collins. "
Website: http://www.lanikaiukuleles.com
Facebook: https://www.facebook.com/LanikaiUkes
Instagram: @lanikaiukes  #lanikaiukes
Purchase link: http://elderly.com/new_instruments/items/LUSJ-C.htm
Click here to read official rules
.
The Wah Fastener has been designed to fit on any wah that has the traditional classic shape you instantly recognize from Cry Baby and Vox. The design allows you to use the same screws with which the rubber feet are secured to your wah. Simple remove screws form the rubber feet and optionally use the included washers and secure the to plates of the Wah Fastener to your favorite wah pedal.