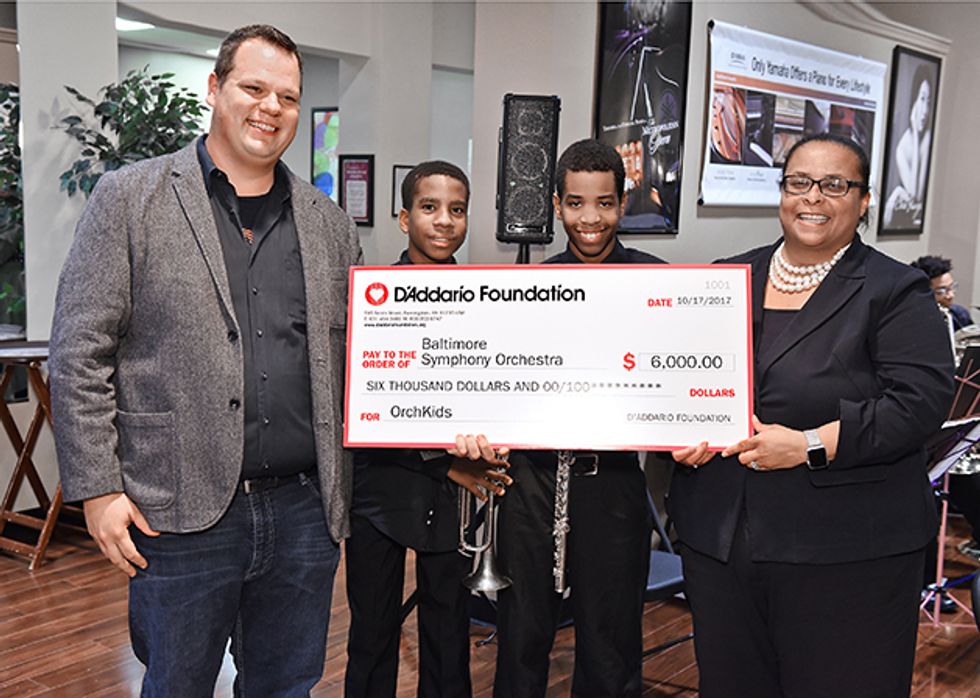 D'Addario honors Baltimore Symphony Orchestra, Metropolitan Youth Symphony, and others at music retailer events

The D'Addario Foundation, a 501(c)3 nonprofit grant-maker that supports transformative music education organizations, held three grant presentation events in October. Hosted by Ted Brown Music in Tacoma, WA, Beacock Music in Vancouver, WA, and Menchey Music in Timonium, MD, deserving not-for-profits including Seattle JazzED, Metropolitan Youth Symphony, Baltimore Symphony Orchestra, and more were given awards by store owners and D'Addario & Co. sales managers on behalf of the D'Addario Foundation.
"Handing out grants to not-for-profit initiatives like these is really the best part of our job," said Suzanne D'Addario Brouder, Executive Director of the D'Addario Foundation. "The D'Addario Foundation has pioneered a process of supporting grassroots efforts to bring quality, immersive music education back into underserved communities.  Our purpose is to not only provide financial support to organizations like these, but also to recognize and raise visibility for the tireless,  incredibly impactful and innovative work being done using music as a powerful tool for positive social and academic development."
In total, $46,000 in grants were formally handed out at check presentations so far this year. Moreover, The D'Addario Foundation has awarded over $517,000 in year-to-date monetary and product donations to 242 music education not-for-profits in 40 states and 6 countries outside of the US.
Raquel Whiting Gilmer, Executive Director of Baltimore Symphony Orchestra's OrchKids states: "OrchKids' partnership with the D'Addario Foundation over the last three years has been crucial to the success of delivering a high quality after-school music program to the more than 1,200 Baltimore City students we serve. We are so grateful to have partners that are willing to invest in our students with multi-year support – this level of commitment enables OrchKids to reach more students and have a greater impact in our community."
D'Addario Brouder also shares a personal thanks to store owners Whitney Grisaffi, Gayle Beacock, and Joel Menchey and their teams who hosted the grant presentation events: "Thanks to everyone at Ted Brown, Beacock, and Menchey Music. Each has a deep history of supporting music education in their local communities, and we are very proud to partner with these industry veterans that are committed to a similar mission."
Coming up on November 14th in partnership with Nick Rail Music, The D'Addario Foundation will hold another grant presentation event recognizing not-for-profits in southern CA at the D'Addario & Co. Woodwinds Facility in Sun Valley, CA.