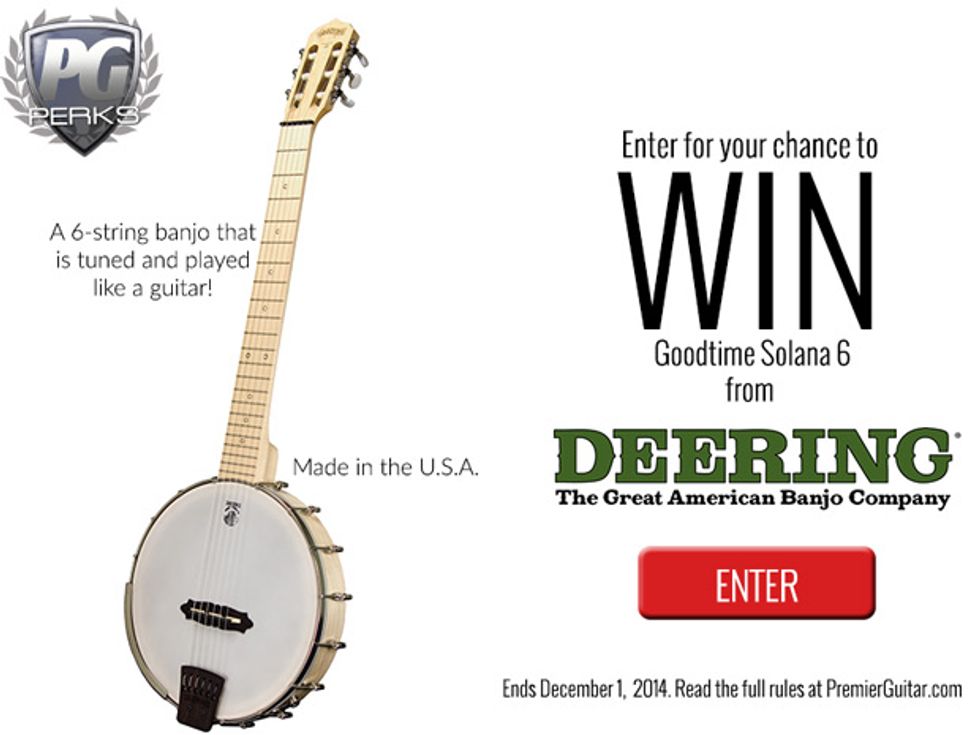 CLICK HERE TO ENTER.
 
 Enter for your chance to win the Deering Banjo Solana 6!  Giveaway ends November December 1, 2014. Entries will be accepted from anywhere in the world where permitted by law. One winner will be drawn. Click here to read the official rules.
Made by in the U.S.A. by Deering, the Great American Banjo Company, the new Goodtime Solana 6 is a new kind of 6-string banjo designed to bring out the creativity in the player and features all of the American craftsmanship and quality that owners of Goodtime banjos have come to expect.
The Goodtime Solana 6 stands out from the pack thanks to is its nylon strings which offers the player a sweet, mellow tone akin to a classical guitar, but with the bright undertones of a banjo.
The versatility of the Goodtime Solana 6 is rounded off with a piezo pickup that sits directly under the patented East Indian Rosewood bridge plate, formerly seen only on Deering's Phoenix 6-string banjo. The bridge plate is placed underneath the hand crafted Deering bridge and is designed to even out the effects of the string vibration resulting in an increased sustain, decrease in boominess, and less feedback allowing the player more freedom in a live performing situation when partnered with the piezo pickup. The sound of the Solana 6 is further enhanced by the new larger Grand 12" rim which creates ample breathing room for the natural low end of the Solana 6, making a bold statement right out of the box.
The rim of the Solana 6 is constructed of the same 3-ply violin grade maple that is at the heart of the entire Deering banjo line up. The rock maple neck features East Indian Rosewood ring style inlays, a classical guitar inspired peghead, and smooth, accurate classical guitar tuners with pearloid buttons. The beautiful blonde maple of the Solana 6 is further complimented by a dark East Indian Rosewood tailpiece which bares the Deering name.
Play it. Love it.
MSRP: $899.00
 
.
(
1 Electric AND 1 Acoustic)
Humidipak - Automatic Humidity Control System