We've reviewed a ton of cool gear over the past 12 months, but these stood above the rest and won our coveted Premier Gear Award.
This year more than 40 guitars, basses, effects, and amps from a diverse group of gear makers earned the coveted Premier Gear Award from our discerning editors. Here is our gear of the year.
Boss packs heavy-duty DSP horsepower into a multi-effects processor built for busy pedalboards.
Ratings

Pros:

A mind-boggling selection of great-sounding effects and amp sims. Versatile connectivity. Well-engineered and -executed, user-friendly design. Solid value.

Cons:

Amp simulations could be more realistic.

Street:

$699

Boss GT-1000CORE boss.info/us

Tones: Ease of Use: Build/Design: Value:
Boss requires no introduction among guitar pedal nuts. But while the company has made countless classic compact stompboxes since the late '70s, their multi-effects units have become stage staples in their own right. While it is much more than a simple multi-effects pedal (it also features amp simulations and deep programmability), the GT-1000CORE is the newest addition to that branch of Boss' lineage. And although the company likes to emphasize the CORE's relatively small size and ease of integration with pedalboards, it's hard not to be struck by its deep capabilities.
The GT-1000CORE has the processing power of its big brother, the GT-1000, but fewer onboard functions and no built-in expression pedal. Yet there are 140 unique amp and effects types available as well as up to 24 simultaneous effect blocks—all rendered via 96 kHz/32-bit processing and AD/DA conversion. It also has 250 user and 250 preset memory slots. Needless to say, there won't be room here to discuss every sound, editing capability, and programming function at length, but Boss offers excellent online and user-manual resources to help you navigate this substantive unit.
Selection Committee
The user interface includes five push–button/rotary parameter editing knobs, one selector knob, one master output knob, three stomp switches, and six pushbuttons that take care of additional menu, programming, and navigation functions, which are monitored via a 1.75" x 4.35" LCD control screen.
The very impressive range of Boss favorites and other pedals were practically indistinguishable from their originals.
In theory, almost everything can be programmed from the GT-1000CORE itself, but, as with most such high-functioning processors, it can be easier—and instructive—to edit with your Mac or PC via USB and using Boss' user-friendly Tone Studio editing software.
The CORE has stereo ins and outs (the left output doubles as a stereo headphone out), along with connections for several expression and external control pedals, two sets of loop sends and returns for use with other pedals, amps, or processors, and MIDI connectivity. Since it's usable either as a multi-effects processor or as an effect-and-amp simulator, the GT-1000CORE can be configured for output into a traditional guitar amp or full range flat response rig (with or without speaker/cab-sim IRs engaged). The amp simulations use Boss' new AIRD technology, an impulse-response method that evolved from the Tube Logic system in Boss' well-regarded Katana amps. The unit also works great going direct to a DAW for recording and re-amping. And … phew, we haven't even got to the sounds.
Sounding Off
Tested using several guitars and a variety of connection methods to traditional guitar amps and studio monitors, the GT-1000CORE unleashed a mind-boggling selection of great-sounding effects and realistic amp simulations that can be mixed and matched in what feels like infinite ways. As you might expect from Boss, the effects are the real stars of the show, and many of them that I selected from the very impressive range of Boss favorites and other pedals were practically indistinguishable from their originals.
Boss packed plenty of creative presets into the unit, so it's easy to get up and running—and have a lot of fun in the process—without touching a control apart from the selector. Tweaking and saving your own presets is easy enough, though, and you can create, re-shuffle, and manipulate ridiculously complex signal chains that would be tricky to replicate in physical form.
Amid all this virtual stompbox richness, the amp simulations are a nice bonus. They sound good and pretty consistently replicate the experience of hooking up to the Katana platform. That said, I generally experienced a more satisfying "in the room" sound and playing feel by disabling the AIRD and running the GT-1000CORE as an effects unit into traditional tube amps.
The Verdict
The GT-1000CORE is effectively the stompbox collection of a Boss fanatic's dream—all packed into one very compact, practical, and user-friendly box, with a ton of bonus features for flexible connectivity, editing, studio-quality processing, recording, and performance. It's quite an achievement for the price and size. Players obsessed with the most realistic, responsive amp tones and hyper-realistic IRs may need to consider more expensive options. But for a fly rig, or home recording, the GT-1000CORE offers a whole lot of value.
Watch our First Look demo of the Boss GT-1000CORE:

These compact amps are designed for home practice and jamming and have custom-designed stereo speakers.
Boss announces the Dual Cube LX and Dual Cube Bass LX, the latest members of the acclaimed CUBE amplifier family from Boss and its parent company Roland. For over four decades, Cube amplifiers have brought exceptional value to musicians everywhere, offering great sound and versatile features in portable, go-everywhere designs. These new guitar and bass amplifiers carry on this long tradition, evolved with the latest Boss advancements for unmatched flexibility.
Dual Cube LX Guitar Amp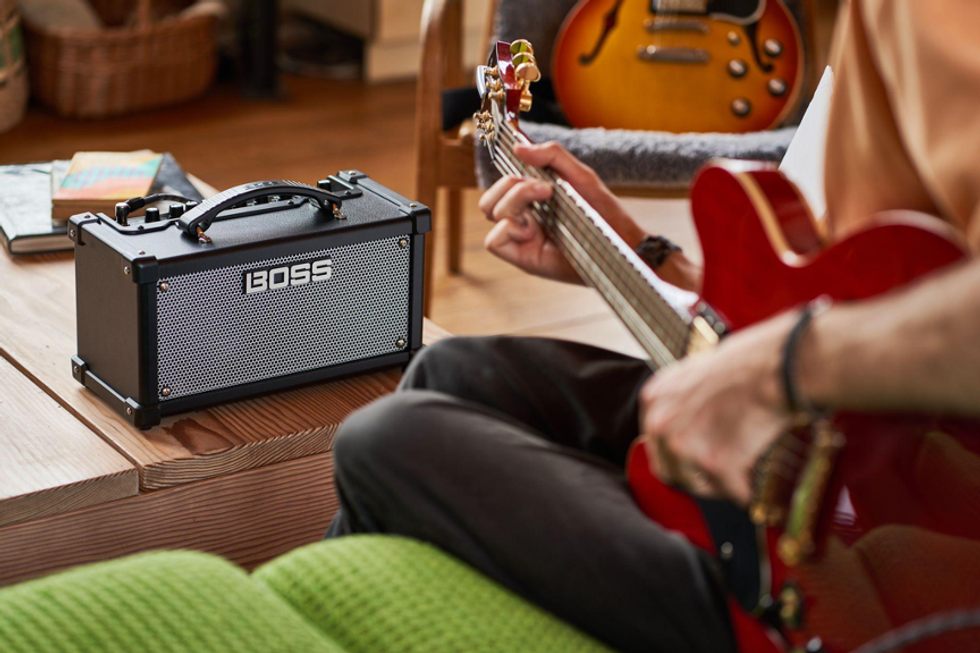 The Dual Cube LX Guitar amp produces full, punchy guitar tones that belie the amp's compact size. There are eight versatile amp types to choose from, all with natural feel and organic response honed with decades of BOSS amp development. There's also a mic preamp type for using the amp as a portable vocal PA system. DUAL CUBE LX The DUAL CUBE LX includes a variety of BOSS stereo and mono effects to enhance the sound. Each amp type features three user memories, allowing users to store gain, EQ, and effect settings for quick recall. Dedicated editor software opens up even more creative power, providing access to different amp and effect variations, detailed parameter adjustments, and more. The DUAL CUBE LX also features a special Stereo In amp type for connecting stereo devices, complete with advanced spatial processing for even more expansive sound. By default, it provides a full-range platform for an amp/effects processor such as the GT-1000, GT-1000CORE, GX-100, GT-1, or IR-200. With the editor, it's possible to choose a neutral guitar amp tone inspired by the famous Roland JC-120, providing an ideal platform for stereo pedals like the BOSS 500 and 200 series.
Dual Cube Bass LX Bass Amp
This amp delivers big, refined bass tones from an amazingly small footprint. Five different preamp types are available, offering uncolored sounds for studio and slap playing, vintage sounds for classic styles, and aggressive modern tones for heavy genres. A variety of bass-tuned effects are also included. Like the DUAL CUBE LX, the amp features onboard memories for storing sounds and support for deeper editing via dedicated software.
BOSS DUAL CUBE LX Guitar Amplifier | CUBE Amp Series
The Dual Cube LX and Dual Cube Bass LX amplifiers will be available in the U.S. in September for $299.99 and $359.99 respectively. To learn more about Dual Cube LX and Dual Cube Bass LX amplifiers, visit boss.info.