Sure, perennial big hitters like Gibson, Fender, PRS, and MXR dazzled with fresh offerings, but one surprising stunner earned the most clicks.
John Bohlinger
The vintage-style gear specialists dive into the legacy of two classic drive pedals.
John Bohlinger
Power attenuation plus all-tube tremolo and reverb make this a killer club amp at a nice price.
John Bohlinger
Pitch shifting, deep modulation, and monster fuzz make this single box a multi-headed tone mutator.
John Bohlinger
Trestle-block bracing and new, refined FT-5E Filter'Tron pickups make a classic shape punchy, powerful, and more feedback resistant.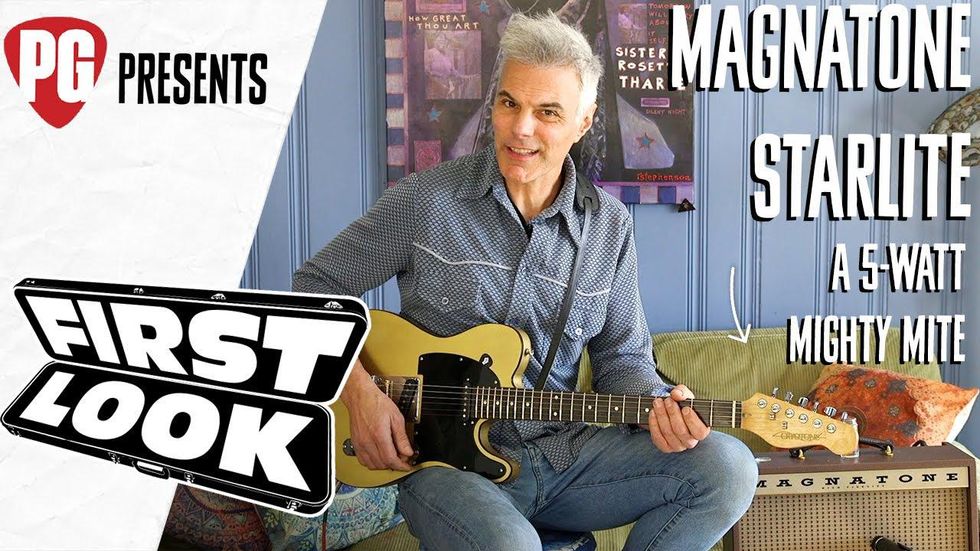 John Bohlinger
Maggie's 5-watt mighty mite bursts with black-panel and tweed-Champ style sounds.
John Bohlinger
An impressive taste of what lurks in the King's chambers for players on a budget.
Premier Guitar
The Mississippi blues maestro's signature instrument is a potent and dazzling evolution of an underrated Tele'.
John Bohlinger
Ted McCarty's archives reveal a long-lost treasure.
John Bohlinger
An affordable version of John Mayer's signature solidbody sacrifices little in the way of tone and quality, and sells for well under a grand.
John Bohlinger
A chambered body makes Yamaha's latest café racer-inspired electric a truly lightweight machine.
Based on your interest: a throwback Tele, a Silver Sky steal, a pair of Boss powerhouses, a duo of diametrically different amps, and a shred machine topped this year's list.

Joe Charupakorn
David Schecter started Schecter Guitar Research in 1976. In the beginning, the company did repairs and sold parts in their Van Nuys, California, shop (much like their contemporaries, Charvel). But Schecter quickly developed a solid reputation among SoCal players and started selling complete guitars in 1979.
Victor Brodén
Even though Ampeg has made amplifiers based on modern, lightweight technology for years, to many of us the brand represents the gold standard of vintage bass tone. When an engineer or artist asks you to provide an Ampeg sound in the studio or on a gig, they usually want the unmistakable low-mid thump of a B-15 or the unparalleled sub-lows and top-end grit of a '70s era SVT with tubes that have been cooking for a few hours. So, whenever I try any new product from Ampeg, those sound standards are at the fore of my imagination. The 200-watt Rocket Bass RB-115, from Ampeg's new Rocket line of combos, captures the essence of many of those foundational Ampeg tones in an amp that's easy on the wallet, easy to use, and even surprisingly easy to carry.
Charles Saufley
The fact that small amps excel—and can sound really big—in studio situations isn't news as much as it's audio engineering gospel. But while little amps like the Fender Champ, Gibson Skylark, and Danelectro DM10 have been pulling feats of trompe-l'oeil on records for decades, some small combos still sound bigger and badder than others. And I feel pretty good about making the case for Magnatone's new 5-watt Starlite as one of the biggest sounding—and most flexible—little amps that's ever joined this club of overachievers.
Shawn Hammond
If you've been lusting after Kemper, Fractal, or Line 6 amp modelers but fear they'd be overkill for your brain or wallet, the Boss IR-200 is among the most stacked—yet relatively simple and straightforward—alternatives you could consider.
Ted Drozdowski
Roland produced the first guitar synthesizer, the GR-500, in 1977. It was cumbersome—requiring multiple rack spaces or a tabletop stand, and a special guitar outfitted with hexaphonic pickups. Problems with latency and tracking were all too real, as anyone who tried bending a note learned. But, with the right coddling, they sounded heavenly. Check out David Bowie's "Ashes to Ashes" to hear the GR-500 at its best.
Charles Saufley
Fender's most important gift to the effects cosmos is spring reverb. That legacy, however, tends to obscure other high points in the company's effects history, which is dotted with a few classics—if not runaway commercial hits.
At appealing prices ranging from $79 to $99, the new Fender Hammertone pedals could easily be huge sellers. But what makes these effects extra attractive is that they don't have the functional or operational feel of generic entry-level pedals. Most have a strong, even distinctive, personality—at least compared to other inexpensive effects. They each come with extra features and voices that stretch the boundaries of the foundational tones. And if the voices aren't always the most refined or lush when compared to more expensive analog equivalents or expensive digital units, they are fun and prompt a lot of musical sparks.
Charles Saufley
One of the nice things about designing guitars for a company like Taylor is that you're less burdened by tradition. Even though the builder is now nearly a 50-year-old institution—not to mention one of the biggest guitar makers in the world—to many acoustic traditionalists they are still very much the new kid on the block. While such fresh-faced "newness" may mean flattop classicists look askance at your every move, it also means you can introduce a design departure like the company's V-Class bracing without risk of rebellion from your consumer constituency—or, for that matter, build a dreadnought with a top fashioned from big leaf maple.
Joe Charupakorn
The late Eddie Van Halen spent much of his early career in search of what's now known as the "brown sound." Years after cracking the code, he helped bottle various versions of the recipe into the 5150 line of amps. Various iterations of these amps are now studio and stage staples, and are often used in heavy genres that transcend Van Halen's vision.
Ted Drozdowski
Budget renditions of established-model guitars used to make me skeptical. There was often a hitch: rough frets, pickups that were let-downs, funky pots, etc. But over the past decade-plus, the quality of guitars built in Asia by the major brands has continued to improve. PRS's lower-priced version of their John Mayer signature model, the SE Silver Sky, is a premier example.
Charles Saufley
In the 50 years since their big, chrome covers first reflected a hot stage light, Fender's Seth Lover-designed Wide Range humbuckers have gone from maligned to revered. The guitars built around Wide Range pickups are legends in their own right, too. Keith Richards' Telecaster Custom is synonymous with the Stones dynamic and adventurous late-70s-to-early-80s period. Scores of punk and indie guitarists made the Telecaster Deluxe a fixture of those scenes. And Jonny Greenwood almost singlehandedly elevated the Starcaster from a curiosity to an object of collector lust. The fourth member of the Wide Range-based guitar family, the '72 Telecaster Thinline, lived a comparatively low-profile life. Yet it is a practical, streamlined, uniquely stylish, and multifaceted instrument with a truly original voice—qualities that are plain to see, feel, and hear in this new American Vintage II incarnation.
PRS himself talks about learning from Ted McCarty, building guitars for the stars, elbowing the competition, his distinctive headstock design, and more.
Paul Reed Smith could be gloating. At a time when other majors have made layoffs or are coming down from the lockdown-era sales buzz, the company the luthier founded literally with his own hands in 1985 has become a $100-million business. PRS Guitars' $849 SE Silver Sky—a 6-stringed Clydesdale—was this year's top seller on Reverb. Recently, the Stevensville, Maryland-based operation introduced its debut pedals, plus a limited-run Robben Ford signature axe that's a Rolls-Royce with strings. And a raft of new instruments are already in the wings for 2023.
Instead, at an early November party Smith threw at Nashville's Soundcheck rehearsal complex during CMA week, he reflected humility. Smith addressed the roomful of players, emotionally recalling the 2015 CMA Awards, where the count of PRS instruments onstage was literally neck-and-neck with the population of Fenders and Gibsons for the first time. That ceremony was an ignition point for greater success as well as an affirmation for the guitars that bear his name.
"We don't want to be a brand," he told the crowd. "We want to be guitar makers. Country guitarists really helped take us to another level. I am truly grateful."
"We didn't have heaters and we were wearing winter coats inside, because if you opened the door for a delivery, it got to be 30 degrees in there."
Besides his passion for pursing all aspects of what goes into creating guitars, that humility—sometimes inflicted upon him—has played a role in his success. Smith found his calling while at St. Mary's College, at the opposite end of the state from his native Bowie, Maryland. Lacking a guitar and the cash to buy one, he persuaded a music teacher to let him build a guitar for credit. He got an A, of course. He also dropped out to play and repair guitars, opening a shop in a reputedly haunted garret in Annapolis.
"As a repairman working on every conceivable type of guitar, I became convinced that vintage instruments were desirable not because they had improved with age, but because they had been built differently from current models," Smith relates. "The reason some of the electrics from the '50s and early '60s felt and sounded so good was that a great attention to detail went into the manufacturing process, and that the manufacturers had a real sense for the subtle points."
Racked and ready: Four decks of PRS guitar necks wait for their final destinations at the company's Stevensville, Maryland, guitar-building location.
Pondering how to reintroduce these characteristics in the instruments he wanted to build, Smith hit upon the idea of contacting Ted McCarty, who was president of Gibson from 1950 to 1966—the golden era of electric guitar making. "I would sit at the shop, and I was afraid to call him," Smith says. "We didn't have heaters and we were wearing winter coats inside, because if you opened the door for a delivery, it got to be 30 degrees in there. So, Clay Evans [a friend and, later, early PRS executive] and I are wearing our coats, and Clay's saying 'Call him! Just call him!' And I'm like, 'I can't....' But I called him and explained who I was and what I did, and he asked, 'Would you be willing to come visit?' So, we picked a date, and I went.
"The first time I went, he got very, very upset at the end of the interview. It was about three hours. And I said, 'What's wrong?' He goes, 'Nobody's asked me these questions in 30 years. Nobody's asked me how to glue the fingerboard on, what glue we used to glue the frets in…. All they want to know is how to get rich quick. 'Where can I find a Les Paul? Where can I find a Flying V? Where can I find an Explorer?' Nobody's asked me these guitar-making questions, and this is how I made my living.'
"I thought it was beautiful," Smith continues. "I just kept coming back and coming back. I was very grateful for his attention, and it ended up being a grandfather relationship. I sang to him on his deathbed, with a guitar." And, of course, Smith also paid tribute to his historic mentor with PRS' vintage-informed McCarty series.
Over the decades, Smith and his team have made guitars for a coterie of world-class players that includes John McLaughlin (including a 6- and 12-string doubleneck), David Grissom, Nancy Wilson, Mark Tremonti, Jimmy Herring, Mark Lettieri, and, of course, Carlos Santana.
"What Robben Ford wanted and what David Grissom wants is that every one of those models we ship is a his-caliber instrument. He doesn't want just the couple we tweak for him and then put his name on a bunch of others."
"The first guitar I made for Carlos Santana changed my life," Smith offers. "At first, he didn't see me as a guitar maker. He made me earn his respect, which I honor. He said the first instruments I gave him were 'accidents of God.' He thought it was like somebody wrote a hit song, but it was almost an accident—and he didn't see me as a repetitive hit writer. He literally said, 'Okay, it's an act of God, can you make me another one?' Then, after the fifth instrument, which was a doubleneck, he called me up and said, 'Okay, you're a guitar maker.' That was tremendous. Every Christmas he would call and thank me about the sound coming out of his guitar. He thought of it as a big, male saxophone tone, and he adored it."
So, what does a world-class musician demand in a guitar? "If you look at guitars in general as a line, and about four-fifths of the way along that line you draw a vertical line through it, what's beyond that graduates from being a guitar to a musical instrument," Smith says. "They want musical instruments. What Robben Ford wanted and what David Grissom wants is that every one of those models we ship is a his-caliber instrument.
Initial sanding happens after the overall body shape, electronics cavities, and other cuts are made.
He doesn't want just the couple we tweak for him and then put his name on a bunch of others. Carlos Santana wants a guitar that he can take out of the factory, put in the limo, go to the gig, pull it out, and play it. And by the way, I've watched him do that. It's a little scary to have him play to 15,000 people with a guitar that's only been played about a minute-and-a-quarter its entire life. David Grissom does not take a guitar to clinics. He takes ones off the wall at the store to hold my hands to the fire. Carlos calls me constantly and has requests to make 'em better. David wants them better. He just got one that has a hollow, single f-hole in it, and he's losing his noodles over it."
It's been years since Smith has built a guitar himself. "I have a bench where I repair audio gear, and I'm my wife's furniture repair person, but that's it," he says. Nonetheless, he is a regular presence on the PRS factory floor, checking the progress on models in development, eyeballing the wood inventory, checking out pickups, offering suggestions, and evaluating as he formulates plans for the company's future. "It's almost a soothsayer job," he offers. "It's like having a crystal ball, but you gotta do it from experience, with your ear to the tracks."
A high-quality instrument starts with good tonewood, and the factory keeps an abundant inventory for both necks and bodies.
Part of that is trying to rout the competition, which he obviously enjoys. At the Nashville party, Smith recounted a story about paying top dollar for a Klon Centaur, and then putting it through its paces. Pleasing at it was, he felt there were shortfalls in tone and control, so he decided to try to beat it. The result is PRS' Horsemeat Transparent Overdrive (get it?), but his company's engineers took it a step further, also designing the Mary Cries Optical Compressor and the Wind Through the Trees Analog Flanger, which all debuted in September. Nonetheless, Smith's goal was not to expand into pedal making, but rather to lure players who've avoided PRS. "I've actually heard comments like, 'I like these pedals, maybe I'll look at their guitars again,'" he says.
Earlier last year, he took on the template, working-player's Stratocaster with the release of the SE Silver Sky, a low-cost, high-performance version of PRS' John Mayer signature model. When I mention the guitar, his immediate response is, "How about those pickups?" He then related that he worked with his suppliers in Indonesia, where the guitar is built, for two years on the remarkably wide-ranged pickups. "Initially, they weren't right, and we didn't have direct control over their creation, like we do with models we build here, but the pickups still had to lay in exactly the right place sonically. When John played 'em, he thought they were the best overseas-made single-coils he'd ever heard, and he signed off on them literally that second."
"The first guitar I made for Carlos Santana changed my life," Smith offers. "At first, he didn't see me as a guitar maker. He made me earn his respect."
Although much has changed over the decades at PRS, the company's distinctive three-and-three headstocks have remained unchanged since the early '80s—despite being a turn-off for some trad-minded players. Smith explains why: "The design was half practical and half reflective of the front curve of the guitar. It's like a Dan Armstrong headstock, where the strings went straight to the tuning pegs. On a Fender, they went straight to the tuning pegs, but they were all on one side. That it goes straight to the tuning pegs is important.
"When I started putting tremolos on guitars, Carlos Santana ordered one and he goes, 'It's gonna stay in tune, right?' I said, 'Sure!' I had no idea how I was going to do it. Turns out what makes a difference is how you cut the nut, having it as close to the tuning pegs as possible. Also, the strings need to be as straight as possible, and you have to reduce the headstock angle. It's a combination of those three dimensions."
PRS Guitars Factory Tour
The guitar universe gathered momentum in a big way in 2022—which is easy to see in this year's wildly diverse parade of Premier Gear Award winners.
Here's a look at 2022's most notable new guitars, amps, effects, and accessories, reviewed by our editors and writers: