PRS Guitars and John Mayer announce two updates to the popular PRS SE Silver Sky model: a maple fretboard version and the first color refresh on the rosewood-equipped model since its introduction in January 2022.
The specifications of the SE Silver Sky Maple are all the same as its rosewood-appointed predecessor, except for the fretboard wood and colors. The PRS SE Silver Sky comes in a unique color palette: Nylon Blue, Overland Gray, and Summit Purple.

​"Adding a maple fretboard option to the PRS SE Silver Sky lineup is an exciting expansion for this guitar. Players have always enjoyed having fretboard material options for tone, feel, and looks. The buzz that the prototypes have created around the office has not been small. Having the opportunity to work with John on some new colors has been a bonus," said Jack Higginbotham, PRS Guitars Chief Operating Officer.
The original PRS SE Silver Sky is also getting an update. Originally released in four colors (Dragon Fruit, Ever Green, Moon White, and Stone Blue), the SE Silver Sky is saying goodbye to Dragon Fruit and Ever Green and adding Storm Gray and Piano Black.
​Shared specifications for the two models include poplar body, maple neck, 22 frets, 25.5" scale length, 8.5" fretboard radius, 635 JM "S" pickups with one volume, two-tone, and 5-way blade pickup switch, synthetic bone nut, PRS small bird inlays, and PRS Classic 10-46 strings.
"The PRS SE Silver Sky, and the Silver Sky before it, both disrupted the market with their introductions and have since become quietly accepted as real instruments with their own personalities," said Bev Fowler, PRS Director of Artist Relations. "It's been highly rewarding to be John's [Mayer's] guitar maker and also to see these designs in the hands of so many talented musicians who trust PRS to deliver the tone and playability they need."
The SE Silver Sky Maple | Demo | PRS Guitars
A collaboration between John Mayer and PRS Guitars, the PRS Silver Sky is a modern take on a classic three single-coil guitar. John Mayer can be seen playing his signature model on solo work and in his work with Dead & Company.
For more information, please visit prsguitars.com.
One of the most coveted—and classic—PRS models finally arrives in affordable SE form.
Excellent build. Incredible value. Great dynamic range. Cool range of single-coil and humbucker sounds. Fast playability.
5
5
4.5
5
The recent PRS SE model releases make up what any guitar company would call an enviable winning streak. The very popular SE Silver Sky model, released in 2018, remains a huge seller, and this year's SE DGT model is among the most talked-about electric guitars in recent memory. Both are killer axes that reliably deliver incredible bang for the buck. And at their best, they will get you close to a much more expensive premium core model for just under $1,000.
Released at the same time as the SE DGT, the SE McCarty 594, which is offered as a double-cutaway and a less expensive single-cutaway model, is another phenomenal value. It costs just $950. For comparison's sake, a USA-built S2 version of the McCarty 594 will set you back around $1,999, while a premium, USA-made, Core McCarty 594 will cost, well, serious bucks.
That McCarty Magic
In the mid 1990s, Paul Reed Smith worked with guitar industry icon Ted McCarty, who was Gibson's president from 1950–1966. During that time, he had a hand in the design and development of the PAF humbucker pickup, Tune-o-matic bridge, and guitars including the ES-335, Explorer, Firebird, Flying V, and SG. In 1994, PRS introduced several models that were products of the McCarty collaboration, including the McCarty 594. The quality and performance of those guitars suggested the meeting of the minds was much more than simple marketing.
The SE McCarty 594 captures the essence of a premium McCarty with its drop-dead gorgeous flame-maple veneer top over mahogany body, with a gloss polyurethane finish. The 22-fret set neck is mahogany, and the 10"-radius rosewood fretboard looks sharp and upscale adorned with trademark PRS bird inlays. The closed-back tuners look attractively vintage and hold tuning exceptionally well. At the other end of the strings, a zinc and brass adjustable, two-piece bridge is both stable and another hint to the guitar's Gibson influence.
Workmanship on the SE McCarty 594 is very clean, both cosmetically and functionally. Volume-knob swells revealed not one trace of static, and the knobs and push-pull pots are all dead quiet when switched. In terms of playability, the SE McCarty 594's neck feels a little chunky, at least for my tastes. But even though I prefer thinner necks, there is no questioning how natural and comfortable it feels in hand. The 24.594" scale length (reflected in the guitar's 594 name) is slightly shorter than conventional PRS and Gibson scale lengths. But that tiny difference also helps make string bending feel extra easy. Our particular guitar came with a great setup at medium-low action. It also came in a very nice gig bag with additional foam padding inserts. If our guitar is any indication, you'll be able to take one out of a shipping box and go straight to a gig or recording studio with total confidence.
Sublime Sounds
To put the SE 594 through its paces, I hooked it up with Fender Super-Sonic and Mesa/Boogie Mark IV amps and dirt pedals including a Hermida Distortion and Wampler Pinnacle. The two low-output 58/15 LT "S" humbucking pickups, unsurprisingly, have an old-school PAF-vibe and are rich with clarity and vintage soul. The two tone knobs feature push-pull functionality and switch between humbucker and single-coil sounds. The volume difference between humbucker and single-coils is subtle. You'll hear it, but it won't be nearly as jarring as it is on many other guitars with the same feature. In both pickup configurations, the dynamic range is incredibly wide. Played clean and set up bright, I could play spaghetti Western ideas when I picked close to the bridge. But depending on my attack, I could also generate anything from whisper-quiet notes to all-out aggression. Add reverb, delay, and a few double-stop 10ths, and the PRS sounded positively angelic.
If our guitar is any indication, you'll be able to take one out of a shipping box and go straight to a gig or recording studio with total confidence.
With added dirt, the neck pickup was incredibly warm and creamy without sounding woofy, even with the tone rolled back quite a bit. The bridge pickup, meanwhile, flirted with near-infinite sustain when I paired it with the Mesa/Boogie Mark IV, generating killer fusion sounds that made shredding feel effortless. Rolling the tone knob back up on the bridge pickup yields an exemplary lead sound. And with less dirt, it makes beautiful, jangly rhythm sounds.
The Verdict
The SE 594 proves, as so many PRS SE guitars have before, that affordable doesn't require sacrifice of quality or sound. For anyone who's lusted after a McCarty 594 but hasn't had the money, or who fears nicking up a guitar that precious, the SE McCarty 594 is an accessible gem. It can sound mellow, fat, clear, or beastly. And the sub-$1K price tag makes it a steal for a guitar that looks more expensive and has the tonal range, stability, and quality to make it a gigging workhorse. There's just not much out there in the electric guitar universe that can beat the value of this extraordinary instrument.
PRS SE McCarty 594 Demo | First Look
A single-knob OD that ranges from pretty clean to pretty mean.
Cheap, easy, and offers a wide range of drive.
3.5
4
4
5
Usually when I get the finger, it's nowhere near as much fun as October Audio's NVMBR Gain. With just one dial and a graphic of a witch's severed digit on top, the NVMBR Gain does a lot.
Snap it on with the knob all the way left, and it works as a 5 dB line boost—good to keep your amp or downstream effects sounding louder but clear. Turn it toward noon, and the output slowly increases. The company says the left side of the dial is a clean boost, but to my ears there's subtle compression and a mid-forward attitude that TS fans should dig as much as I did. At 12 o'clock—where the pedal's character really starts to change—I got hair and airy sparkle that, with my PRS SE Silver Sky's single-coils, sounded like Hughie Thomasson's opening riffs in the Outlaws classic "Green Grass and High Tides."
The right side is this little monster's other, nastier head. From noon to floored, it unleashes a soft-clipping-style overdrive that goes from perfect for gritty controlled blues to gnashing. If Syd's "Interstellar Overdrive" tone is your thing, all the way right is where you'll find it. But after, say, 3 o'clock the clipping accelerates exponentially, so abandon hope of much subtlety if you venture there. I could easily see this mere 3.63" x 1.5" x 1.88" stomp replacing another drive or two, to free up pedalboard space. And at $109, it offers a lot of functionality at a bargain tag.
Annapolis pays tribute to Fullerton in a fantastically playable T-style that also deviates significantly from the form.
Versatile pickups. Effortless playability. A juicy twist on the T-style template.
Humbuckers are more inclined to overdrive than the typical Telecaster.
4.5
5
5
4
If you never saw the new PRS NF 53 and heard Paul Reed Smith say it's based on a beloved, 1953-model instrument from his collection, you'd probably imagine a goldtop Les Paul—at least if you consider PRS's typical design leanings. One glance at this new offering, however, makes it clear that Smith had a very different '53 guitar in mind. But while the NF 53's Telecaster influence is clear, it's hardly a conventional take on the type. PRS tweaked just about every bit of the classic T-style blueprint to arrive at a guitar with an extended vocabulary that retains many appealing facets of vintage Telecaster design. The results are likely to cause a stir among forward-thinking players and purists alike.
Single-Cut Above
While the NF 53's 25 1/2" scale and bolt-on maple neck are very much in the vintage Telecaster spirit, there are significant differences. The neck is built using 3-piece construction. A scarf joint adds strength in the nut-to-headstock transition area and re-enforces the slightly angled headstock. The truss rod is accessed from just behind the nut, and the fretboard is a separate piece of maple that's glued to the neck after installation of the truss rod. The neck feels great, too, with a rounded-C carve that seems more akin to a '59 Les Paul than an early '50s Telecaster, as well as a 10" fretboard radius and a nut width of 1-41/64". Both dimensions mark a kind of compromise between classic Fender and Gibson standards. But moving across the NF 53's fretboard feels effortless, and I suspect most guitarists will take to the model easily and breezily.
True to vintage T-style form, the NF 53's solid body is made from swamp ash, a wood that, today, is much harder to find in consistently high-quality and lightweight supplies. PRS works around this challenge, to some degree, by gluing three pieces of ash together. Vintage- and boutique-guitar aficionados romanticize 1-piece bodies and sometimes sniff at anything more than 2-piece. But I'd rather have a relatively light 3-piece ash body than a boat-anchor 1- or 2-piece—and the NF 53's very comfortable weight, around 7 pounds, is most certainly on the lighter side. (Anecdotally, I have a '66 Telecaster with a 3-piece body, and it's one of the best-sounding guitars I've ever owned). The size and depth of the body are very traditionally T-style too. But here again, there are differences. The NF 53 has a shorter horn that's also contoured for improved upper-fret access. Forearm and rib contours enhance playing comfort, and the body's waist is ever so slightly offset.
"I suspect most guitarists will take to the NF 53 easily and breezily."
Obviously, a huge part of the classic T-style formula is the single-coil pickups. On this front, the NF 53 deviates from tradition more significantly by using PRS' Narrowfield DD ("Deep Dish") pickups, which are single-coil-sized humbuckers. They're made with deep bobbins for loading on extra coil windings as well as a mix of magnet pole pieces with steel poles in between. They are wired via master volume and tone controls and a 3-way selector switch.
The NF 53's bridge adds another twist. It employs a steel-base with string-anchor notches rather than through-body stringing, as well as two brass, 3-string saddles with two adjustment bolts each. The vintage-style tuners sport a Kluson-like appearance but with unique ivory-colored plastic buttons.
Twanger or Banger?
Even before you hook up the NF 53 to an amplifier, it rings like a bell, with the bright yet balanced response, piano-like low-string clarity, and the impressive sustain I'd expect from a really good Telecaster. Amplified, you hear all those same qualities as well as a lively edge that is something all its own. The narrow-format humbuckers love overdrive and amps at the brink of distortion—generating snarly, gutsy voices that still offer clear note definition and tight bass tones.
In clean environments, the Narrowfield DDs are punchier and grittier than traditional single-coil T-style pickups with guitar volume at maximum. And when you reduce guitar volume, they sound smoother and tamer than an old-school Telecaster might. That's no bad thing, though. I prefer the NF 53's neck pickup sounds to all but a few vintage Telecasters I've played (including a long-gone '63 that still haunts me). It has a full, rich, throaty tone that's lovely for jazz or ballads and delectably dynamic for blues soloing—especially with a little drive in the mix. In general, the NF 53 offers more bang than twang. But within its appealingly chameleon-like personality, there are still tasty T-style sounds to be found.
The Verdict
Thoughtfully designed and very well put together, the NF 53 is a nifty spin on the world's first mass-produced solidbody electric guitar, but one that takes the format in new directions. The relative simplicity of the instrument is no impediment to versatility. But the real joy in the NF 53 is that it plays beautifully and offers a wide swath of dynamic, smooth, and often trenchant voices that are all its own.
PRS' T-Styles?! Myles Kennedy Signature & NF 53 Demos | First Look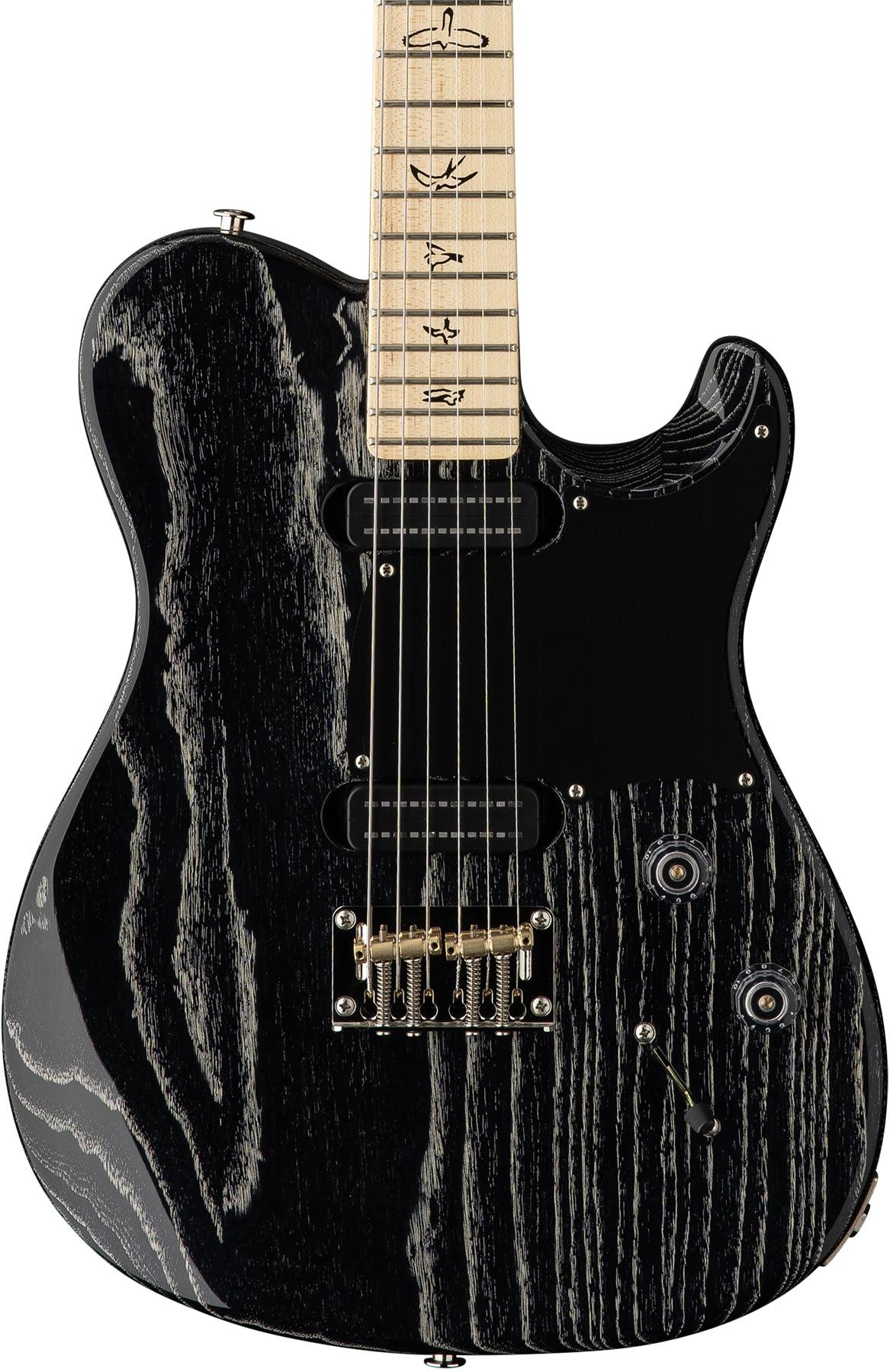 PRS