We use a refrigerator and the hot summer sun to see if this pedal's Active Bias Monitor makes it one of the coolest germanium fuzzes on the market.
Jaw-dropping array of germanium-flavored fuzz and drive tones, recallable more consistently than perhaps any other germanium fuzz on the market. Robust build.
5
5
5
5
In a world where new fuzz pedals seem like an endless train of Big Muff, Fuzz Face, or Tone Bender wannabes, the germanium transistor-driven Silktone Fuzz instantly stands out. Cool logo and skirted flying-saucer knobs aside, what really draws the eye is the three-digit LED readout. At a glance, you might assume this indicates some sort of programmability—a digital task not normally associated with stellar fuzz. That's not the case.
But why, exactly, are those LEDs constantly shifting? If you're any sort of fuzz-o-phile, you know how finnicky vintage-style germanium units like those on classic Hendrix, Gilmour, Page, and Beck recordings can be. Getting consistent tones from the best germianum fuzz specimens can be a crapshoot. That's because temperature has a dramatic effect on the stability of the current and voltage drawn in a germanium circuit. In electro-speak, this is called transistor bias.
Numbers Cruncher/Mercury Muncher
Perhaps the coolest (pun intended) of the Silktone Fuzz's three extremely cool features is the near-miraculous way it enables its two germanium transistors to deal with temperature woes. While all transistor-driven fuzzes have at least one bias point, they're usually only tweakable via tiny internal trimpots. But the Silktone's bias is controlled by a handy full-sized knob up top, right next to the even handier patent-pending Active Bias Monitor readout. This means, for any of the many killer tones available, you can document—to two decimal points—the transistors' bias measurement and then adjust to compensate for mayhem wrought by Mother Nature or a cranked air conditioner.
It's not often one gets to employ a refrigerator and a hot summer day to test a guitar pedal, but that's how I went about assessing the reliability of the Silktone Fuzz's bias control and monitor. First, I recorded a reference tone with my Tele, Vibrolux Reverb, and a Royer R-121 ribbon mic in my 66-degree basement studio, photographing the knob positions and LED readout (which read 6.00 with bias at noon) for accuracy. Then I placed the Fuzz on a front-porch rocker in the 84-degree sunlight for 10 minutes, brought the warmed-up stomp back to the studio, and noted that the same bias-knob position now measured 8.25 and the tones sounded much more gated and jagged. Dialing bias counterclockwise to roughly 8 o'clock and comparing to my recording, I got the reading back to essentially the same reference tone and bias reading. I had the same experience in reverse after a 10-minute chill session in the fridge.
You Said Three Cool Things…
To nix another finnicky aspect of vintage-style fuzzes, the Silktone also has a pickup-simulator/debuffer at the beginning of the circuit that enables it to sidestep issues related to placement in a signal chain. Go ahead, put it before or after your wah or overdrive—it sounds the same. Further, the cleanup knob works in tandem with the debuffer to facilitate the range of scrumptious in-between boost and distortion tones that a good germanium stomp can yield with guitar-volume tweaks—only you don't have to do anything but stomp to get there. Volume, meanwhile, works dynamically with fuzz and cleanup to let you go from deliciously grainy fuzz to thick, Muff-esque doom tones, to myriad shades of skanky, toothy, stabbing, or sqwonky boost/overdrive.
Saying anything is the "ultimate" anything can make you seem like either a novice or an ass-kissing eager beaver, but ... damn, man—the Silktone Fuzz is really cool.
Adding to the fun, there's also a 2-way toggle for "classic" or meatier, more harmonically saturated "raw" bias modes. The bias control also acts as a potent tone/responsiveness control in its own right. Although the circuit design was inspired by the Fuzz Face and nearly identical Tone Bender MkI.5, setting bias near minimum can impart lo-fi, Velcro-esque stickiness—anywhere from thick, Fuzz Factory-like sounds to bee-in-a-can Fuzzrite tones. At other settings, bias tends to yield airier, more open-feeling tones, and past noon they're more rotund. Near maximum, you get a palette of "strangled-fuzz" vibes.
The Verdict
Saying anything is the "ultimate" anything can make you seem like either a novice or an ass-kissing eager beaver, but … damn, man—the Silktone Fuzz is really cool. I don't own a single guitar pedal with a digital readout, as they kinda give me the heebie-jeebies. But here it makes tons of sense, especially if you're a germanium fan who gets around. But, even if your board never leaves your studio, this control scheme serves up so much ear candy, from traditional to offensive, that you might find yourself wanting three or four Silktones in a row for instant access to a horde of progressively aggro sounds. Huge, huge kudos, guys!
The guitar universe gathered momentum in a big way in 2022—which is easy to see in this year's wildly diverse parade of Premier Gear Award winners.
Here's a look at 2022's most notable new guitars, amps, effects, and accessories, reviewed by our editors and writers:
Whether or not it's a Radiohead homage, this compressing volume-swell device would likely get a lot of love from Jonny and Thom.
Cool, non-menu-driven way to get quirky, swirling textures.
Usefulness depends on your other effects. Somewhat unpredictable functionality.
4
4
3
3
I have no idea if the Pigtronix Gloamer's sounds or name were inspired by "The Gloaming"—a 2003 Radiohead track that doesn't have a lot of obvious guitar work. But if so, it's certainly apt. This 6-knob, compressor-outfitted volume-sweller is rife with undulating, burbling, bleeping sounds of the sort Thom Yorke and Jonny Greenwood would gleefully approve.
Here's the catch: To get to the goods, Gloamer pretty much has to be paired with other pedals. Otherwise, the audible effect of even drastic volume-, blend-, sensitivity-, and attack-knob settings might pass by too quickly to grok what's happening. Same goes for the even subtler decay function (governed by a separate knob and footswitch).
I found that mating Gloamer with spacious reverb(s) and delay units, and setting its compressor and sensitivity knobs toward their nether regions, was particularly effective. (Blend seems to need to be decidedly past noon, as well.) Get creative with what you put before and after Gloamer, and that's where the effed-up magic happens. In fact, the more atmospheric effects you can add to the equation, the better. The more I stacked—including a Catalinbread Cloak reverb, a Gamechanger Audio Light reverb, an Ibanez Analog Delay Mini, and a SolidGoldFX Electroman MkII (and somewhere in the middle, a Silktone Fuzz)—the more disorienting and glorious the textures became. Just the way Thom and Jonny would like it!
It may be the understatement of the century, but this year was weird. Even so, the killer gear kept coming. Here are the goods that stood out as extra-great amongst our annual haul of Premier Guitar reviews.
MXR
Clone Looper

With a two-button system for recording and playback, the Clone Looper simplifies many looping maneuvers by eliminating some double-click and hold sequences. But with awesome and trippy features like adjustable playback speed and reverse playback, you can easily take the Clone Looper's simpler looping processes to particularly psychedelic ends.

$149 street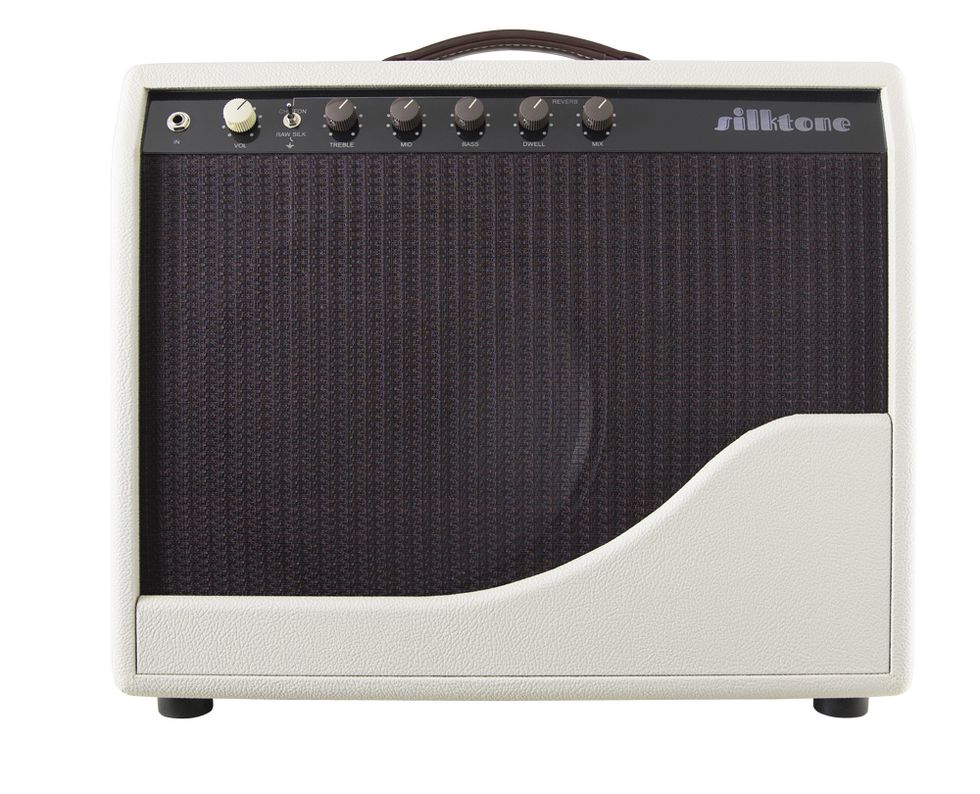 Silktone
Silktone Amp

This handwired 1x12 combo employs a KT66 power tube for its class-A circuitry, resulting in glassy cleans reminiscent of a tweed Champ, and fat and pleasantly compressed high-gain tones without sacrificing shine. Joe Gore was also impressed with its aesthetic and workmanship, as well as Silktone's spring reverb. "It's got the feel of a vintage Fender tank, but with uncommon wetness and depth."

$2,199 street, as reviewed with ceramic speaker (alnico speaker $200 extra)

Fender
Vintera Telecaster '50s

Just about any Telecaster flirts with perfection in form. But Fender did not rest on their laurels in re-interpreting the '50s-styled variation in the new, affordable Vintera series. The neck is lovely, with a hefty deep-U shape, and the alnico 2 bridge pickup delivers the essence of bright, spanky, and rowdy Tele-ness, while maintaining a warm glow around the edges that is a beautiful match for a touch of vintage-style reverb.

$899 street


Fender
Vintera Telecaster '70s

Keith Richards, who could have any freaking Telecaster in the world if he wanted it, has used the Telecaster Custom he bought new in 1975 regularly ever since. When you play the Vintera version, it's easy to understand why. Fender's Tim Shaw worked hard to build a more authentic WideRange humbucker for this instrument, and the work paid off—creating an expansive palette of spanky-to-smoky tones when paired with the alnico 5 bridge single-coil.

$899 street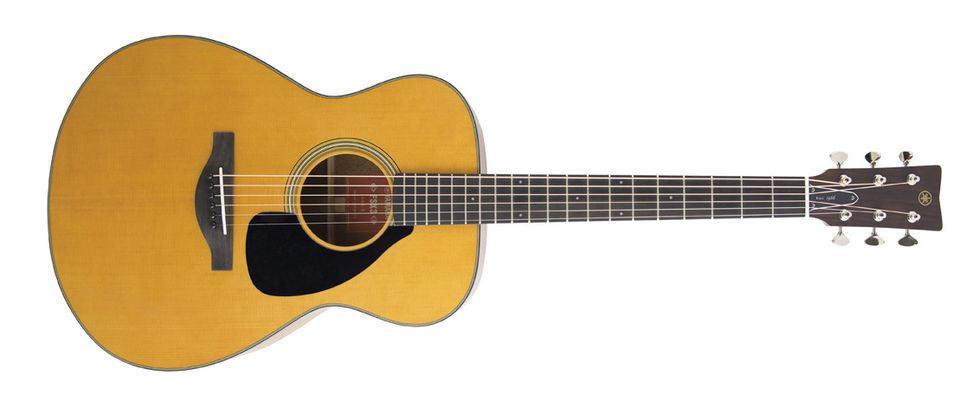 Yamaha
Red Label FSX3

Adam Perlmutter found that the OM-sized FSX3, which honors Yamaha's much-loved red-label guitars of the '70s, feels better-built than the company's original FG guitars, which is no small compliment. Perlmutter shared that the FSX3, boasting all-solid-wood construction, "feels great, exhibits real versatility, and is free of the old-guitar baggage that comes with vintage examples."

$999 street

TC Electronic
Hall of Fame 2x4

A maximalist expansion of TC's popular Hall of Fame 2 pedal, this reverb machine boasts 10 factory settings, six user memory slots, and eight stored patches, accessible via its four hefty footswitches. "Everything about the Hall of Fame 2 x4 Reverb is exceptional," is the word from reviewer Joe Gore, who welcomed its rich and varied reverbs, as well as the pedal's delightfully simple interface.

$299 street

Origin Effects
RevivalDRIVE

Origin's luxurious stomps feel like outboard studio gear from analog audio's golden age. The RevivalDRIVE, however, has so much tone-sculpting power that it actually tends to function and sound like an old recording console module, too. The EQ is powerful, sensitive, and responsive, and the low-end tones are especially delectable. If you need an overdrive that can fill a very specific mix niche, this tool is worth every penny.

$385 street

Jackson Audio
Bloom

This ultra-versatile multi-effects pedal captivated PG with its ability to control, shape, and expand natural playing dynamics through its five different types of compression, a 3-band Baxandall-inspired EQ, and a 20 dB clean boost. Boasting super-sensitive knobs with finely tailored sweeps, the folks at Jackson Audio topped off the Bloom with MIDI control over all parameters via its TRS input.

$329 street

Electro-Harmonix
Ram's Head Big Muff

Given what a vintage Ram's Head Big Muff costs these days, this new version's $99 price tag alone is cause for celebration. But the tab is extra-impressive when you hear how well EHX nailed a vintage Ram's Head's legendary essence. It's growling, bold in the midrange, and stings like a wasp when you run the gain and tone wide open. If you don't have the bucks for a vintage pedal or a high-end Ram's Head clone, this remarkably economical iteration is a must for rounding out your Big Muff collection.

$99 street

Blackstar
Silverline Standard

This 20-watt, 1x10 combo from the folks at Blackstar got high marks for its retro style, user-friendly, ergonomic control panel, and all points in between. Joe Gore was wowed by the Standard's attractive amp and effects emulations—especially given its modest price tag—and shared that Blackstar's compact 30-pound combo would make for a convenient gig companion or great living room amp.

$429 street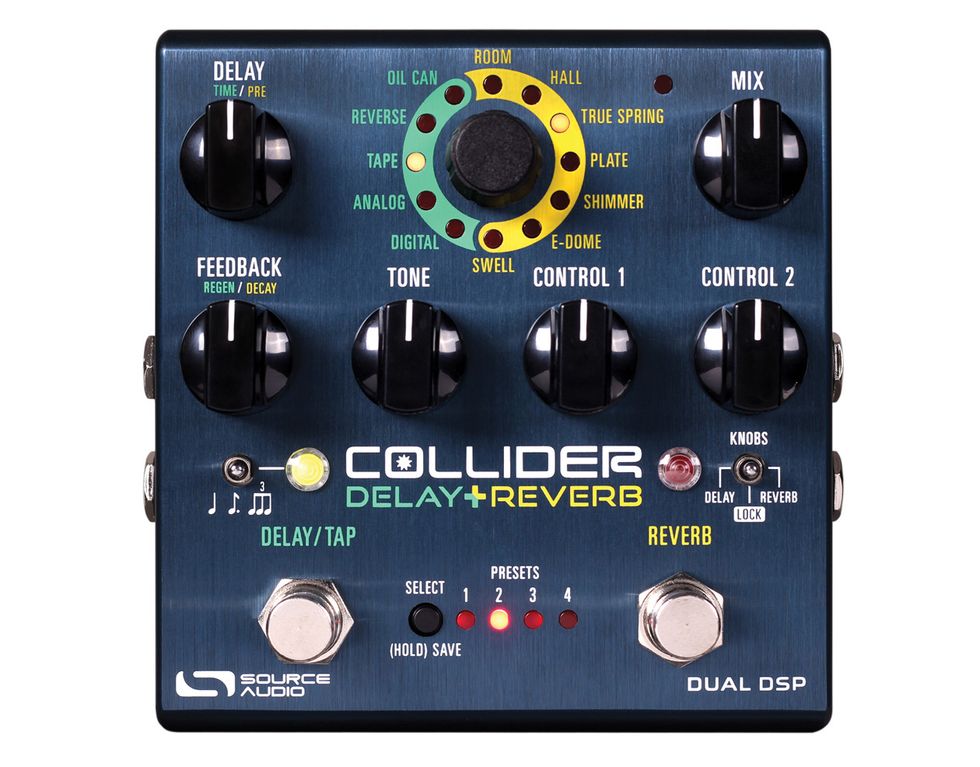 Source Audio
Collider

The Collider, which combines some functionality from the already expansive Ventris reverb and Nemesis delay, seems like it might be a handful to manage. In fact, the Collider's clever integration of its parent effects makes exploring the wide-ranging feature set—which includes new emulations like an excellent Tel-Ray-style oil can delay—an intuitive and fun portal to thousands of huge and rich time-manipulation textures.

$349 street

PRS
SE Hollowbody Standard

The Paul Reed Smith Hollowbody model has become a modern classic since its design was first introduced in 1998. And it's now available (and made much more affordable) as part of the company's made-in-China SE range. But don't let the down-market pricing fool you: Its elegant design, PRS-created hardware and electronics, and excellent playability easily earned the SE Hollowbody Standard a Premier Gear Award.

$999 street

Fender
American Ultra Jazz

As daunting as it is to alter a classic, revered instrument like the J, Fender hit it out of the park with subtle yet significant updates to its look and design. And with passive and active tones at the ready, Victor Brodén lauded the versatility of the Ultra Jazz, which allowed him to effortlessly conjure Marcus Miller-to-Jaco-esque tones.

$1,999 street