What You Should Know About Using Guitar Pedals With Other Instruments
Your favorite stomps are real-time, tactile sound processors. Plug them in and expand your DAW's options.
Welcome to another Dojo. This time I want to help supercharge your creative process by advocating for a hybrid approach to effects processing. Specifically, I want you to embrace using stomp pedals as real-time, tactile effects processors and combine them with your favorite DAW effects and plugins.
You should be deeply familiar with how to insert plugins directly on your DAW tracks' aux sends (for serial processing with modulation and time-based effects, like reverbs and delays) or aux buses (for parallel processing, like compressors). But what about guitar pedals? Yes, they're typically used in live performance settings and get a lot of abuse on the stage and studio floor, but with the explosion of modern, programmable, MIDI-capable pedals on the market and their ever-increasing processing power, "lowly" stompboxes are long overdue to be elevated to the same level as rack effects and kept within arm's reach on your mixing desk.
Pedals can add analog warmth, hands-on control, and modularity, are easy on your computer's RAM and CPU resources, are always OS compliant, and retain their value.
Turning Knobs vs. Mouse-Clicking 
When it comes to tracking and mixing, turning knobs on a physical, controllable surface, such as a pedal, mixing console, or MIDI controller, can provide a more tactile and intuitive way to make adjustments to your sound, compared to using a mouse to click and drag on virtual knobs and sliders within your DAW. Let's face it, in the heat of a session this can be tedious—especially if you run out of trackpad or mousepad space while recording or mixing.
But what about exploring some hybrid approaches that take advantage of both formats? After all, plugins provide flexibility, precision, consistency, automation, portability (nothing to lug around), cost-effectiveness (cheaper than outboard gear), and compatibility (the same plugins can work on multiple DAWs). Pedals can add analog warmth, hands-on control, and modularity, are easy on your computer's RAM and CPU resources, are always OS compliant, and retain their value (how much are original Klons going for now?!). They can also help you achieve a unique and personalized sound that can be difficult to replicate with digital plugins and their stock presets. Many modern foot pedals can also handle both line level and instrument level inputs.
Builders—Strymon, Eventide, Boss, EarthQuaker, Empress, Meris, Chase Bliss, and many more—have a wide range of pedals that are MIDI capable and, quite frankly, have processing power that far surpasses many classic rack effects units.
So, I'd like to offer some creative ways to use pedals, in addition to your regular plugins, in your next session or mix:
To start, duplicate the track(s) you want to process with your effects pedal(s) in your DAW and route the output of those tracks to one or two of your line outputs on your interface. Depending on the pedals in question, you may have options for mono in and out, mono in/stereo out, or stereo in and out. Connect all relevant cables and connect the output of the last pedal to the input of your interface. If your incoming signal is low, switch from line to mic on your interface for each input.
Next, in your DAW, create one mono or one stereo track, depending upon how you are going to return the processed signal from your interface and record-enable the track(s). Now you're ready to record new, processed material (from one pedal or your entire pedal board!) in real-time and take advantage of every parameter on each pedal.
You can now use your pedals to adjust distortion levels, reverb, and delay times in real-time (with all the glorious artifacts, glitches, and smears), as well as adjust tremolo rates and chorus depths on the fly. Get creative! Take chances and invite any and all happy accidents!
One particular approach I love is throwing loop pedals into this equation, after all the other pedals, for some wild, abstract processing. My signal flow usually goes from overdrive to mod-based effects (chorus, phaser, tremolo) to time-based effects (delays and reverbs) followed by a looper. At present, my favorite looper pedal for this by far is Habit by Chase Bliss ($399 street). It has three minutes of loop time and can take user-definable snippets of your loop, play them back asynchronously, feed that back into the loop itself, and record all modifications as well (and this is just scratching the surface). Highly recommended!
Combine this "out-of-the-box" technique along with your normal "in-the-box" workflow and you should be creating some pretty amazing sounds. Let me know if you find a cool approach! I'll share it in the Dojo channel.
Until next time, blessings, and continue to share your gifts with the world. It matters, and you matter!
How to bring the mojo of modulation, delay, distortion, and other effects to your recordings of … everything.
We guitarists have a long tradition of changing the electric guitar's inherent tone by experimenting, inventing, and developing new tones and timbres through effects. More specifically, effect pedals. I believe our continued open-mindedness has kept our instrument relevant throughout the many decades and proven just how limitless a musical chameleon it truly is.
There is also a parallel tradition, almost as long, of using guitar pedals in unintended ways on other musical material. This time, in honor of our all-things-pedal issue, I'm going to show you how to set up and use your existing pedals on other audio sources besides your guitar. Before we get too far into the woods and try to connect our pedals to and from our audio interface, I want to briefly address two subjects—"levels" and "balanced/unbalanced signal cables"—that are important to understand, so you'll get the best results.
Listed from weakest to strongest, there are four types of signal levels in the audio world: mic, instrument, line, and speaker level.
Mic level is the signal voltage generated by a microphone and is so weak, it requires using a preamplifier (preamp) to bring it up to line level.
Instrument level is the inherent signal output level (impedance varies) put out by an instrument, like the electric guitar or bass. It also requires a preamp to bring it up to line level.
Line level is the highest of the three levels but still needs a preamp and comes in two varieties: consumer (-10 dBV) and professional (+4 dBu). The latter is what your audio interface will boost everything up to before sending the signal to your monitor speakers.
Speaker level comes after all the signals (any of the previous three) are collectively boosted to line level and is then (post-amplification) output to your monitors. Because of the comparatively high voltage, this is why we use dedicated speaker cables and not instrument cables to connect the output of your interface to your monitors.
Now, let me quickly define the difference between balanced and unbalanced signal cables.
Fig. 1
• Unbalanced signal cables: The two most common are our standard, high impedance 1/4" TS (tip, sleeve) instrument cables and RCA cables [Fig.1].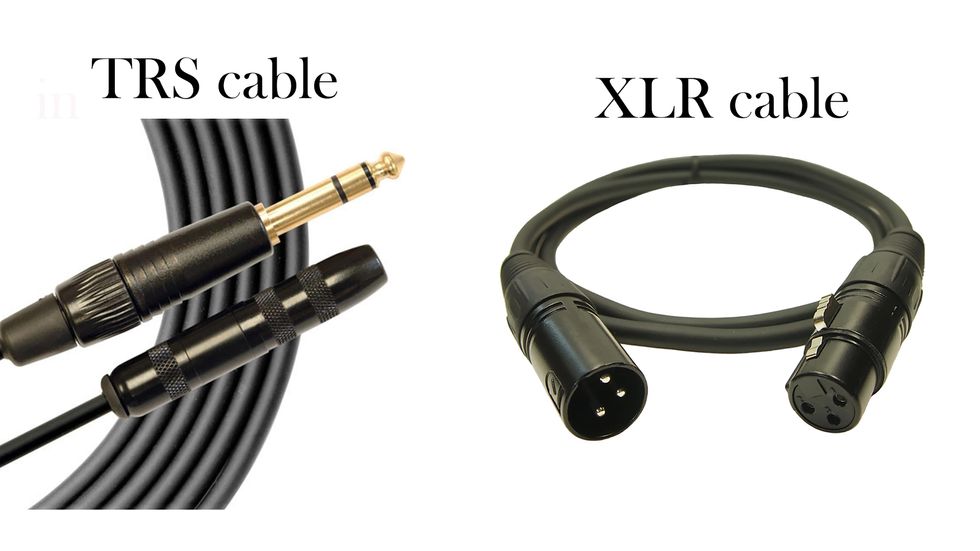 Fig. 2
• Balanced cables: The two most common are XLR cables and TRS 1/4" cables [Fig. 2].
Using this knowledge, we can get started making some musical mayhem and connecting our pedals.
Step 1: Connect a balanced XLR or 1/4" TRS cable from a line output of your audio interface and to the input of your reamp box. I highly recommend the Radial EXTC Effects Reamper Class A Guitar Effects Router ($329 street), which further offers the possibility of combining two different effects loops. The reason why we need a reamp box (there are many on the market) is because it will convert the balanced, line level output of your audio interface to an unbalanced, instrument levelsignal that guitar pedals are designed to accept. A good reamp box can also match the impedance of your particular instrument for even better signal fidelity.
Step 2: Connect a standard 1/4" instrument cable from the output of the reamp box to your pedal(s).
Fig. 3
Step 3: Connect another 1/4" instrument cable from the output of your last pedal to either your guitar amp and record your new tracks through your guitar amp, or plug into a regular DI box (which will convert the signal back to a balanced, line-level stage) and take that output to the input of your audio interface. If you have the Radial EXTC Effects reamper, you can do this all in one box [Fig. 3]!
Once this is set up, you can start sending any track you wish from your DAW/audio interface to all your pedals and go crazy! Soak your vocals in pitch-shifted, distorted reverb. Flange your synths and add delayed chorus. Or bit crush your drum tracks.
What I particularly love to do is play with various delay pedals' feedback amounts and delay times as I record and get all of those quirky pitch-shifted pings and pongs from adjusting those values on the fly. You can also consider adding distortion and harmonies to a vocal on key words or phrases within your song. Your imagination is the only limit!
Finally, I encourage you to drop me a line at recordingdojo@premierguitar.com if you have questions and requests for future topics to cover. Until next time, namaste!
Our much-loved former columnist Jeff Bober returns to explain how to check and reset the bias of your amp's output tubes—and delivers some potentially shocking warnings about a few common but dangerous techniques.
Hello again, Premier Guitar readers! It's your old bud Jeff here, author of the once popular Ask Amp Man column. Editorial Director Ted Drozdowski asked me if I would be interested in writing about bias, and, of course, I said, "Sure, I know a thing or two about that!" So here I am, temporarily returning to these pages. Now, let's get started.
What exactly is bias? Bias is prejudice in favor of or against … oh wait, wrong kind of bias. I think he wanted me to write about bias in a tube amplifier, which is far less polarizing.
Bias, as defined in the RCA Radiotron Designers Handbook, is "voltage applied to the grid [of a tube] to obtain a desired operating point." Well, that is the most basic explanation, but for the most part it is good enough and pertains to the majority of tube output stages in our favorite tube guitar amps.
Setting the bias adjustment controls to these listed voltages in no way guarantees that your amp is properly biased.
Besides "applying" a voltage to a vacuum tube, however, biasing can occur in another way as well. There are quite a few amplifiers, such as a Vox AC15 and AC30, any of my Budda and EAST designs, and even most of the early, low-wattage amplifiers of the tweed era that use what's known as a "cathode bias" design. This is where the current flowing through the tube (which attains the aforementioned "desired operating point") is not set by the voltage "applied" to the grid of the tube, but is instead set by the resistor in the cathode leg of the tube. It's a bit more complicated than that, but the result is an amplifier whose output stage is "self-biasing."
Most amplification devices, including transistors and even preamp tubes, need to be "biased" in order to perform properly, but this type of biasing is fixed in the design parameters of the circuit. In the case of the preamp tubes in your guitar amp, bias is based on the value of the cathode resistor, among other things. But that's enough design theory for today. Let's get back to the core task of biasing the output tubes in most guitar amplifiers.
First, the bias voltages you see listed on many schematics, such as 52V on a black-panel Fender Twin Reverb or 51V on a Marshall 100W Super Lead schematic, are merely approximations of the voltages that should be expected in that area of the circuit. Setting the bias adjustment controls to these listed voltages in no way guarantees that your amp is properly biased. Tube bias is also dependent on the high voltage (or B+) applied to the plate of the output tube, which can vary within tolerances of the transformers as well as in the AC line voltage fed to the amp. (This is why amps can sometimes sound better in one room or club than others.)
But even more important to understand is that tubes produced in different factories across the globe will bias up differently! What I mean by this is, if you properly bias a set of output tubes—let's say 6L6s made in Russia—and then you swap them out with a set made in China, in the same amplifier without changing the setting of the bias control, the end result will almost always be a different bias reading. This is why it's always best to have checked and reset the bias whenever output tubes are replaced. Now, how do we do that?
The Preferred Method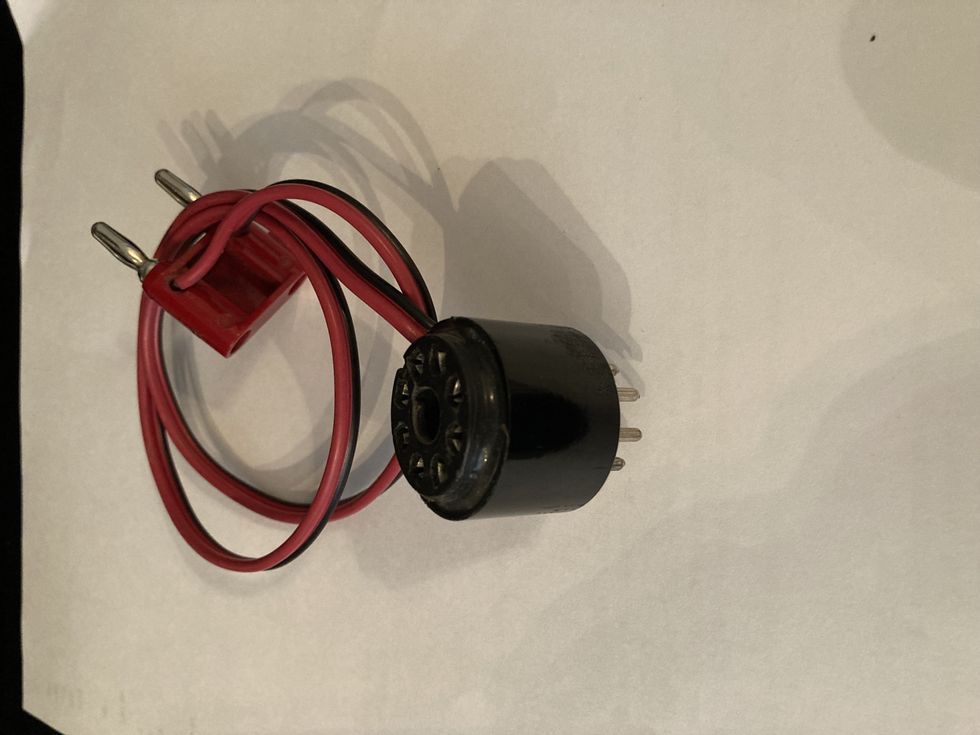 Fig. 1
There are several different ways to measure output-tube bias current at idle. The safest method is to use what is commonly called a bias probe (Fig. 1). This is a device that is inserted between an output tube and its socket. (I typically make my own bias probes, but if you simply search "bias probe" online, you'll find plenty to choose from. If you already own a multimeter, you can simply purchase the probes, but there are also options to purchase a full system with either a digital or analog meter, should you need it.) This device breaks the connection between the cathode (which is the metallic electrode from which electrons are emitted into the tube) of the tube and its ground connection, and inserts a small value resistor in between. It then allows the voltage across the resistor to be read. The resistor is typically 1 ohm and the resulting voltage drop across it is in millivolts (mV), so no chance of shock here. This provides a true and accurate measurement of the actual current flowing through one tube. Then, you set your bias and you're done!
But even more important to understand is that tubes produced in different factories across the globe will bias up differently!
Ah, but wait! How do you set your bias? Let's learn a bit more. Most tube amplifiers, if they are not cathode-biased designs, have some way to adjust the output-tube bias. One longstanding exception to this are most Mesa/Boogie amps. The bias voltage in these amps is not adjustable, which is why Mesa suggests only purchasing their tubes for their amps, because they are designed to fall within the acceptable bias range for their amps. This adds a certain degree of confidence for owner servicing, although, of course, it limits your options.
Let's take a look, however, at a typical Fender or Marshall bias control. Most older Fenders have a pot with a slot for a screwdriver mounted to the chassis in the area of the power or mains transformer, while most older Marshalls have their bias pot mounted on the circuit board. (You might want to go online to look at schematics for your amp to help you find it.) Either way, this is where you'll make your adjustment.
Fig. 2
To get started, you'll most likely need to pull the chassis and place it in a stable work environment. Insert the bias probe device between one of the tubes and the socket (Fig. 2). Make sure all the volume controls are set to zero, turn the amp on, and let the tubes warm up. It's also good to try to have a load on the speaker jack—whether a speaker or an appropriate resistor or load box. This is not 100 percent necessary for just setting the bias to a particular number, but sound checking is one of the ways I like to make the final adjustments, so being able to connect the speaker to the chassis while it's on the bench is certainly a necessity for me.
Now, where to set the numbers? There are certainly more than a few opinions floating around on the interwebs about what optimal bias settings are. Some engineering types will tout 50 percent maximum plate dissipation or 70 percent maximum dissipation, and while it may look good or make sense on paper, I've heard the result of guitar amplifiers designed by the book to optimal specifications … and to me they sound, well, less than optimal. It may work in the hi-fi world, where perfect sound reproduction is the goal, but guitar amplifiers are in the sound production business, so it's a bit different. (In the most basic terms, maximum plate dissipation is the amount of power the plate of the tube is designed to deliver.)
Different types of output tubes have their own acceptable range of bias current. There are so many variables at play that there is no "correct" number. The plate voltage in the amplifier, the output transformer's primary impedance, and the country of origin of a tube all factor into how it interacts with the voltage and output transformer to define what the optimal bias current will be. Below are the average ranges for some typical octal output tubes:
• 6L6: 25–35 mA
• EL34: 30–40 mA
• 6V6: 18–25 mA
• 6550: 35–45 mA
• KT66: 30–40 mA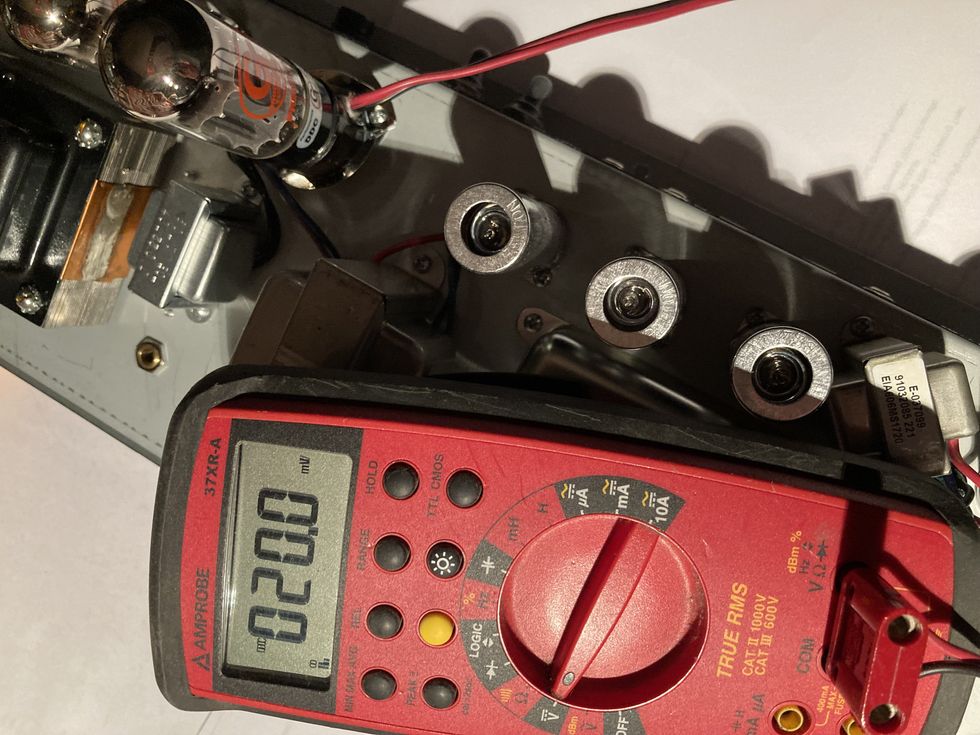 Fig. 3
These should be the ranges in which these tubes will perform and sound the best, and they can be accurately measured with a digital multimeter. The best way for you to decide what setting is best for you is a combination of the reading on the meter and your ears! Using the bias control, set the bias to somewhere in the ranges given above (Fig. 3) and play the amp. Note: Some amps will act funny and develop horrible noises (parasitic oscillations) when a bias probe is in place while the amp is being played. If this is the case, you'll need to remove the bias probe each time you play the amp.)
Move the setting a couple mA in one direction or the other and play again. Don't expect extreme changes; that's not what we're looking for. Listen for subtle differences. Is one setting a little more or less harsh? Is the bottom end too soft or flubby? Is the amp as clean as you want it? Sometimes these little subtleties are what make one amp sound and feel better than another!
Most older Fenders have a pot with a slot for a screwdriver mounted to the chassis in the area of the power or mains transformer, while most older Marshalls have their bias pot mounted on the circuit board.
Also, you should be doing this at the volume you would typically use onstage or in the studio. You may not notice much change if your volume is at 1, but you want to optimize the amp for the way you will be using it.
Eyes Wide Open
Fig. 4
Knowing the ballpark bias numbers is good, and adding your ears is even better, but I also like to see what I'm hearing, so I always incorporate an oscilloscope when I'm setting the bias on an amp. I mentioned crossover distortion above, and when it comes to setting up amps for today's pedal-hungry players, I find that setting the bias to where there is just a hint of crossover distortion at full output is what works best. Fig. 4 is what that looks like on the oscilloscope. This keeps the amp very clean and makes most pedal users happy.
By the way, here's a mini primer in crossover distortion. In a push-pull output stage, which is found in most amplifiers with two or more output tubes, each tube (or pair of tubes) is responsible for amplifying at least half of the audio signal. If the tubes are not biased properly, one tube (or pair) will stop amplifying before the other tube (or pair) start amplifying. This will create crossover distortion. Proper biasing will allow the two halves to interact correctly. It's like a nice firm handshake between both halves.
Beware These Old-School Methods
Let's look at a couple popular methods that I do not recommend, but are worth discussing because they are, nonetheless, common. The first is: With the amp off and output tubes removed, use a multimeter to measure the resistance of each half of the primary side of the output transformer. This would typically be from the center tap to each side of the primary winding.
In the most basic terms, a transformer is a bunch of wire wound around a steel core. On the primary side of an output transformer, the center tap is the electrical "middle" of this long length of wire. This is typically where the high voltage is applied. The ends of this length of wire are connected to the plates of the tube, thereby applying the high voltage to the tubes. As an example, typically in most Fender amps, the center tap is red, and the ends of the primary windings are blue and brown.
Fig. 5
Next, install the output tubes, turn the amp on, and measure the voltage drop across each half of the output transformer with the amp at idle in operational mode (Fig. 5). Voltage divided by resistance will give you the DC current through the tubes. For example, 1.17V / 15.8R = 0.074, or 74 mA. The numbers I used here were actual measurements in one side (one half) of a 100W amp using four output tubes (two per side). So, divide the 74 mA by two, and you get an average of 37 mA per tube.
Next, you can try the shunt method. This requires a multimeter that can read DC current in milliamps (mA). Connect one meter lead to the center tap of the output transformer and the other lead to the output transformer's primary side. Typically, in most amps using octal tubes (6L6, 6V6, EL34, 6550, KT88, etc.), this will be pin 3 on any output tube socket. Turn the amp on and, in operating mode at idle (i.e., volume off), measure the current across that half of the output transformer. For example, if your measurement is 72 mA and it's an amp that utilizes four output tubes, the current measured is for two of those tubes, so once again divide by two to arrive at 36 mA per tube.
I've heard the result of guitar amplifiers designed by the book to optimal specifications … and to me they sound, well, less than optimal.
Both of those methods are very old school and still in practice, but I wouldn't use either for two reasons: 1) I don't believe they're very accurate, and 2) they're dangerous! You're probing around inside the high voltage area of the amp, and one slip will either take out a fuse, take out a tube, take out your meter, or, worse case, let you know exactly what 450V DC feels like! So, although these methods are used, let's just say no here.
Some Personal Insights
I'd also like to add a little personal experience to this procedure, based on decades in the biz. Back in the day, when I began servicing and modifying gear, guitarists were regularly playing 50- and 100-watt amps. (Everybody looked at me like I had three heads when I came out with the 18-watt Budda Twinmaster, but that's a whole other story.) There were some overdrive and distortion pedals around (now all vintage), but certainly not the pedal proliferation we have now, so players were pretty much guitar, cable, amp … go! In these situations, I would most times run the tubes with a pretty hot bias so the amp would be fatter and overdrive a bit earlier and easier, as a decent percentage of the overdrive was developed by pushing the output tubes. As time went on, output attenuators became more popular, so amps could be pushed hard, but at more manageable volume levels. That was still a good scenario for a hotter bias of the output tubes in high-power amps. Eventually, players started playing lower-power amps, so they could open them up and get great output-tube distortion at lesser volumes. The problem is that hotter-biased low-power amps tend to get mushy and have less definition when pushed hard, so a more moderate bias setting is preferred here—just enough so there is no crossover distortion. Move up to today's scenario and you'll find that almost all overdrive and/or distortion is typically coming from a pedal. In that case, an amp is nothing more than an amplification device for pedals.
So, that's what I've learned about tube-biasing from my decades of experience. But the bottom line is, there is no absolute right or wrong settings when it comes to biasing an amp. Keep your ears open and go with what sounds best to you.
Photo by Ebru Yildiz
On their new album, In Between Thoughts… A New World, the acoustic duo goes half-electric, plumbs programmed beats, adds slide guitar, and explores nondualism—following a creative path that opened due to the Covid shutdown.
Grammy Award-winning guitar virtuosi Rodrigo y Gabriela started recording what would become their latest album, In Between Thoughts… A New World, in February 2021. At the time, crafting a new album wasn't the catalyst for making new music. They really just wanted to write, jam, and record without an agenda while locked down during the pandemic.
"It was just something to kill time," admits Gabriela Quintero, one half of the Mexican guitar duo. "Just to be in the moment and not to think too much about it, even though here in Zihuatanejo it was more like the tropical version of the apocalypse [laughs]."
The other half of the duo, Rodrigo Sánchez, concurs that the pandemic presented a unique set of circumstances that allowed them to be creative without the added pressure of making a record, going on tour, or meeting a deadline. "Musically speaking, it was a very unusual process for us," he says. "We weren't really thinking about recording a new Rod and Gab record, and we didn't really know what was going to happen. It was a really detailed process we never had done before, because we never had this amount of time to record an album."
Rodrigo y Gabriela - True Nature (Official Audio)
"True Nature" is off Rodrigo y Gabriela's first album in 4 years. The album 'In Between Thoughts...A New World' is available now on limited edition vinyl, CD...

Guided by spiritual practices like Buddhism and nondualism, Rodrigo y Gabriela's presence-of-mind approach to the guitar has led them on a fantastic, fulfilling journey from their humble heavy metal beginnings in Mexico City, to busking on the streets of Ireland, to performing in front of tens of thousands of people on the world's biggest stages, opening for Muse and others.

Formed in 1998 out of the ashes of their heavy metal band, Tierra Ácida, Rodrigo y Gabriela left their hometown of Mexico City to pursue their musical ambitions in Dublin, Ireland, where they first began busking with their acoustic guitars on tourist-heavy Grafton Street, mixing elements of flamenco, rock, and heavy metal. In 2002, they released re-Foc, showcasing their virtuosity on guitar and their unique fusion of musical styles—even incorporating elements of the Irish folk music they had immersed themselves in while living abroad. In 2006, the duo released Rodrigo y Gabriela, a mix of original compositions and covers of classic songs by early influences Led Zeppelin and Metallica. The album was a commercial success, reaching the top of the Irish album charts and earning them a nomination for the Mercury Prize, awarded for the best album released in the United Kingdom by a British or Irish act. In 2008, they released 11:11, which featured 11 original compositions—each dedicated to a different musician who had influenced their music. In January 2020, Mettavolution, their fifth album, won Best Contemporary Instrumental Album at the Grammy Awards, cementing Rodrigo y Gabriela's status as one of the most innovative and exciting guitar duos in the world.
"Gab has seven piezos inside her guitar, and everything is very tight. And I have five piezos."—Rodrigo Sánchez
Gabriela Quintero's Gear
Lead guitar provides the flash, but Gabriela Quintero's right hand is what keeps the party jumping, with a driving, uncommon approach drawn more from traditional Irish music than flamenco.
​Photo by Jim Bennett
Guitars
Yamaha NCX5 Signature Model
Effects
Boss FV-500L Volume Pedal
Boss OC-3 Super Octave
Boss TU-3S Chromatic Tuner
Dunlop Cry Baby Standard Wah
Dunlop DVP4 Volume (X) Mini Pedal
Lehle P-Split III Box
Strings
D'Addario Pro-Arté EJ45 Normal Tension
Self-produced by Rodrigo y Gabriela at their studio in the resort city of Ixtapa, Mexico, In Between Thoughts… A New World reasserts their seemingly innate ability for cultivating a musical repertoire that captures the zeitgeist. And while it may have begun without intention, that doesn't mean In Between Thoughts lacks direction. Like its predecessors, there's a familiar and explosive display of virtuosic guitar craft, including all of the hallmarks one would expect from Rodrigo y Gabriela. The powerful, percussive playing of Quintero and the deft melodicism of Sánchez remain the duo's calling cards. But new, unexpected sonic elements abound as well, including the reverb-drenched slide guitar on "Egoland," the energetic percussion on "Descending to Nowhere," the kinetic electronic beats on "The Ride of the Mind," the passionately chanted vocals of "Broken Rage," and the dreamy mystique of the robotic vocal effects embedded within "Finding Myself Leads Me to You."
In fall 2020, while recovering from Covid, Sánchez stumbled upon an online video on nondualism—the notion that there is a "single, infinite, and indivisible reality, whose nature is pure consciousness, from which all objects and selves derive their apparently independent existence," as defined by author/teacher Rupert Spira. "Advaita Vedanta, or nonduality, is often called the direct path—accepting what is," explains Sánchez. "We're not saying that everything in this structure of the body/mind we live in is right. It is just what is, and we cannot really argue with that."
"The beauty about music is that it's always expanding."—Gabriela Quintero
During the early stages of the pandemic, Rodrigo y Gabriela did what many other artists did: They turned to social media, posting short anecdotal performances from their studio. But when they finally got bored of that, they started to write music based on the concept of nondualism without really thinking it would become their new album. "It was just a project," emphasizes Sánchez. "We were just here in the studio doing things that we would never dofor Rod and Gab. I started to work with electronics, I left my acoustic guitar [at home] and just took my electric guitars [into the studio]. We started writing the music at the same time as we were writing a story based on this philosophy that we were so much attracted to. If we had known that it was going to become the Rod and Gab album, we probably would've limited ourselves in terms of not using electronics, or not using too much electric guitar. But we didn't really think that way. That's how the album came about."
Their new album began as a pandemic songwriting and recording project, and took shape almost by accident as they accumulated tracks and tunes.
As for Quintero, she took a slightly more pragmatic approach to the endeavor, particularly regarding nondualism. "I think me and Rod, we share a lot of things that we like, and we feel attracted to, but we process differently," she explains. "That's where the nondualism becomes dual [laughs]. I discovered these teachings through a book called The Power of Now [by Eckhart Tolle]. To me, that book was incredibly insightful and practical, and such a 'no rules' type of thing. I tried to meditate but there was too much discipline with some of the spiritual teachings. I remember when Rod was into Buddhism, and he was meditating a lot of hours a day and learning some mantras that were very strict. And for me, it was too much of a discipline. When I discovered The Power of Now, it was like, 'Oh great, you don't have to basically do anything [laughs].' And then, when the pandemic came in and Rod discovered these videos about nondualism, the way he presented them to me sounded super confusing and too much like nihilism. So, we were constantly having friendly debates here in the studio. And I was going, 'This is too crazy.' It felt to me that it was denying this existence. But then we discovered these are the same teachings as The Power of Now, but in different words, in a different way. Then we stopped the debates."
Quintero, very late into their writing and recording process, asked Sánchez if they were, in fact, writing their next record. "And then she asked, 'When are we going to record it?'" says Sánchez. "We'd been recording [what we were writing] from day one with quality, and so I went back to the studio that afternoon and I checked all the recordings and all the levels, and we had produced the album already. We had the record."
"We love flamenco. My best friend in that scene, Vicente Amigo, is one of the best. But no, we never play flamenco."—Rodrigo Sánchez
As for how they record, Sánchez says it happens all sorts of ways—sometimes tracking together, sometimes individually. Sánchez says the acoustic guitars get picked up by German-made Schoeps MK 4 mics, recommended to him by his close friend, Spanish guitar maestro Vicente Amigo. They also adopted some of what he calls his "old-school metal techniques" for recording. "Knowing that we were going to have orchestra and electronics and all that, I used room mics for Gabs—and instead of just copying her track, I have her record two guitars exactly the same," he explains, noting he did not use the copy/paste shortcut many musicians use nowadays. "She would do one guitar rhythm and then she would double that to make it sound bigger. Overdubbing the same rhythms and the same parts actually give her much more presence on top of the electronics. And she's so good at it."
Due in large part to Quintero's right-hand technique, which Sánchez recorded so well on In Between Thoughts, "heavy metal flamenco" is a label often applied to the duo. "Ah, the 'F' word," laughs Sánchez. "We love flamenco. My best friend in that scene, Vicente Amigo, is one of the best. But no, we never play flamenco. I understand some people are confused because of Gab's rasgueado[gesture to invoke her right-hand technique], but actually she's not doing the flamenco technique at all. She learned most of these techniques from an Irish bodhrán player, Robbie Harris."
Rodrigo Sánchez's Gear
Rodrigo Sánchez wears his musical roots on his chest,
in a t-shirt proclaiming his fan status for the Bay Area metal band Testament.
Photo by Dan Locke/Frank White Photo Agency
Guitars
Yamaha NTX5 Signature Model
Fender Jaguar
Amps
Fractal Audio Axe-Fx II XL+
Marshall JCM900 4100 Hi Gain Dual Reverb
Effects
Boss DD-3 Digital Delay
Boss FV-500L Volume Pedal
Boss OC-3 Super Octave
Ibanez WH10 V3 Wah Pedal
Lehle P-Split III DI Box
MXR M133 Micro Amp
MXR M234 Analog Chorus
One Control Minimal Series AB Box
TC Electronic Ditto X2 Looper
Truetone 1 Spot Pro CS7 Power Supply
TWA WR-03 Wah Rocker
Strings & Picks
D'Addario EXL115 (.011–.049
D'Addario Pro-Arté EJ46 Hard Tension
Jim Dunlop Jazz III Black Stiffo
The bodhrán is a frame drum used in traditional Irish music that Quintero learned about when they moved to Ireland. "At the time, I was trying to imagine how flamenco players played their rhythms," she explains. "I couldn't figure it out, because back then there was not YouTube—there was nothing. Nowadays, you can go and say, 'How to play rasgueado flamenco, how to play rhumba,' and you'll find something, but not back then. And I always got it wrong. And then I discovered the bodhrán."
In the old days, the bodhrán was played with hands, not with a stick, as is often seen presently, and she says the Irish kept telling her she actually exhibited the movements of a bodhrán player, but on guitar. "They encouraged me to do certain rhythms. So, just watching them, it was easy to emulate a lot of the movements—it just came organically. The beauty about music is that it's always expanding."
"If I came back to a solo bit or something, there was not that beat—people were not jumping anymore, and it was like, 'Ah, we're losing the audience,' so I tried to become more the drummer of the band."—Gabriela Quintero
After weaning his guitar craft on West Coast thrash metal bands Testament, Megadeth, and Slayer, and New Yorkers Anthrax, Sánchez's nylon-string style was originally grounded in a lot of the palm-muting he carried over from that style of electric playing. "First of all, I had to translate my palm muting [from electric to nylon string]," he explains. "Then, I used a little bit more of Al Di Meola's technique, but he was playing steel-strings, right? So, I was like, 'Okay, how can I translate this into nylon?' And then I started to listen to Strunz & Farah, and they are incredible. I listened to the way they played, especially Jorge Strunz, who is so clean and so fast. And I started to learn some of his licks here and there, so I was in that zone already."
They want a whole lotta folk! Rodrigo y Gabriela get down on the Newport Folk Festival's Harbor Stage in 2014.
Photo by Tim Bugbee/Tinnitus Photography
It's worth noting that the nylon-string guitars Rodrigo y Gabriela play live are the result of years of practical research and application in collaboration with Yamaha and are not models or designs your average nylon-string player would use, nor are they commercially available. "It's not like any nylon-string guitar can just go and play in the middle of a festival of 40,000 people," explains Sánchez. Originally, they were using guitars made by Irish luthier Frank Tate, which they still use at home and in the studio. But the guitars they now use live were specially designed over a 14-year period by Yamaha's Japan-based Custom Shop for arena-concert environments. "These guitars have a very special system for us to sound the way they sound live," he says. "Gab has seven piezos inside her guitar, and everything is very tight. And I have five piezos, which is really important for those kinds of shows."
Within the duo, both players are very melodic and very rhythmical, but Quintero did gravitate to doing more of the beats, simply out of necessity, once they started playing bigger shows. "At the beginning when we used to play together, we swapped all the time—solos, arpeggios, and all of this," she explains. "Eventually, when we started playing rock festivals, because I was the one who played the chords and the beat, if I came back to a solo bit or something, there was not that beat—people were not jumping anymore, and it was like, 'Ah, we're losing the audience,' so I tried to become more the drummer of the band."
Jumping from a metal band in Mexico City to an acoustic guitar duo busking the streets of Ireland seems quite serendipitous and grounded in the kind of ideology they eventually discovered via nondualism. Circling back to Quintero's The Power of Now-influenced, pragmatic approach, she jokes that the decision was really quite simple. "Eventually, we were so internationally non-famous and miserable, we decided we're going to quit the band," she chuckles. "But we're not going to quit music. We wanted to travel the world. So, our new goal was to travel and play guitar."
YouTube It
While this live performance doesn't capture the duo's current blend of acoustic and electric sounds, it does afford a close-up look at their playing technique. In particular, check out Gabriela's right-hand approach, which is based on the traditional Irish instrument called the bodhrán.