Photo by Richie Sambora
For Rock Candy, Orianthi set out to write and record a song a day. Leaning into spontaneity to spark creativity, the result is as stylistically diverse as her impressive résumé, which includes performing with Steve Vai, Carlos Santana, Alice Cooper, Michael Jackson, and Prince.
As both a solo artist of the highest order and a session ace who has worked with the music world's elite, Orianthi has succeeded not only because of her immense talent, but also because she knows how to get things done. When Orianthi (Penny Panagaris) was offered a guitarist role on the Alice Cooper tour, she learned 25 of his songs (many quite difficult) in a week—all during a time when she was in the middle of recording her own album.
After a performance at the 2009 Grammy awards with Carrie Underwood, she was scouted by Michael Jackson's musical director, Michael Bearden, who contacted her on Myspace to audition for Jackson's This Is It tour (which sadly never materialized due to Jackson's untimely death). Orianthi got the call while she was in the studio with legendary songwriter Diane Warren, finishing up one last song for her album, Believe. By the next day, she arrived at the audition ready to play Jackson's hits, like "Wanna Be Startin' Somethin'," "Dirty Diana," and "Beat It." The latter song featured the late Eddie Van Halen's virtuosic solo, which she had to play onstage with the King of Pop at the audition. Talk about high pressure! That solo is hard enough to scuffle through in the comfort of your bedroom … imagine doing it while standing next to the greatest entertainer of all time, in a room full of scrutinizing eyes atop folded arms? And she got the gig!
"From a young age, I've been thrown into what people would say is like going from zero to 100 situations," says Orianthi, who opened up for Steve Vai at only 15 (and later wrote and recorded "Highly Strung" with him). "And you go, 'Okay, I've got to do this,' and you just think positively and just have that enthusiasm. There's no time or space for fear or doubt. I think that's the best place to be."
Orianthi - "Light It Up" - Official Music Video
While most artists are crippled by a double dose of writer's block and the constant second-guessing of ideas, Orianthi's latest release, Rock Candy, was written and recorded at warp speed (some songs were written in about 10 minutes). Producer Jacob Bunton joined Orianthi in the studio. "We got together and decided to make Rock Candy in 14 or 15 days. It was this project that we put upon ourselves to do it that way and we worked well under pressure," Orianthi says. "It was pretty much a song a day, recorded each day, and then after I left, he would stay up late adding things and taking away things. We were both like workabees for that amount of time. We wrote the song, I laid down my vocals, put down my guitar and all that kind of stuff, on that day. He would build the basic tracks. After we did all of that, we got the band to play on it, like live drums and whatnot."
"You go, 'Okay, I've got to do this,' and you just think positively and just have that enthusiasm. There's no time or space for fear or doubt."

This isn't to say that Orianthi always just breezes through everything. In the past, she's gotten caught up in that vicious cycle of obsessively laboring over material that, by all accounts, was already fine. "Sometimes when you force things, it doesn't happen. Sometimes when you overthink, it destroys things," she reveals, "because of your surroundings, too, you're surrounded by people that are second guessing or adding to your paranoia. Sometimes it's great when it's constructive criticism and they make it better. Other times people don't have the same idea, or the same energy feel, and that interferes. Sometimes it's better to keep less cooks in the kitchen. Otherwise, it can turn into a five- or six-year project, or a two-year project, or a never-ending project. Or it will never get done, never get released. I've only had that happen a few times, but at the end of the day, the best records that I've made and had fun with were the ones I did really fast. When you make music for the moment and for yourself, you can experiment a lot."

Orianthi fingerpicks her signature PRS Private Stock Custom 24 at the Coach House in San Juan Capistrano, California, on January 26, 2023.
Photo by Brad Elligood
Recorded at the iconic Sunset Sound studio in Hollywood, Rock Candy is Orianthi's most stylistically diverse effort to date. While there are many moments of heavy guitar, particularly on tracks like "Light It Up," with its infectious boogie riff, and "Getting to Me," "Fire Together," and the album closer, "Illuminate, Pt. II," where Orianthi's guitar solos sizzle, the album offers more than just fretboard pyrotechnics. "That's why it's called Rock Candy," says Orianthi. "Everyone thought I covered the Sammy Hagar song, which I love, mind you—it's a great song. But it really sums up the whole record. There's a little bit of rock, a little bit of pop, it's kind of sugar-coated, then there's like really heavy and weird and edgy. It's a vibe that we went for. We wanted something that was in the moment and not overthought. Keeping that childlike outlook really helped sometimes."
Orianthi was raised in a household where music was a religion. Her dad, a gigging guitarist, reveled in a mix of rock and blues with Hendrix, Clapton, and Santana in heavy rotation, while her mom put on the Top 40 every Sunday morning. Orianthi is often classified as a rock guitarist, but she's also worked with a lot of pop artists from Jason Derulo to Anastacia, and that pop influence seeped heavily into this new album. Songs like "Where Did Your Heart Go" have a distinct commercial feel with Orianthi's vocals belting out honest, heart-on-sleeve lyrical content inspired from diary entries, which were written during some trying times in her personal life. "I'm a fan of a great pop song. I started as a songwriter listening [to everyone from] Elvis Presley to Roy Orbison to the Beatles. The Beatles are incredible songwriters, but they wrote pop songs, too, you know? That's where my love of just writing came from. I was like 6 years old, listening to that and my mom's pop collection," she says.
​Orianthi's Gear
For Orianthi's signature Gibson SJ-200 acoustic, she requested the neck profile from an ES-345 and designed the custom pickup with LR Baggs.
Photo by Richie Sambora
Guitars

PRS Private Stock Custom 24 Blooming Lotus Glow Signature Model
Gibson SJ-200 Signature Model
1963 Fender Stratocaster
Amps
Effects

Boss Delay
Nexi Octaver Signature Model
Strings and Picks
Ernie Ball .010–.056
Dunlop 1.0 mm
Which begs the question: If the powers that be elected to transform and market Orianthi as a pop star, say, in the Billie Eilish mold, would she forsake the guitar? "No, no [laughs]. I can't leave my guitar alone. Guitar is always going to be part of the deal. That's for sure. For myself right now, where I'm moving into, it's a different sort of journey and who knows what could happen in the future. My heart's open, my mind's open all the time, you know? Having that single, 'According to You,' that was a multi-platinum pop hit for me in 2010 that reached around the world. That was awesome to have that success with a pop song. And then I go, 'Okay, that was cool and I've done that, but moving forward….'"
Always looking for new inspiration, Orianthi has recently been exploring the sounds of jazz artists. "I've been listening to Coltrane and stuff like that that's out of the box, because if you try to play those melodies on guitar, it's weird and it's cool," she says. "You listen to any Hendrix live performance. It's not perfect, it's never completely perfect, but it is perfect because it takes you on this colorful journey. I find it to be like light energy, where you're not completely grounded and thinking of stuff you've done before. It's just like moving forward. For me, as a guitar player, I want every performance to be better in the sense of the choice of notes and the melodies I'm coming up with. More out-of-the-box stuff, that's important to me."
"My dad took me to a Santana show and I was like, 'That's it! I'm giving up classical, I'm done with it.' He played 'Europa' and those opening notes just hit me like lightning."
Tracks like "Living is Like Dying Without You" feature a recent addition to Orianthi's gear arsenal—her new signature Gibson SJ-200 acoustic. She was drawn to the J-200 because of its connection to Elvis and Johnny Cash. "I love the sound of a J-200 because it's like a grand piano, it fills the room. I had a choice of other guitars when I went to Montana to create my model. Like, 'Why would you choose a J-200? It's massive.' But why wouldn't I? It sounds so good," says Orianthi, who loved the guitar but had some reservations about its boat-sized neck. Later, at the Gibson showroom in Hollywood, she picked up a guitar that turned out to be the ES-345 that Bradley Cooper used in A Star is Born. After trying out this easy-to-play instrument, she requested an unexpected modification from Gibson for her signature axe.
"I was like, 'Could we put an electric guitar neck on it?'," she recalls. "They were like, 'Yeah, we can do that. This is probably the first hybrid acoustic-electric we've done at Gibson.' I'm like, 'Why not, let's do something different.'" Gibson mated the neck from an ES-345 to the SJ-200, and the result is a rich-sounding acoustic with the playability of an electric.
A lot of back-and-forth also took place in designing the custom pickup for her signature SJ-200. "I wanted to have a guitar where if you had a DI, the soundman could be passed out, high, or drunk and you would still sound good," says Orianthi. "I modified that with LR Baggs, so there's more midrange and compression. We actually adjusted the sound of the pickup by going back and forth with an LR Baggs acoustic pedal, over FaceTime and Zoom saying, 'Modify this or modify that.' That's how the whole pickup system was created."
For electric guitars, Orianthi's signature PRS is her main instrument. The meticulously crafted instrument carries a steep price tag, retailing around $11,700. But a more accessible version may be on the horizon soon. "We're in talks right now. Probably an SE model coming of that one," reveals Orianthi. "Because a lot of people wanted to buy it and they couldn't afford it. It's very expensive, but it's very well made. That is a dream guitar that was brought to life by the PRS team. Paul has really dialed it in. He picks the right woods, and everything is quality. They're like Porsches [laughs], you know what I mean?"
When it comes to electric guitars, Orianthi sticks to her "dream guitar," her PRS Private Stock Custom 24 Blooming Lotus Glow signature model. "They're like Porsches [laughs]," she says.
Photo by Richie Sambora
For both her acoustic and electric playing, an interesting aspect of Orianthi's style is that she often eschews picks, opting instead to use her right-hand fingers to articulate single-note lines. This technique has its origins in Orianthi's formative years.
"I started classical at TAFE University when I was 10 and that was really boring, but my dad was like, 'You should probably do this, and learn theory.' I learned theory and got past two or three, I think, and passed really well, but I got major headaches from that stuff. My teacher was weird, and it was just boring. I didn't like it very much at all. Then my dad took me to a Santana show and I was like, 'That's it! I'm giving up classical, I'm done with it.' He played 'Europa' and those opening notes just hit me like lightning and I went, 'There's something there.' I learned probably every Santana song. I watched Carlos play a lot; he doesn't always use a pick. Especially sometimes when you want the note to sound a little sweeter and have less attack. But then to be honest with you, I lose my picks so much that I learned to play without a pick because there's like this vortex of socks and guitar picks somewhere, all of mine that go missing. I get bowls of guitar picks and they just go. I don't know if my cat eats them [laughs]."
Orianthi's New Album "Rock Candy" is out now!!!
In a pared-down duo situation, Orianthi gets sweet sounds using her pick-hand fingers to articulate melodies on a PRS hollowbody.
PRS himself talks about learning from Ted McCarty, building guitars for the stars, elbowing the competition, his distinctive headstock design, and more.
Paul Reed Smith could be gloating. At a time when other majors have made layoffs or are coming down from the lockdown-era sales buzz, the company the luthier founded literally with his own hands in 1985 has become a $100-million business. PRS Guitars' $849 SE Silver Sky—a 6-stringed Clydesdale—was this year's top seller on Reverb. Recently, the Stevensville, Maryland-based operation introduced its debut pedals, plus a limited-run Robben Ford signature axe that's a Rolls-Royce with strings. And a raft of new instruments are already in the wings for 2023.
Instead, at an early November party Smith threw at Nashville's Soundcheck rehearsal complex during CMA week, he reflected humility. Smith addressed the roomful of players, emotionally recalling the 2015 CMA Awards, where the count of PRS instruments onstage was literally neck-and-neck with the population of Fenders and Gibsons for the first time. That ceremony was an ignition point for greater success as well as an affirmation for the guitars that bear his name.
"We don't want to be a brand," he told the crowd. "We want to be guitar makers. Country guitarists really helped take us to another level. I am truly grateful."
"We didn't have heaters and we were wearing winter coats inside, because if you opened the door for a delivery, it got to be 30 degrees in there."
Besides his passion for pursing all aspects of what goes into creating guitars, that humility—sometimes inflicted upon him—has played a role in his success. Smith found his calling while at St. Mary's College, at the opposite end of the state from his native Bowie, Maryland. Lacking a guitar and the cash to buy one, he persuaded a music teacher to let him build a guitar for credit. He got an A, of course. He also dropped out to play and repair guitars, opening a shop in a reputedly haunted garret in Annapolis.
"As a repairman working on every conceivable type of guitar, I became convinced that vintage instruments were desirable not because they had improved with age, but because they had been built differently from current models," Smith relates. "The reason some of the electrics from the '50s and early '60s felt and sounded so good was that a great attention to detail went into the manufacturing process, and that the manufacturers had a real sense for the subtle points."
Racked and ready: Four decks of PRS guitar necks wait for their final destinations at the company's Stevensville, Maryland, guitar-building location.
Pondering how to reintroduce these characteristics in the instruments he wanted to build, Smith hit upon the idea of contacting Ted McCarty, who was president of Gibson from 1950 to 1966—the golden era of electric guitar making. "I would sit at the shop, and I was afraid to call him," Smith says. "We didn't have heaters and we were wearing winter coats inside, because if you opened the door for a delivery, it got to be 30 degrees in there. So, Clay Evans [a friend and, later, early PRS executive] and I are wearing our coats, and Clay's saying 'Call him! Just call him!' And I'm like, 'I can't....' But I called him and explained who I was and what I did, and he asked, 'Would you be willing to come visit?' So, we picked a date, and I went.
"The first time I went, he got very, very upset at the end of the interview. It was about three hours. And I said, 'What's wrong?' He goes, 'Nobody's asked me these questions in 30 years. Nobody's asked me how to glue the fingerboard on, what glue we used to glue the frets in…. All they want to know is how to get rich quick. 'Where can I find a Les Paul? Where can I find a Flying V? Where can I find an Explorer?' Nobody's asked me these guitar-making questions, and this is how I made my living.'
"I thought it was beautiful," Smith continues. "I just kept coming back and coming back. I was very grateful for his attention, and it ended up being a grandfather relationship. I sang to him on his deathbed, with a guitar." And, of course, Smith also paid tribute to his historic mentor with PRS' vintage-informed McCarty series.
Over the decades, Smith and his team have made guitars for a coterie of world-class players that includes John McLaughlin (including a 6- and 12-string doubleneck), David Grissom, Nancy Wilson, Mark Tremonti, Jimmy Herring, Mark Lettieri, and, of course, Carlos Santana.
"What Robben Ford wanted and what David Grissom wants is that every one of those models we ship is a his-caliber instrument. He doesn't want just the couple we tweak for him and then put his name on a bunch of others."
"The first guitar I made for Carlos Santana changed my life," Smith offers. "At first, he didn't see me as a guitar maker. He made me earn his respect, which I honor. He said the first instruments I gave him were 'accidents of God.' He thought it was like somebody wrote a hit song, but it was almost an accident—and he didn't see me as a repetitive hit writer. He literally said, 'Okay, it's an act of God, can you make me another one?' Then, after the fifth instrument, which was a doubleneck, he called me up and said, 'Okay, you're a guitar maker.' That was tremendous. Every Christmas he would call and thank me about the sound coming out of his guitar. He thought of it as a big, male saxophone tone, and he adored it."
So, what does a world-class musician demand in a guitar? "If you look at guitars in general as a line, and about four-fifths of the way along that line you draw a vertical line through it, what's beyond that graduates from being a guitar to a musical instrument," Smith says. "They want musical instruments. What Robben Ford wanted and what David Grissom wants is that every one of those models we ship is a his-caliber instrument.
Initial sanding happens after the overall body shape, electronics cavities, and other cuts are made.
He doesn't want just the couple we tweak for him and then put his name on a bunch of others. Carlos Santana wants a guitar that he can take out of the factory, put in the limo, go to the gig, pull it out, and play it. And by the way, I've watched him do that. It's a little scary to have him play to 15,000 people with a guitar that's only been played about a minute-and-a-quarter its entire life. David Grissom does not take a guitar to clinics. He takes ones off the wall at the store to hold my hands to the fire. Carlos calls me constantly and has requests to make 'em better. David wants them better. He just got one that has a hollow, single f-hole in it, and he's losing his noodles over it."
It's been years since Smith has built a guitar himself. "I have a bench where I repair audio gear, and I'm my wife's furniture repair person, but that's it," he says. Nonetheless, he is a regular presence on the PRS factory floor, checking the progress on models in development, eyeballing the wood inventory, checking out pickups, offering suggestions, and evaluating as he formulates plans for the company's future. "It's almost a soothsayer job," he offers. "It's like having a crystal ball, but you gotta do it from experience, with your ear to the tracks."
A high-quality instrument starts with good tonewood, and the factory keeps an abundant inventory for both necks and bodies.
Part of that is trying to rout the competition, which he obviously enjoys. At the Nashville party, Smith recounted a story about paying top dollar for a Klon Centaur, and then putting it through its paces. Pleasing at it was, he felt there were shortfalls in tone and control, so he decided to try to beat it. The result is PRS' Horsemeat Transparent Overdrive (get it?), but his company's engineers took it a step further, also designing the Mary Cries Optical Compressor and the Wind Through the Trees Analog Flanger, which all debuted in September. Nonetheless, Smith's goal was not to expand into pedal making, but rather to lure players who've avoided PRS. "I've actually heard comments like, 'I like these pedals, maybe I'll look at their guitars again,'" he says.
Earlier last year, he took on the template, working-player's Stratocaster with the release of the SE Silver Sky, a low-cost, high-performance version of PRS' John Mayer signature model. When I mention the guitar, his immediate response is, "How about those pickups?" He then related that he worked with his suppliers in Indonesia, where the guitar is built, for two years on the remarkably wide-ranged pickups. "Initially, they weren't right, and we didn't have direct control over their creation, like we do with models we build here, but the pickups still had to lay in exactly the right place sonically. When John played 'em, he thought they were the best overseas-made single-coils he'd ever heard, and he signed off on them literally that second."
"The first guitar I made for Carlos Santana changed my life," Smith offers. "At first, he didn't see me as a guitar maker. He made me earn his respect."
Although much has changed over the decades at PRS, the company's distinctive three-and-three headstocks have remained unchanged since the early '80s—despite being a turn-off for some trad-minded players. Smith explains why: "The design was half practical and half reflective of the front curve of the guitar. It's like a Dan Armstrong headstock, where the strings went straight to the tuning pegs. On a Fender, they went straight to the tuning pegs, but they were all on one side. That it goes straight to the tuning pegs is important.
"When I started putting tremolos on guitars, Carlos Santana ordered one and he goes, 'It's gonna stay in tune, right?' I said, 'Sure!' I had no idea how I was going to do it. Turns out what makes a difference is how you cut the nut, having it as close to the tuning pegs as possible. Also, the strings need to be as straight as possible, and you have to reduce the headstock angle. It's a combination of those three dimensions."
PRS Guitars Factory Tour
Photo by Marylene Eytier
The legend says the world needs to be "far out," and he's cut a new album, Blessings and Miracles, to take it there. He talks about his fabled tone, advice from Miles Davis, his search for universal melodies, and stepping outside the cage.
Carlos Santana plays like a superhighway. His notes—always exquisite and succulent—are founded on terra firma yet travel to many places. The 74-year-old 6-string guru often uses the word multidimensional to describe his technicolor sonic thumbprint. And, through more than a half-century of recordings and concerts, that multidimensionality speaks as articulately as the beautiful unison-string bends in his band's classic "Samba Pa Ti," projecting his devotion to melody, intention, the echoes of his influences, imagination, inspiration, awareness, fidelity to his art, and a desire to communicate.
Of all those dimensions within Santana's playing, his desire to communicate and his awareness that his music can telegraph a subtly different message to each listener may be the most important. It's key to understanding the search he embarks on every time he takes a solo or writes a song. Or makes a new album, like the recently unveiled Santana band recording Blessings and Miracles, which seems to draw on every period of his career—or at least all the aspects of his search for, as he called it in the title of his 2014 autobiography, the Universal Tone.
Santana, Rob Thomas, American Authors - Move (Official Music Video)
"I think of melodies that are universally accepted—by Greeks, Apaches, Puerto Ricans, Aboriginals … everybody," Santana explains. "Because everyone understands the sacred language of melody, nothing speaks more clearly, and you can hear the way melodies transcend any cultural differences. For example, play the first four notes of 'Nature Boy,' by Nat King Cole. [He sings the intro to the song's melody, and then sings the same notes with different phrasing.] See, it's also 'Danny Boy'—the same four notes.
"We're in the business of getting people's attention," he continues. "Understanding the universal nature of melody is important. I have never created and will never create an album that's background music. I don't do background music. When you go to hear Santana, like the people I love … Miles [Davis], Stevie Ray Vaughan, the music has to take center stage and captivate your attention. It tries to offer you something that's really good in you and for you, that you aren't aware of."
Everyone understands the sacred language of melody.
One of those somethings is the long, held note—an emotional trigger that's among his historic signatures. "Feedback is good for you," Santana says. "With the correct tone between the pickups and speakers, it's a living light, it's constantly breathing. But feedback coming from a pedal is bad feedback. It's like a cadaver. There's no life in there. So I don't use pedals for sustain. I walk around and mark the floor where the sound becomes a laser beam between me and my guitar, so it's constantly breathing. That's why we like Star Wars. You get to hear Darth Vader breathe." Parenthetically, that notion also correlates with the healing feeling that comes with yoga's soothing ujjayi, or ocean, breath.
With the title Blessing and Miracles tagged to his namesake outfit's 26th album, it's no surprise that Santana self-produced the recording with high goals. "There's no difference between radio today and in the '50s," he relates. "It was corny, boring, and then along came the Doors with an eight-minute version of 'Light My Fire,' and the Chambers Brothers, with 'Time.' I grew up in the '60s with the ground-zero cultural revolution, so it's natural for me to play my guitar sometimes melodically and contained, and sometimes like a hurricane. If I play something like 'Maria Maria' [from Santana's 1999 mega-hit Supernatural] it feels commercial because it has a regular melody, but if you put some Sonny Sharrock and John McLaughlin influence in there, that's radical! And that's exactly what the world needs today—to get far out!"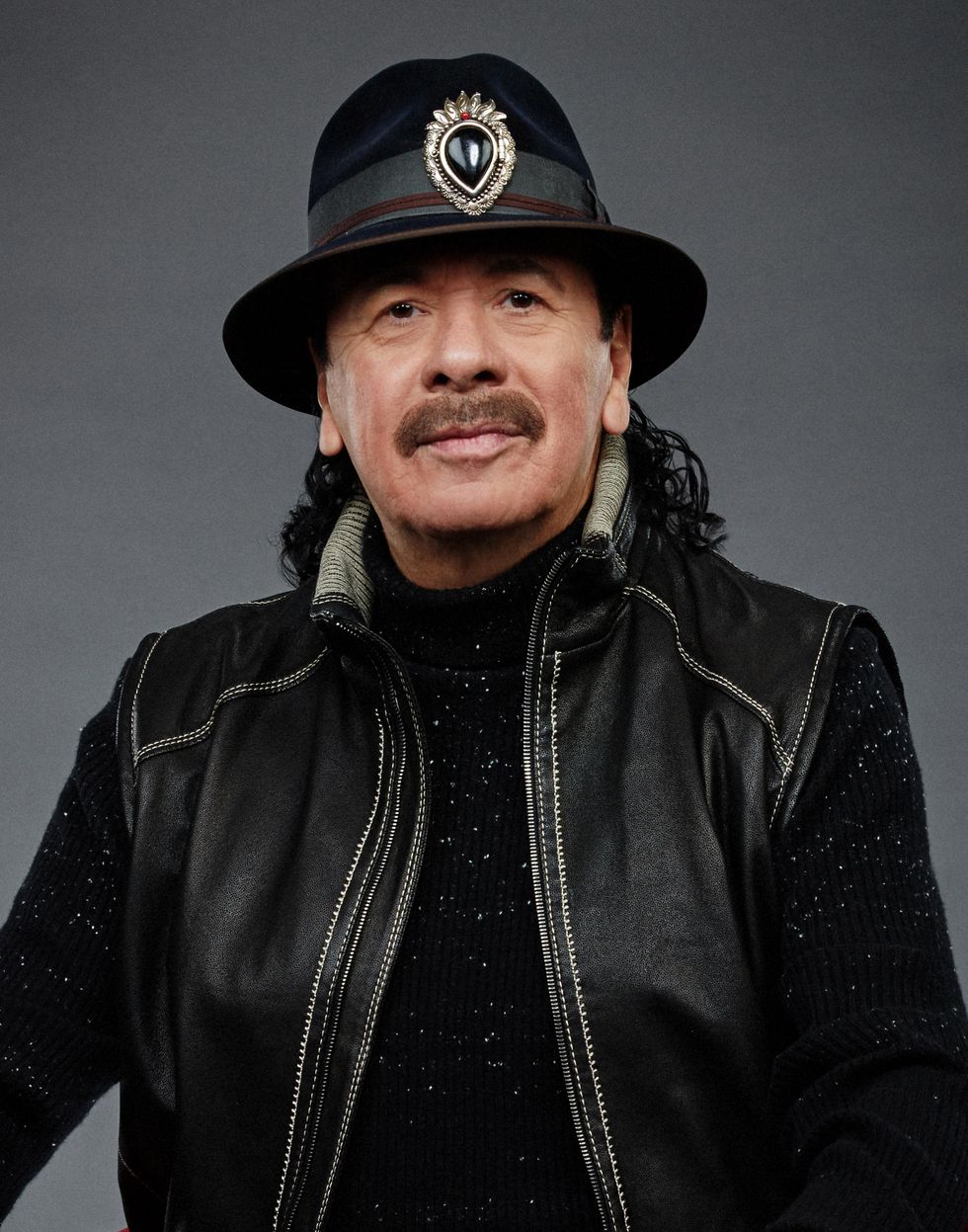 At 74, the éminence grise of Latin-rock guitar is still taking chances and believes that music can change the world.
Photo by Maryanne Bilham
To get far out music to the people, Santana figured he also had to go deep inside the industry. So, over the several-year course of making the 15-song album, he recruited Chris Stapleton, Steve Winwood, Living Colour's Corey Glover, Metallica's Kirk Hammett, Chick and Gayle Corea, and his old Supernatural teammate Rob Thomas. Santana and Thomas' song on that triple-platinum album, "Smooth," spent 12 weeks on top of the Billboard charts.
"I'm at a point where intention, motive, and purpose are very, very clear," Santana says. "I wanted names that would help get me back on radio. We didn't do any planning like that for Africa Speaks. [The exploratory Afro-Latin album the Santana band made in 2019 with Spanish guest vocalist Buika.] But now is the time.
Carlos Santana's Gear
Carlos Santana is using three PRS custom guitars for his Las Vegas residency: two gold-leaf-finished Single Cuts—one with a vibrato bridge—and a red flame-top Single Cut. In this photo, he's playing an earlier Double Cut PRS signature model, but he now favors his Single Cuts.
Photo by Roberto Finizio
Guitars
PRS Custom-Built Single Cut non-trem with gold leaf finish (main guitar)
PRS Custom-Built Single Cut tremolo with gold leaf finish
PRS Custom-Built Single Cut non-trem with red flametop
Toru Nittono Jazz Electric Nylon model
Strings & Picks

Paul Reed Smith Signature Series (.0095–.044)
Dunlop Carlos Santana Signature medium soft
V-Picks custom 3 mm in red
Amps
Dumble Overdrive Reverb 100-watt head
Allston Neuro 100-watt head
Tyrant Dictator 4x12 with Weber Gray Wolfs
Effects
Real McCoy Custom RMC10 wah
"It's imperative to uphold enthusiasm no matter what the world is going through, because we can push the buttons and click the switches to change the narrative. There's too much fear and separation on the planet—too much crawling instead of flying like a hummingbird. So people find a lot of ammunition to justify why they're unhappy. We with the Santana band say get away from here with that stuff. We override it and we change it, because we want joy—which we can provide through our music—to transmogrify fear. It's that simple. I have confidence that, at 74, I can take this music to the four corners of the world and touch many people's hearts."
So Blessings and Miracles pendulums between the wild and the calculated, and, not surprisingly, Carlos Santana brilliantly breathes in both realms, as he has since earning his bones playing blues in the strip clubs of Tijuana, and then as a musical staple of San Francisco's—as Otis Redding put it—"love crowd." Even when the songs purr, like "Breathing Underwater," a graceful textural-pop ballad his daughter, Stella, brought to the album, there is a radical quality to his playing. It's in those long held notes that trail into ascendant feedback, in the exquisite slow bends that move like a human voice, and in the squalls of sound inspired by his touchstones Sharrock and Coltrane.
I have never created and will never create an album that's background music. I don't do background music.
Blessings and Miracles opens with "Ghost of Future Pull/New Light," an overture crafted from bestial feedback, percussion, and melody. Then it plunges into the bold, Latin-rock instrumental "Santana Celebration." That pairing is a flashback to the band's early '70s days, and, in particular, recalls the cosmic sizzle of the opening of 1974's Lotus, arguably the most exciting, inspired live guitar recording of the classic-rock era. "Rumbalero" breaks the pattern. It's Latin electro-fusion, with Santana's son Salvador on vocals and composer/horn player/vocalist Asdru Sierra. There, the guitar constantly tosses off explosive mini-melodies as if they were kernels of popping corn.
Elsewhere there's "Joy," a reggae song featuring Stapleton, who wrote its uplifting lyrics at Santana's urging. And "Move," which sounds like exactly what it is—Santana and Thomas' update of "Smooth." With Winwood, Santana takes on Procol Harum's "A Whiter Shade of Pale." The social-justice-fueled rocker "Peace Power" features Glover, and the gritty metal critique "America for Sale" has Hammett and Death Angel's Mark Osegueda as its guests. Both Coreas play on the merry, peaceful "Angel Choir/All Together." By the time that's all unreeled, it sounds as if Santana aimed not only at radio, but at nearly every format. And he's crafted another "Europa"-level melodic-guitar showpiece with "Song for Cindy," written for his wife, Santana band drummer Cindy Blackman Santana.
What does Carlos Santana practice the most? "Learning to dive into totality, absoluteness, and infinity in one note." Here he squeezes a Blue Africa Santana SE Doublecut with custom graphics, by Paul Reed Smith. It's one of seven made concurrent with the Africa Speaks album.
Photo by Jay Blakesberg
Despite all the guest vocalists, the real lead singer, of course, is Carlos Santana, whose custom Paul Reed Smiths ooze emotion. (PRS recently released another limited-edition Santana signature model, the Abraxas 50, to celebrate the anniversary of the Abraxas album's 1970 release.) After all his decades of gorgeous tone, that's to be expected. As is the presence of the wah-wah pedal, which, under his foot, can quack like a peyote-eating duck, roar like a tyrannosaurus, attenuate his singing strings, and make notes kaleidoscopic. Santana is among the greatest proponents of the effect, and has been since 1970's "Hope You're Feeling Better." But at that point, the only pedal that would become part of his sonic mug shot was more novelty than staple for the guitar legend.
"I first heard the wah-wah within Cream's Disraeli Gears, and then Hendrix's 'Voodoo Child,' and Mel Brown used it incredibly well in 'Eighteen Pounds of Unclean Chitlins,' which is super funky," Santana says.
"I had only used it on some songs in the studio, when one day in 1970, I was in an elevator in New York City with Miles Davis and Keith Jarrett, and Michael Shrieve and Michael Carabello from my band, and Miles goes: 'Hey, you got a wah-wah?' I said 'no.' And he said, 'I'm playing my trumpet through a wah-wah. You gotta get an effin' wah-wah, Carlos.' I said 'okay.' So I got an effin' wah-wah, and I'm grateful Miles took me out of that other zone where I had no wah-wah regularly, so I could learn to create textures with it."
The original Santana band line-up (left to right): Michael Shrieve, David Brown, Michael Carabello, Jose "Chepito" Areas, Gregg Rolie, and Carlos Santana.
Tone fiends may have noticed a subtle shift in Santana's guitar sound on recent albums—darker, beefier, with a bit more grit. For Blessings and Miracles, his return to Dumble amps plays a role in that, but he also notes that—after many years of trying to get his guitar sound on tape accurately—"I've been able to get the engineers to open up the depth of field. I always had a tone, but it was a challenge to teach people how to capture it. It's like photography: You have to open up the aperture to let as much light come in as you need.
"I need four or five microphones on my amp in a room: one in front, one behind, one above, one right on the speaker, and one as far away as possible," he explains. "I go to each microphone and subtly adjust the position until I get it right. I learned how to record guitars from Jim Gaines and some other engineers and producers. If someone doesn't know how to record electric guitar, it can sound shrill, metallic … it hurts your teeth. My sound needs to sound like Pavarotti and Placido Domingo—chest tones, head tones, four or five different tones in one note."
Rig Rundown - Carlos Santana
In January, February, and May, it'll be possible to hear those tones live in Las Vegas, of all places, where the Santana band started a residency at the House of Blues last year. (His December dates where cancelled for an unanticipated heart procedure.) "Thirty years ago, I would never consider playing a place like Las Vegas or Broadway," says Santana, who has always been highly vocal about his music-over-showbiz aesthetic. "I was ignorant and afraid if I did something like this I would become predictable, mundane, and boring. I didn't realize that I could play anywhere repeatedly—without having to move the amps and realign the sound for the stage and the room—and use it as a laboratory, which is what I've been doing. I know people come from Australia or Paris to hear certain songs, and I'm going to play something they relate to, like 'Black Magic Woman' or 'Maria Maria,' but in the middle of the set I'm going into the unknown. I can change the tempo, the melody … play anything.
"I was doing an interview with a guitar magazine and they asked, 'What do you practice the most?' I said, 'Learning to dive into totality, absoluteness, and infinity in one note.' That way everything can be fresh and new every time you play it. How do you learn to do that? Well, you have to learn to meditate, even while you're playing. When I hear Metallica, I can feel their collective energy. Collective energy is like supreme meditation. That's also what I love about Sonny Sharrock. [Santana has a Sharrock tribute album in the works.] At this point in my life, when people say, 'What's on your mind?' I say, 'Nothing, thank god.' Because that's when you play your best."
My sound needs to sound like Pavarotti and Placido Domingo—chest tones, head tones, four or five different tones in one note.
Actually, there are a few things on Santana's mind—or at least within his intentions. He says that over the next six months he'd like to learn how to surf, and how to cook bouillabaisse. He's also enjoying the work of his Milagro Foundation, a non-profit that strives to help children through health care, education, and the arts. Profits from the Carlos Santana Coffee Company, which launched in 2020, goes to Milagro's work, which is currently focused on clean water for Native Americans living on reservations.
Santana's own life is perhaps one of the greatest success stories in rock: A poor kid from Mexico falls in love with music and immigrates to the U.S. to chase his muse, and finds more struggle—a bout with tuberculosis, racial discrimination, a language barrier, continued poverty. And then even more struggle, trying to find his place in the rock world, seeking balance in the spiritual dimension with guru Sri Chinmoy, and ultimately becoming a superstar and an éminence grise of guitar. More important, he seems like a joyful man living a life of decency and depth. Which prompts the question: What makes him truly happy?
Carlos Santana circa 1987—the year the band released Freedom and Santana issued his solo album Blues for Salvador, dedicated to his son. The latter yielded Santana's first Grammy, for Best Rock Instrumental Performance.
"Knowing that I am worthy of my own life of grace," he says, "and knowing that sometimes when the phone rings, it's going to be Herbie Hancock, Wayne Shorter, or, in the past, Miles Davis … musicians at that level, calling to say hello and see how I'm doing. That makes me happy being Carlos. He's quite a guy.
"One of the most important things John Coltrane said is, 'One positive thought creates millions of positive vibrations.' You don't have to be a musician to understand that. It's inviting you to be miraculous. I talk about this all the time with Eric Clapton and Derek Trucks. Just the way you walk onstage before you grab the guitar can bring hope and courage. You can make a difference. I say to people, 'You can make the impossible tangible.' And they say, 'You've been smoking too much pot.' And I say, 'Maybe you need to smoke a joint?'"
He continues: "How do you get into a solo that's in the same place Charlie Parker, Beethoven, or Stravinsky would go to? We can get to that same place. It's called The Sanctum-of-My-Intelligence Hang-Out. People say to me, 'That's far-out, dude! How do I get there?' Practice removing your mind from the room and allow your light-spirit and soul to create music outside of gravity and time. You have to get out of the cage and dive into the unknown and the unpredictable."
Santana - Soul Sacrifice Live (Original Líne Up) | Santana IV
Patterned on Mosrite's Joe Maphis model, this luxurious guitar is truly one of a kind.
Before the Mosrite brand was born, its founder, Semie Moseley, was just an independent luthier trying to make a splash. In the same way Paul Reed Smith pitched his pre-factory builds to Carlos Santana and Heart's Nancy Wilson, Moseley found his first golden ticket in a Southern Californian picker by the name of Joe Maphis.
Back in the mid-1950s, Moseley got fired from Rickenbacker after making a guitar of his own. Soon after, he built a three-necked amalgamation that contained a standard guitar, an octave guitar (one octave higher), and a mandolin—all in a single solidbody electric. The goal was to attract attention, and attract attention it did.
Joe Maphis was a flashy country player who led the Town Hall Party radio show, which was beamed all over Southern California and into Northern Mexico. Maphis requested a double-neck version (without the mandolin), and from then on Moseley was a known entity, crafting about one custom instrument a month for years.
This close-up brings the brass nut, elegant binding, Grover tuners, and sterling silver headstock inlay into focus.
Later, in 1960, Maphis got a proper Moseley-made signature model, with a body that looked like an upside-down Stratocaster. In the early '60s, the Ventures—the top-selling instrumental rock group who helped codify surf music—became Mosrite's distributor. They took a Maphis-style signature guitar as their own, and created a rush of capital and orders.
Johnny Ramone's 1965 Mosrite Ventures II model fetched nearly $1 million at auction in 2021.
Business went up, business went down. Mosrite's distributor agreements and parent companies came and went. As Moseley wrote to clients and inquirers in 1986: "Some day, in the near future, the Semie Moseley and Mosrite Guitar story will be in process. It will read like a fairytale—a drama—a love story; from rags to riches—to rags—to the fight back, from one major tragedy to another, from the very beginning through its evolution to the 1980s."
But by then, despite the vagaries of the musical instruments industry, Moseley was back doing what he had always done best: building incredible custom guitars. And that's where we pick up the story for this month's Vintage Vault find.
Walnut pickup rings machined to match the bird's-eye maple body surround these split-coil humbuckers.
After Maphis' death in 1986, Moseley created this one-of-a-kind beauty for a friend, Ross Coan Jr. While standard Joe Maphis models had spruce tops and single-coil pickups, this Maphis-style custom build has a bird's-eye maple top and unique split-coil humbuckers. But it retains the bound neck and beveled edges that Moseley must have learned first-hand from Rickenbacker's Roger Rossmeisl, along with the angled neck pickup, metal nut, dual-knob, and 3-way pickup-selector switch of Moseley's previous models. And the headstock and fretboard inlays are sterling silver.
Take a look at those pickup rings, too, which—unlike pickup rings on nearly any other custom guitar—are remarkably gorgeous and carved out of a wood that perfectly complements the maple top. Obviously, Moseley put a great deal of care and consideration into this build. He even stamped the name and date of birth of his friend at the very last fret and inscribed the back of the headstock: "Hand made for Ross Coan Jr. by Semie Moseley 1986."
It's impossible to put a price on what this guitar would've cost back then. Whether it was a gift or a commission, it was a labor of love—a late-career testament to Moseley's guitar-building prowess.
The back of this unique guitar is made of figured walnut.
George Gruhn writes that Moseley's pre-Ventures custom guitars are highly sought-after by collectors. Johnny Ramone's 1965 Mosrite Ventures II model fetched nearly $1 million at auction in 2021. But most production-era Mosrites—those that were notplayed by famous musicians—often sell on Reverb in the range of several thousand dollars.
Moseley signed and dated the headstock of this guitar built for his friend Ross Coan Jr.
This custom build from Moseley himself, who died just a few years later, in 1992, is currently listed for $12,500.
Sources include Reverb listings and pricing data, American Guitars: An Illustrated History by Tom Wheeler, and Gruhn's Guide to Vintage Guitars.