Compare notes with Nashville producer-engineer Mike Purcell, who runs down the essentials of a pro-level home-studio mic collection.
A well-rounded mic closet could take a lifetime to build. I'm constantly trying different things, but there's always a core set of mics I come back to because they're reliable and provide good results. Many of these mics work on a wide range of instruments. By knowing my mics, I can make a choice that's going to enhance the sound of an instrument—especially guitar.
In this story, I've listed several options for each mic type covering a range of prices from low to high. A higher cost usually indicates that the quality of components and workmanship are better, leading to a more consistent product. Lower cost generally means quality control isn't as strict and that mics may differ more from their published specs.
You've probably heard this before, but the three main types of mics are dynamic (or moving coil), condenser (or capacitor), and ribbon mics. Let's work our way through each category.
​Dynamic Mics
Dynamic mics are composed of a voice coil suspended in a magnet. Incoming sound moves the voice coil within the magnetic field and a current is created. This is passed through a transformer to step up the voltage, and then sent to a mic preamp.
Dynamic mics are the mainstay of live sound because of their durability and ability to be used on loud sound sources without overloading. These are desirable characteristics in the studio when we've got to place mics close to a flailing drummer or mike up a Marshall Super Lead 100 full stack.
​Dynamic mics exhibit the following characteristics:
They are less sensitive to transients and high frequencies (7k and up.) They capture these frequencies, but at a lower level than a condenser.
They color the sound in the midrange between 3-5k, adding a slight bump in this area.
On loud sound sources, they exhibit a type of mild compression or soft clipping, useful on amps, drums, and vocals.
They are cardioid, or unidirectional, and are the most sensitive in the front with maximum rejection off the back. (There are divisions of cardioid: hyper, super, etc. In all cases, they are most sensitive at the front, with rejection off the back or sides.)
They exhibit a proximity effect. As directional mics are placed closer to a sound source, they pick up more low end, 100 Hz and below. Dynamic mics are designed to use the proximity effect, so as they move farther from a sound source, they will sound thinner.
"Dynamic mics are the mainstay of live sound because of their durability and ability to be used on loud sound sources without overloading."
Even though dynamics all exhibit these same general characteristics, each mic will color the sound differently. Some dynamic mics work better on drums. They have an increased low-frequency response, a dip in the lower mids, and a bump in the presence range—essentially an EQ curve that sounds good on bass drums and toms. Others may have a more pronounced bump in the upper mids, making them a great choice for guitar amplifiers. While dynamic mics are typically used for the close miking of drums and guitar amplifiers, they are also well-suited to some vocalists.
A well-rounded mic closet in a home studio that cuts four- or five-piece bands would have at least 8 to 10 dynamics. Modern production dynamic mics top out around $600, and most are under $250.
​Dynamics mics to consider:
Shure SM57 ($99 street): The most common mic in the world. It's cheap, incredibly durable, and sonically consistent from mic to mic. It can take the highest sound pressure level (SPL) you can throw at it and work on any instrument in a pinch. It's often used for snare drums or guitar amps. Many of Tom Petty's vocals were recorded with an SM57.
Shure SM58 ($99 street): The big brother to the SM57. It has a built-in pop filter/windscreen and a slightly different low-end response. There are hundreds of cheap knockoffs of the Shure SM57 and SM58. Stick with the originals and you'll be much happier over the long run.
Sennheiser e 609 ($99 street): An inexpensive supercardioid mic. The supercardioid pattern indicates it is much more directional than a cardioid. This can be useful when miking a snare drum, to reject sound off the sides of the mic. The e 609 also has a slightly less harsh frequency response, so can be useful on edgy or bright guitars.
Shure Beta 52A ($199 street), Audix D6 ($199 street), AKG D112 ($229 street): These are a newer generation of dynamic mics that are designed for bass drums. Plus, they work well on toms—although Audix also makes the D4 and D2, which are tailored towards smaller drum frequencies (rack tom, floor tom). And they work well on bass amplifiers.
Sennheiser MD 421-II ($399 street): Excellent kick and tom microphone. The frequency response of the 421 works well on drums. It's also commonly used on guitar amps and vocals.
Shure SM7B ($399 street): Another variation using the SM57/58 diaphragm, this mic has electronics that allow you to tailor its frequency response. The SM7 is often used in broadcast and is a go-to choice for vocals by rap and metal artists.
Side note: Many manufacturers offer a drum-mic package—a great solution if you're starting out. These usually include several dynamics for the close mics and a few condensers for the overheads and/or hi-hat. Plus, these mics can also be used for recording other instruments.
​Here are a few examples of drum packages:
Audix FP7 ($399 street): A seven-piece mic kit, with five dynamics and two condensers. Audix also offers larger drum packages.
Avantone PRO CDMK-8 ($899 street): This eight-piece kit includes five dynamics and three condensers.
AKG Drum Set Premium ($2,329 street): Another eight-piece set, with five dynamics and three condensers.
Condenser Mics
Condenser mics consist of a thin, charged diaphragm suspended over a metal plate. As sounds strikes the diaphragm, it moves and causes electrons to flow through the plate. This signal is amplified by internal electronics and passed through a transformer or field-effect transistor (FET) and is sent to a mic preamp.

​Condenser mics exhibit these characteristics:
They are active devices that require a power source, most commonly provided by +48V Phantom Power.
Some are capable of multiple polar pickup patterns: cardioid, omnidirectional, figure eight, and everything in between.
They may include a passive attenuation device (PAD), a switchable attenuator that prevents overload when the mic is used on loud sound sources.
They may include a switchable high-pass filter (HPF), used to roll off unwanted low-end frequencies.
They are the most sensitive mics, making them ideal for recording quiet instruments.
They have the widest frequency response and are good at capturing frequencies across the audible spectrum.
They color sound less than other mics and are good when you want to accurately capture the timbre of an instrument.
Because of their sensitivity and wide frequency response, condenser mics are used for drum overheads and ambience, acoustic stringed instruments, piano, ensembles, amplifiers, and vocals. They can also work well for drum close mics but wouldn't withstand a hit from a drumstick like a dynamic would.
Condenser mics are divided into two categories: small diaphragm condensers (SDC) and large diaphragm condensers (LDC). SDCs have a diaphragm of less than 1" and tend to be more responsive to transients and high frequencies. Their off-axis response is also more even.
LDCs have a 1" or greater diaphragm. They sound fuller, but off-axis mic response can be uneven. LDCs, because of their overall size, can be harder to position in tight miking situations.
"Because of their sensitivity and wide frequency response, condenser mics are used for drum overheads and ambience, acoustic stringed instruments, piano, ensembles, amplifiers, and vocals."
Matched microphone sets require that the frequency response and sensitivity of the two microphones are very similar. This allows them to record a balanced stereo image. So, a well-rounded mic closet will have a matched set of SDCs and LDCs, and a few assorted condensers for other purposes.
​SDCs to consider:
Rode NT5 ($219 single/$429 pair street): Rode is an Australian manufacturer that makes quality products at affordable prices. I've been impressed with all their equipment, and the NT5 is no exception.
Shure SM81 ($399 street): A good, durable utility mic. Inexpensive. Not as open sounding as other SDCs. I use these for snare bottoms and hi-hats. They have a PAD and HPF.
Warm Audio WA84 ($399 single/$749 pair street): Warm Audio is a relative newcomer to the pro audio world. They've been making reproductions of classic gear and offering them at lower prices. In general, I've been impressed with the quality of their products. These PAD-equipped mics are their version of the KM-184, at half the cost.
AKG C451 B ($639 single/$1,395 pair street): Very responsive to transients and can take high SPL. These PAD and HPF mics yield an edgier sound. I love these on mandolin or banjo.
Miktek C5 ($699 /$1,399 pair street): These mics include a switchable omni capsule, allowing for cardioid and omnidirectional use for spaced pair miking.
Neumann KM184 ($849 single/$1,595 pair street): Smooth sounding all-around mic with an articulate and defined high-frequency response. One of my favorite go-to mics when I need a stereo recording of an instrument.
​LDCs to consider:
With LDCs, manufacturers have families of mics that use the same basic components, but the higher-end mics will offer pattern selection or other features. Within the family, the sound will be similar. Examples are the AKG C214 and C414, and the Shure KSM32 and KSM44.

Rode NT1000 ($329 street): I am a huge fan of Rode, and the NT1000 routinely beats out more expensive mics for vocals. This cardioid mic is solidly built and big sounding without harshness..
AKG C214 ($465 street): The little brother to the AKG C414, this cardioid-only example with a PAD and HPF exhibits the same general frequency response, but it doesn't have all the features of the 414.
Audio Technica AT4033A ($399 street): One of my favorite inexpensive mics, the 4033 has a pleasant defined midrange and clarity that brings instruments through the mix. These may not be good when trying to capture extended low frequencies. Audio-Technica calls this cardioid mic a medium-diaphragm condenser.
Miktek C1 and C7e ($599 and $899 street): Miktek is a Nashville-based manufacturer that has developed a line of mics that perform far outside their price class. The C1 has a PAD, HPF, and is cardioid only, while the C7e is multipattern.
Neumann TLM 103 ($1,195 street): The TLM 103 is a smaller footprint package that utilizes Neumann's classic U 87 capsule and transformer-less circuitry at a more affordable price. These sound great on vocals and acoustic stringed instruments, if you're looking for a bigger sound.
AKG C414 ($1,279 street): The 414 is another industry standard found in many studios. Based on the classic AKG CK12 capsule, the 414 has a wide frequency response. It is bright and present and can sound amazing on some singers and overly bright on others. It works well on pianos and acoustic guitars where you need a sheen on them.
Neumann U 87 Ai ($3,695 street): The U 87 is a flagship standard that you can find in almost any studio. Multipattern select, HPF and PAD equipped, it's got a fat low end, smooth high frequencies without harshness, and a thick, musical midrange. An incredibly flexible mic with excellent fidelity, it's got a price tag to match its functionality. I've used these on toms for a huge sound, but you have to really trust the drummer if you're putting this mic in range of their sticks
​Ribbon Mics
Ribbon mics function by suspending a very thin conductive metal strip between two magnets. Sound waves strike the metal strip, causing it to vibrate. The vibration in the magnetic field creates a current in the magnets. This is sent through a transformer, and then the signal is sent to a mic preamp.
"Never run +48V phantom power to a ribbon mic. While most modern ribbons are phantom safe, it can destroy vintage ribbon mics."
A good mic closet should have several ribbon mics, and possibly more depending on the style of production. Ribbon mics have seen a resurgence over the past 20 years and there is a wide variety available, ranging from $200 to $1,500 and more. Ribbons are used on guitar amps, as drum overhead or room mics, and on horns, acoustic guitars, percussion, and vocals.
Ribbon mics exhibit these characteristics:
The thin ribbon allows them to be very sensitive to transients.
They color the sound. They are warm sounding and add character.
They are the least sensitive type of mic and ill-suited for quiet sound sources.
They're very fragile. A puff of wind (or the air coming out of a kick drum) can damage the mic.
They are bi-directional/figure eight. They pick up sound from the front and back of the mic at the same level. Exceptions exist, like the Beyerdynamic M 160.
Caution: Never run +48V phantom power to a ribbon mic. While most modern ribbons are phantom safe, it can destroy vintage ribbon mics. (Once again, there are exceptions. Active ribbon mics, like the AEA N22 Nuvo, exist. These do have internal amplification similar to a condenser and require phantom power.)
​Ribbon mics to consider:
Pinnacle Microphones Fat Top ($229/$519 pair street): The Fat Top is a current iteration of the original Cascade Fat Head. I've used Fat Heads for years. They're wonderful on guitar amps and percussion.
Stager SR-66/SR-2N ($699/$649 street): Stager Microphones is a small boutique operation in Nashville. They use neodymium magnets in these models, for increased magnetism in a lighter package. The transformers are hand-wound and designed to get the best transfer of sound from ribbon to mic preamp. The SR-66 is a long-ribbon package, offering a flatter frequency response. The SR-2N is a midrange-forward short-ribbon design.
Coles Electroacoustics 4038 ($1,485 street): The Coles 4038 is designed by the British Broadcasting Corporation in the 1950s and the tech specs have never changed. A lot of work went into engineering this mic. It has a flat frequency response up to 15k and is very responsive to transients.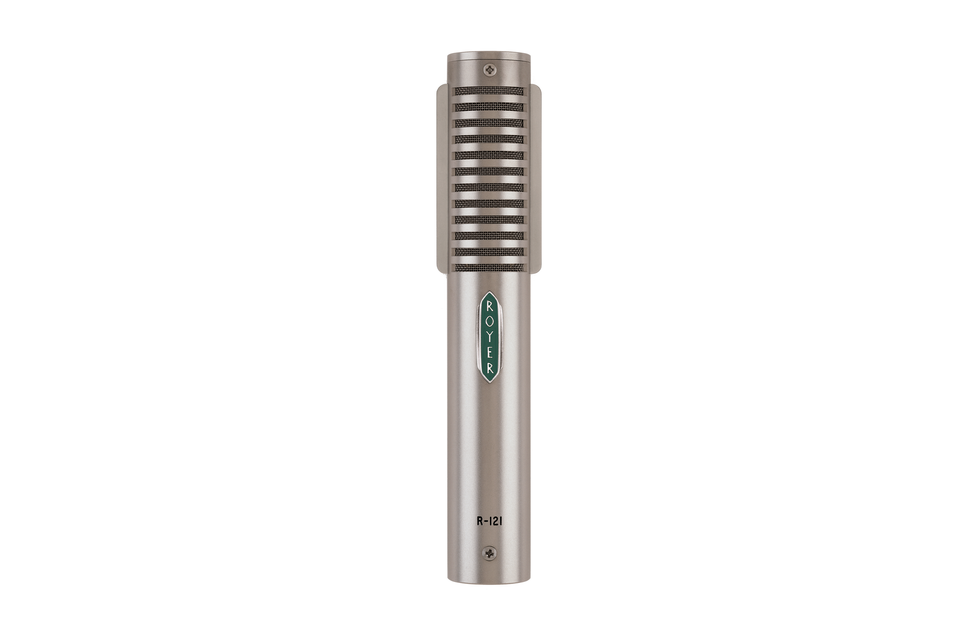 Royer R-121 ($1,499 street): Royer Labs is one of the best-known manufacturers of ribbon mics. They've pioneered innovations in ribbon mic technology that allow them to be used on very loud sound sources without damage to the microphone. The R-121 is one of the most popular mics in existence and exhibits all the classic characteristics of a ribbon mic.
​What about tube microphones?
Tube mics are a subset of condenser mics. Up until the 1960s, condensers used a tube for the amplification of the low-level diaphragm signal. Tubes sound nice, but have a lot of issues: heat, high power requirements, and they can suffer from microphonics. In the '60s, a solid-state replacement for the tube was created: the FET, or field effect transistor. The FET emulates tube characteristics and has two benefits: smaller size and reduced power requirements. The first solid-state condenser mic designs used the same circuit except for the FET substitution, but they sounded different, crisper. They had lost the tube character.
Tube mics are revered for their warmth, wide frequency response, and pleasing sound. They are most commonly used for vocals, but I've used them for every instrument. There's a robust market for inexpensive tube mic modification. Sometimes it's as easy as swapping a tube, while others do capsule and component level changes. These mods can greatly enhance the sound of an inexpensive tube mic. A good mic closet should have at least one curated tube mic. They start at about $499 and can range upwards of $30,000.
Some manufacturers with tube mics in the below-$1,000 price range include Avantone, Warm Audio, Golden Age, and Lauten Audio. My recommendation is to audition several and find the one that will have the broadest application for your recording situation. They won't sound exactly like their pricier counterparts, but they'll give you a flavor in your mic closet that's only possible with a tube microphone.
​Tube mics to consider:
Mojave MA-300SN ($1,399): Mojave was created by David Royer of Royer Labs. They use quality components for mics that meet exacting standards. The 300SN is a tube large-diaphragm condenser mic. It features a continuously variable pattern select, which ranges from omni to figure eight. The MA300SN has a warm low end with an open top.
Miktek CV4 ($1,699 street): Miktek's line of hand-built mics includes this large diaphragm condenser with nine polar patterns. I've used these on vocals and stringed instruments with great success.
Peluso 22 47 SE ($2,149 street): Peluso Microphone Lab is a boutique company that hand builds each mic. The 22 47 is a reproduction of the venerable Neumann U 47. The 22 47 is a great choice for vocals and acoustic instruments, and I find myself using less EQ when recording with this mic. Their interpretations of other classic mics are also available.
Photo by Nick Sonsini
Telefunken ELA M 251 (repro: $10,996/vintage: $25,000-plus street): Around 3,700 units of the original 251 were manufactured from 1960 to '65, but a modern reproduction is available. It has an open top end without harshness, a smooth, rich midrange, and low-end warmth with punchiness. It's an excellent vocal mic and excels on harmonically rich instruments.
​Now, Go Forth and Record
You've got to start somewhere when building your mic closet. If you're not tracking full bands, I'd recommend starting with a couple dynamics (like the SM57) and a set of LDCs. With these mics, you'll be able to cover basic overdub sessions. From there, borrow mics from friends, explore the world of ribbon and tube mic sounds, and discover what works best for your home studio.
What About DIs?
Direct boxes, or DIs, are an integral part of any studio. They are used to connect (Hi-Z) instruments with low-impedance (Lo-Z) microphone preamps. Hi-Z devices, such as guitars and basses, have 1/4" outputs. The DI provides a 1/4" input to connect to your guitar and an XLR output which connects to a preamp. DIs also have a 1/4" output jack. This is used to pass the signal through the DI and connect to an amplifier. Often, a bass or guitar is recorded to two tracks—one signal from the DI and the other from an amplifier.
There are two types of DIs: passive and active. Passive devices have of an internal transformer that changes the impedance of the signal. Active DIs require a power source for their internal electronics and will have less signal degradation than a passive device. A good home studio should have at least one active DI and two passive DIs.
Modern DAW interfaces usually have built-in Hi-Z inputs via 1/4" jacks that allow you to connect directly to your interface. These negate the need for a DI.
Here are several DI boxes to consider:
Radial StageBug S-B2 ($89 street): Radial is well known for their technology in direct box design. This is a passive DI with a small footprint.
Radial Pro48 ($129 street): These active devices are full-range DIs with a bandwidth of 20 Hz to 20k.
Rupert Neve Designs RNDI-1($299 street): Like most Neve designs, this active device is engineered for the highest fidelity audio and sounds great.
Digital Modeling Mics
Digital microphone modeling systems are a relatively new development. They combine a specially designed microphone with modeling software that allows you to record audio that sounds as if you had used a different microphone. The software models a variety of classic or vintage mics. The two frontrunners in this new tech are the Slate Digital VMS Virtual Microphone System and Universal Audio's Sphere L22 Microphone Modeling System (which was developed in conjunction with Townsend Labs).
They use a sonically transparent microphone designed to interface with their modeling software. The signal is passed from the mic through a neutral mic pre (one that doesn't color the sound too much) to your DAW input. The plugin is applied to the audio and an output mic model is selected. The result sounds as if it had been recorded with the selected mic.
Slate and UA accomplish this by testing and measuring a microphone's behavior and mapping that behavior out in software. The software knows the characteristics of the recording mic and processes the audio, applying the differences to the signal. The recorded signal now sounds as if it was recorded with a $20,000 Neumann U 67 (or whichever mic you've selected).
The benefit of these systems is that it is non-destructive. Just like amp modeling plugins, there is a dry sound recorded in your DAW, and the processing is applied with a plugin. You have the ability to modify it throughout the recording process, finding the sound that works with your final production.
These systems offer a huge range of sounds and offer mic selections that would not be available in your average home studio. And each system offers a selection of recognized mic models with an established track record.
​The lowdown:
• Slate Digital VMS Virtual Microphone System (mic and software $499 street): This system's ML-2 is a small diaphragm mic. Once recorded, sound is processed via the VMS plugin (compatible with AAX, VST2, VST3, and AU formats). The VMS software includes 13 mic models, ranging from the AKG C12 to the Shure SM7B. Two add-on mic bundles are available for purchase from Slate: Blackbird Mics ($199 street), featuring five mics from Nashville's Blackbird Studio, and Classic Tubes ($299 street), featuring five modeled mics.

• Universal Audio Sphere L22 Microphone Modeling System ($1,199 to $1,499 street): UA's Sphere L22 was developed in conjunction with Townsend Labs. The Sphere software works the same as VMS, tuned for the provided mic and offering 34 output mic models.
The Sphere system uses a dual-capsule mic. This allows the software to take the signal from both capsules and create a 3D sonic picture of the modeled microphone. In theory, this should offer off-axis behavior similar to the originals. The mic can use both capsules to create a stereo recording, too.
The software is available in UAD, AAX, VST2, VST3, and AU formats. It offers more tweakable parameters than the VMS. So, if you're a knob twister and like to fine-tune your sounds, the Sphere is a good choice. The additional controls come with a higher price tag.
Photo by Caterina di Perri
The nylon-string guitarist and composer, who famously founded the historic jazz-and-world-music group, adds a fresh chapter to his extensive, illustrious career with his new solo album, At First Light.
What does it mean to have curiosity as an artist? For some, it can mean becoming transfixed with learning the work of a creative idol, or possessing an innate drive to absorb all there is to know about a niche (or all) of music history. Yet, when musically polyglottal nylon-string guitarist and composer Ralph Towner hears "curiosity," it reminds him not of the pursuit of knowledge, but rather that of writing great music.
Fat Foot
A selection from Towner's new album, At First Light.
"I'm definitely curious, but less and less so, the older I get," he comments. "But I'm still involved in this process of writing, and finding that one little germ that makes the start of a composition.
"I've been more obsessive than I've been curious," he continues. "That obsession with wondering, 'Where does this piece of music go next?' It's like writing a story. But I wouldn't define that as curiosity. Because you're being curious about something that doesn't exist."

It's no surprise that Towner—who's amassed a staggering discography since his earliest days with the Paul Winter Consort, and his 1970 co-founding of the still-active jazz-and-world-music group Oregon, and through a busy, parallel career as a solo artist—has cultivated a strong personal understanding of the composing process. And his new release, At First Light, is the latest product of what the now 83-year-old has been honing on the guitar for just over 60 years. Of the album, he says, "I really felt like I could make another statement as a soloist, so there's just one classical guitar on it."
"I wouldn't define that as curiosity. Because you're being curious about something that doesn't exist."
If you've played enough classical or jazz fingerstyle guitar, something about listening to solo pieces of that nature—at least, when performed at Towner's level—can provoke more carefully realized mental images of the craft itself. When listening to At First Light, I could almost picture the acrobatic formation of various chord and interval shapes by Towner's weathered-yet-steady hands.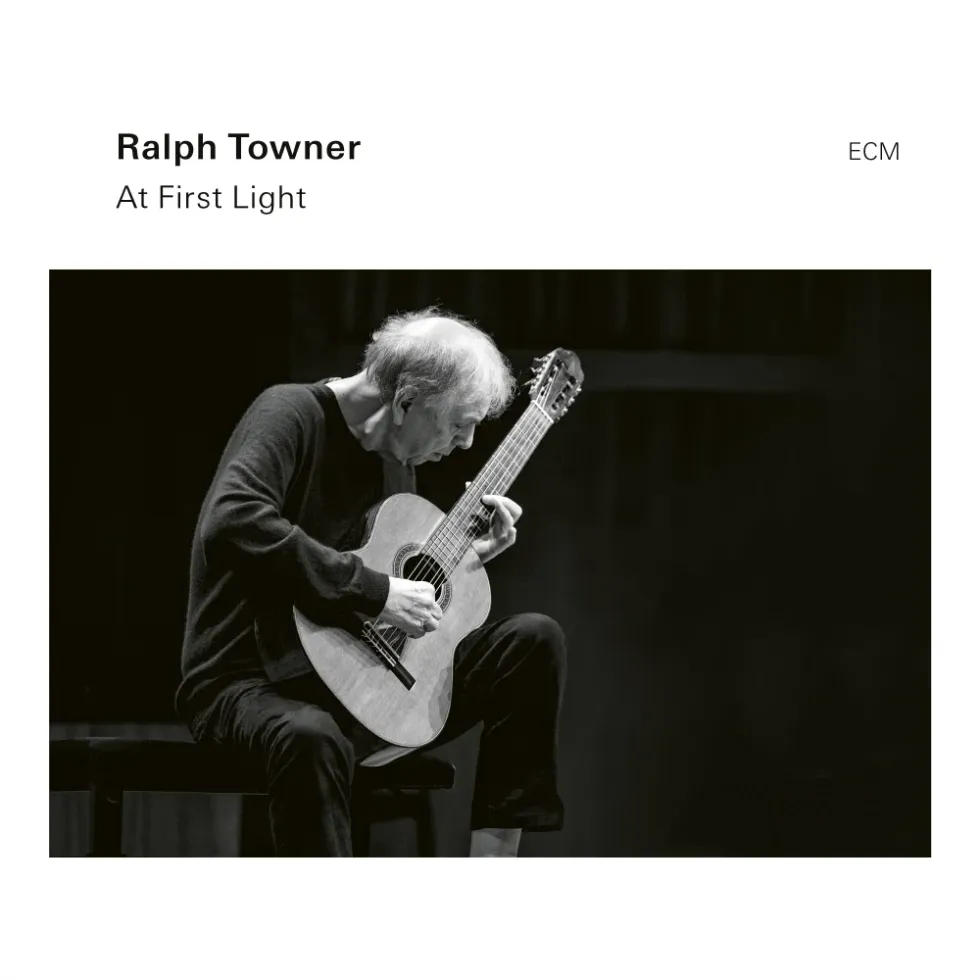 With over 100 album credits to his name as either a bandleader, sideman, or solo artist, Ralph Towner felt inspired to make another statement as a solo guitarist on At First Light.
The album opens with an original, "Flow," which begins with a spacious, impressionistic passage that soon transforms into a more fiendish motif which reveals itself just twice throughout the piece. Towner's arrangements of the 1960 standard, Jule Styne's "Make Someone Happy," the Irish traditional "Danny Boy," and Hoagy Carmichael's "Little Old Lady"—which, as he comments, was famously covered by comedian and musician Jimmy Durante—mostly wink at their inspirations, intermittently sneaking their respective themes into explorative, pleasantly wandering harmonies. Meanwhile, Towner's original voice persists on "Ubi Sunt," which unravels with a seemingly cautious sense of searching; "Fat Foot," which speaks with the assertive cadence of a downtown urbanite; and the aptly named closing track, "Empty Stage," which conveys a somehow friendly, harmless angst.
At First Light was recorded in a large, empty auditorium in Lugano, Switzerland, and produced by Manfred Eicher, who Towner's been working with since the early '70s. Towner, who currently plays an Australia-made Jim Redgate classical guitar with a cedar top, dislikes pickups in acoustic guitars, eschewing them for external microphones. "Microphones more accurately reproduce the actual sustain of the strings, and pickups, though greatly improved with better technology, tend to make an artificial increase in volume and sustain that make up the very refined nuances that are controlled on the nylon-string classical guitar," he shares. The songs were recorded with Schoeps microphones, and their sequence on the track list is that in which Towner performed them. "I can hear my hands getting warmer, and my tone getting stronger as the recording goes on. Maybe only I would know this," Towner reflects.
But long before At First Light, and before he accumulated the over-100 other recording credits he has to his name today, Towner grew up in "semi-poverty"—as he puts it—in Chehalis, Washington, with two older brothers who served in World War II and a mother who taught piano. "I would hear these influent piano lessons from the back room from the time I was very young," he shares. She taught him piano before he later began learning trumpet around the age of 6, and the two would play duets together—with her on the former instrument and him on the latter.
"On the trumpet, you learn about how to control your breath and what breath is," Towner elaborates. "The thing that really is important on the more machine-like guitar or piano is to develop and connect it with breath and delivery. Yet, you have to honor what each instrument does, or what it's capable of doing. To make a piano sing requires a different kind of thing."
Ralph Towner's Gear
​Although his focus has been guitar for the past several decades, Towner is also a trained pianist, and learned how to play the trumpet as a child.
Photo by Paolo Soriani
Guitars
Jeffrey Elliot spruce-top classical guitars
Cyndy Burton spruce-top classical guitars
Jim Redgate cedar-top classical guitar
Two 1974 12-string custom Guilds
Strings
D'Addario EJ45 Pro-Arte Normal Tension
He went on to study piano at the University of Oregon, where he says he could barely make ends meet, and worked in a beet-and-bean cannery during the summer. Then, at 22, he heard the classical guitar for the first time when he saw a student performing Bach on the instrument. That's when he dropped everything and moved to Vienna to study at the city's Academy of Music, where he devotedly shifted his musical education to the nylon-string, and focused on learning Renaissance, Elizabethan, and lute music.
"Being able to play bebop was almost like … a badge that would get you in the door."
When Towner moved to New York City after his graduation in the late '60s, it was on the piano that he first made a living, and he found that the way for him to do that at that time was by playing jazz. But, "We didn't have jazz schools back then," he shares. "It helped to have a friend who was a bass player; that really made a big difference in how I learned and worked on the piano, enough to actually play gigs on it.
"One thing that was important when I moved to New York was to be able to play a passable version of bebop," Towner continues. "Being able to play bebop was almost like … a badge that would get you in the door." As one of the world's biggest "small" towns, the city was fertile in the sense of how quickly that entry led to important connections. "I remember going over to Wayne Shorter's apartment and we played each other's music on cassettes or on his piano," he shares, "and I spent a whole afternoon with him. This was about two years before Weather Report."
​When he lived in New York City following his graduation from the Vienna Academy of Music, Towner found that knowing how to play bebop was what gave him entry into successful musical circles.
Photo by Caterina di Perri
The guitarist's first big break came when he joined the Paul Winter Consort not long after his New York move. (Only a handful of years later, during their 1971 mission, the Apollo 15 crew named two lunar craters after two of Towner's early compositions for the group, "Icarus" and "Ghost Bead.") Shortly after joining the Consort, he was featured on Weather Report's I Sing the Body Electric, recording the intro to "The Moors" on a 12-string guitar; released a debut album with Oregon, Music of Another Present Era; and a year later, debuted as a solo artist with Trios / Solos (beginning a now 50-year relationship with the ECM label). In the five decades since, Towner has collaborated with artists such as Gary Peacock, Vince Mendoza, Jack DeJohnette, and Bill Bruford, and also distinguished himself with his penchant for playing improvised music on the 12-string guitar, while growing his stature as a nylon-string guitarist.
Today, as a composer, Towner remains fascinated by the creative process. "When you find what's really an idea that seems to speak, it's a logic of music," he shares. "You sort of telescope this first event, and everything that follows is related to the initial idea. It unravels like a story, because you sense when something's right for where you're going with it as you go. You wouldn't write a lyric that would change midstream. So, it's got a big relation to the spoken word and literary content. There's a logic to the music that's also kind of an emotional logic too."

"That's an invitation to have a musical accident…. Nothing gets hurt, but maybe your ego."
In comparing musical compositions to literary content, Towner draws a bit of a contrast to what one might rightfully expect of his influences, given his extensive catalog of instrumental music. He elaborates, "I didn't even bother to listen to the Beatles at first, for about two, three, four years … and then was really stunned with this kind of doggerel," he says, continuing, "I used to be very critical of Bob Dylan, always making fun of the way he sang. But then I wised up and started reading the lyrics. I started hearing his delivery when he sang … which is only his, truly his, but was very musical.
Getting back into performing live after the pandemic was challenging for Towner, who said that during his first few return performances, he would get easily distracted.
"Then I discovered pretty recently, maybe 10 years ago," he shares, "[My wife and I,] we're in the car and she said 'Oh, listen to this.' And she's quite a fan of English rock, art rock. And I finally heard…. Oh, god, help," he says, struggling to place the name. "Uh, Led Zeppelin."
Something else new to Towner is the concept of "imposter syndrome"—a type of self-doubt even Eric Johnson has alluded to experiencing—and he has trouble finding honest examples of when or if he's ever identified with it. His confidence was indeed shaken, however, by the pandemic, at least in terms of giving live performances. "The first concerts I did [when the world returned to performing] were like, my god, I don't even know how or where to put my mind, or what I'm playing. I'm thinking like, 'Gee, did I leave the gas on at home?' That's an invitation to have a musical accident. Like a car accident, except it's music. Nothing gets hurt, but maybe your ego.
Ralph Towner - If(Live in Korea) Pro Shot
Ralph Towner illustrates his impressive dexterity and singular touch on the classical guitar in a live performance of his song "If."
"I still haven't had that many concerts, but I think in the last couple, I've found out how to begin in that space where you're kind of hovering above, hearing the music that's actually coming out of your instrument, but you're also able to hear it in a distant way, almost as if you're part of the audience. There's a little place you suspend yourself in when you're a performer."
And while it's not the first time an artist has described inducing that pseudo-out-of-body experience in order to better express themselves in their music, Towner's sage perspective proves its worth in the inimitable quality of his playing, whether it's live or recorded. Looking back on what most would describe as an overwhelmingly full career, he says, "It was like a piece of music in its way, whether it was good or bad. So, when I'm fiddling around wondering what I would have done, I didn't do anything that I regret at this point."
When it comes to fine-tuning your tone, guitarists often forget the value of a good speaker. ToneSpeak's new models offer a wide range of versatile end-of-the-signal-chain options, in classic to fresh flavors.
Electric guitarists are constantly on a tone quest, but too often we forget to look in the most obvious place: our amp speakers.
In many ways, this oversight is totally understandable. Hey, it's easy to obsess about a gorgeous instrument sporting a flame maple top or classic vintage vibe. And there's a vast array of pedals and effects out there screaming for our attention. (Yes, we used "screaming" intentionally. Please don't hate us.) Of course, pickups, strings, cables, amplifiers, and preamps also have a big impact on our tone.
However, it's important to remember that
every
item in our signal chain eventually goes through our amp's speaker­—the crucial transducer that converts electrical impulses into sound.
The speaker always gets the final word in our musical conversation. It is literally the last piece of gear that we control before our playing reaches the listener's ears or the sound engineer's microphone. And if we're wondering how to upgrade our overall sound—or breathe new life into a battle-weary amp—maybe it should be the first place we look for answers.
ToneSpeak, a newly launched speaker company based in Minnesota, aims to give you some great new options when you select that all-important piece of gear. Since the company's birth in 2021, their goal is to provide speakers that are clearly rooted in classic sounds, but with unique tones of their own.
Modern Speakers Saluting Iconic Predecessors
ToneSpeak's Liverpool 1275—a 12" speaker designed to appeal to Vintage 30 users—provides a case study in the approach. "In selecting what models we wanted to build," explains Anthony Lucas, ToneSpeak's senior transducer engineer, who designed the new speaker line, "we started with American and British roots. We didn't want to copy anything. If you want a Vintage 30, then you should get one from Celestion. It's a great speaker. But we were okay with using a Vintage 30 and a Greenback as an inspiration, to provide a baseline. The first prototype sounded too much like a Vintage 30"—he laughs—"and we knew we didn't want to do that. We ended up giving the Liverpool warmer, smoother upper mids and highs, and a bit more lows."

Lucas knows his stuff: He designed products at Eminence in the U.S. for years before departing the company in 2020 and building the new ToneSpeak line, with help from another former Eminence colleague, Josh Martin.
"At this company, most of us are musicians and involved in music," says Lucas, "and all of us speak the language of tone, so that's how ToneSpeak came about. We talked to musicians and manufacturers and asked what they liked and didn't like about various speakers. We tried to respond to them by keeping what they liked and improving on the things that they didn't."
Plenty of 12" Options—and Other Sizes, Too
The Liverpool 1275 is one of five 12" speakers in the growing ToneSpeak line. Other models include the British-inspired Birmingham 1275—a natural fit for fans of the G12H Greenback, with balanced, throaty midrange and lots of articulation—and the formidable Manchester 1290. A high-powered brute, the Manchester will appeal to any player who loves the Celestion Classic Lead but seeks a bit more flexibility. "The common complaint about high-powered speakers is that they sound sterile unless you push them pretty hard," notes Lucas. "So, we designed the speaker to sound very musical even at lower volume, while still being able to handle 90 watts and sound great. It's probably our most balanced, most transparent speaker in the whole line."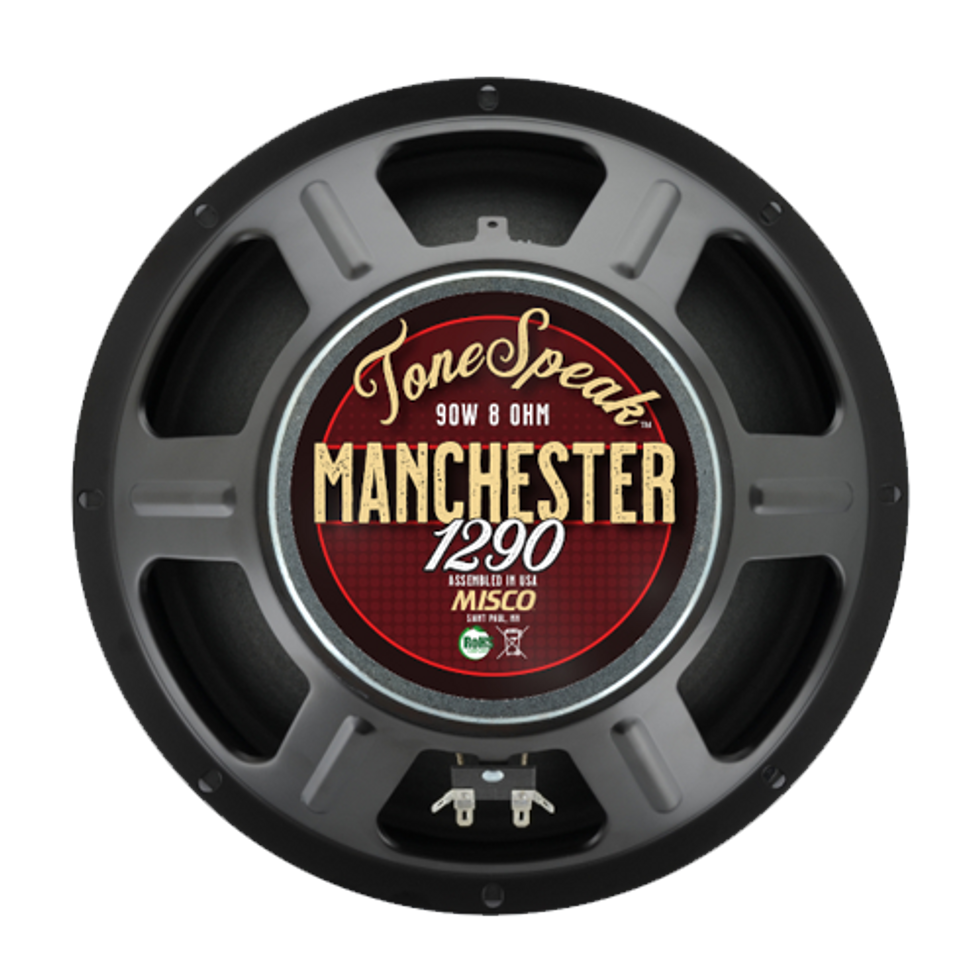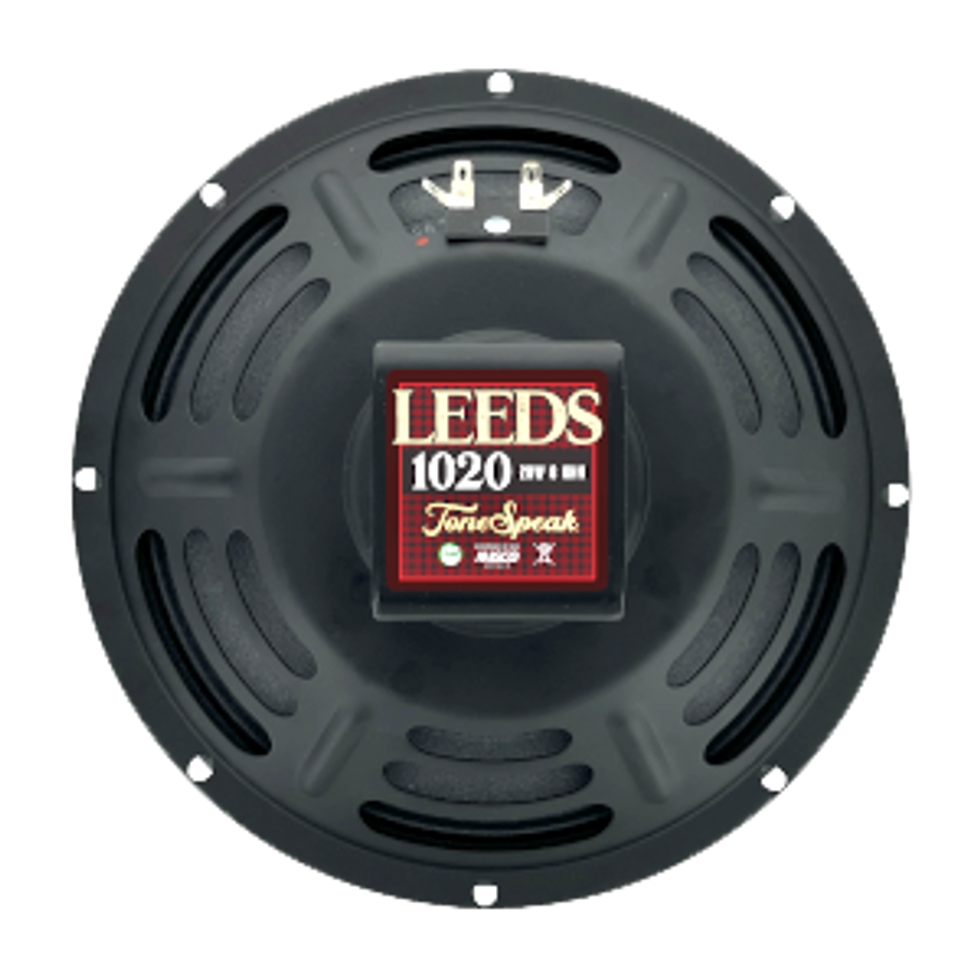 If you've got a 4x12 closed-back cab that could use an upgrade, ToneSpeak's Birmingham or Liverpool models are your go-to options for classic tone bliss. And if you want to raise the aggression factor a notch or two—while still sounding great at lower volumes—the Manchester might be your cup of tea.
ToneSpeak: The Chris Condon Demos
Seeking a specially individualized tone that perfectly fits your unique style? Blending two different speakers with varying tonal characteristics in a 2x12 or 4x12 cabinet can produce amazing results. Just ask Robben Ford: He's using the Austin 1250 and the Manchester 1290 in his Little Walter 2x12 cabinet.
On the other hand, if you're outfitting an open-backed combo, ToneSpeak's 12" offerings include a pair of American-based speakers: the Austin 1250 (the same one Robben Ford uses—see above) and New Orleans 1250.
The Austin harkens back to the classic Eminence GA-SC64 speaker. Looking to upgrade your Deluxe Reverb? This is the ticket. "The Austin 1250 is more or less transparent, so you really hear the amp," explains Lucas. "We brought the mids up—because guitar is a mid-dominant instrument—so they're more forward and clear without being harsh. The highs are really open and it's very solid in the lows."
ToneSpeak: The John Szetela Demos
The New Orleans is designed for players who like the smoky, subtle tone of a hemp cone. "We felt that other hemp-cone speakers are a bit too dark," says Lucas, "so we designed our hemp cone to have a more open sound. It's still warm and smooth, but it fills the room and takes to distortion really well. The high end doesn't sound like it has a blanket put on it."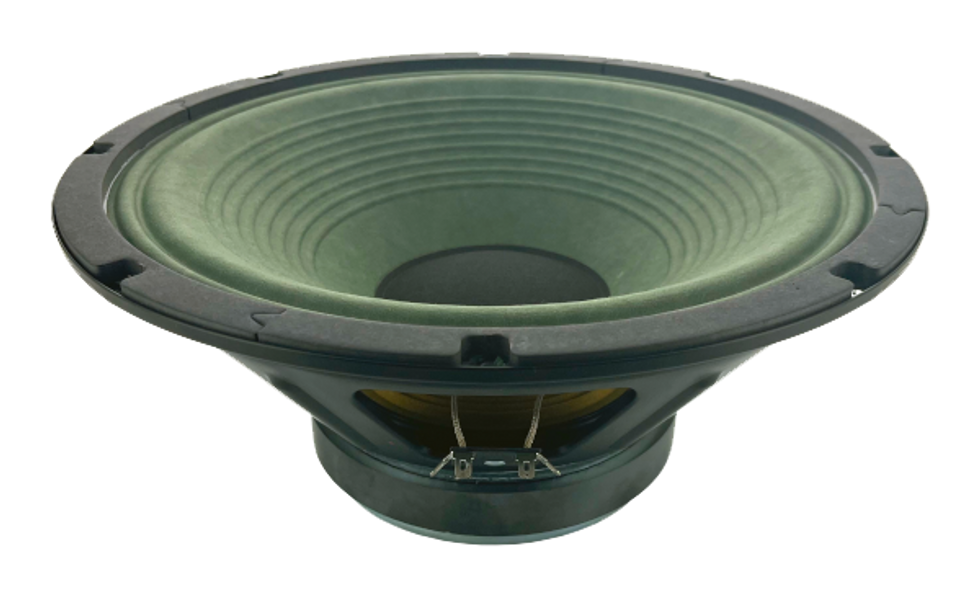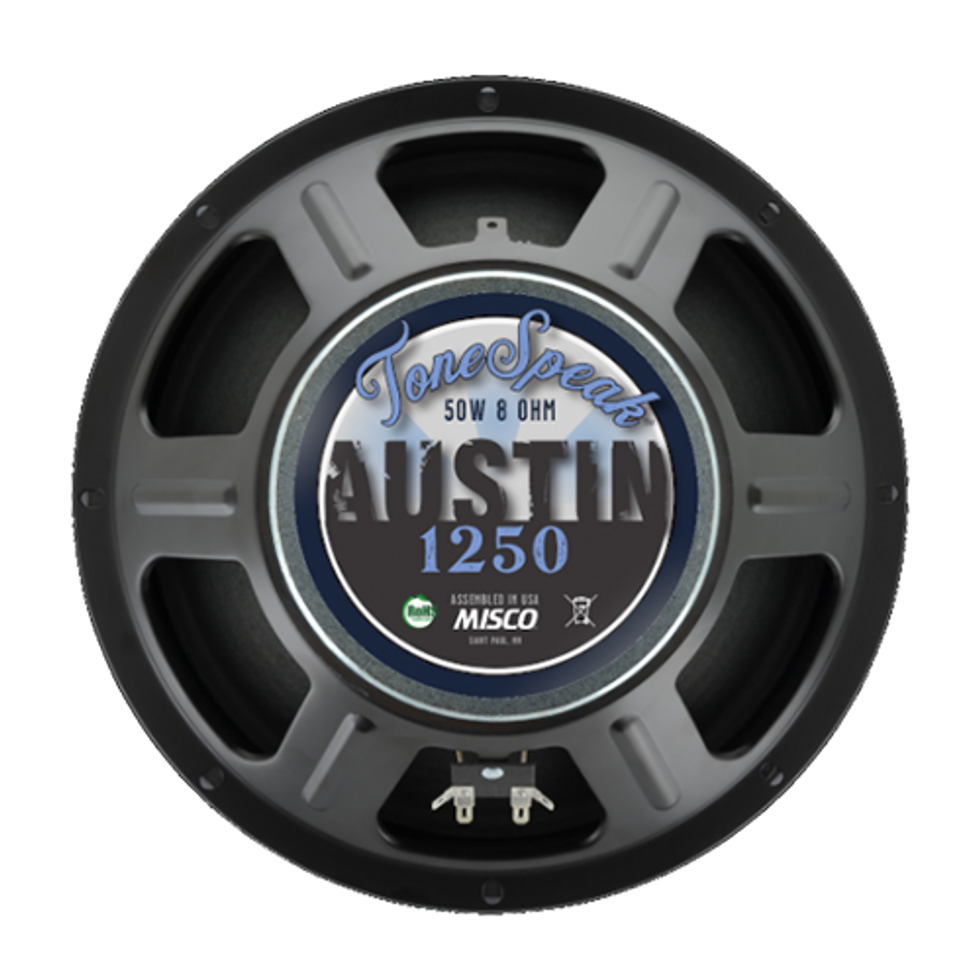 ToneSpeak also offers a range of speakers in other sizes. The company's four 10" models include American-inspired options (the Boston 1020 and Minneapolis 1050) and British voicings (Leeds 1020 and Glasgow 1050). And a pair of 8" models include a British-inspired Belfast 820 and American-voiced Detroit 820, with a hemp-composite cone that makes it perfect for Tweed Champ enthusiasts.
In designing the broad range of ToneSpeak's product line, Lucas considered all of the components that go into a guitar speaker and affect its tone: cones, coils, and spider suspension. He also delved into a factor that might not be familiar to most players: edge doping—treating the edges of the speaker cone with a substance that works as a shock absorber, to keep the cone under control at high volumes. "We compared a few different edge dopings, which have a big impact on defining upper mids and highs. They can sometimes roll off the highs too much if you're not careful. We developed our own proprietary edge doping, which I'm really proud of. It makes a big difference in the sound of the speakers and we're using it on the entire line, except for the New Orleans hemp-cone speaker, which sounded better without any doping at all."
If you're wondering how a brand-new speaker company can offer so many models so quickly, the answer is simple: They are allied with the long-established builder MISCO, aka the Minneapolis Speaker Company.
An Ongoing Legacy of U.S.-Made Speakers
Launched in 1949 by Cliff Digre, a World War II veteran with a deep interest in electronics, MISCO has been led by Cliff's son, Dan Digre, since 1990. The company builds a dizzying array of products and speakers for a variety of industries—including aerospace—many of them far-removed from the musical instruments realm.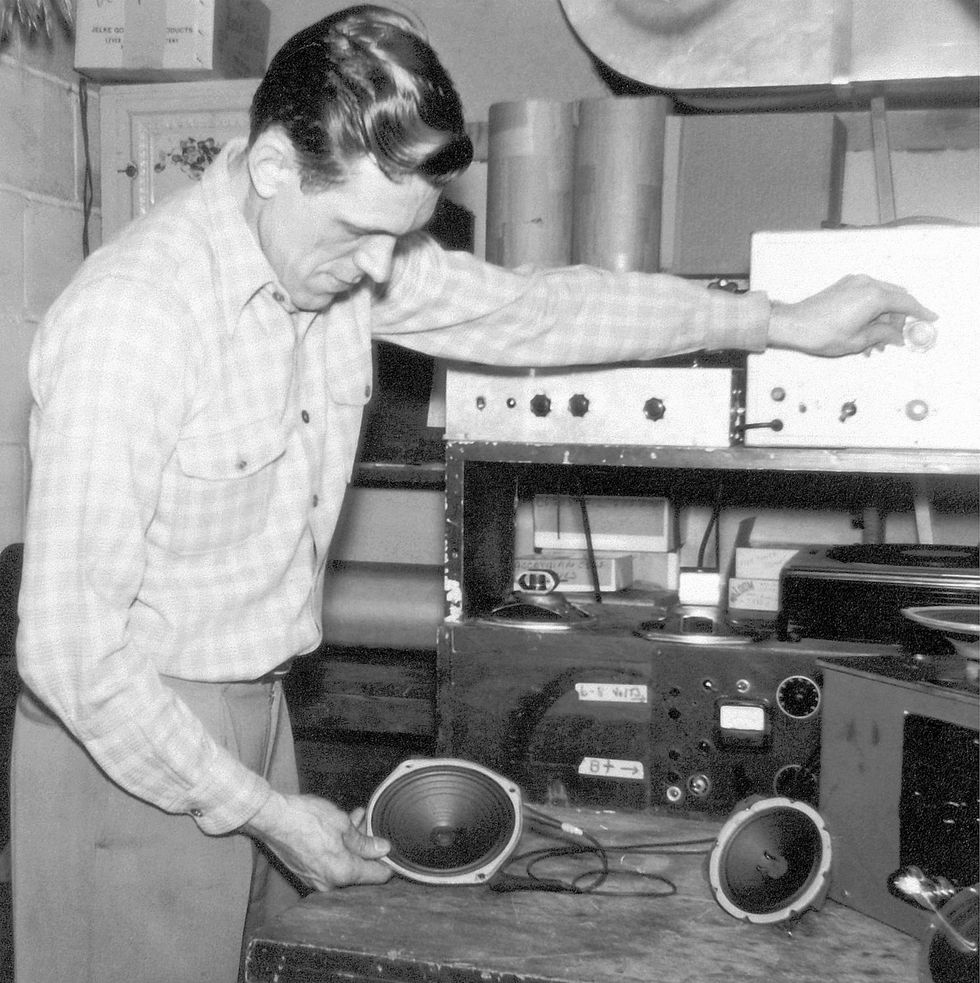 MISCO founder Cliff Digre tests an early speaker in his workshop.
However, MISCO has been making OEM guitar speakers for more than 60 years, and in the 1960s even had its own brand of speakers called Redline, that featured red cones. So, when MISCO partnered with Anthony Lucas to launch the ToneSpeak brand, the company possessed decades of know-how in the guitar-speaker arena. It was a perfect opportunity to fill a need in the marketplace. "Anthony had a lot of experience designing speakers when he worked at Eminence," notes Digre. "For decades, our core has been OEM, which by its nature means people are asking you to do things for them. ToneSpeak exists because the market was asking for some alternatives to what was out there, with an American brand behind it."
Digre readily acknowledges that building guitar speakers presents a unique set of challenges—starting with the end user's tastes and preferences. "Guitarists have an amazing sensitivity to tone color. These players have fabulous ears—they're very discerning, and I have a great respect for them. The philosophy of designing a guitar speaker is different from almost any other type of speaker because it's part of the sound of the instrument. Most other speakers are designed for the signal to pass through it as uncolored as possible. But the guitar speaker requires the color of the driver to become part of the instrument. And it's not a commodity: You need to be able to consistently, repeatedly replicate the tone color. Controlling the variables that affect tone color is very important. MISCO has the means of measuring and controlling those factors."
The Science Behind the Speakers
MISCO's engineering and manufacturing expertise is the secret sauce behind ToneSpeak's rapid rise. "There's some serious engineering in this company used by a lot of different industries," Digre admits. "MISCO builds the speakers for NASA. They're used in the space station and the Orion spacecraft that's going to land on Mars one day. While those aren't musical products, they do require a very specific set of attributes. These are very demanding applications, and your quality really has to be top notch."
Those high standards inform the entire approach behind ToneSpeak. "Whether we're building a speaker for a spaceship or a guitar amp, we're devoting the same attention to detail and consistency," Digre says. "One of our brands uses the phrase 'Our Science, Your Music.' That philosophy applies equally to ToneSpeak. We've got the science of design, the science of manufacturing, the science of testing—but they're all in the service of music. By design, I want musicians to be in this company, because a musician is going to understand a lot of things that a pure engineer is not. We need to have the musical perspective embedded into the DNA of the company."
Digre's outlook is perfectly aligned with Lucas' stance on speaker design, and the satisfaction he gets when they've nailed the formula just right. "I get a smile when a real player gets a hold onto a tool that I've made and they connect with it," Lucas says. "You can always tell by watching and hearing them. They can't stop playing. They're hooked. It's like they get lost in the music. That what really brings me joy as a designer. I've done my job."
Ultimately, electric guitarists are the beneficiaries of this approach. Whether you're upgrading your main gigging amp—or resuscitating a garage-sale find—you'll find a new range of options in the ToneSpeak line. So, roll up your sleeves, have some fun, and crank it up. Great tones are waiting for you!
To find a speaker that completes your sound, head over to ToneSpeak.com
Boss announces the AC-22LX Acoustic Amplifier, a compact, 10-watt stereo amplifier for pickup-equipped acoustic stringed instruments.
The AC-22LX presents a new concept in acoustic amplification, delivering a full-immersion playing experience realized through advanced BOSS Air Feel technology. Air Feel breathes life into the dry, sterile sound of standard acoustic instrument pickups, recreating the detailed tones captured by stereo acoustic microphone setups in world-class studio settings. From acoustic-electric guitar to ukulele, violin, banjo, and other stringed instruments, the AC-22LX and Air Feel deliver the ultimate personal amplification experience for serious acoustic players.
Many elements contribute to the rich, complex sound of acoustic stringed instruments, including the soundboard, body resonances, and more. In recording situations, stereo microphone setups are used to capture this combined sound along with the surrounding room ambiance. Unfortunately, instrument microphones are impractical for most amplified playing situations due to feedback and other issues. Air Feel erases these limitations, bringing authentic studio microphone sound to acoustic amplification for the first time.
Born of intensive Boss sound research and advanced processing technologies, Air Feel transforms a standard acoustic pickup's sound with richness and dimension never possible until now. Players can plug in and enjoy their instrument's natural acoustic character at performance volumes—without the need for microphones and audio engineering skills. Easily accessible via a panel knob on the AC-22LX, multiple Air Feel settings recreate the immersive sound of classic stereo microphone techniques, including XY, AB, ORTF, and mid-side.
The AC-22LX's compact and attractive cabinet is equipped with two custom twin-cone speakers, providing expansive stereo tones for home playing. Along with Air Feel, the Guitar/Instrument channel features a three-band EQ plus reverb and combined reverb/chorus effects. The Mic channel supports an XLR vocal microphone and includes selectable phantom power, two-band EQ, and a dedicated reverb for independent processing. With 15 onboard memories, users can save setups for different songs and instruments. The AC-22LX Editor (macOS/Windows/iOS/Android) provides even deeper control with the ability to change reverb types, access effect parameters, and more.
​The AC-22LX also includes a Rhythm Box feature to enhance practice sessions and live performances. Five instrument types include percussion and drum set sounds, all infused with BOSS spatial technology that fills the surrounding space with vibrant rhythmic energy. There are 15 onboard patterns, which users can customize with 119 variations in the AC-22LX Editor.
With its versatile analog and USB connectivity, users can send the AC-22LX's sound output to a PA system, recorder, or live streaming application, complete with Air Feel processing and spatial rhythm tones. The analog line output supports mono or stereo operation, while the USB connection has a convenient Loopback function for monitoring sounds from a computer.
There are a variety of available options to extend the AC-22LX experience. A rear-panel jack supports up to two footswitches, providing access to rhythm start/stop, control of the onboard looper, and other assignable functions in the AC-22LX Editor. Installing the Bluetooth® Audio MIDI Dual Adaptor unlocks even more possibilities through wireless connectivity, including the ability to stream and play along with music from a mobile device, adjust settings via the iOS/Android version of the editor, and more.
The new AC-22LX Acoustic Amplifier is available now at authorized Boss retailers for $399.99.
For more information, please visit boss.info.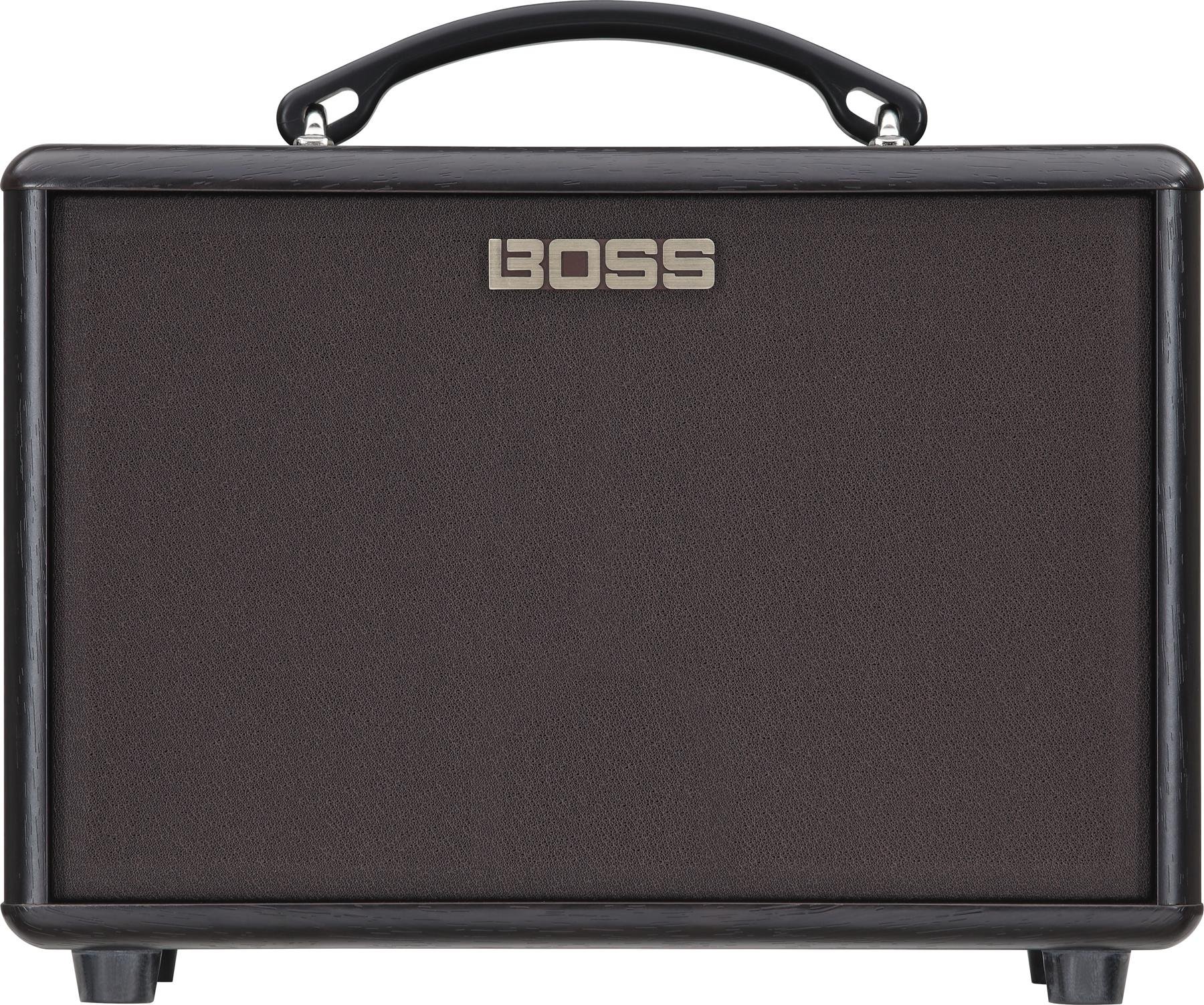 AC-22LX 10W Acoustic Amp
Boss