A safe space for savage fuzz.
Absolutely ripping fuzz sounds that balance sustain and chaos. Cool low-gain and volume-attenuated textures. Sturdy construction. Cool control layout.
High gain sounds rob pedal of some of its nuance
5
5
4.5
4
Though it feels sacrilegious to say, sometimes you need a break from fuzz—a chance to rest the ears, to bathe in the overtones of a little reverb, or just listen to the birds sing. That's the place I was in when the Pigtronix Star Eater arrived. An hour later I wasn't nearly as interested in the birds anymore.
It's hard to pinpoint a classic fuzz touchstone that's useful to describe the Star Eater. At many settings it has a lot of the chainsaw grind and piercing focus of a Shin-Ei Super Fuzz, but it's thicker. At other settings it has some of the mass and wallop of a Rams Head Big Muff, but it's less woofy and thick. Elsewhere you hear echoes of the Foxx Tone Machine and ZVex Fuzz Factory. But generally, such comparisons are pretty futile: The Star Eater shines in a galaxy all its own.
Fuzz Maze
One reason the Star Eater's personality is hard to pigeonhole is that it has a few. This multi-faceted character is attributable to the Star Eater's big and snarly but malleable fundamental voice, which is controlled by a simple set of three knobs and two rocker switches. When the contour filter is off, the fuzz is shaped by the volume and gain knobs and the germanium/silicon clipping switch. That's a simple set of controls, but there are many sounds to find within their respective ranges. Winding up the output volume and gain (called hunger) produces hot, trashy, and saturated tones that are killer for super-focused punk power chords and leads that rip and splatter. Sustain is impressive, too. But it's not the vocal- or violin-like sustain you hear in a Big Muff. Instead, it's reedy, cracked and fractured, particularly when holding deep pitch bends.
Sustain is not the vocal- or violin-like sustain you hear in a Big Muff. Instead, it's reedy, cracked and fractured.
Low gain/high volume settings produce sounds that range from '66-style germanium fuzz voices at full guitar volume to almost ring-modulated and electric-sitar-like voices at attenuated guitar volumes. These glitchier, messier fuzz sounds are some of the pedal's coolest colors. The fuzz is plenty loud at these lower gain levels, too, which means you can explore these sounds in a live band without the fear of being rendered silent.
Filtered Fatness and Contoured Screech
The contour filter, controllable via the footswitch, rocker switch, and knob on the left side of the pedal, generates versions of the Star Eater voice that run from scooped and fat to raspy and cutting. Parking the sweep knob somewhere around noon and switching in the contour filter makes a given sound from the fuzz side fatter and fuller. You can also further shape the response and tonality with the contour rocker switch, which moves between a scooped and bumped midrange profile.
When you move the sweep knob a little in either direction, the sustain becomes more unstable and EQ emphasis shifts—usually with deliciously perverse results. The best of these sounds, at least in my demented estimation, are in the clockwise range with the mid-contour switch in scooped mode. Here, screaming notes quickly turn to shards of cracked octave overtones and harmonics that sound especially freaked-out and full of fangs when you move the rocker switch to the scooped setting.
The Verdict
While it was hard to determine any direct lineage between the Star Eater and any other classic fuzz (and what a treat that is), the Star Eater evoked many thrilling musical spaces: Mudhoney, Ghost's Michio Kurihara, the manic buzz of a thousand aggro psych-punk bands, and the meaty, trucking riffage of 100 Sabbathoid sojourners.
What really sets the Star Eater apart for me, though, is attitude. It's not the burliest fuzz or the weirdest. But by inhabiting a world between those poles, the Star Eater manages to be articulate and nasty—a poet assassin and a civilized brute. These are the kinds of tones that make a solo or driving rhythm part explode in a recorded mix or onstage. And if you like your guitar parts with a touch of chaos and the confrontational, you'll find this stompbox beautiful.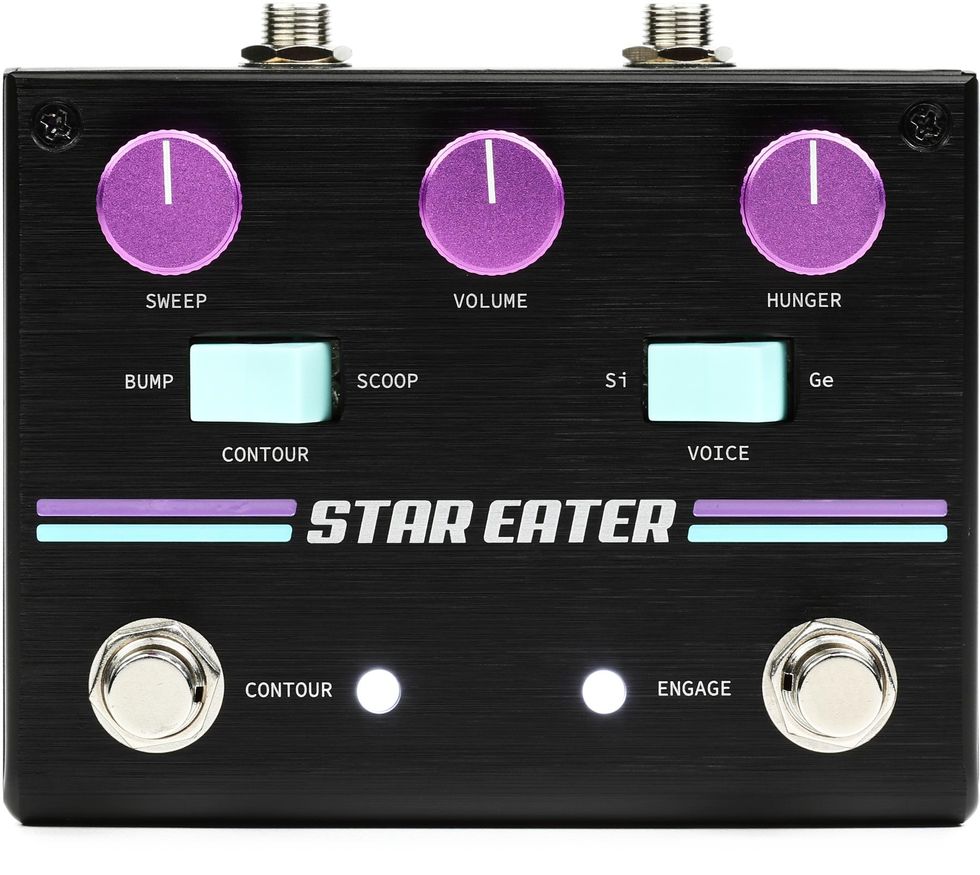 All-analog design delivers authentic old-school fuzz tones
Dual footswitch setup, sporting a powerful fuzz side and a versatile Boost/Filter side to cover all of your fuzz needs
Precision matched transistor pairs allow you to effortlessly dial in the "sweet spot"
Voice rocker switch offers both smooth germanium sounds and wild silicon tones
Pigtronix
Affordable modulated analog delay in miniature.
An excellent sounding and affordable passport to the universe of modulated analog delay that also respects tradition.
Micro size is a blessing and, for some, perhaps a small curse.
5
4.5
3.5
5
Despite the spacey name, the Constellator isn't the most out-of-this-world contraption made by Pigtronix. For that prize, I would submit the Mothership 2 Analog Synthesizer, which is raving madness in a box. Madness is relative though, and the Constellator is possessed with a more warm-hearted insanity. And while this analog delay does playfully cross the line into modulation in two ways, it has more of a star- (or maybe shoe-) gazing vibe that's warm and old-school in tone, but looks beyond the orbit of conventional delay.
Little Dreamer
Modulated delay isn't new, of course, but it's harder to find in a stompbox this compact and affordable. The Constellator is tucked into a small, solid metal box that measures 1 1/2" x 1 3/4" x 3 3/4" and offers a maximum delay time of 600 ms. It's got your basic 1/4" in-and-out-mono jack set and requires a 9V DC barrel-type power supply. Needless to say, there is zero space for a battery option. There are four dials atop the Constellator: time, mix, mod, and repeats. The additional control is a push button just below those dials marked "feel"—a subtly vibey little function we'll get to in a bit.
When I investigate a new analog delay, I always pull out one of my favorite dinosaurs for comparison: the Analog Delay MXR made between 1976 and 1984. The MXR's characterful nature is, in part, ascribed to the use of MN3005 bucket brigade delay chips, the same chip at the heart of this Pigtronix stomp. The Constellator's time, mix, and repeat dials correspond with the big green MXR's delay, mix, and regen. And tonally, the little Pigtronix compares extremely well, providing the same warmth and richness as the MXR. With the repeats cranked, the Constellator also produces the familiar oscillating feedback trails that I love and prize for their Forbidden Planet quality.
All Mod, No Cons
Per usual, I plugged guitars with single-coil, humbucking, and gold-foil pickups into the Constellator, and used my Carr Vincent amp with the EQ straight up. I was extremely impressed with this little device's big embrace.
The controls had more range than my beloved MXR and performed flawlessly in traditional applications. The Constellator handles slapback duties like a champ. With more modulation, the repeats took on a sweet vibrating sound— imagine Scotty Moore's Echosonic with a slight hangover, and you'll get the idea. Spacier emissions were equally pleasing, and with time, mix, repeat, and mod controls at 3, 3, noon, and noon respectively, the Pigtronix moved into Magnatone turf and got dizzier as the mod dial went up. But I really enjoyed the more extreme settings, where notes seemed to warp and degrade as they hung and faded in the air. Punching in the feel button made this sound even weirder. The feel function is essentially a chorus, but it really accents the colors and degradation in the repeat trails, sounding, at times, like analog tape that has been stretched. Even so, clarity and definition remain in every picked or echoed note. This truly is a lovely sounding pedal.
There are a few snakes in the garden. The dials are quite tiny, and close enough to each other that I can just slip my thumb between them, which means adjustments on the fly require focus. There are grooves in the sides of each dial to make gripping them easier, but those of us with big paws may still be slightly challenged to make precise adjustments. Also, the feel button is so close to the mod and repeat dials that I accidentally popped it on with my big-ass thumb several times while making adjustments.
The Verdict
The Pigtronix Constellator is a mighty mite of an analog delay, with warm sounds that equal much pricier pedals. And the mod and feel controls take tones into infinity and beyond. But while its small size is an asset for the pedalboard space-challenged, that's also a slight issue for those of us who buy our gloves at Thornton Melon's Tall & Fat Stores. If that issue isn't a problem for you, the Constellator could become a valued tool for drawing your own map of the sonic stars.
We've reviewed a ton of cool gear over the past 12 months, but these stood above the rest and won our coveted Premier Gear Award.
This year more than 40 guitars, basses, effects, and amps from a diverse group of gear makers earned the coveted Premier Gear Award from our discerning editors. Here is our gear of the year.