An entry-level classical and a more advanced model are reviewed.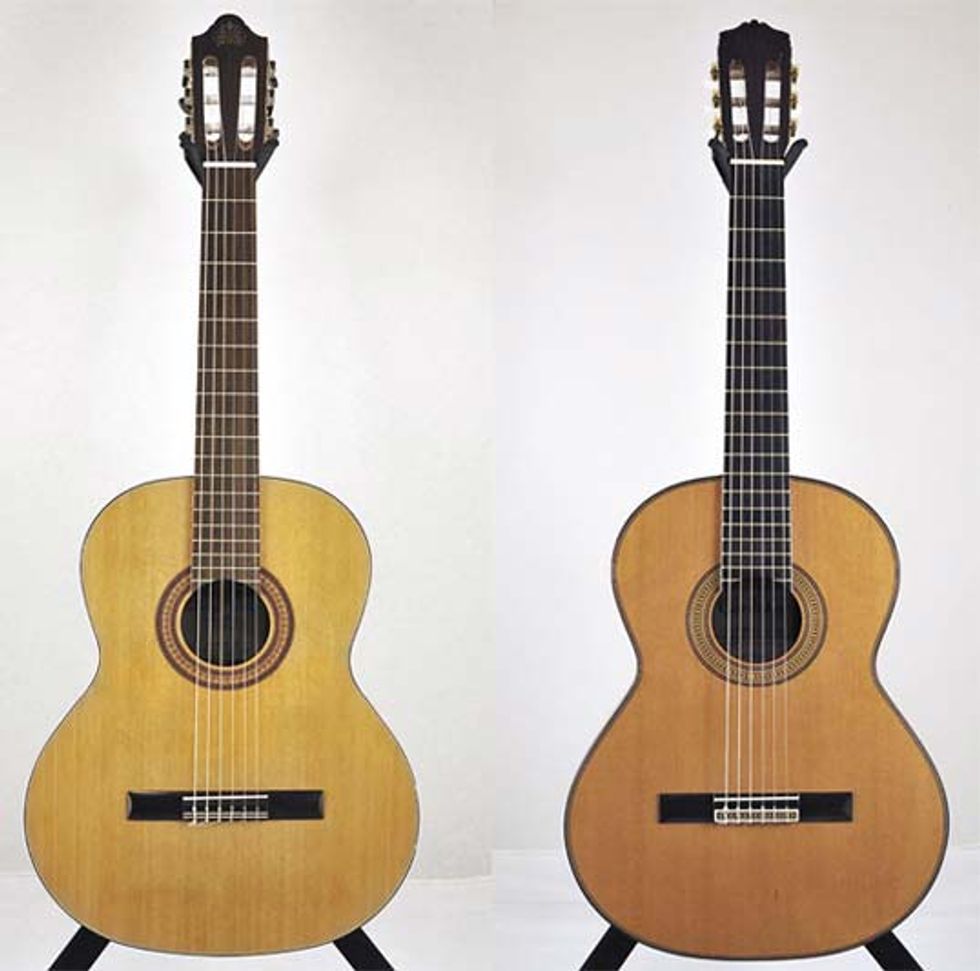 Classical guitar players, especially students, often face the daunting task of trying to find an instrument that fits their needs and budget. Professional players know that there are a number of luthiers throughout the U.S. and abroad making fantastic instruments. Reputable luthiers such as Richard Brune and Paul Jacobson will charge a significant price for making a customized, high-quality guitar; additionally, the buyer will likely have to wait several years for the finished instrument. Professional players may have the resources and time to acquire one of these fine instruments, but unfortunately the average player does not.
Therefore, most people are forced to find their instruments through more conventional avenues, such as a guitar shop. Unfortunately chain stores have a limited selection of classical guitars, and even when you find one, it is hard be sure of what you are buying. This month we had the opportunity to look at two guitars, at two different price points, both of which will fit the needs of the average classical guitarist.

Orpheus Valley Fiesta FC
I was first able to get my hands on the Fiesta FC model from Orpheus Valley Guitars. The Fiesta FC is constructed with a solid Red cedar top, solid Indian rosewood back and sides, Honduras cedar neck, Indian rosewood fingerboard and bridge, bone nut and saddle, and Gebr. van Gent machine heads. Judging by the grain, the cedar top appears to be a younger wood, but still good quality. The Indian rosewood back and sides appear outstanding and are well bonded. The Gebr. van Gent machine heads are decent, but slightly below the quality offered by models from Rodgers or Gotoh. Overall, it is well constructed with a standard fan bracing and dovetail neck joint.
How does it sound? The guitar has a very nice sound that is rich, warm and vibrant. The bass tones are loud and have a nice punch that is indicative of a cedar guitar. The treble tones are clear and definitive but not piercing or sharp. The third string, in particular, has a wonderful singing quality that is excellent for vibrato. The varying timbres are probably the most impressive feature of the Fiesta's sound. Dolce (towards the fingerboard), normal (over the soundhole) and ponticello (towards the bridge) areas provide great contrasts from soft and warm to bright and punchy. I was very impressed with the guitar's volume – the high-grade nitrocellulose finish allows for the sizeable volume while protecting its appearance. Overall, the Fiesta's sound quality is outstanding for a guitar in this price range – improvements could be made by using ebony for the fingerboard, for example, but that would understandably drive up the cost.
Playing the guitar is a treat for the left hand because the fingerboard is set to a moderate scale of 650mm. With a nut width of 52mm, the string distance, between one another, is a perfect fit for the right hand fingers. I decided that the ultimate test of the right hand on this guitar would be Tarrega's "Recuerdos de la Alhambra." Tremolo is trouble-free for the index, middle and ring fingers while the thumb does not have to overstretch for moving bass lines. Needless to say, my fingers could flutter freely, and I was deeply impressed with the Fiesta's easy playing and wonderfully full, warm sound.
In testing the left hand, I decided that Bach's
"Prelude" from Lute Suite No. 4
would be most suitable. Scale passages and long stretches were accomplished with ease, and the guitar fit wonderfully in both the upper and lower positions of the fingerboard. Lastly, the shape of the guitar's body seemed to hug the left leg just right to create the perfect balance.
All things considered, the Fiesta FC is an excellent value for its price. The guitar lists at an amazing $895 retail and delivers a number of quality features. The construction of this instrument is outstanding, and the high quality materials used contribute to a sound quality well above what you'd expect to hear in this price range. It is difficult to find a similar instrument that delivers such a warm and vibrant sound, so don't pass this up.
Buy if...


you are an intermediate student and an aspiring professional.


Skip if...


you are getting ready to play at Carnegie.


Rating...