Believe it or not, on eight out of 10 guitars with tuning problems, the culprit is usually bad strings or the exotic ways they were installed. Here are some ways to combat these issues.
Welcome back to Mod Garage. I've wanted to cover this topic for a long time, but to be honest, I didn't dare because it seems so trivial. I'm sure a lot of you already have a natural routine to assess tuning, but I receive guitars daily for repairs, and enhancing tuning stability is something I hear about a lot—on electric as well as acoustic guitars. There are many reasons why a guitar has problems staying in tune, but today we'll discuss the simplest one: the strings.
A column about strings? Now he's crazy, you might say. Believe it or not, on eight out of 10 guitars with tuning problems, it turns out this is caused by the strings themselves and/or the way the strings were installed. For some guitars, the nut or the saddle/tremolo is causing problems; others have problems with the tuners or worn-out bridge pins on acoustic guitars, string trees, etc. But bad strings and exotic ways to install them are reason No. 1 for tuning problems. Let's have a deeper look into what happens here and what can be done.
"The more windings you have on your posts, the greater the chance for tuning problems."
Over the years I've seen the craziest things people do with their strings. Here are some simple guidelines for you to combat tuning problems, whether it's an electric or acoustic guitar, or if it has steel or nylon strings.
Possible Problem No. 1: The Strings Themselves
You all know this "problem" when setting up new strings on a guitar: After getting them in tune and playing for a minute, you need to tune them again, and this will last for some time, depending on the material of the strings. This is normal when strings are getting stretched for the first time; they'll stay in tune after they've settled. Here are some hints to get around this:
1. Stretching the strings several times after setting them up by simply pulling them upwards with your hands will speed up this process noticeably. There are also tools for this called string stretchers, but you can simply do it with your hands. This is called pre-stretching and is very simple to do. As a rule of thumb, steel strings will settle sooner than nylon strings.
2. A customer bought "pre-stretched strings" and brought them in so I could try a set of these in the shop. I could notice no difference other than the price, but I wanted to mention that such sets exist.
3. Cryogenic-treated string sets may stay in tune faster right from the start. This treatment is widely used to remove tension, especially out of metal parts—like on high-precision components for racing engines. This might work on steel strings, but I have my doubts that it will work on nylon strings. Funny enough, I've never read about tuning improvement on any cryogenic-treated string set, but a lot is mentioned about how good they sound, how long they will last, etc. It's up to you if these strings sound any different from other string sets. Give it a try. In time, each string set should stay in tune without any problems, no matter what method you use to speed things up.
"Cryogenic-treated string sets may stay in tune faster right from the start."
Some time ago, I had a British-made Burns guitar from the '60s on the workbench that was still equipped with the original flatwound string set it came with from the factory. These strings were perfectly in tune after almost 60 years. If the strings aren't damaged, there should be no problem. A problem I regularly see is that completely new string sets have a rotten egg under the hood, caused by problems during manufacturing. From my experience, it's mostly steel strings of certain brands and very often the G string, but I've also had bad D and B strings out of the box. With such strings, no matter what you try, you can't get them in tune, and you'll see they have an unnatural pattern of movement. I have no idea what causes this problem during manufacturing, but just keep this in mind if you run into tuning issues with a new set of strings. The solution is simple: Replace the bad string or the whole set with a new one.
Possible Problem No. 2: The More, the Merrier
Many people think it's right and important to wind up the complete string length so it can stay in tune better because of the many windings, adding stability (Photo 1). Exactly the opposite is true. The more windings you have on your post, the greater the chance for tuning problems. Getting as few windings as possible on the post is the way to go. Have a look at a locking tuner. They have zero windings on the post for the best possible tuning stability. We'll talk about how to do this in a minute. The best and funniest statement I've heard over the years was from a customer, when I tried to explain that it's not a good idea to wind up the complete string length. He explained he'll continue doing this because the manufacturer has good reasons to choose this length. I suppose somebody must do whatever makes somebody happy.
Possible Problem No. 3: Loose Tuners
Whenever you change your strings, make sure all screws and hex nuts from your tuners are tight. With a loose and moving tuner you'll not only have tuning problems, but it's also a common source for strange noises you can even hear in the amplified tone of a guitar. Sounds trivial but it's important.
Possible Problem No. 4: Improper String Installation
This is by far the most common problem, and everyone has their own way of stringing up guitars. Some are superior to others. I don't say my method I use in the shop is the best and only way that works. But over the years I tried a lot of different methods and the one I want to show and recommend to you is the best-working one for me. It incorporates what we just talked about: putting the least windings possible on the post for maximum tuning stability, mimicking the way a locking tuner works. This works on all standard tuners and is very easy to learn, so give it a try.
If you don't want to compromise, there is no way around using locking tuners on your guitar. But if locking tuners are 10/10, the winding method that follows is 8.5/10, which is not bad at all.
I'm showing the winding method on an acoustic guitar with a 3/3 tuner configuration, but it also works with a 6L or 6R tuner configuration. It won't work with the '50s vintage Kluson types you often see on Stratocasters and Telecasters because there is no string hole on the post other than the one on top.
1. Position the post of the tuner so the string hole will be in line with the corresponding string slot for a string on the nut.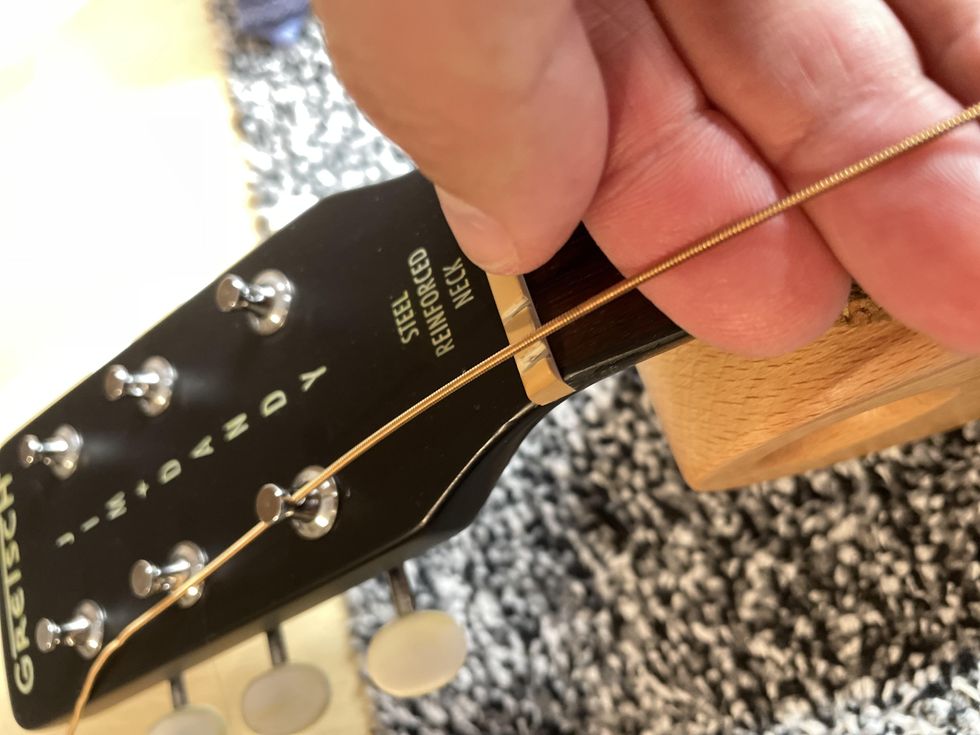 Photo 2
2. Guide the string through the string hole of the post and leave only a little slack. As a guideline, if you can put the fingers of your right hand underneath the strings, that's enough. Now, use a finger of your right hand and lock the string after the nut, leaving a little slack lying on the fretboard (Photo 2). I like to snip off a good portion of the rest of the string at this point, to make the following process easier. But you can also leave it full length until you're finished—whatever you like best.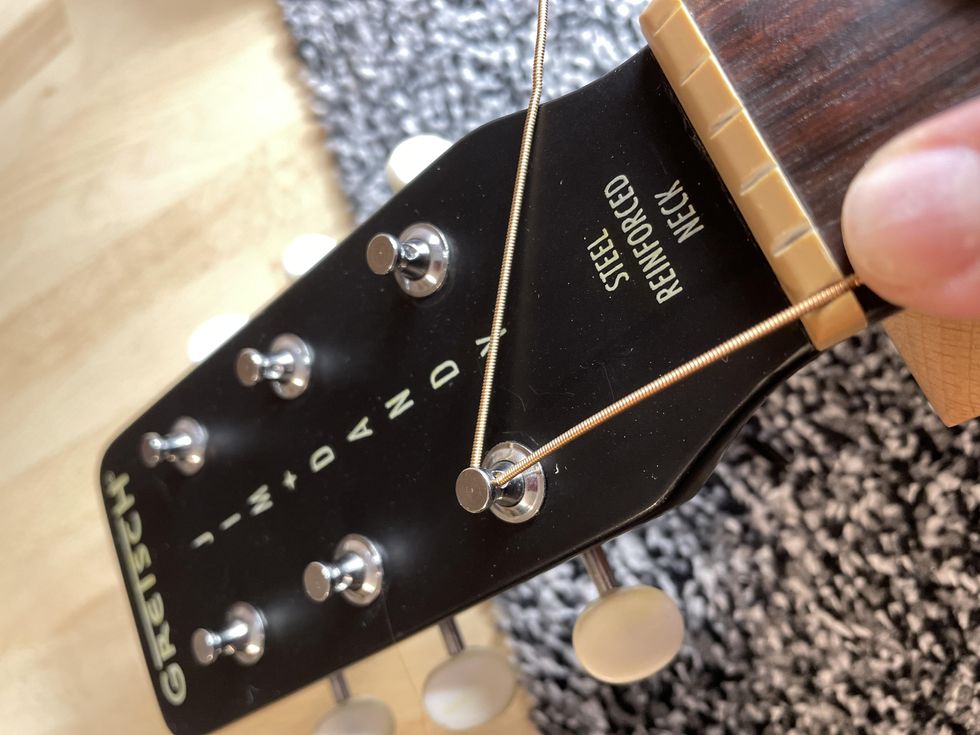 Photo 3
3. Bend the rest of the string around the post sharply so it will form a "V." Don't forget to still keep the string locked with a finger (Photo 3).
Photo 4
4. Next, put the rest of the string underneath the string, pressing it firmly against the post, still locking the string with your finger, and bend it over the string (Photo 4 and Photo 5).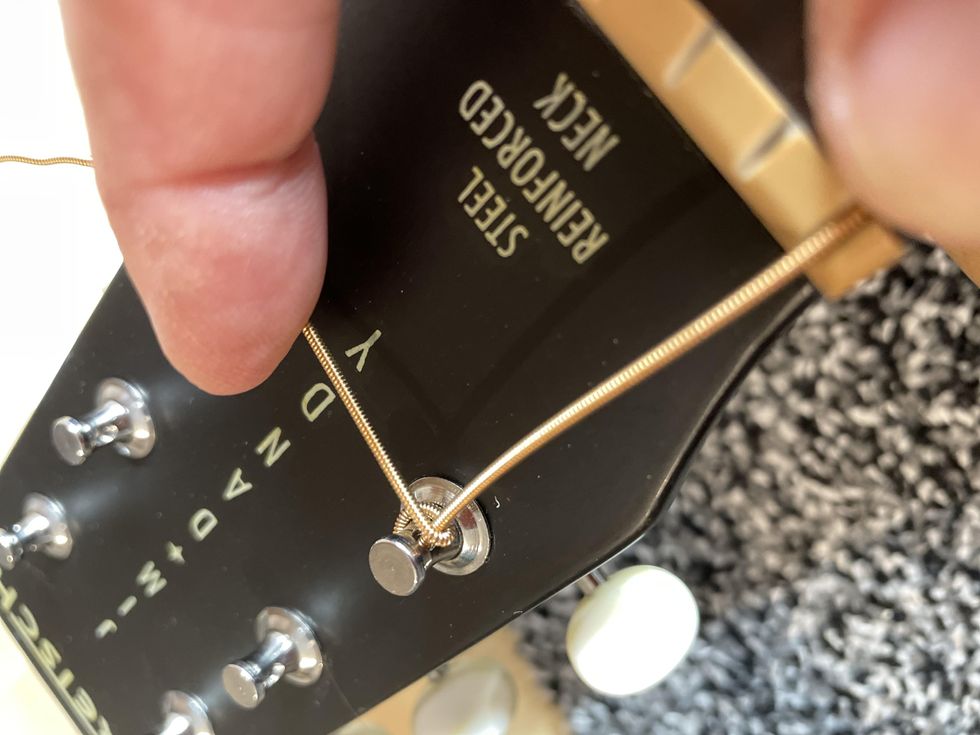 Photo 5
5. Tune up your string and release the finger you used to lock the string. You'll only need a very small movement of the tuner to get the string up to tune, so this is something you'll have to get used to. Cut off the rest of the string and you're done (Photo 6).
Photo 6
On a 6-in-line tuner configuration, you can proceed with the other strings as shown. With a 3/3 configuration, you'll have to mirror the process with the G, B, and high-E string. The rule of thumb is the rest of the string is always bent towards the middle of the headstock to create the "V."
It's very simple to do and very effective. It's also important to lock the string with your finger during the whole process until it's up to tune.
When you have a guitar that won't stay in tune, chances are good that this is all you need to do. If this doesn't help, at least you did everything that could be done before consulting your local luthier. And your luthier will be impressed about your troubleshooting, for sure. It will save them some time troubleshooting and it'll save you some bucks, too.
Next month we'll finally finish our DIY relic'ing project, so stay tuned.
Until then ... keep on modding!
When designing a guitar rig, stick to your music's essentials.
Whether you navigate it consciously or unconsciously, guitar-rig building has multiple stages. In the beginning, it's all possibilities and no responsibilities. The current state of the art and status of the market are such that nearly anything that you can conceive of is within your grasp. If you'd like your pedalboard to produce the sounds of yesterday, the guitar hive mind will provide you multiple methods. If you want to do something that's never been done, the sheer volume of pedals and other gear that's available makes for a set of permutations whose depths can likely never be fully sounded.
As a rig builder, I'm often brought in after the initial conception stage. The player has at least a general sense of what this pedalboard or rig has to be and do. There are lots of potential problems that can manifest at this point. A very common one plays out as follows: A young player (either in stage of life or stage in career) gets their first major gig. Their initial desire is to build the rig of their dreams— something with enough pedals and sounds to ensure there is next to no chance they won't have what's needed in every situation from stage to studio. This leads to a sort of feature creep as they add more pedals to deal with musical edge cases. "I'm going on the road with a mid-market Americana band, but one time 10 years ago, I sat in with a band to play 'Shakedown Street.' So, I should probably have an envelope filter."
The result of this unfettered specification can be a pedalboard three sizes too large. For bigger touring outfits, any remotely reasonable size is manageable, as semi-trailers are spacious. But I can tell you from experience that inappropriately prepared players can open themselves up to chiding by bandmates and crew who might perceive the player as pretentious or, worse, clueless. The problem really comes to a head when this well-intentioned player now has to play the employer's a-shade-over-three-minute 1–5–6–4 single at the Opry as a host of grizzled veterans stand in the wings wondering why there is a spaceship preparing for takeoff at the stage's edge for an act that is going to come and go between commercial breaks.
Picking pedals for a gig means knowing the songs, arrangements, and having a producer's ear.
Is the rig "good?" Without a doubt. Is it "right?" In terms of essential simplicity, maybe not. During that initial design phase, having a very clearheaded understanding of what the board should not be is just as important as determining what the board should be. You might be thinking this overzealous gear response is strictly the domain of newbs and rookies, but you'd be wrong. I've sat in hour-long rig consults with some of the most recorded guitarists in history—card-carrying guitar heroes—and in the first conversational lull after arriving at the "final" plan, this supremely confident, completely secure player will say, "Is there anything else I should be putting in there?" The idea that we might be missing something is no respecter of persons.
I've been having this same conversation with guitarists of all ages and stages for over 20 years. Recently, it has gotten me thinking of a certain Swiss patent clerk who said, "Everything should be made as simple as possible, but not simpler."
So, how do we follow patent clerk Albert Einstein's exhortation to keep it simple? Picking pedals for a gig means knowing the songs, arrangements, and having a producer's ear for what sounds and parts are actually required to make it through a full set, a shortened direct-support position, or a one-off TV date. Having drive pedals that are useful separately and stacked can round out your tonal core. Adding your bread-and-butter modulation and time-based effects will keep that section from becoming too expansive. A multi-effect pedal can catch all those edge-case scenarios that would otherwise add low-utility square footage.
Consider a more modular approach where a primary board can have auxiliary boards patched into it to expand its utility and allow it to collapse in size easily when necessary. Don't be afraid of adding what's called for, I've built super complex rigs that were as simple as they could be, but don't fall into the trap of thinking a single monolithic pedalboard setup is the only answer.
Comprehending one of the studio's most important but mysterious tools—with metaphorical cocktails!
[Originally published 6/8/2020]
Welcome to Recording Dojo—PG's new monthly column pertaining to recording and engineering, with guitarists in mind. Think of this column as your place to develop better audio-recording skills, experiment with new techniques and gear and, most importantly, mindsets. So bring your best self forward and your willingness to learn … the dojo is now open.
1. TKARR
Let's begin our training with compression: a confusing topic for guitarists as players and as engineers wanting to make their recordings more professional. Compression has five core parameters: threshold, knee, attack, ratio, and release—or TKARR. I'm going to explain this metaphorically, as if you are at a major event, say, the Grammys, and you've just won. You've condensed a lifetime of "I'd like to thank" into 15 seconds, and you've been regally whisked offstage by an anonymous beauty in a ball gown.
2. Threshold
The next thing you're instructed to do is leave backstage, go through the giant ballroom (where a band is playing and people are partying), and go to the press room for photo ops and post-win interviews. You walk down the long hallway towards the ballroom door, where a burly 6'8" doorman stands behind velvet ropes. The doorman is the threshold and the velvet ropes are the knee.
3. Knee
In order for you to get into the ballroom, the doorman has to let you in. As you arrive at the door, he takes his hands off the ropes (hard knee), crosses his arms, coldly stares at you, and says, "What are doing here? This is for Grammy winners only." Ouch! He doesn't recognize you. He only listens to Siberian reggae bands. High threshold. So high that you can't pass though. Conversely, if, as you approach, he gently unfastens the ropes (soft knee), says "I'm a huge fan," and moves aside without you having to break stride, you have crossed the threshold and are now inside the ballroom. This is a well-set threshold, only allowing in those who are authorized. Or perhaps, as you arrive at the ballroom entrance, you notice that the doorman has passed out, the ropes have long been knocked over (no knee), and anyone can enter. Low threshold.
4. Attack
As soon as you enter the ballroom, within a millisecond, a waiter comes up to you: "Champagne? The press room is on the other side of the ballroom." That's quick attack. You notice there's a string quartet playing Haydn's Op. 76, and the volume is comfortably loud (low ratio, somewhere between 1.5:1 to 4:1). Almost as soon as you enter the ballroom, you've got your libation and move directly to the press room—quick release. You arrive at the press room with your wits about you, ready to talk about your big win.
Or, upon entering the ballroom, you mill around in the crowded room looking for directions and you're in the middle of the ballroom before a waiter comes up to you and shouts: "Drink? Press room is over there." That's medium attack. The band is an '80s cover band and the volume is rather loud for the room (medium ratio, 5:1 to 9.5:1). You eventually find your way to the press room and arrive slightly stunned, but ready.
Another version: Upon entering the ballroom, you're immediately lost in a sea of people, shouting for directions and hopelessly trying to be heard above the Mötorhead tribute band. Your ears are ringing. Time passes, and you somehow find the press room door and a waiter shoves a drink in your hand just before you leave the ballroom. Slow attack. You arrive, dazed and confused, in the press room (high ratio, 10:1 and above).
These simple scenarios should help you understand the parameters of compression. It's very important you know that all of these scenarios are equally and musically valid, and by no means exhaustive. Want that "When the Levee Breaks" drum sound? Low threshold, high ratio, quick attack/release. Want your acoustic to sound natural and dynamic? High to medium threshold, medium attack/release, medium to low ratio. Remember, the focus of this article is to explain the five parameters of compression (TKARR). Based on their highly varied and different designs, not all compressors give you access to every parameter. So, this will be our subject next month!