New for 2022, and in conjunction with their 60th anniversary, Takamine debuts the LTD2022.
The Takamine LTD2022 draws design inspiration from the early days of Takamine history, based on a model that adapted a classical body to an x-braced concert steel string with a cutaway, with koa back and sides. It was one of the guitars that helped Takamine first gain recognition as a steel-string acoustic guitar manufacturer. The LTD2022 uses this design as a starting point, featuring a stunning figured spruce top and gorgeous figured koa on its back and sides.
A brand new CTF-2N preamplifier comes with the LTD2022. This FET preamp revives the warm, dynamic sound of Takamine's early FET preamp model, affectionately known as the "Brownie". The CTF-2N has that legendary sound, while adding the modern functions of a chromatic tuner and a versatile notch filter. To honor the landmark 60th anniversary of the company, the LTD2022 features a diamond-shaped inlay on the 12th fret. The guitar is also adorned with abalone purfling and matching rosette. The position markers feature a colorful abalone circle-within-a circle motif.
The Takamine LTD2022 is designed for both serious players and instrument collectors alike, and will be available through select Takamine dealers in the USA. More information on the LTD2022 is available at www.esptakamine.com.
It doesn't have to cost a lot to change your acoustic guitar's tone and playability.
In my early days, all the guitars I played (which all happened to be pre-1950s) used bone nuts and saddles. I took this for granted, and so did my musician friends. With the exception of the ebony nuts on some turn-of-the-century parlors and the occasional use of ivory, the use of bone was a simple fact of our guitar playing lives, and alternative materials were simply uncommon to us.
It wasn't until I started hanging around Quinn's Music in the neighboring town of Big Rapids, Michigan, that I started seeing guitars with alternative materials for nuts and saddles, such as the plastic used on Kays and Silvertones. Unfortunately, these materials lacked the firmness of bone, and ultimately did not produce the clear tone I'd become so accustomed to. This is also when I started to encounter acoustic guitars with adjustable saddles, which were mostly mid-'60s Gibsons. Some utilized wood for the adjustable saddles, while others used porcelain, and both materials posed both acceptable but not-so-great alternatives to bone.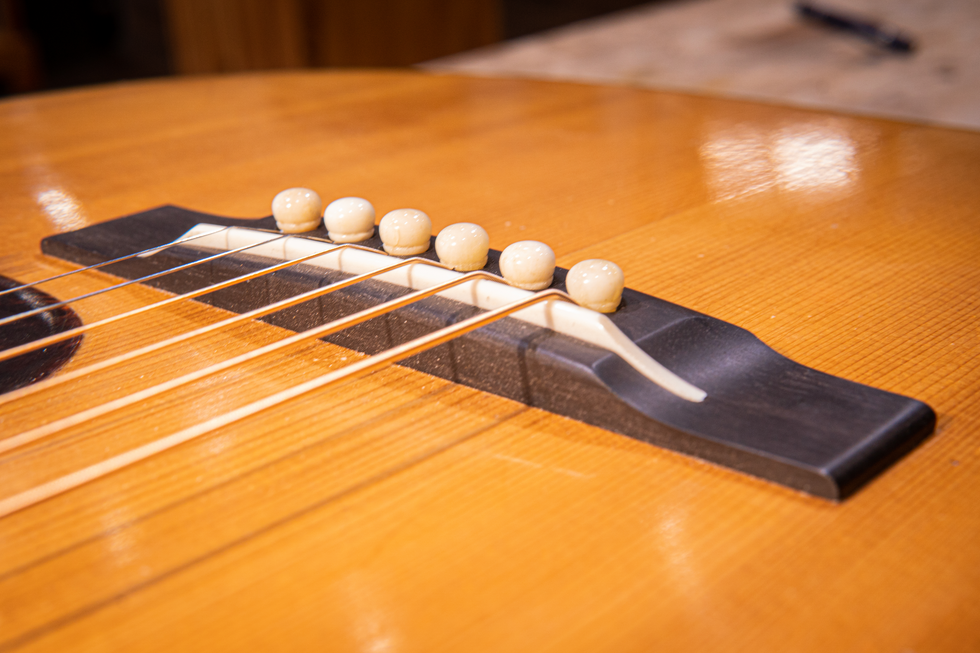 A vintage-style "through saddle" on a 1930 Martin OM-18. When made correctly, the saddle height and string break will greatly enhance the overall tone of the instrument.
Over the years, I've seen many materials that claimed to be better than bone. But better at what? Because other than pearl, nothing beats bone for tone. Even though there are other compelling material propositions, such as brass and graphite, they all have flaws. Brass, which was popularized in the '70s, claims to add sustain to notes, but that possible advantage has been debated, and brass is not recommended to be used as a saddle since its weight can potentially have a negative impact on soundboard resonance. Graphite is commonly used by electric players and can help maintain tuning with vibrato use and heavy bending, but it's far too soft to offer premium tone on an acoustic instrument.
In 1976, I bought a 1969 Martin D-28. After playing it for a bit, I noticed it was lacking in high-end and clarity compared to other guitars I owned, such as my Gibson B-25. I unstrung the guitar, removed the saddle, and was surprised to discover the saddle was pliable and soft, and the nut was made from this same soft material. I took it to my local guitar repairman, Dan Erlewine, who did a great job fabricating and installing a new nut and saddle made from bone. The guitar's overall tone improved, and the guitar came to life. Once I started repairing guitars, I routinely made and installed bone nuts and saddles to replace plastic or composite materials. As I began specializing in acoustics, I also did plenty of neck sets and fret jobs, which included a bone nut and saddle replacement to round out the repair.
This experience helped me to realize that the most impactful and minimal change you can make to influence tone is a bone nut and saddle upgrade.
This experience helped me to realize that the most impactful and minimal change you can make to influence tone is a bone nut and saddle upgrade. In fact, after finishing the initial evaluation on a customer's guitar, I would let them know that. However, if a customer is tight for cash, I always told them to "focus on the saddle, as it influences every note on the guitar." On the other hand, the nut only dictates the tone of the six open notes. Of course, those are pretty darn important notes!
So, to me, a bone nut and saddle upgrade is a fairly low-cost improvement to the overall tone and responsiveness of your guitar. Additionally, a well-made bone nut and saddle will outlast a plastic version tenfold. Both can easily be installed by a qualified technician, and along with a proper setup, it's still my recommendation as the biggest "bang for your buck" to improve your guitar's tone and playability.
Fat tones from a sweet niche where Les Paul, Gretsch, and Telecaster share the limelight.
Copious, unexpected tones. Cool, useful bass contour control. Very nice build quality. Excellent value.
4.5
5
4
4.5
If you only pay casual attention to Reverend guitars, it's easy to overlook how different their instruments can be. Some of that may be due to the way Reverends look. There are longstanding styling themes and strong family likenesses among models that can make differentiation a challenge for uninitiated guitar spotters. For instance, the Flatroc reviewed here has more or less the same body as the Charger, Buckshot, and Double Agent OG (which has an entirely different body than the more Jazzmaster-like Double Agent W). If you don't have an experienced Reverend enthusiast at your side, it can all be a bit mind bending.
Dig deeper though, and the Reverend world yields many surprises. And few Reverends typify the company's we-go-our-own-way sound and aesthetic quite like the newly resurrected, Korea-built Flatroc with Retroblast humbuckers and a Bigsby. There are many reasons to assume that the Flatroc is an homage to Gretsch. The Bigsby and pickups (at least outwardly) hint at that styling direction. But the Flatroc sounds and feels, at many turns, more like a Les Paul. And the wealth of unique tones made possible by the clean-to-nasty Retroblast pickups and the powerful bass contour control mean the Flatroc covers the sonic range of several guitars. Indeed, this Flatroc is a compelling option if you have the same-old-solidbody blues.
Days of Future Blasts
Reverend's Retroblast humbuckers, which look like a cross between a Gretsch Filter'Tron and a Rickenbacker Hi-Gain, are the heart of the new Flatroc. Reverend calls the Retroblasts mini humbuckers, and they are certainly that in the sense that they are smaller than PAF-style pickups. But where mini humbuckers of the Gibson variety are colored by an almost single-coil-like snap that could be a Stratocaster on steroids, Retroblasts sound and feel much more muscular, with a pleasantly compressed, big-cat-growl tonality and the capacity for volume-attenuated clean tones that align much more with a PAF.
While the PAF-ness of the Retroblasts is easy to hear, the Reverend bridge pickup is technically a bit hotter at 11k ohms than the average vintage-style PAF, which tends to be closer to the 7-9k ohm range. The Reverend pickup also uses alnico 5 magnets, which tend to be a touch livelier and punchier. The neck Retroblast's 6.5k ohms is more in line with vintage PAF specs, but still uses the punchier alnico 5 magnet.
Burly Bass to Sweet and Smooth
If the Retroblasts were stuffed in some econo-punk version of the Flatroc without tone or volume controls, they would still be impressive and very colorful pickups. But they are made infinitely more flexible for the bass contour knob, which seems especially well suited for these units. The bass contour is a simple filter control, but it's super effective. And it's hard to imagine why more manufacturers don't embrace some version of it—especially when situated in its easy-access location on the upper bout.
The control has expansive range, and in the bridge position alone you can move from beefy PAF-style tones and approximations of a Fender Wide Range's big, bright colors, to thick, concise Rickenbacker Hi-Gain chime, Stratocaster zing, and even the charmingly thin tones of '60s budget electrics.
In the bridge position alone you can move from beefy PAF-style tones and approximations of a Fender Wide Range's big, bright colors, to thick, concise Rickenbacker Hi-Gain chime, Stratocaster zing, and even the charmingly thin output tones of '60s budget electrics.
The bass contour isn't just a powerful guitar tone shaping tool. It can also totally recast the personality of your overdrive, distortion, and fuzz boxes in ways simple volume and tone controls do not. Using just the neck pickup and the bass contour control, the output from a Supro amp-inspired overdrive readily moved between molasses-thick and mammoth-coat wooly to bright and hyper-articulate without any adjustment from the guitar volume or tone knobs.
Tone options are so copious in the Flatroc that it can be hard to find a perfectly balanced relationships between volume, tone, and bass contour knobs at first. But practice makes perfect, and ultimately the control setup is intuitive, fun, and almost painterly in its capacity to subtly shift tone shades over the course of an extended solo or in between song sections.
Heavy Swing
The Flatroc shares at least one other attribute with a Les Paul: Between the korina body and Bigsby hardware, it's heavy—only a pound or so less than a Les Paul—so it's worth investing the time in a few sessions with the guitar to make sure it isn't a couple pounds too weighty. With mass, though, comes a sense that this an exceptionally solid and well-built guitar. It's highly tuning-stable—especially for a Bigsby-quipped instrument—thanks to the top-notch setup and Reverend Pin-Lock locking tuners. The build quality verges on perfect, too. The transparent white-over-korina finish reveals just a hint of grain in the fashion of a late-'50s ash Telecaster—a classy and subtly luxurious look. And everything from the fretwork to the neck joint lend the feeling of an operation where cutting corners is an absolute no-no.
The Verdict
Even if you think you've got Reverend guitars figured out, you should not underestimate how unique the Flatroc Bigsby sounds and feels. The impressive pickups and controls fill unique tone niches that lurk between Gretsch, Les Paul, and Rickenbacker sounds—putting everything from low-octane indie jangle to corpulent, smoky sounds of doom at your fingertips. Creating and re-shaping tones feels effortless, inspiring, and exciting. It's one of the most tuning-stable Bigsby-equipped guitars I've ever played. Factor in the extra-expressive potential of the vibrato, plus the guitar's intrinsic, inviting balance, and it adds up to a reliable, stable, performance-centric instrument that can soar in live situations and reward meandering creative spirits in pursuit of new songs and sounds.