This well-established, simple technique opens up a new world of sonic possibilities.
[Originally published February 14, 2022]
Welcome to another Dojo! This time I'm going to show you how to reamp your guitar and explore some creative ways you can re-amps other tracks as well (soft synths, vocals, drums, etc.). In my earlier column "Why Guitarists Shouldn't Diss DIs," I mentioned the benefits of using a DI for creative recording. If you have a DI box, dust it off! You'll need it when I show you how to get more out of your DI-recorded guitar and bass tracks by reamping them into your pedals and amps to capture new perspectives and even add some new reverberant spaces. Tighten up your belts, the Dojo is now open.

To begin, you're going to need a reamp box such as the Radial JCR Studio Reamper ($229 street) and most likely a TRS-to-male XLR cable (like the Hosa HSX-003, $11 street). I like passive re-amp boxes because they don't require external power and are easy to move around. Some would argue that passive models loose signal strength, which is true, but how many boost/overdrive pedals do we guitarists have? At least one, right? Put one after the reamp box and before your amp. Boom. Problem solved, and you can drive your amp even harder. Otherwise, you're going to shell out more dinero for active reamp boxes, which isn't really necessary, and I like the inherent lo-fi nature of this process.
Reamping is a two-part endeavor. The first part involves using a DI box to record the guitar directly into your DAW. If you're unsure how to do this, I recommend going online and reading my Dojo article mentioned above. It's very easy and straightforward. The second part involves routing the DI-recorded guitar track out of your DAW and into your reamp pedal. Depending on your interface, you might need the TRS-to-male XLR cable previously mentioned.
Fig. 1
Look at Fig. 1 and do the following: Plug the XLR end of the cable from your audio interface's out into the input of your reamp box. Now use your regular guitar cable and connect the output of your reamp box to the input of your amp. Place a microphone in front of your guitar amp, plug that into your interface, and record-enable that track. When you hit playback, the DI track will play back through your amp, and you will be recording the amp. You're now re-amping! You can make new recordings each time you change amp settings or mic positions.
Fig. 2
For even more craziness, check out Fig. 2. You can add any (and all) pedals (even entire pedalboards) into the signal chain. Get creative. But wait, there's more!
You can also route any track's output in your DAW to your reamp box and really start going berserk. Try your lead vocal, the background vocals, keys, and drums (especially drum machines) and listen to how it sounds. Reamping also gives you the ability to manually tweak pedal knobs and make dynamic parts that are really changing as the track plays. Try playing with the times and feedback amount of your delays. Fun!
Finally, depending on how much you are driving your amp, you could keep it clean, move the mic further away from the speaker, and start capturing more of the sound of your room. I like to do this on drum machines. It puts them in a real space. Specifically, your space. No reverb plug-in can get that! As always, I invite you to come by my website to hear and see these concepts in action. Until next time, namaste.
Developed with Nashville session ace Shawn Tubbs, this compact dual pedal provides organic, vintage tones, and the innovative "tilt boost."
The Canadian pedal gurus' introduce their first Signature Series pedal - the Tilt Overdrive developed with Nashville session ace Shawn Tubbs. In this compact dual pedal, the Drive Circuit provides organic tones based on Shawn's ideal combination of cranked vintage amps, while the innovative "Tilt Boost" goes from authentic clean boosting to powerful tone sculpting.
"I've been on so many different gigs that I know exactly what I need to perform. Cutting through the mix with the right mids, great feel that cleans up with your hands & the volume knob, a killer boost to kick in & just make everything sound better. Every time I've played an incredible vintage amp I'd get so inspired & that's what went into this pedal. It's all my favorite tones combined into one simple box. If you want to have my tone, well here it is in this pedal. But I think this pedal might help you sound like yourself." - Shawn Tubbs
Features
The Sound In Your Head - record-ready legendary amp tones & a high-headroom Tilt Boost get you the right tone quickly in any musical context.
Drive Circuit - touch-sensitive amp-voiced tones from edge-of-breakup to all-out solos.
Tilt Boost - accurately control low end as you boost w/ 3-position Tight Switch.
All In One Solution To Your Guitar Tone - add versatility & clarity to your current setup or build an entire rig around the Tilt Overdrive.
Compact Dual Design - top-mounted jacks, true bypass, & silent relay switching.
9-12v center negative external power supply operation, 35mA minimum.
Charcoal blue metallic enclosure w/ custom graphic & laser-etched Shawn Tubbs signature.
Manufactured in Canada to rugged quality standards w/ 2-year registered limited warranty.
Revv Shawn Tubbs Tilt Overdrive | The All-In-One Solution To Your Tone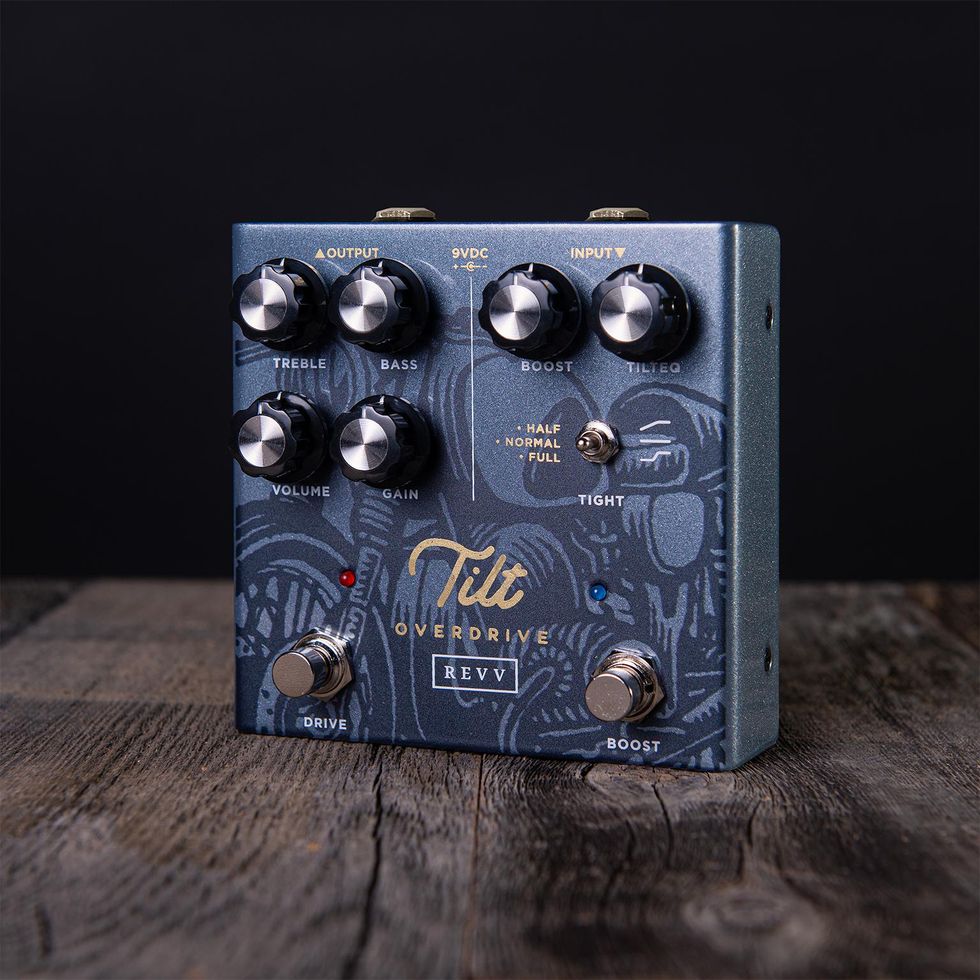 The Revv Shawn Tubbs Tilt Overdrive has a street price of $269.00 USD. It can be purchased through many fine dealers worldwide or directly at www.revvamplification.com starting May 19, 2022.
An all-in-one bass preamp and DI that features optical compression and a three-voice overdrive.
The Badwater Bass Pre-amp & D.I. is a bass tone magnification device sonically highlighting what makes bass so crucial to music. The all-in-one bass preamp and DI features optical compression that your signal hits first, then feeds into an adjustable and blendable, three-voice overdrive, followed by an extensive four-band EQ section. Designed to provide warm cleans, gritty chords, punchy drive, or bright and crisp slap sounds.
Badwater features both 1/4 inch and XLR out options with a ground lift, so you're always ready with a usable bass rig. Use the XLR to connect directly to the front-of-house or use the 1/4 inch out to run to an amp. Both outputs can be run simultaneously for direct and live amp stage monitoring.
Features
• Versatile and powerful tone sculpting tool for bassists of all styles.
• Optical comppression for smooth, added sustain.
• Blendable drive control with three different voicing options.
• Boost/Cut EQ section. +/- 12dB on low and high controls and +/- 10dB on Mid, LMF, and HMF controls.
• Sweep 500 Hz to 2.4 kHz through the Low Mid & LMF controls and 3.5 kHz to 7.5 kHz on High Mid & HMF controls.
• Ground lift to isolate the GND pin on XLR to help reduce hum if present.
• 1/4 inch instrument signal & XLR line-level output options.
• Outputs run simultaneously for direct and on-stage connections.
Walrus Audio Pedal Play: Badwater Bass Pre-Amp & D.I.
Walrus Audio is offering The Badwater Bass Pre-Amp and D.I. for a retail price of $299 and is available now at walrusaudio.com and with our authorized dealers worldwide. More info at: https://www.walrusaudio.com./
Daniel Rocco explains how the News of the World track deconstructed the rock-song formula, compares the opening to Jaws, and praises Brian May's wizardry.