One watt sounds monstrous in this '50s-meets-modern mighty mite.
Solid class A tone at an affordable price. Responsive and fun to crank. Simple design. Line level signal from the line-out jack adds useful functionality.
Probably too quiet for a gig-able clean tone.
4.5
4.5
5
4.5
Since its 2014 revival, Supro has given fans of small, low-wattage combos plenty to talk about. This should come as no surprise. Tiny but ferocious amplifiers with the Supro logo have been on the scene since the early days of the electric guitar and landed on some of the most classic guitar records of all time. And the company's recent offerings have captured the sonic essence of those vintage models with a line of well-built, modern amps that look just as cool as they sound.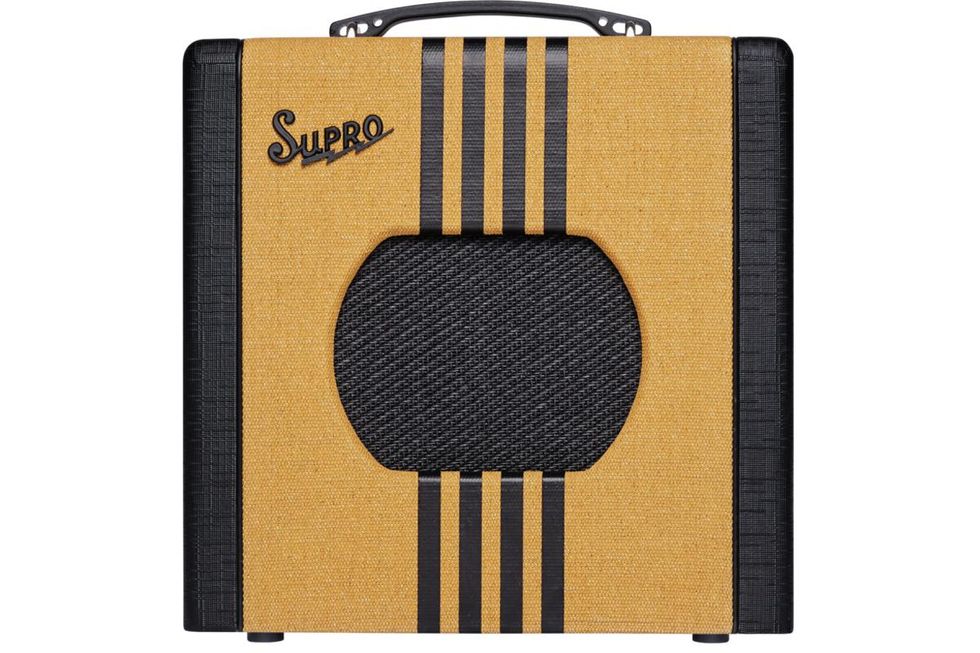 Thus far, the current Supro team have drawn inspiration primarily from their 1960s models. But the new Delta King series digs in a little deeper, delivering the sound and aesthetics of their 1950s combos—stripes and all. The Delta King 8 is the tiniest of the bunch, offering just 1 watt of all-tube class A power via a single 12AX7 preamp tube and a single 12AU7 power tube. While it may be small, this amp lives up to the sonic legacy of its vintage predecessors and projects a surprisingly fearsome roar.
Recorded using a Creston Jazzmaster with Lollar JM pickups and a Shure SM57 going into an SSL 2+ with no EQ, compression, or effects.
Clip 1: Controls at noon, miked.
Clip 2: Controls at noon, direct line out signal.
Clip 3: Full volume, tone control at noon, full master volume, miked.
Clip 4: Full volume, tone control at noon, full master volume, direct line out signal.
Clip 5: Full volume, tone control at noon, master volume muted, line out plugged into a 1971 Fender Deluxe Reverb, miked.
Robust, Balanced, and Nasty
Playing the Delta King 8 is immediately satisfying. Using Telecaster- and Jazzmaster–style guitars, I set all three knobs—volume, tone, and master—to noon and got a clean, smooth, midrange-focused tone. This is, however, just about all of the clean volume that this amp has to offer. Turning the volume knob above noon gently eases the combo into an overdriven sound that, at full volume, is gnarly and cutting but retains warmth and clarity. The boost switch bumps the volume and adds a little more gain. Naturally, I had the most fun with everything cranked and the boost on. But while it's impressively loud for 1 watt, the Delta King 8 will be most useful for recording, practicing, or for extremely quiet gigs.
Turning the volume knob above noon gently eases the amp into an overdriven tone that, at full volume, is gnarly and cutting but retains warmth and clarity.
The 8" Supro DK8 speaker sounds robust and balanced, and easily handled the overdriven tones without sounding trashy. I've probably spent too much of my life wondering about speaker swaps for other small combos, but I'd be quite satisfied with this stock speaker.
A Cure for the Backline Blues
The line-out jack on the back of the Delta King 8 provides a line-level signal that is perfect for direct recording. This feature was thoughtfully positioned before the master volume control (an unusual feature on an amp this small), which means you can get warm tube preamp tone straight into your audio interface and opt to have the speaker muted when you turn the master volume down to zero.
That isn't the only trick up the Delta King 8's sleeve. To unlock its hidden superpower, go ahead and plug the same line-out straight into another amp. In this setup, the Delta King 8 essentially becomes a tube-driven overdrive unit. Chronic sufferers of the backline blues will celebrate the fact that this little Supro can lend its low-watt, class A tone to bigger, flatter-sounding stage amps. I was blown away by the snarling sounds it generated with my Deluxe Reverb at very reasonable volumes. And by keeping the master volume up on the Supro, you can also create cool A/B blends if you mic up both amps. If you're used to playing house gear but can figure out a way to schlep an extra 15 pounds, this tiny amp could be a game-changing addition to your gigging rig.
The Verdict
The Delta King 8 delivers much of the vintage Supro experience in a hip, well-built package. It's fun, sounds good in clean settings, and great in more overdriven ones. At $449, it's a great deal for those reasons alone. But the convenience and versatility that comes with the addition of the pre-master line out opens up possibilities in the studio and offers solutions to backline woes that make the price even more appealing.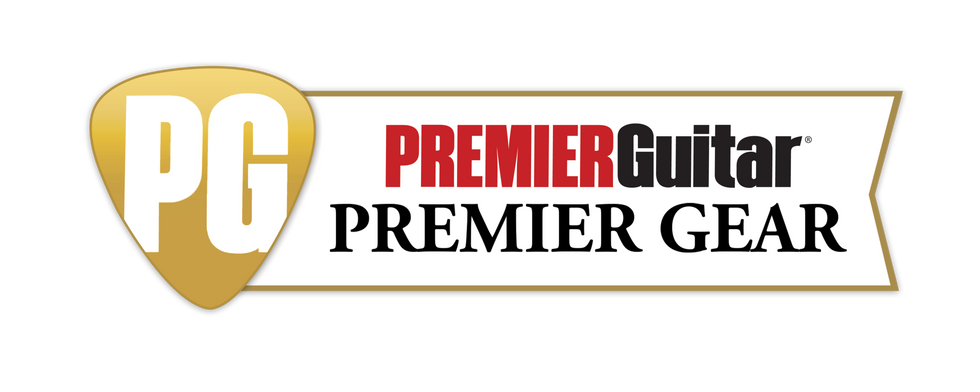 Photo by Ebru Yildiz
On their new album, In Between Thoughts… A New World, the acoustic duo goes half-electric, plumbs programmed beats, adds slide guitar, and explores nondualism—following a creative path that opened due to the Covid shutdown.
Grammy Award-winning guitar virtuosi Rodrigo y Gabriela started recording what would become their latest album, In Between Thoughts… A New World, in February 2021. At the time, crafting a new album wasn't the catalyst for making new music. They really just wanted to write, jam, and record without an agenda while locked down during the pandemic.
"It was just something to kill time," admits Gabriela Quintero, one half of the Mexican guitar duo. "Just to be in the moment and not to think too much about it, even though here in Zihuatanejo it was more like the tropical version of the apocalypse [laughs]."
The other half of the duo, Rodrigo Sánchez, concurs that the pandemic presented a unique set of circumstances that allowed them to be creative without the added pressure of making a record, going on tour, or meeting a deadline. "Musically speaking, it was a very unusual process for us," he says. "We weren't really thinking about recording a new Rod and Gab record, and we didn't really know what was going to happen. It was a really detailed process we never had done before, because we never had this amount of time to record an album."
Rodrigo y Gabriela - True Nature (Official Audio)
"True Nature" is off Rodrigo y Gabriela's first album in 4 years. The album 'In Between Thoughts...A New World' is available now on limited edition vinyl, CD...

Guided by spiritual practices like Buddhism and nondualism, Rodrigo y Gabriela's presence-of-mind approach to the guitar has led them on a fantastic, fulfilling journey from their humble heavy metal beginnings in Mexico City, to busking on the streets of Ireland, to performing in front of tens of thousands of people on the world's biggest stages, opening for Muse and others.

Formed in 1998 out of the ashes of their heavy metal band, Tierra Ácida, Rodrigo y Gabriela left their hometown of Mexico City to pursue their musical ambitions in Dublin, Ireland, where they first began busking with their acoustic guitars on tourist-heavy Grafton Street, mixing elements of flamenco, rock, and heavy metal. In 2002, they released re-Foc, showcasing their virtuosity on guitar and their unique fusion of musical styles—even incorporating elements of the Irish folk music they had immersed themselves in while living abroad. In 2006, the duo released Rodrigo y Gabriela, a mix of original compositions and covers of classic songs by early influences Led Zeppelin and Metallica. The album was a commercial success, reaching the top of the Irish album charts and earning them a nomination for the Mercury Prize, awarded for the best album released in the United Kingdom by a British or Irish act. In 2008, they released 11:11, which featured 11 original compositions—each dedicated to a different musician who had influenced their music. In January 2020, Mettavolution, their fifth album, won Best Contemporary Instrumental Album at the Grammy Awards, cementing Rodrigo y Gabriela's status as one of the most innovative and exciting guitar duos in the world.
"Gab has seven piezos inside her guitar, and everything is very tight. And I have five piezos."—Rodrigo Sánchez
Gabriela Quintero's Gear
Lead guitar provides the flash, but Gabriela Quintero's right hand is what keeps the party jumping, with a driving, uncommon approach drawn more from traditional Irish music than flamenco.
​Photo by Jim Bennett
Guitars
Yamaha NCX5 Signature Model
Effects
Boss FV-500L Volume Pedal
Boss OC-3 Super Octave
Boss TU-3S Chromatic Tuner
Dunlop Cry Baby Standard Wah
Dunlop DVP4 Volume (X) Mini Pedal
Lehle P-Split III Box
Strings
D'Addario Pro-Arté EJ45 Normal Tension
Self-produced by Rodrigo y Gabriela at their studio in the resort city of Ixtapa, Mexico, In Between Thoughts… A New World reasserts their seemingly innate ability for cultivating a musical repertoire that captures the zeitgeist. And while it may have begun without intention, that doesn't mean In Between Thoughts lacks direction. Like its predecessors, there's a familiar and explosive display of virtuosic guitar craft, including all of the hallmarks one would expect from Rodrigo y Gabriela. The powerful, percussive playing of Quintero and the deft melodicism of Sánchez remain the duo's calling cards. But new, unexpected sonic elements abound as well, including the reverb-drenched slide guitar on "Egoland," the energetic percussion on "Descending to Nowhere," the kinetic electronic beats on "The Ride of the Mind," the passionately chanted vocals of "Broken Rage," and the dreamy mystique of the robotic vocal effects embedded within "Finding Myself Leads Me to You."
In fall 2020, while recovering from Covid, Sánchez stumbled upon an online video on nondualism—the notion that there is a "single, infinite, and indivisible reality, whose nature is pure consciousness, from which all objects and selves derive their apparently independent existence," as defined by author/teacher Rupert Spira. "Advaita Vedanta, or nonduality, is often called the direct path—accepting what is," explains Sánchez. "We're not saying that everything in this structure of the body/mind we live in is right. It is just what is, and we cannot really argue with that."
"The beauty about music is that it's always expanding."—Gabriela Quintero
During the early stages of the pandemic, Rodrigo y Gabriela did what many other artists did: They turned to social media, posting short anecdotal performances from their studio. But when they finally got bored of that, they started to write music based on the concept of nondualism without really thinking it would become their new album. "It was just a project," emphasizes Sánchez. "We were just here in the studio doing things that we would never dofor Rod and Gab. I started to work with electronics, I left my acoustic guitar [at home] and just took my electric guitars [into the studio]. We started writing the music at the same time as we were writing a story based on this philosophy that we were so much attracted to. If we had known that it was going to become the Rod and Gab album, we probably would've limited ourselves in terms of not using electronics, or not using too much electric guitar. But we didn't really think that way. That's how the album came about."
Their new album began as a pandemic songwriting and recording project, and took shape almost by accident as they accumulated tracks and tunes.
As for Quintero, she took a slightly more pragmatic approach to the endeavor, particularly regarding nondualism. "I think me and Rod, we share a lot of things that we like, and we feel attracted to, but we process differently," she explains. "That's where the nondualism becomes dual [laughs]. I discovered these teachings through a book called The Power of Now [byEckhart Tolle]. To me, that book was incredibly insightful and practical, and such a 'no rules' type of thing. I tried to meditate but there was too much discipline with some of the spiritual teachings. I remember when Rod was into Buddhism, and he was meditating a lot of hours a day and learning some mantras that were very strict. And for me, it was too much of a discipline. When I discovered The Power of Now, it was like, 'Oh great, you don't have to basically do anything [laughs].' And then, when the pandemic came in and Rod discovered these videos about nondualism, the way he presented them to me sounded super confusing and too much like nihilism. So, we were constantly having friendly debates here in the studio. And I was going, 'This is too crazy.' It felt to me that it was denying this existence. But then we discovered these are the same teachings as The Power of Now, but in different words, in a different way. Then we stopped the debates."
Quintero, very late into their writing and recording process, asked Sánchez if they were, in fact, writing their next record. "And then she asked, 'When are we going to record it?'" says Sánchez. "We'd been recording [what we were writing] from day one with quality, and so I went back to the studio that afternoon and I checked all the recordings and all the levels, and we had produced the album already. We had the record."
"We love flamenco. My best friend in that scene, Vicente Amigo, is one of the best. But no, we never play flamenco."—Rodrigo Sánchez
As for how they record, Sánchez says it happens all sorts of ways—sometimes tracking together, sometimes individually. Sánchez says the acoustic guitars get picked up by German-made Schoeps MK 4 mics, recommended to him by his close friend, Spanish guitar maestro Vicente Amigo. They also adopted some of what he calls his "old-school metal techniques" for recording. "Knowing that we were going to have orchestra and electronics and all that, I used room mics for Gabs—and instead of just copying her track, I have her record two guitars exactly the same," he explains, noting he did not use the copy/paste shortcut many musicians use nowadays. "She would do one guitar rhythm and then she would double that to make it sound bigger. Overdubbing the same rhythms and the same parts actually give her much more presence on top of the electronics. And she's so good at it."
Due in large part to Quintero's right-hand technique, which Sánchez recorded so well on In Between Thoughts, "heavy metal flamenco" is a label often applied to the duo. "Ah, the 'F' word," laughs Sánchez. "We love flamenco. My best friend in that scene, Vicente Amigo, is one of the best. But no, we never play flamenco. I understand some people are confused because of Gab's rasgueado[gesture to invoke her right-hand technique], but actually she's not doing the flamenco technique at all. She learned most of these techniques from an Irish bodhrán player, Robbie Harris."
Rodrigo Sánchez's Gear
Rodrigo Sánchez wears his musical roots on his chest,
in a t-shirt proclaiming his fan status for the Bay Area metal band Testament.
Photo by Dan Locke/Frank White Photo Agency
Guitars
Yamaha NTX5 Signature Model
Fender Jaguar
Amps
Fractal Audio Axe-Fx II XL+
Marshall JCM900 4100 Hi Gain Dual Reverb
Effects
Boss DD-3 Digital Delay
Boss FV-500L Volume Pedal
Boss OC-3 Super Octave
Ibanez WH10 V3 Wah Pedal
Lehle P-Split III DI Box
MXR M133 Micro Amp
MXR M234 Analog Chorus
One Control Minimal Series AB Box
TC Electronic Ditto X2 Looper
Truetone 1 Spot Pro CS7 Power Supply
TWA WR-03 Wah Rocker
Strings & Picks
D'Addario EXL115 (.011–.049
D'Addario Pro-Arté EJ46 Hard Tension
Jim Dunlop Jazz III Black Stiffo
The bodhrán is a frame drum used in traditional Irish music that Quintero learned about when they moved to Ireland. "At the time, I was trying to imagine how flamenco players played their rhythms," she explains. "I couldn't figure it out, because back then there was not YouTube—there was nothing. Nowadays, you can go and say, 'How to play rasgueado flamenco, how to play rhumba,' and you'll find something, but not back then. And I always got it wrong. And then I discovered the bodhrán."
In the old days, the bodhrán was played with hands, not with a stick, as is often seen presently, and she says the Irish kept telling her she actually exhibited the movements of a bodhrán player, but on guitar. "They encouraged me to do certain rhythms. So, just watching them, it was easy to emulate a lot of the movements—it just came organically. The beauty about music is that it's always expanding."
"If I came back to a solo bit or something, there was not that beat—people were not jumping anymore, and it was like, 'Ah, we're losing the audience,' so I tried to become more the drummer of the band."—Gabriela Quintero
After weaning his guitar craft on West Coast thrash metal bands Testament, Megadeth, and Slayer, and New Yorkers Anthrax, Sánchez's nylon-string style was originally grounded in a lot of the palm-muting he carried over from that style of electric playing. "First of all, I had to translate my palm muting [from electric to nylon string]," he explains. "Then, I used a little bit more of Al Di Meola's technique, but he was playing steel-strings, right? So, I was like, 'Okay, how can I translate this into nylon?' And then I started to listen to Strunz & Farah, and they are incredible. I listened to the way they played, especially Jorge Strunz, who is so clean and so fast. And I started to learn some of his licks here and there, so I was in that zone already."
They want a whole lotta folk! Rodrigo y Gabriela get down on the Newport Folk Festival's Harbor Stage in 2014.
Photo by Tim Bugbee/Tinnitus Photography
It's worth noting that the nylon-string guitars Rodrigo y Gabriela play live are the result of years of practical research and application in collaboration with Yamaha and are not models or designs your average nylon-string player would use, nor are they commercially available. "It's not like any nylon-string guitar can just go and play in the middle of a festival of 40,000 people," explains Sánchez. Originally, they were using guitars made by Irish luthier Frank Tate, which they still use at home and in the studio. But the guitars they now use live were specially designed over a 14-year period by Yamaha's Japan-based Custom Shop for arena-concert environments. "These guitars have a very special system for us to sound the way they sound live," he says. "Gab has seven piezos inside her guitar, and everything is very tight. And I have five piezos, which is really important for those kinds of shows."
Within the duo, both players are very melodic and very rhythmical, but Quintero did gravitate to doing more of the beats, simply out of necessity, once they started playing bigger shows. "At the beginning when we used to play together, we swapped all the time—solos, arpeggios, and all of this," she explains. "Eventually, when we started playing rock festivals, because I was the one who played the chords and the beat, if I came back to a solo bit or something, there was not that beat—people were not jumping anymore, and it was like, 'Ah, we're losing the audience,' so I tried to become more the drummer of the band."
Jumping from a metal band in Mexico City to an acoustic guitar duo busking the streets of Ireland seems quite serendipitous and grounded in the kind of ideology they eventually discovered via nondualism. Circling back to Quintero's The Power of Now-influenced, pragmatic approach, she jokes that the decision was really quite simple. "Eventually, we were so internationally non-famous and miserable, we decided we're going to quit the band," she chuckles. "But we're not going to quit music. We wanted to travel the world. So, our new goal was to travel and play guitar."
YouTube It
While this live performance doesn't capture the duo's current blend of acoustic and electric sounds, it does afford a close-up look at their playing technique. In particular, check out Gabriela's right-hand approach, which is based on the traditional Irish instrument called the bodhrán.
Don't let the rock stance fool you. This SG is a master of versatility.
Practical features. Upmarket looks. Surprisingly broad palette of stellar tones from flexible pickups.
4.5
4.5
4.5
4.5
The guitars in Epiphone's new Prophecy Collection, which includes the Prophecy SG reviewed here, perform an impressive balancing act. They streamline the classic Gibson four-knob control array, trade PAF-derived pickups for Fishman Fluence units, and style the guitars in a manner that screams "rock" with an exclamation point. But for all the streamlining, these instruments are enormously flexible, and they retain important cosmetic touchstones that emphasize the family connection to parent company Gibson's most iconic designs. Epiphone also maintained balance when it comes to price. The Prophecy SG is a reasonable $899.
Like the other Prophecy instruments in the collection—which include a Les Paul, Flying V, and Explorer—the China-built SG borrows a few styling moves from Gibson's Custom Shop-level instruments as well as unique cosmetic touches. On the SG, these include a 5-ply bound headstock, a split-diamond headstock overlay, and a bound ebony fretboard with fancy block-and-triangle pearloid/abalone inlays. On our review model, an appropriately menacing aged-gloss black finish conceals the ½" maple cap which Prophecy models wear atop otherwise solid mahogany bodies. But you can also opt for a flashier red- or blue-tiger aged gloss flame-maple veneer.
Custom Touches
The set neck is solid mahogany with 24 jumbo frets. The profile, however, is a contemporary asymmetrical version of the SlimTaper neck profile, which is thicker on the bass side. I prefer it to the SlimTaper of old, which always felt a little flat in my fretting hand. Scale length is a traditional Gibson-style 24 3/4".

Epiphone certainly didn't reach for the bargain bin when it came to hardware. The Prophecy SG features Grover locking Rotomatic tuners, a black Graph Tech NuBone nut, and a LockTone Tune-o-matic-style bridge and stopbar tailpiece—all upgrades from Epiphone's less expensive models.
Even unplugged, the Prophecy sounds and feels lively and rings with sustain.
The Prophecy SG's most significant new features, though, are the Fishman Fluence pickups that effectively make up the guitar's engine room. These active humbuckers offer three voices via the push-pull pots on the master volume and tone knobs: modern high-gain humbuckers with both pots in, vintage-like PAF humbucker tone with the bridge knob up, and a hum-free single-coil tone with the volume knob up. Between that and the 3-way toggle switch, there are a lot of sounds to play and create with.
Prophet Margin
Our review Prophecy SG was set up well and played great right out of the case, though it's a little on the heavy side for a slim-bodied SG, at around 8.5 lbs. Even unplugged, the Prophecy sounds and feels lively and rings with sustain. Those characteristics remain very present when you plug it in, too.
The high-gain humbucker settings pack plenty of power. Played through the lead channel on a Marshall-style Friedman and a high-gain Axe-Fx preset, the pickups seemed to sustain almost endlessly. But I also heard a certain sweetness you don't find in many over-wound or hot ceramic pickups. That said, the PAF setting is probably my favorite of the available voices. It moves from crunchy to full, articulate clean tones with a lot of personality. It also handles high-gain environments with a classy edge. The single-coil sounds are welcoming, too. I sensed a little hum when I mated the single-coils to high-gain amps or presets, but they are impressively quiet otherwise.
The Verdict
The Prophecy SG has tons of tone on tap, and is much more flexible than its rockist stance and 2-knob control array suggest. It's an impressive guitar for the money, and the bundle of upmarket features and high build quality put it over the top when it comes to bang for the buck.
Epiphone Prophecy SG Demo - First Look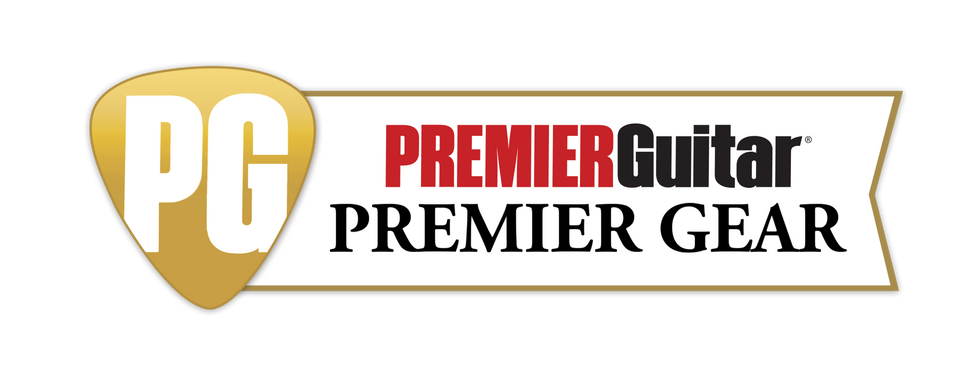 Light and heavy coexist in avery flexible 50-watt amp that defies Rectifier expectations.
Reliable Mesa build quality. A versatile bundle of clean, crunchy, and mean tones. Super-useful peripheral features.
Players seeking ultra-heavy Rectifier tones of old might want a pedal in front to get it there.
$1,999 street (head or rackmount) & $2199 street (1x12 combo)
4.5
4.5
5
4.5
Mesa/Boogie is both fond of reinvention and adept at it. Late last year, the Mesa/Boogie folks reimagined the Rectifier series amps, which became near-ubiquitous in metal and grunge circles in the wake of their 1992 release. The beastly Badlander 100 was the first of these new Rectifiers to hit the streets. It's now joined by the more modestly powered Rectifier Badlander 50—which is available as a head (reviewed here), 1x12 combo, or rackmount head—and can be powered by a pair of Brit-flavored EL34s or more-American-voiced 6L6s.
Twinning
The Badlander 50 beautifully blends versatility and simplicity. It might seem odd to call an amp with 12 knobs and six switches on the front panel simple. But relative to other feature-rich Mesa/Boogie amps, the Badlander is pretty streamlined.
Several years ago, the Mesa folks figured out that, while the ability to channel-switch between two distinct preamp stages is good, sometimes it's better to be able to switch between two settings for the same preamp stage. The Badlander addresses this need by providing two identical channels—each with controls for gain, treble, mid, bass, presence, and master volume—and a 3-way switch to select clean, crunch, or crush gain mode. Output power is also switchable on the front panel, from 50 to 20 watts—the latter of which is achieved by wiring the EL34s in triode. The power switch is a 3-way toggle with options for bold and Variac modes. The Variac, of course, slightly browns the voltage for more sag and squish in the response.
The back panel includes outputs for two 4-ohm speaker cabs and one 8-ohm (the former typically enables the use of two 8-ohm 2x12 cabinets together or any two 8-ohm loads), FX loop send and return, and a bias switch if you want to switch from EL34s to 6L6s. There's also access to the built-in CabClone impulse response direct Interface feature. The CabClone IR section includes an XLR DI out, ground lift switch, headphone jack with level control, and two 8-position rotary selectors (one for each channel) for accessing the eight onboard Mesa cabinet emulations. In addition, there's a USB connection for loading your own or third-party IRs. Disconnecting the speaker also engages a built-in load, enabling silent DI for recording or playing live through front of house and monitors only.
Even with EL34 output tubes, it feels very much like a black-panel Fender.
Though the first Rectifier amp, the Dual Rectifier, offered a choice between tube and solid-state rectification, the Rectifier Badlander 50 uses solid-state rectification for more immediate attack and a tighter low end. The amp comes loaded with dual EL34s, but there are also five 12AX7s inside for gain-stage, tone stack, and phase inverter duties.
Doin' the Mesa 'Round
While the Rectifier Series has explored more vintage-y territory in the form of the Recto-Verb and the now-discontinued Blue Angel, Maverick and Road King, its roots are very much in the heavy rock camp. The Badlander 50 definitely lives under that tent, but it's not all about mega-gain scorch and sizzle like the seminal Dual and Triple Rectifier heads of old.
Instead, the Badlander 50 is underpinned by a broader, fuller, more versatile voice that can bend to many genres. For one thing, the clean setting delivers crisp, full-bodied tone with lots of jangle and chime when you need it—even with a Les Paul driving the amp. And even with EL34 output tubes, it still feels very much like a black-panel Fender. You can also set up thick, medium-gain crunch tones that don't even nod at metal textures. Engage the Variac power setting and you can induce extra sag that hints at more vintage tonalities.
With its closed back, dual Vintage 30s, and chunky disposition, the 2x12 Recto cabinet that we used with the head leans toward hard rock thumping. An open-back cab with Celestion Creamback 65s or Celestion G12H-35s might be more versatile and deliver more vintage-voiced sounds. But it doesn't adversely affect the amp's ability to cross genres and achieves the feel of a big stack in a smaller cab when you need it.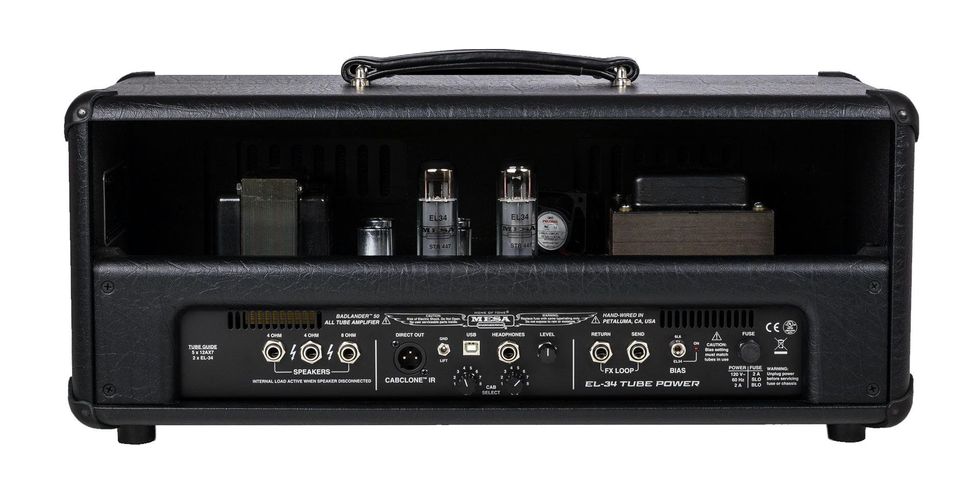 When pushed into heavier overdrive, the Badlander's preamp voicings are more fat than fizzy, with just enough crackling high end to evoke a Marshall 2203's bite and kerrang. While ostensibly high gain, the crush mode isn't brutalizing—at least by modern standards. But it will veer into metal territory with an overdrive pedal in front, and the extra headroom contributes to the amp's versatility.
The multi-watt power settings work well, though 20 watts is still vociferously beastly, so the amp is really only suitable for bedroom jams with the master volume way below noon. But even at these settings it can hold up to a loud drummer and sounds great. The CabClone IR is another great asset. It works so well that it can make a cab seem redundant at times. It also makes DI recording a breeze and the option to load your favorite third-party IR captures extends its flexibility considerably.
The Verdict
For an amp that superficially tips a hat to the heavy-rock sphere, the Rectifier Badlander 50 is super versatile. The two channels and three gain modes yield a surprisingly wide sonic palette. And features like the built-in CabClone IR, Variac setting, and Multi-Watt power settings make it extra flexible for stage and studios—particularly small home and apartments setups where DI and IR recording are a must.
Mesa/Boogie Badlander 50 First Look Demo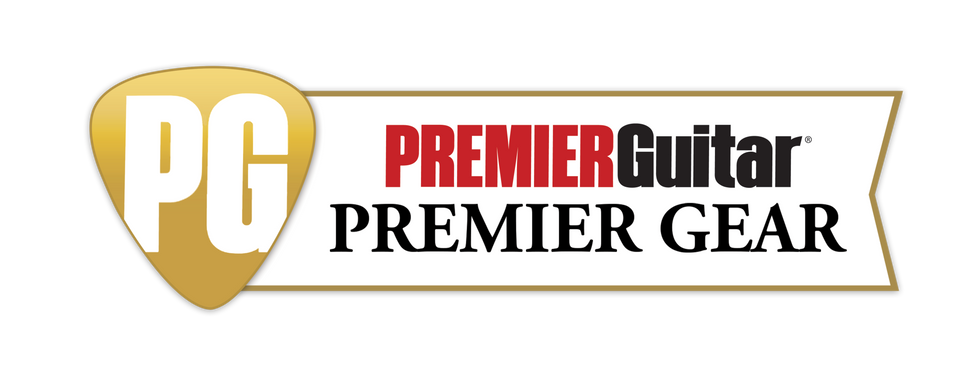 Two of the most influential pedal builders ever conspire to clone a classic.
Authentic Tone Bender sounds at the friendliest side of the Tone Bender performance envelope. Lots of range and color in level and attack controls. Excellent dynamic response.
5
4.5
4.5
4
Other fuzzes may have been first. Others more famous. Some more ferocious (maybe). But none better embody the primal appeal of '60s fuzz better than the Sola Sound Tone Bender MKII.
In the unlikely event you didn't know, the Tone Bender MKII was the fuzz voice of Jimmy Page in the late-period-original-Yardbirds and Led Zeppelin eras­—and about a gazillion other garage and psychedelic bands around the world (especially in its Vox-licensed guise). But as popular as the MKII was and remains, it was never the easiest fuzz to wrangle. It sounds and feels explosive and piping hot. It produces hopping-mad treble peaks that love to feed back. And the low-mid and bass output usually fracture, crumble, and blur thrillingly under the weight of high gain.
Yet these facets of the Tone Bender's performance, in aggregate, are also its strengths. And when you have a great one in your chain, you have a seriously expressive tool at your disposal. Which brings us to the Boss Waza Craft TB-2W Tone Bender, a collaboration between Boss and original Tone Bender manufacturer Sola Sound. The TB-2W is a great MKII. And one of its great strengths is the way it consistently operates at the user-friendliest end of the MKII performance envelope. It's one of the most balanced and controlled Tone Benders I've ever played. And it doesn't seem to sacrifice an ounce of attitude to get there.
A Meeting of Fuzz-Melted Minds
In an age of co-branding efforts gone bonkers, it's easy to imagine a project like this gestating in a board room and emerging as more style than substance. But the TB-2W was born from a serendipitous meeting between two bona-fide pedal maniacs: Boss president Yoshi Ikegami and Sola Sound chief Ant Macari. As meetings between circuit fiends tend to do, it led to an intriguing idea: Could Boss build a MKII that honors a MKII's many quirks and idiosyncrasies, and lives up to their own manufacturing standards?
The effort hinged on a reliable source of germanium transistors. (While it's true that some vintage pedals built with a certain transistor type may sound fantastic, most dedicated pedal builders agree that consistent, matched values—rather than brand and vintage—determine a transistor's suitability for a fuzz circuit.) That quest slowed the project. But ultimately, Ikegami and his crew sourced enough to reliably build 3,000 TB-2Ws. They selected a template: Sola Sound MKII No. 500—picked from Ant's own trove of vintage treasures for its smooth-but-nasty essence—and got to work.
It can be tempting to think of '60s fuzz as thin, but the TB-2W is most certainly not.
Turn It Up! Bring the Buzz
The end product satisfies in all the ways a MKII should. For a classic three-germanium-transistor fuzz, it generates copious gain—particularly at the maximum-volume/maximum-gain settings many germanium fuzz users favor. Bridge single-coils sound punky, primal, and substantial. That's ideal for supercharging Stooges riffs or ripping Yardbirds, freakbeat, and proto-metal riffs. (A Telecaster, as Pagey proved, makes a particularly lethal pairing.) Precision in fleet-fingered, high-gain leads yields searing, detailed, even complex individual notes.

It can be tempting to think of '60s fuzz as thin, but the TB-2W is most certainly not. Humbuckers bring out its burlier side. To my ear, they strip some of the air and clarity you hear in the single-coil/TB-2W relationship—especially when playing chords, which is another TB-2W strong suit. But humbuckers also produce smoother, thicker glam and proto-doom tones. They sound massive in detuned settings, or luxurious and sophisticated if you dial back guitar tone and explore wooly David Hidalgo and Cream-era Clapton zones.
Tone Benders aren't as renowned as Fuzz Faces for responsiveness to guitar volume dynamics. But the TB-2W could smash that barrier. The key to getting the best medium-gain, guitar-volume-attenuated tones from the Tone Bender is to reduce the pedal gain a notch along with your guitar volume. At these pedal gain levels, the TB-2W's fuzz is still savage with a capital "S." But nudge back the guitar volume, too, and the TB-2W produces bristling, toppy overdrive tones that add a live-wire edge to Dave Davies-style power-jangle arpeggios and chords. Humbuckers in this environment tend to sound less sparkly and clear, but can still yield exciting, thick mid-gain overdrive and lead tones.
In general, the TB-2W's dynamic range is superb, and I'd venture better than the average MKII. Even more dynamic range comes via the 3-position voltage switch—a Waza Craft series touch that helps emulate the tone variations that come via fading batteries (7V mode), a standard 9V setting, and the higher headroom of a 12-volt setting. The differences can be subtle and often take the form of less- or more-cohesive low-end tones. But at some particularly saturated amp and pedal settings, the 7V level sounds distinctly more chaotic, while the 12V sounds full and better suited to smooth, singing passages.
The Verdict
Boss makes consistently excellent pedals. And there's great reassurance in knowing that such a personal, obsessive quest shared between two tone-fixated pedal freaks was backed by Boss's considerable R&D resources. But none of that would matter much if Boss hadn't so ably nailed the sound, feel, and visceral thrill of a great Tone Bender.
The TB-2W is a very well behaved version of a fuzz that's hard to keep on a leash. That Boss executed it without sacrificing the Tone Bender's feral nature is no small achievement. It's dynamic, responsive, and offers uncommon and varied colors through the range of its controls—even compared to originals and well-built clones. There's no shortage of competition for good Tone Bender clones at $349. And you'll be lucky just to get one of the 3,000 that exist. But for those of you charmed enough, you can rest assured that this Boss homage can hang with some of the best—and then some.
Boss Waza Craft TB-2W Tone Bender Demo | First Look