When it comes to fine-tuning your tone, guitarists often forget the value of a good speaker. ToneSpeak's new models offer a wide range of versatile end-of-the-signal-chain options, in classic to fresh flavors.
Electric guitarists are constantly on a tone quest, but too often we forget to look in the most obvious place: our amp speakers.
In many ways, this oversight is totally understandable. Hey, it's easy to obsess about a gorgeous instrument sporting a flame maple top or classic vintage vibe. And there's a vast array of pedals and effects out there screaming for our attention. (Yes, we used "screaming" intentionally. Please don't hate us.) Of course, pickups, strings, cables, amplifiers, and preamps also have a big impact on our tone.
However, it's important to remember that
every
item in our signal chain eventually goes through our amp's speaker­—the crucial transducer that converts electrical impulses into sound.
The speaker always gets the final word in our musical conversation. It is literally the last piece of gear that we control before our playing reaches the listener's ears or the sound engineer's microphone. And if we're wondering how to upgrade our overall sound—or breathe new life into a battle-weary amp—maybe it should be the first place we look for answers.
ToneSpeak, a newly launched speaker company based in Minnesota, aims to give you some great new options when you select that all-important piece of gear. Since the company's birth in 2021, their goal is to provide speakers that are clearly rooted in classic sounds, but with unique tones of their own.
Modern Speakers Saluting Iconic Predecessors
ToneSpeak's Liverpool 1275—a 12" speaker designed to appeal to Vintage 30 users—provides a case study in the approach. "In selecting what models we wanted to build," explains Anthony Lucas, ToneSpeak's senior transducer engineer, who designed the new speaker line, "we started with American and British roots. We didn't want to copy anything. If you want a Vintage 30, then you should get one from Celestion. It's a great speaker. But we were okay with using a Vintage 30 and a Greenback as an inspiration, to provide a baseline. The first prototype sounded too much like a Vintage 30"—he laughs—"and we knew we didn't want to do that. We ended up giving the Liverpool warmer, smoother upper mids and highs, and a bit more lows."

Lucas knows his stuff: He designed products at Eminence in the U.S. for years before departing the company in 2020 and building the new ToneSpeak line, with help from another former Eminence colleague, Josh Martin.
"At this company, most of us are musicians and involved in music," says Lucas, "and all of us speak the language of tone, so that's how ToneSpeak came about. We talked to musicians and manufacturers and asked what they liked and didn't like about various speakers. We tried to respond to them by keeping what they liked and improving on the things that they didn't."
Plenty of 12" Options—and Other Sizes, Too
The Liverpool 1275 is one of five 12" speakers in the growing ToneSpeak line. Other models include the British-inspired Birmingham 1275—a natural fit for fans of the G12H Greenback, with balanced, throaty midrange and lots of articulation—and the formidable Manchester 1290. A high-powered brute, the Manchester will appeal to any player who loves the Celestion Classic Lead but seeks a bit more flexibility. "The common complaint about high-powered speakers is that they sound sterile unless you push them pretty hard," notes Lucas. "So, we designed the speaker to sound very musical even at lower volume, while still being able to handle 90 watts and sound great. It's probably our most balanced, most transparent speaker in the whole line."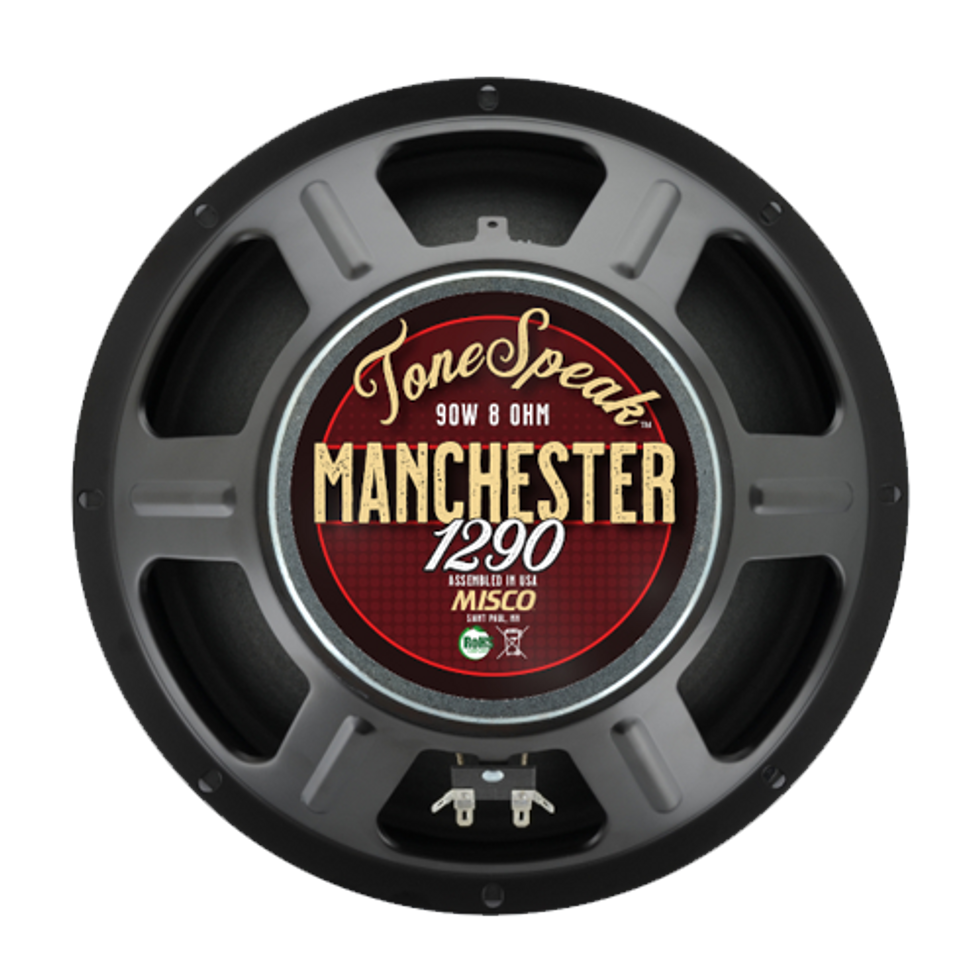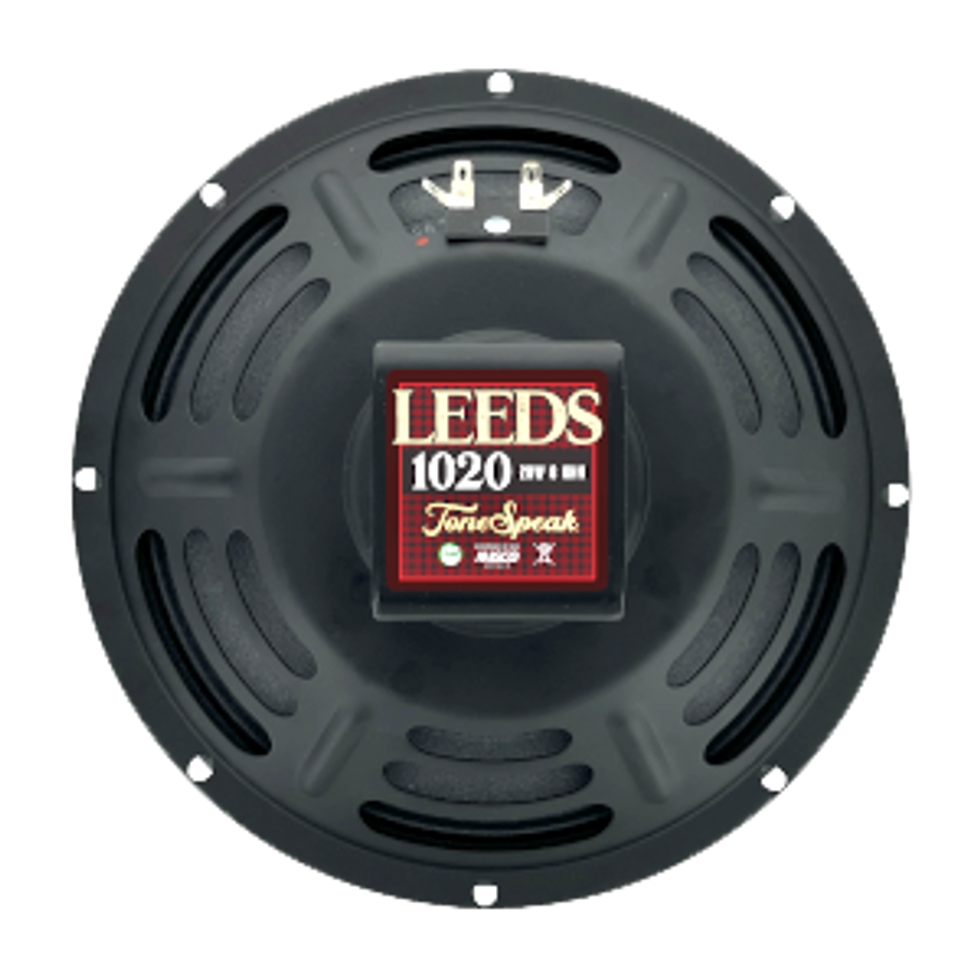 If you've got a 4x12 closed-back cab that could use an upgrade, ToneSpeak's Birmingham or Liverpool models are your go-to options for classic tone bliss. And if you want to raise the aggression factor a notch or two—while still sounding great at lower volumes—the Manchester might be your cup of tea.
ToneSpeak: The Chris Condon Demos
Seeking a specially individualized tone that perfectly fits your unique style? Blending two different speakers with varying tonal characteristics in a 2x12 or 4x12 cabinet can produce amazing results. Just ask Robben Ford: He's using the Austin 1250 and the Manchester 1290 in his Little Walter 2x12 cabinet.
On the other hand, if you're outfitting an open-backed combo, ToneSpeak's 12" offerings include a pair of American-based speakers: the Austin 1250 (the same one Robben Ford uses—see above) and New Orleans 1250.
The Austin harkens back to the classic Eminence GA-SC64 speaker. Looking to upgrade your Deluxe Reverb? This is the ticket. "The Austin 1250 is more or less transparent, so you really hear the amp," explains Lucas. "We brought the mids up—because guitar is a mid-dominant instrument—so they're more forward and clear without being harsh. The highs are really open and it's very solid in the lows."
ToneSpeak: The John Szetela Demos
The New Orleans is designed for players who like the smoky, subtle tone of a hemp cone. "We felt that other hemp-cone speakers are a bit too dark," says Lucas, "so we designed our hemp cone to have a more open sound. It's still warm and smooth, but it fills the room and takes to distortion really well. The high end doesn't sound like it has a blanket put on it."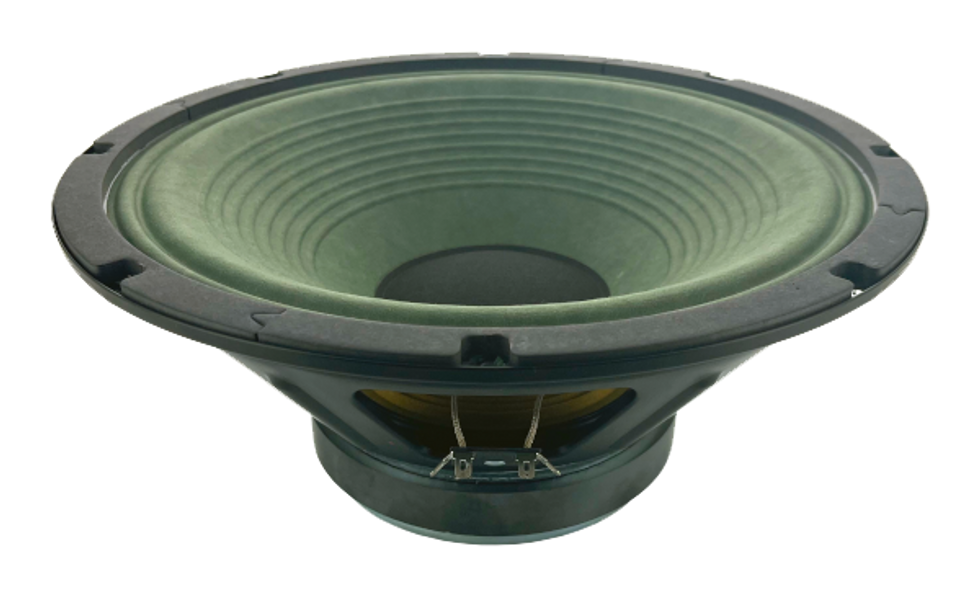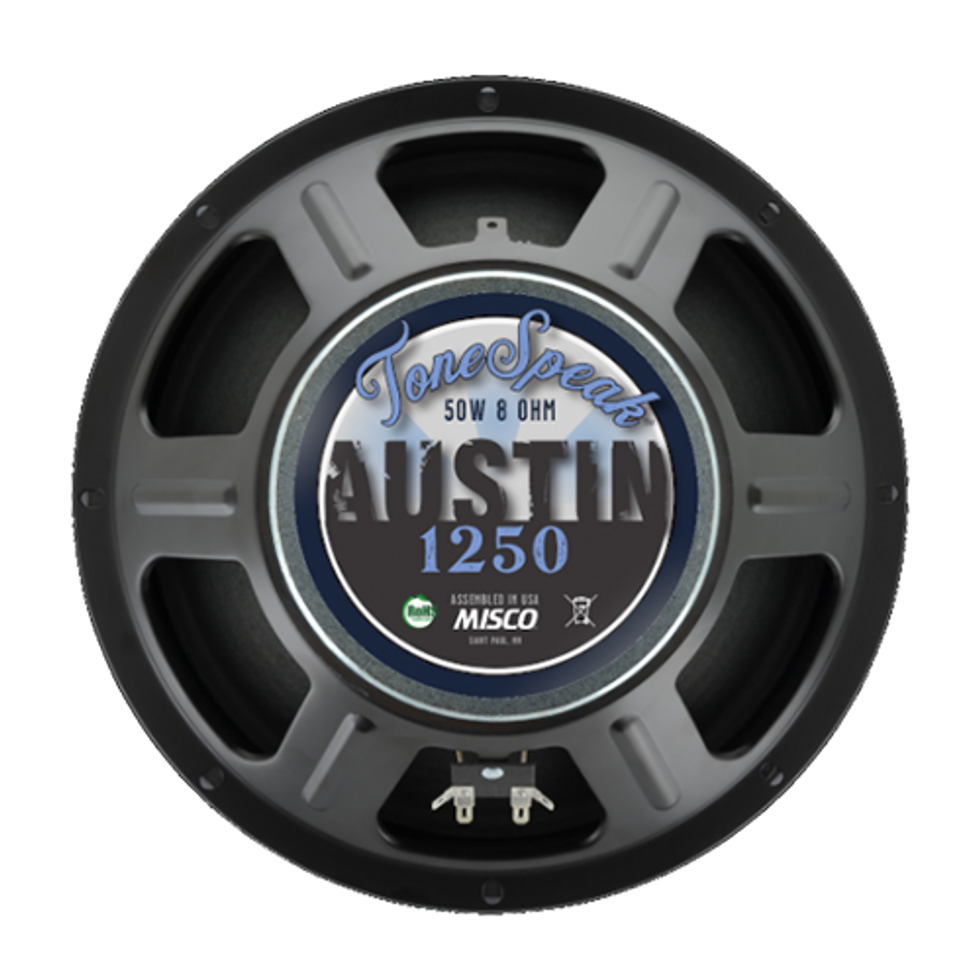 ToneSpeak also offers a range of speakers in other sizes. The company's four 10" models include American-inspired options (the Boston 1020 and Minneapolis 1050) and British voicings (Leeds 1020 and Glasgow 1050). And a pair of 8" models include a British-inspired Belfast 820 and American-voiced Detroit 820, with a hemp-composite cone that makes it perfect for Tweed Champ enthusiasts.
In designing the broad range of ToneSpeak's product line, Lucas considered all of the components that go into a guitar speaker and affect its tone: cones, coils, and spider suspension. He also delved into a factor that might not be familiar to most players: edge doping—treating the edges of the speaker cone with a substance that works as a shock absorber, to keep the cone under control at high volumes. "We compared a few different edge dopings, which have a big impact on defining upper mids and highs. They can sometimes roll off the highs too much if you're not careful. We developed our own proprietary edge doping, which I'm really proud of. It makes a big difference in the sound of the speakers and we're using it on the entire line, except for the New Orleans hemp-cone speaker, which sounded better without any doping at all."
If you're wondering how a brand-new speaker company can offer so many models so quickly, the answer is simple: They are allied with the long-established builder MISCO, aka the Minneapolis Speaker Company.
An Ongoing Legacy of U.S.-Made Speakers
Launched in 1949 by Cliff Digre, a World War II veteran with a deep interest in electronics, MISCO has been led by Cliff's son, Dan Digre, since 1990. The company builds a dizzying array of products and speakers for a variety of industries—including aerospace—many of them far-removed from the musical instruments realm.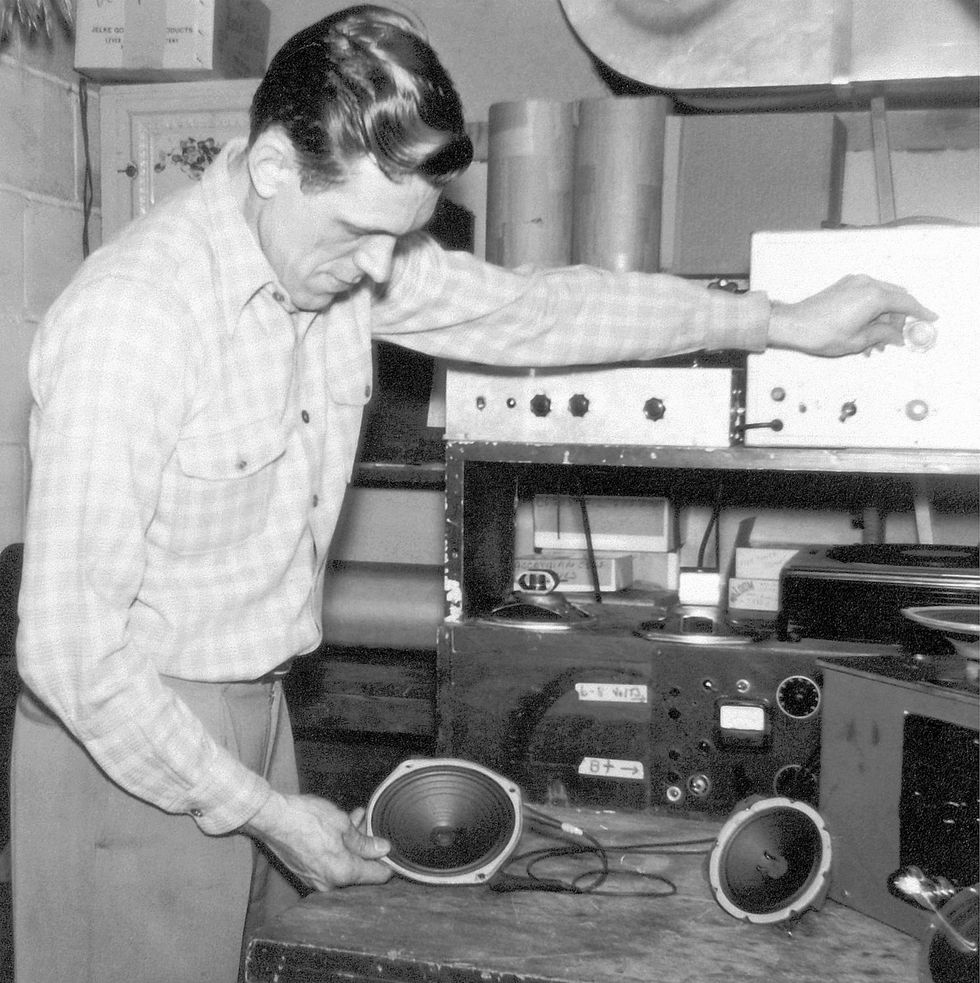 MISCO founder Cliff Digre tests an early speaker in his workshop.
However, MISCO has been making OEM guitar speakers for more than 60 years, and in the 1960s even had its own brand of speakers called Redline, that featured red cones. So, when MISCO partnered with Anthony Lucas to launch the ToneSpeak brand, the company possessed decades of know-how in the guitar-speaker arena. It was a perfect opportunity to fill a need in the marketplace. "Anthony had a lot of experience designing speakers when he worked at Eminence," notes Digre. "For decades, our core has been OEM, which by its nature means people are asking you to do things for them. ToneSpeak exists because the market was asking for some alternatives to what was out there, with an American brand behind it."
Digre readily acknowledges that building guitar speakers presents a unique set of challenges—starting with the end user's tastes and preferences. "Guitarists have an amazing sensitivity to tone color. These players have fabulous ears—they're very discerning, and I have a great respect for them. The philosophy of designing a guitar speaker is different from almost any other type of speaker because it's part of the sound of the instrument. Most other speakers are designed for the signal to pass through it as uncolored as possible. But the guitar speaker requires the color of the driver to become part of the instrument. And it's not a commodity: You need to be able to consistently, repeatedly replicate the tone color. Controlling the variables that affect tone color is very important. MISCO has the means of measuring and controlling those factors."
The Science Behind the Speakers
MISCO's engineering and manufacturing expertise is the secret sauce behind ToneSpeak's rapid rise. "There's some serious engineering in this company used by a lot of different industries," Digre admits. "MISCO builds the speakers for NASA. They're used in the space station and the Orion spacecraft that's going to land on Mars one day. While those aren't musical products, they do require a very specific set of attributes. These are very demanding applications, and your quality really has to be top notch."
Those high standards inform the entire approach behind ToneSpeak. "Whether we're building a speaker for a spaceship or a guitar amp, we're devoting the same attention to detail and consistency," Digre says. "One of our brands uses the phrase 'Our Science, Your Music.' That philosophy applies equally to ToneSpeak. We've got the science of design, the science of manufacturing, the science of testing—but they're all in the service of music. By design, I want musicians to be in this company, because a musician is going to understand a lot of things that a pure engineer is not. We need to have the musical perspective embedded into the DNA of the company."
Digre's outlook is perfectly aligned with Lucas' stance on speaker design, and the satisfaction he gets when they've nailed the formula just right. "I get a smile when a real player gets a hold onto a tool that I've made and they connect with it," Lucas says. "You can always tell by watching and hearing them. They can't stop playing. They're hooked. It's like they get lost in the music. That what really brings me joy as a designer. I've done my job."
Ultimately, electric guitarists are the beneficiaries of this approach. Whether you're upgrading your main gigging amp—or resuscitating a garage-sale find—you'll find a new range of options in the ToneSpeak line. So, roll up your sleeves, have some fun, and crank it up. Great tones are waiting for you!
To find a speaker that completes your sound, head over to ToneSpeak.com
High-end playability distinguishes an entry-level Taylor that shines, for less than 800 bucks.
Crazy playability that matches much more expensive instruments. Excellent fit and finish. Super comfortable.
Midrange can dominate in strumming situations. Expression System 2 electronics highlight midrange emphasis.
4.5
5
4
5
There's nothing new about Taylor building great, affordable guitars. Even instruments like the modest GS Mini always feel inviting and capable of inspired musical moments. The build-quality in these Tecate, Mexico-constructed guitars always impresses, too. But taking a spin with the new 112ce-S suggests that Taylor has reached another level of balance to go with their sense of affordable guitar craft.

The most substantial change in the newest addition to Taylor's entry-level 100 Series is the introduction of a layered sapele back and sides, which pair nicely with solid, matte Sitka spruce tops to generate a warm, bright personality. But that combination seems to achieve a sort of ideal in the form of the 112ce-S grand concert, which manages to sparkle sonically, but also feel incredibly comfortable and impeccably playable in ways that you see in much more expensive instruments.
Made to Cradle
Regardless of your tone aspirations, it's impossible to argue the comfort of cradling a grand concert body. Generally speaking, a grand concert is about the size of a classical body shape (which has a few centuries of refinement behind it), and it won't feel entirely alien to a player who's spent most of their time on the electric side of the fence. Nor will it threaten to dislocate your shoulder after a couple of hours the way a dreadnought can if you're of smaller stature. And the way it fits more naturally against the body lends itself to more nuanced playing techniques. The 112ce-S seems to multiply all these benefits. And, at times, it genuinely feels like an extension of your own body.
The pleasure of holding the 112ce-S is enhanced even more by the excellent playability of the instrument. We've grown used to experiencing unsurpassable playability on Taylor's high-end instruments—most notably that magic blend of low action and freedom from fret buzz that facilitates fast and easy fretting and navigation over the length of the fretboard. The 112ce-S couldn't live much more squarely in that sweet spot. Intonation on our review guitar is dead on. And, remarkably, the Taylor traveled from our video team in a sweltering hot Nashville to cool, foggy Northern California and arrived almost perfectly in tune. I'm not sure exactly what Taylor does to make these instruments so stable. My tour of the company's California plant some years back showcased a combination of CNC manufacturing and careful hands-on touches that yielded very high-quality instruments. My guess is that the Tecate plant is using the very same construction techniques to excellent effect.
Evidence of careful craftsmanship is easy to see elsewhere. Apart from a trace of errant glue spread around the kerfing, the guitar looked perfect on the inside. Outside, the guitar is pretty much flawless. The 3-piece maple neck, in particular, is a gem. It's capped with an ebony fretboard, and its lovely profile—almost a cross between a C and an oval—fills the hand and feels substantial without feeling too bulky. Expressive moves like finger vibrato feel natural and easy. And like the rest of the guitar, the neck feels conceived to eliminate playing fatigue. In concert with the low action, it makes playing for hours a breeze. The classy looking Venetian cutaway has its benefits, too. It's easy to play a lead right up the 19th fret and hear that top note ring clear, true, and free of buzz.
The Middle Ground
Grand concert bodies, in general, have benefits beyond comfort. In my experience, they tend to record exceptionally well, especially when mahogany is in the mix. They aren't too bossy or boomy. They shimmer when recording rhythm parts, and they are even and detailed when tracking fingerstyle. The 112ce-S is capable of all these same feats, but it really excels in the fingerstyle realm. The guitar's midrange leanings give the 3rd, 4th, and 5th strings a snappy reaction to a soft touch. The top two strings ring with a warm and chimey glow around pronounced transients. And the bottom string blooms with overtones that surround a round and robust transient attack. It's a beautifully balanced instrument in this setting. It awakens and enlivens chord melodies that move up and down the length of the neck. It feels just as balanced and alive in capo'd settings, and requires little to no retuning as you move a capo around the neck. In stage performance terms, these attributes make the 122ce-S something of a fingerstylist's dream.
Strumming is less flattered by the Taylor's midrange-forward voice, though it is certainly far from brash or unpleasant. The same pretty bass response that you hear in fingerstyle settings remains evident when you take a flatpick to the 112ce-S. But the strong midrange that makes the 112ce-S feel so alive in soft fingerstyle situations does become an especially strong flavor if you hit the strings hard. The guitar sounds much prettier when you use a lighter touch and a thin flatpick. Played this way, it's easy to hear how the 112ce-S would shine amid stacked rhythm parts on a recording or when tracking alternate, overdubbed chord voicings with a capo. Strummers with a heavy hand, or for whom that style is a foundation of their playing, may want to look elsewhere. But if strumming is just a part of your songwriting vocabulary, the 112ce-S may fit perfectly into your mixed approach.
The Verdict
For just under 800 bucks, the Taylor 112ce-S is, in most respects, a steal. And while it's effectively an entry-level Taylor, I would have no qualms about touring or recording with this thoughtfully executed grand concert. The Expression System 2 electronics make it good-to-go for gigging, even though they benefit from careful EQ from the onboard controls or a pedal to eliminate boxiness. However you put the 112ce-S to work, though, it's a surefire pleasure—particularly when you consider the impressive value it represents.
Taylor's Best Under $800?! The Taylor 112ce-S Grand Concert Demo | First Look
As part of Guild's 70th anniversary and in collaboration with Soundgarden guitarist Kim Thayil, Guild Guitars introduces the all-new Thayil x Guild range of signature S-100 Polara models.
Hitting the streets in early September 2023, these guitars bring Thayil's preferred specs and design elements to the famous Polara line, his instrument of choice for over 3 decades. "We've been talking about doing this together for many years and are excited to finally bring these guitars to life," adds Guild President, Jonathan Thomas. "It's hard to look at a Polara and not think of Kim, his influence in music, and long connection to his Guilds."
Guild Polara Kim Thayil Signature Demo | First Look
The lineup includes 2 models, the flagship USA Artist Edition S-100 Polara Kim Thayil as well as the Polara Kim Thayil, a production model that will street at $899. The USA Artist Edition is a limited run of 30 master-built guitars coming out of Guild's California facility that feature an aged old-growth Honduran Mahogany body and neck, Guild's 70's era enlarged headstock with slim neck shape, bound Indian Rosewood fingerboard with Mother of Pearl block inlays, Grover Original Rotomatics tuners, and custom Guild USA HB-1 Humbuckers hand wound by master pickup maker Jason Lollar. Additional features include a reproduction Guild/Mueller style bridge and compensated stopbar tailpiece, phase switch, Soundgarden "King Animal" truss rod cover, "Badmotorfinger" back cover hand-signed by Kim Thayil, and a white nitrocellulose gloss finish. Each guitar comes with a custom case and a numbered Certificate of Authenticity hand-signed by Kim Thayil, commemorating a timeless connection between artist and instrument.
The Polara Kim Thayil model brings Thayil's signature design elements to a model that sits in Guild's more accessible Newark St. Collection, including a Mahogany body and set neck with Guild's distinctive '70s large headstock with Chesterfield Inlay. Vintage correct HB-1 Humbuckers, complete with Alnico II magnets and phase switch, reproduce Kim's signature tones. A bound Rosewood fingerboard with Pearloid block inlays, a Tune-o-Matic bridge, Guild compensated stopbar tailpiece, multi-ply pickguard, Soundgarden "King Animal" truss rod cover and "Badmotorfinger" signature back cover, and gold hardware round out each signature instrument.
Visit www.guildguitars.com to learn more about this exciting new collaboration between Kim Thayil and Guild Guitars, and to see the company's complete range of instruments.