Classy design extras, ultra-buttery playability, and sweet, growling pickups distinguish this excellent ES alternative.
Faultless construction. Very nice PAF-style tones. Exceptional playability. Beautiful visual presence and cool vibe. Comes with a hard case.
The extra 200 bucks you'll pay over the price of a more modest Epiphone ES-335 might be too much for practical players.
4.5
5
5
4
Whatever your opinion of Oasis—and they have a way of engendering opinions—there's little arguing that Noel Gallagher has an ear for a tune. And like many contemporary British indie guitarists and forebears like his hero, Johnny Marr, Gallagher also understands the romantic and iconographic power of a great tune played on a classic guitar—particularly as a means of asserting difference from the pop and hair metal tribes that came before.
Between a keen awareness of those cultural forces and Gallagher's not-even-kinda-subtle worship of the Beatles, it's little wonder he found his way to the Epiphone Riviera that inspired this signature model. Gallagher's original Riviera, which was a Japan-made 1980s model, is a very different guitar than the Beatles' hollowbody, P-90-fitted Epiphone Casinos, though. In fact, with its center-block, semi-hollow construction, PAF-inspired humbuckers, and Tune-o-matic bridge, it's much more like a Gibson ES-335.
Epiphone currently makes several very nice ES-style guitars, from their own ES-335 to the closely related Riviera and Sheraton. Most of those guitars, save for the B.B. King, Emily Wolfe, and Joe Bonamassa signature models, sell for $599 to $699, which begs the inquiry: What does this Noel Gallagher Riviera give you for 200 bucks extra that its cheaper stablemates do not? If you're a hardcore Oasis fan, that's a non-question. But even at $899, this guitar is a great value. It feels and plays like a more expensive instrument. The build quality is pretty close to faultless. It comes with a hardshell case. It growls, sings, and stings in classic style. And by amalgamating several elements from Casinos, vintage-style Rivieras, and Gibson ES instruments, the Noel Gallagher Riviera adds up to a unique twist on a classic profile.
An E for Elegance
I've longed for a Gibson ES-335 since … forever. They loomed large in images of some of my biggest heroes: Keith Richards on the back of the Get Yer Ya-Ya's Out! album, Roky Erickson, and Jorma Kaukonen to name just a few. Usually, an Epiphone Dot was the most affordable means of satisfying my 335 desires, and I've played a lot of them in shops and some that belong to friends. But I had weird luck with those Dots. When I found a good one, my interests seemed to be somewhere else. When I was feeling enthused, I could never find one that was quite right. But I feel like if I had ever come across an Epiphone 335-style as nice as the Noel Gallagher Riviera, I might have dropped the cash down on the spot—regardless of my current musical predilections. It's a very inviting and easy-to-hang-out-with kind of guitar.
If you haven't taken a break from your pedalboard for a while and need a taste of straight, mainline amp thrills, the Noel Gallagher Riviera is a satisfying means of getting there.
For starters, the Noel Gallagher Riviera feels next to effortless to play. Not everyone digs cradling a 16" body. And not everyone loves a 12" fretboard radius. But just about anyone else that touches this guitar is at risk to succumb to its smooth-playing charms. The action could fairly be called delicious, and the setup perfect, even after a cross-country journey.
The Noel Gallagher Riviera looks good, too. The wine-red finish and binding, aged to a biscuit-tan hue, look like a rather scrumptious meal. But the guitar also holds up to scrutiny at the detail level. I couldn't find a construction or finish miscue. If there is any possible complaint, it's that the finish might be a tad thick. All the same, I love looking at it. And though dogmatic Gibson players will probably scream heresy, I prefer the way the slim, florid hourglass headstock looks on this guitar compared to a Gibson. The white, curvaceous pickguard is also a pretty contrast to the wine finish, which I prefer to a Gibson ES-335's black guard.
Air and Cultured Muscle
If you haven't taken a break from your pedalboard for a while and need a taste of straight, mainline amp thrills, the Noel Gallagher Riviera is a satisfying means of getting there. The Alnico Classic Pro humbuckers, which aspire to a late-'50s, low-output PAF sound and feel, might lack some sense of the wide-screen, aerated texture you hear in the real thing or a top-flight replica, but they are a very nice facsimile. The top end zings and is neither too soft nor too bossy. And though the low end can be a touch woofy in some settings—a quality that applies to just about any PAF to a degree—it just as readily offers growling counterweight to the sweet treble tones. Like any PAF-profiled pickup, the Alnico Classic Pro is scooped in the midrange. In a great PAF, there's usually enough personality in the scooped mids to lend a little purr to the output. That edge is slightly blunted here. But on balance, this a very nice set of pickups for a guitar in this price range.
The pickups are also a beautiful match for the semi-hollow construction, which I always think feels a little more dimensional than a Les Paul. The bridge pickup and combined pickup settings in particular seem to benefit from the extra body resonance, which lends them size and firecracker energy. The neck pickup alone, meanwhile, feels and sounds a little extra smoky, vocal, and soft around the edges. Each of these settings, by the way, pair to thrilling effect with overdrive tones. But I particularly love how it matched up with Marshall-style and raspy ODs, where the extra midrange adds a sweet toughness.
The Verdict
The knock on the Noel Gallagher Riviera will almost certainly be that it's 200 extra bucks for what is, elementally, an Epiphone ES-335. But the little details—the parallelogram markers, the curvaceous, white Rivera pickguard, and the wine finish and aged binding, add up to a very pretty, distinctive, and unique twist on an ES. It's also a very classy alternative to a Les Paul if you want PAF sounds in a less common instrument. I might also argue that it's just a touch more versatile in some musical situations, thanks to the combination of airy resonance and growl. If you're a songwriter, you'll love how great it sounds nowhere near an amplifier. But this guitar is a joy to hear loud, alive, electrified, and unadulterated.
Epiphone Noel Gallagher Riviera Demo | First Look
Epiphone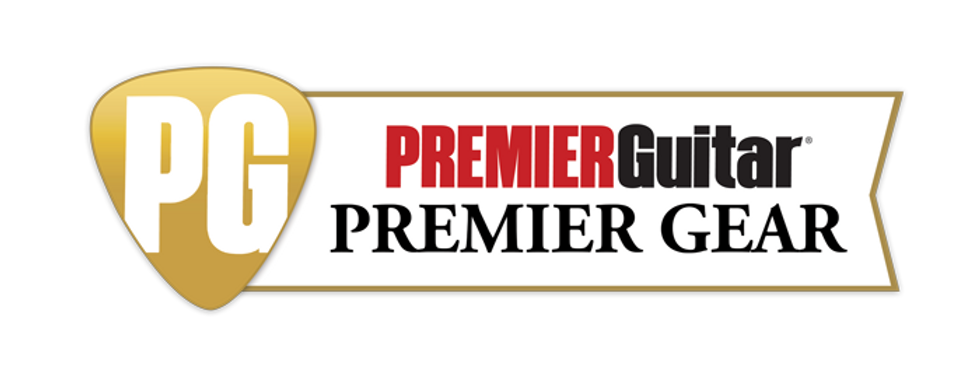 Ever wonder what it's like to do a Rig Rundown? It's awesome! PG's editorial director explains.
Although John Bohlinger has done the talking for the majority of our Rig Rundowns, followed by our director of video content Chris Kies and chief videographer Perry Bean, I've been PG's jaws on my fair share. So, here's what it's like to do a Rig Rundown.
It starts well before we get to the venue, with Chris handling the scheduling with the artist's team. Then, at the appointed time, Chris, Perry, and I convene at the club or concert location. I either know the artist's work or have done research so I can ask informed questions. Chris and Perry arrive with cameras, lavalier mics, SM57s, tripods, and lights. Since I'm just carrying a notepad, I like to lend a hand. Every Rundown I'm on is like a reunion with Chris and Perry, too. We get to catch up, and since they're best friends, they radiate a rapport and positivity that's infectiously good. (I haven't worked directly with our new videographer, Jarrad James, yet, but I hope you've seen some of his Drum Rundowns.)
Usually, the artist or guitar tech is ready for us onstage, and when they're not, it's either a treat to hear part of soundcheck—like the Allman Betts Band ripping through "Whipping Post," or Eric Johnson last-minute-tweaking his amp setup—or, on unlucky days, torture—like listening to a guitarist blame the sound engineer for his lousy tone for a half hour, without once trying to change the settings on his own Marshall.
I like to make Rig Rundowns engaging conversations, instead of mere show-and-tell.
When the stage is ready for us, Chris and Perry use their experience to find the best angles to shoot the action. They position me and the artists and set up lights to illuminate where we stand. They put the SM57s on amps, help secure the lavaliers, do a quick soundcheck, and make sure the lenses are getting the goods. Honestly, they do all the hard work.
If the artist or tech isn't familiar with Rig Rundowns, I'll give them a quick outline of the conversation we'll have. Often, emerging artists aren't just ready, they're psyched! I've heard, "Oh, I know how a Rig Rundown works!" … often. And with undisguised glee.
Then Perry, typically, says "rolling," and away we go. I like to make Rig Rundowns engaging conversations, instead of mere show-and-tell, which is why I arrive informed and ready to talk about an artist's history, recordings, stylistic interests, and more. If we can have a real discussion, and maybe even weave in a little humor or empathy, all the better.
If I make a mistake—ask a dumb question, stumble over words, stray out of the lens—I can stop or be stopped for a redo (and so can the artist), and Chris and Perry will cue me back in perfectly, coaching me on physical and verbal continuity. They're really directors, making short documentaries. After filming a kabillion Rig Rundowns and demos, they're also incredibly well-informed about gear, so they might suggest we focus on a particular instrument or stomp to hit all the right notes. They also encourage the artists to play, so we can begin each video with a live performance and really show off the tones these rigs create.
I love being onstage when somebody like Doug Aldrich, a great guy with a heart full of tone, rolls up the volume dial and hits the strings. Jimmy Herring did the same at a Widespread Panic Rundown at Nashville's Ascend Amphitheater, and if I wasn't standing next to him when I heard the low, mournful roar that came out his amp, I could have been convinced that Godzilla was coming up the nearby Cumberland River. It was one of the greatest sounds I've ever heard. Absolutely primeval.
When the filming's over, Chris starts packing up and Perry takes stills for the Rundown's text on PG's website. I usually snap a few cell phone photos to capture details I'll want to use writing that text—just as visual notes. And then it's a wrap … except for the hours of editing that go into each Rundown, where an entirely different magic happens.
The bonus for me, of course, is getting to talk to artists I love about their gear. After interviewing Eric Johnson and Devon Allman for years, it's been great to meet them and find they're also kind and generous in person. My favorite Rig Rundown was with Buddy Miller, who I've long admired, and who invited us into his home studio for a spirited, free-ranging talk about his favorite instruments, recording gear, and way more. He even let us use his vintage overheard mic when we came up short. And yes, Nick Raskulinecz' Nashville pad is the ultimate heavy rock playroom!
Every Rig Rundown I've done has had real highs—moments of discovery, enlightenment, musical adventure—and I hope you experience that, too, when you watch them.
Supro goes toe-to-toe with the Princeton and comes packing a bag of extra tricks.
Appealingly retro. Compact. Practical power-scaling functions. A great low-power pedal platform.
Natural overdrive can get a little soft and squishy when pushed hard (if you don't like that sort of thing).
4
4
4.5
4
If current trends are any indication, lower stage and studio volumes are with us to stay, and Supro, in particular, has built a lot of low-power amps to serve this segment of the market. The Amulet is the latest in a line built to satisfy small-amp appetites and deal thick, vintage-leaning tone.
The Amulet's 15-watt, 1x10 combo configuration delivers a lot of flexibility: a simple control panel, nice tremolo and reverb sections, and a useful attenuator, which offers power scaling ranging from 15, 5, or a single watt. The output stage, meanwhile, is Class A and driven by a 6L6GC tube, rather than pairs of smaller 6V6s or EL84s, which drive the most common 15-watt tube amps. Together, these design features make Amulet an interesting and unique Princeton Reverb alternative.
Young, Free, and Single
The Amulet's control panel will make any 1960s combo amp fan feel right at home. Volume, treble, bass, reverb, and tremolo speed and depth make up the control compliment, save for the 3-position output power switch. The Amulet is a looker, too, like just about everything we've seen from the revitalized Supro. Housed in a compact 17.5" x 17" x 8" poplar cabinet and weighing just 29 pounds, it's covered in stylish black Scandia vinyl with cream piping and a cream grille cloth. A large leatherette handle makes for a super-comfy carry. The speaker is a Celestion G10 Creamback rated at 45 watts.
Given the Class A output stage, you could view the Amulet almost as a beefed-up Champ with extras. The past couple of decades have seen a variety of creative Class A offerings, like the THD UniValve, Victoria Regal (and double-single-ended Regal II), Emery Sound Microbaby, Blackheart Little Giant, the original Carr Mercury, and others. But only the Carr came with a built-in attenuator like the Amulet's, so it's nice and rare to see power scaling in this circuit type, at this power level, and at this price. Amulet's true class-A output and the associated second-order harmonics add to the brew, which most will hear as lively, deep, overtone-rich, and more multi-dimensional in overdriven settings.
The whole of the Amulet's circuit is tube-driven. There are 12AX7 preamp tubes for the preamp gain stage, reverb gain make-up, and tremolo sections, and a single 12AT7 driving the front end of the spring reverb. Inside, a rugged-looking printed circuit board is populated with quality, through-hole components and board-mounted tube sockets.
Good Luck Charm
The Supro Amulet is a pretty handy box of tricks, given the small package. At lower settings on the volume knob and ranging up to about 11 o'clock, it sounds clean, crisp, and detailed, with body and balance. And despite the modest 15 watts, it feels powerful enough that you could maintain those clean tones in a small club with a volume-conscious rhythm section. Add lush reverb and rich, warm tremolo to taste, and there are some superb atmospheric cleans to be found—offering great sonics for retro swamp-rock, surf, alt-country, and indie textures.
The Amulet offers nice shades of breakup between 1 o'clock and 3 o'clock, but roars when it's cranked. Assuming that you'll want to use this capability often, the 15-watt setting will likely be too loud for many home studios. But you can still hit this sweet spot at 5 watts. And apartment dwellers and bedroom jammers that need to use the 1-watt position will still find lots of nice tones. At its sweetest, though, Amulet generates chewy, thick, rowdy, vintage-flavored overdrive and loads of compression without totally sacrificing dynamics.
While the amp's natural overdrive is expressive in the right setting, it's awesome with overdrive pedals, too—particularly with amp volumes around 10 to 11 o'clock. One of my favorite pedal/amp recipes was a grinding, plexi-like Friedman overdrive with the Supro set to 15 watts and a clean-but-almost-dirty volume. With a Telecaster out front, the Amulet had the sting of Jimmy Page's early Led Zeppelin solos. Class A amps are rarely blessed with much low-end thump. Faster onset of compression and sag is usually part of the brew, too. The Amulet is no different in either regard, but it has a way of reminding you how these characteristics can be real virtues and makes the Amulet an exciting amp live or in the studio.
The Verdict
The Supro Amulet is a super-likeable and super-useful amp. The retro styling is a winner. Tones range from crispy to juicy at a range of output levels thanks to the built-in attenuator. The reverb and tremolo are both very good, and it pairs beautifully with overdrive pedals. If, to your ears, that adds up to fun and musical versatility, you'd be wise to give the Amulet a listen.
Supro Amulet Demo | First Look
Supro