Phase and envelope filter swirl as their own flavors and in many shades of a fascinating, functional whole.
Many cohesive mashups of modulation and filter. Forgiving envelope filter. Cool, compact size. Easy to operate.
Phase voice may be too flat for some.
4.5
4
4
4
A lot of players perceive phasers and envelope filters as one-trick ponies—good for a hook once in a blue moon or suited to very specific styles: prog, psychedelia,
Bootsy Collins
funk, or playing in your local Grateful Dead cover band.
Way Huge's
Attack Vector, which combines an envelope filter and a phaser, and lets you operate them independently, sounds cool in both modes. What's especially cool is how often the two effects can multiply each other's strengths used in tandem. This extra functionality and palette of sounds means a range that can span utility, tradition, and the bizarre.
No Marriage of the Meek
I'd love to know what kind of records are on the turntable at the home of Way Huge designer Jeorge Tripps. I might even like to know what he's eating for breakfast, because, between the recent excellent Atreides Weirding Module and the Attack Vector, he seems extra focused on the interrelationship between envelope and phase. Yet, the way those two effects are used on the two pedals yields very different results, and we should not assume that the phase and filter effects on the Atreides, which also offers fantastic, hair-singeing fuzz, can be used interchangeably. In fact, the two devices behave and create sound in wildly different ways. Given the range in color of the phase and envelope effects that reveals itself, it's easy to hear how Tripps became intrigued with such possibilities.
"Of the two effects, the Phaser strays most clearly from familiar analog templates."
Depending on your perspective and tasks at hand, you can argue the Attack Vector is a much more practical and flexible application of the two effects. On the Atreides, the strong personality of the fuzz and EQ effects (and the inability to remove them entirely) makes more familiar applications of phaser and filter harder to achieve. The Attack Vector, however, will willingly play the part of circa-'77 Jerry Garcia or a trippy Phase 90 in ways the Atreides cannot.
Of the two effects, the Attack Vector phaser strays most clearly from familiar analog templates. It's not as classically chewy as a Small Stone, an Ibanez PT9, or an MXR Phase 90, which is, of course, a cousin within the Jim Dunlop family. There's a possible reason for this: The Attack Vector's envelope filter can generate intense peaks, and pairing those spikes with a phaser that modulates with its own intense resonant peaks can create ugly volume irregularities and odd, hiccup-y, phase cancellations, which happened when I mated the Attack Vector filter to a particularly resonant vintage Phase 90 clone. The Attack Vector's phase cycle seems competitively flatter and a little less elastic. In isolation, this quality can be very practical. For instance, you can tailor more phase textures that leave more room for picking dynamics or especially abrasive fuzz. Some players might miss the extra rubbery qualities of more classic phasers. Others with less dogmatic views of what proper phaser vintage tone is could find a lot of utility in its voice. The modulation frequency, by the way, ranges to hyper-fluttery extremes, which can work to bizarre ends with the filter in the mix.
The Quack in the Room
In pure envelope-filter mode, the Attack Vector is forgiving, agreeable, and easy to work with—even if the effect is an unfamiliar language. I particularly love it with single-coils, where it can sound extra snappy and nasty with a range setting that favors higher-mid peaks and a full-clockwise sensitivity setting. But its also very happy with the rounder edges from PAF-style humbuckers.
In tandem, the filter and phaser potentially yield much weirder fare. And if you're the kind of player that bores fast with well-worn tone templates, there's a lot of ways to get in trouble here. Using those same clockwise sensitivity and high-mid resonance settings on the filter with full-clockwise peak settings and a slow-to-medium rate from the phaser creates mutant electric sitar sounds that could underpin a memorable solo or work to double a less interesting one. Slowing the phase rate, backing off the phase resonance, and pairing with smoother, more vocal filter settings creates a composite that showcases the most classic version of each effect in a beautifully dovetailed whole.
The Verdict
Individually, the envelope filter and phaser on the Attack Vector are cool. And I could see many players picking the unit up primarily for the easy-to-use envelope filter. It's a bummer that you have to reach down to toggle between the three modes, because I could imagine many applications where switching between effect combinations would add effective and distinctive drama to song sections and solos. But maybe that's a small price to pay for more compact dimensions on what, for many, will still be a niche effect. That said, the beauty of the Attack Vector is that it probably won't seem niche-y to the open-minded. There are many conventional phase and filter tones that make this pedal practical and full of possibilities—and a ton more that are guaranteed to make a very profound impression.
Way Huge Attack Vector Phaser & Envelope Filter Demo | First Look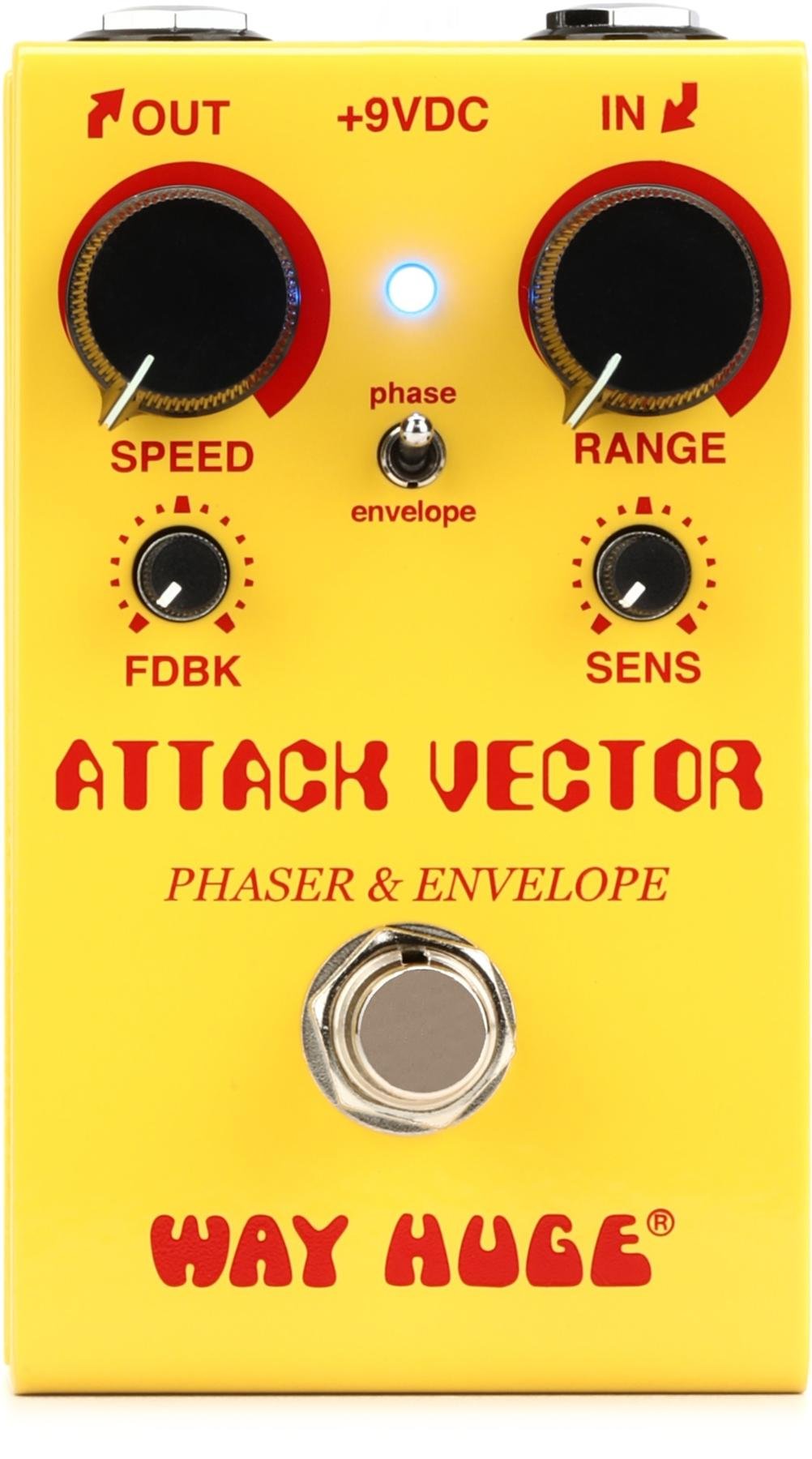 Way Huge
Photo by Ebru Yildiz
On their new album, In Between Thoughts… A New World, the acoustic duo goes half-electric, plumbs programmed beats, adds slide guitar, and explores nondualism—following a creative path that opened due to the Covid shutdown.
Grammy Award-winning guitar virtuosi Rodrigo y Gabriela started recording what would become their latest album, In Between Thoughts… A New World, in February 2021. At the time, crafting a new album wasn't the catalyst for making new music. They really just wanted to write, jam, and record without an agenda while locked down during the pandemic.
"It was just something to kill time," admits Gabriela Quintero, one half of the Mexican guitar duo. "Just to be in the moment and not to think too much about it, even though here in Zihuatanejo it was more like the tropical version of the apocalypse [laughs]."
The other half of the duo, Rodrigo Sánchez, concurs that the pandemic presented a unique set of circumstances that allowed them to be creative without the added pressure of making a record, going on tour, or meeting a deadline. "Musically speaking, it was a very unusual process for us," he says. "We weren't really thinking about recording a new Rod and Gab record, and we didn't really know what was going to happen. It was a really detailed process we never had done before, because we never had this amount of time to record an album."
Rodrigo y Gabriela - True Nature (Official Audio)
"True Nature" is off Rodrigo y Gabriela's first album in 4 years. The album 'In Between Thoughts...A New World' is available now on limited edition vinyl, CD...

Guided by spiritual practices like Buddhism and nondualism, Rodrigo y Gabriela's presence-of-mind approach to the guitar has led them on a fantastic, fulfilling journey from their humble heavy metal beginnings in Mexico City, to busking on the streets of Ireland, to performing in front of tens of thousands of people on the world's biggest stages, opening for Muse and others.

Formed in 1998 out of the ashes of their heavy metal band, Tierra Ácida, Rodrigo y Gabriela left their hometown of Mexico City to pursue their musical ambitions in Dublin, Ireland, where they first began busking with their acoustic guitars on tourist-heavy Grafton Street, mixing elements of flamenco, rock, and heavy metal. In 2002, they released re-Foc, showcasing their virtuosity on guitar and their unique fusion of musical styles—even incorporating elements of the Irish folk music they had immersed themselves in while living abroad. In 2006, the duo released Rodrigo y Gabriela, a mix of original compositions and covers of classic songs by early influences Led Zeppelin and Metallica. The album was a commercial success, reaching the top of the Irish album charts and earning them a nomination for the Mercury Prize, awarded for the best album released in the United Kingdom by a British or Irish act. In 2008, they released 11:11, which featured 11 original compositions—each dedicated to a different musician who had influenced their music. In January 2020, Mettavolution, their fifth album, won Best Contemporary Instrumental Album at the Grammy Awards, cementing Rodrigo y Gabriela's status as one of the most innovative and exciting guitar duos in the world.
"Gab has seven piezos inside her guitar, and everything is very tight. And I have five piezos."—Rodrigo Sánchez
Gabriela Quintero's Gear
Lead guitar provides the flash, but Gabriela Quintero's right hand is what keeps the party jumping, with a driving, uncommon approach drawn more from traditional Irish music than flamenco.
​Photo by Jim Bennett
Guitars
Yamaha NCX5 Signature Model
Effects
Boss FV-500L Volume Pedal
Boss OC-3 Super Octave
Boss TU-3S Chromatic Tuner
Dunlop Cry Baby Standard Wah
Dunlop DVP4 Volume (X) Mini Pedal
Lehle P-Split III Box
Strings
D'Addario Pro-Arté EJ45 Normal Tension
Self-produced by Rodrigo y Gabriela at their studio in the resort city of Ixtapa, Mexico, In Between Thoughts… A New World reasserts their seemingly innate ability for cultivating a musical repertoire that captures the zeitgeist. And while it may have begun without intention, that doesn't mean In Between Thoughts lacks direction. Like its predecessors, there's a familiar and explosive display of virtuosic guitar craft, including all of the hallmarks one would expect from Rodrigo y Gabriela. The powerful, percussive playing of Quintero and the deft melodicism of Sánchez remain the duo's calling cards. But new, unexpected sonic elements abound as well, including the reverb-drenched slide guitar on "Egoland," the energetic percussion on "Descending to Nowhere," the kinetic electronic beats on "The Ride of the Mind," the passionately chanted vocals of "Broken Rage," and the dreamy mystique of the robotic vocal effects embedded within "Finding Myself Leads Me to You."
In fall 2020, while recovering from Covid, Sánchez stumbled upon an online video on nondualism—the notion that there is a "single, infinite, and indivisible reality, whose nature is pure consciousness, from which all objects and selves derive their apparently independent existence," as defined by author/teacher Rupert Spira. "Advaita Vedanta, or nonduality, is often called the direct path—accepting what is," explains Sánchez. "We're not saying that everything in this structure of the body/mind we live in is right. It is just what is, and we cannot really argue with that."
"The beauty about music is that it's always expanding."—Gabriela Quintero
During the early stages of the pandemic, Rodrigo y Gabriela did what many other artists did: They turned to social media, posting short anecdotal performances from their studio. But when they finally got bored of that, they started to write music based on the concept of nondualism without really thinking it would become their new album. "It was just a project," emphasizes Sánchez. "We were just here in the studio doing things that we would never dofor Rod and Gab. I started to work with electronics, I left my acoustic guitar [at home] and just took my electric guitars [into the studio]. We started writing the music at the same time as we were writing a story based on this philosophy that we were so much attracted to. If we had known that it was going to become the Rod and Gab album, we probably would've limited ourselves in terms of not using electronics, or not using too much electric guitar. But we didn't really think that way. That's how the album came about."
Their new album began as a pandemic songwriting and recording project, and took shape almost by accident as they accumulated tracks and tunes.
As for Quintero, she took a slightly more pragmatic approach to the endeavor, particularly regarding nondualism. "I think me and Rod, we share a lot of things that we like, and we feel attracted to, but we process differently," she explains. "That's where the nondualism becomes dual [laughs]. I discovered these teachings through a book called The Power of Now [byEckhart Tolle]. To me, that book was incredibly insightful and practical, and such a 'no rules' type of thing. I tried to meditate but there was too much discipline with some of the spiritual teachings. I remember when Rod was into Buddhism, and he was meditating a lot of hours a day and learning some mantras that were very strict. And for me, it was too much of a discipline. When I discovered The Power of Now, it was like, 'Oh great, you don't have to basically do anything [laughs].' And then, when the pandemic came in and Rod discovered these videos about nondualism, the way he presented them to me sounded super confusing and too much like nihilism. So, we were constantly having friendly debates here in the studio. And I was going, 'This is too crazy.' It felt to me that it was denying this existence. But then we discovered these are the same teachings as The Power of Now, but in different words, in a different way. Then we stopped the debates."
Quintero, very late into their writing and recording process, asked Sánchez if they were, in fact, writing their next record. "And then she asked, 'When are we going to record it?'" says Sánchez. "We'd been recording [what we were writing] from day one with quality, and so I went back to the studio that afternoon and I checked all the recordings and all the levels, and we had produced the album already. We had the record."
"We love flamenco. My best friend in that scene, Vicente Amigo, is one of the best. But no, we never play flamenco."—Rodrigo Sánchez
As for how they record, Sánchez says it happens all sorts of ways—sometimes tracking together, sometimes individually. Sánchez says the acoustic guitars get picked up by German-made Schoeps MK 4 mics, recommended to him by his close friend, Spanish guitar maestro Vicente Amigo. They also adopted some of what he calls his "old-school metal techniques" for recording. "Knowing that we were going to have orchestra and electronics and all that, I used room mics for Gabs—and instead of just copying her track, I have her record two guitars exactly the same," he explains, noting he did not use the copy/paste shortcut many musicians use nowadays. "She would do one guitar rhythm and then she would double that to make it sound bigger. Overdubbing the same rhythms and the same parts actually give her much more presence on top of the electronics. And she's so good at it."
Due in large part to Quintero's right-hand technique, which Sánchez recorded so well on In Between Thoughts, "heavy metal flamenco" is a label often applied to the duo. "Ah, the 'F' word," laughs Sánchez. "We love flamenco. My best friend in that scene, Vicente Amigo, is one of the best. But no, we never play flamenco. I understand some people are confused because of Gab's rasgueado[gesture to invoke her right-hand technique], but actually she's not doing the flamenco technique at all. She learned most of these techniques from an Irish bodhrán player, Robbie Harris."
Rodrigo Sánchez's Gear
Rodrigo Sánchez wears his musical roots on his chest,
in a t-shirt proclaiming his fan status for the Bay Area metal band Testament.
Photo by Dan Locke/Frank White Photo Agency
Guitars
Yamaha NTX5 Signature Model
Fender Jaguar
Amps
Fractal Audio Axe-Fx II XL+
Marshall JCM900 4100 Hi Gain Dual Reverb
Effects
Boss DD-3 Digital Delay
Boss FV-500L Volume Pedal
Boss OC-3 Super Octave
Ibanez WH10 V3 Wah Pedal
Lehle P-Split III DI Box
MXR M133 Micro Amp
MXR M234 Analog Chorus
One Control Minimal Series AB Box
TC Electronic Ditto X2 Looper
Truetone 1 Spot Pro CS7 Power Supply
TWA WR-03 Wah Rocker
Strings & Picks
D'Addario EXL115 (.011–.049
D'Addario Pro-Arté EJ46 Hard Tension
Jim Dunlop Jazz III Black Stiffo
The bodhrán is a frame drum used in traditional Irish music that Quintero learned about when they moved to Ireland. "At the time, I was trying to imagine how flamenco players played their rhythms," she explains. "I couldn't figure it out, because back then there was not YouTube—there was nothing. Nowadays, you can go and say, 'How to play rasgueado flamenco, how to play rhumba,' and you'll find something, but not back then. And I always got it wrong. And then I discovered the bodhrán."
In the old days, the bodhrán was played with hands, not with a stick, as is often seen presently, and she says the Irish kept telling her she actually exhibited the movements of a bodhrán player, but on guitar. "They encouraged me to do certain rhythms. So, just watching them, it was easy to emulate a lot of the movements—it just came organically. The beauty about music is that it's always expanding."
"If I came back to a solo bit or something, there was not that beat—people were not jumping anymore, and it was like, 'Ah, we're losing the audience,' so I tried to become more the drummer of the band."—Gabriela Quintero
After weaning his guitar craft on West Coast thrash metal bands Testament, Megadeth, and Slayer, and New Yorkers Anthrax, Sánchez's nylon-string style was originally grounded in a lot of the palm-muting he carried over from that style of electric playing. "First of all, I had to translate my palm muting [from electric to nylon string]," he explains. "Then, I used a little bit more of Al Di Meola's technique, but he was playing steel-strings, right? So, I was like, 'Okay, how can I translate this into nylon?' And then I started to listen to Strunz & Farah, and they are incredible. I listened to the way they played, especially Jorge Strunz, who is so clean and so fast. And I started to learn some of his licks here and there, so I was in that zone already."
They want a whole lotta folk! Rodrigo y Gabriela get down on the Newport Folk Festival's Harbor Stage in 2014.
Photo by Tim Bugbee/Tinnitus Photography
It's worth noting that the nylon-string guitars Rodrigo y Gabriela play live are the result of years of practical research and application in collaboration with Yamaha and are not models or designs your average nylon-string player would use, nor are they commercially available. "It's not like any nylon-string guitar can just go and play in the middle of a festival of 40,000 people," explains Sánchez. Originally, they were using guitars made by Irish luthier Frank Tate, which they still use at home and in the studio. But the guitars they now use live were specially designed over a 14-year period by Yamaha's Japan-based Custom Shop for arena-concert environments. "These guitars have a very special system for us to sound the way they sound live," he says. "Gab has seven piezos inside her guitar, and everything is very tight. And I have five piezos, which is really important for those kinds of shows."
Within the duo, both players are very melodic and very rhythmical, but Quintero did gravitate to doing more of the beats, simply out of necessity, once they started playing bigger shows. "At the beginning when we used to play together, we swapped all the time—solos, arpeggios, and all of this," she explains. "Eventually, when we started playing rock festivals, because I was the one who played the chords and the beat, if I came back to a solo bit or something, there was not that beat—people were not jumping anymore, and it was like, 'Ah, we're losing the audience,' so I tried to become more the drummer of the band."
Jumping from a metal band in Mexico City to an acoustic guitar duo busking the streets of Ireland seems quite serendipitous and grounded in the kind of ideology they eventually discovered via nondualism. Circling back to Quintero's The Power of Now-influenced, pragmatic approach, she jokes that the decision was really quite simple. "Eventually, we were so internationally non-famous and miserable, we decided we're going to quit the band," she chuckles. "But we're not going to quit music. We wanted to travel the world. So, our new goal was to travel and play guitar."
YouTube It
While this live performance doesn't capture the duo's current blend of acoustic and electric sounds, it does afford a close-up look at their playing technique. In particular, check out Gabriela's right-hand approach, which is based on the traditional Irish instrument called the bodhrán.