The guitar universe gathered momentum in a big way in 2022—which is easy to see in this year's wildly diverse parade of Premier Gear Award winners.
Here's a look at 2022's most notable new guitars, amps, effects, and accessories, reviewed by our editors and writers:
The good doctor refines an old mid-power favorite that dishes beautiful American-style clean and overdriven tones while packing a muscular punch.
A killer reimagining of an already great design. Bold cleans and toothsome overdrive in an impressively portable package.
5
5
4.5
4
Though he's built bona fide iconic modern guitar-amp designs—and a reputation that he could happily ride into the tube-glow sunset—Dr. Z's head honcho, Mike Zaite, has always stayed creative. He's steadily revamped his lineup over the years. And the new Z-28 Mk. II represents a thoughtful update of an amp that many of us assumed couldn't get much better. The original Z-28, discontinued in February 2018, was a robust 22-watter that reveled in simplicity and thick, versatile tonality. Players loved it. And more than a few lamented its discontinuation.
Those players will be happy to hear that much of the Z-28's basic architecture remains intact in the Mk. II. Crucially, the original Z-28's EF86 pentode preamp tube carries over to the front end of the new design. It was a key to that amp's personality and combination of high headroom, high gain, and thick-yet-clear voicing that hooked many Z-28 followers. But the platform's dual-6V6 output stage has now been upgraded to a pair of larger 5881 output tubes in cathode-bias, generating 35 watts of power. Additionally, a new master volume control helps rein in the output, so there's plenty of the good stuff available at less overall volume than the Mk I.
Red Menace
The Mk. II is more than an updated circuit. Dr. Z houses the Z-28 Mk. II 1x12" combo in an updated cabinet, too. This time out, the Z-28 lives in a cab Dr. Z introduced with the Joe Walsh Signature Z-Master. But where that amp was configured with three 10" speakers, the Mk. II features a single-12" baffle and a Celestion G12M Creamback. The cabinet is built from thin-walled ply and measures 22" x 21.5" x 10.9". The dimensions and construction help keep this mid-powered combo's weight down to a very reasonable 38 pounds. The Mk. II also brings Dr. Z's popular red-Tolex livery back to the fold. It's exclusive to the Z-28 Mk. II combo. (A Z-28 Mk. II head is also available, in black only.)
Control interface-wise, the Z-28 Mk. II is just as austere as the original, with the exception of the master volume. Apart from the single input, there's a volume knob and independent treble and bass controls in the EQ stage, which conceals tone-sculpting capabilities much more powerful than you would expect. Utilizing Dr. Z's version of a Baxandall tone circuit, these controls offer fairly traditional high and low frequency sculpting from the fully counterclockwise position to noon. Past noon, though, the frequency boost comes with a bump in preamp gain. The result is that there are many more voices and gain gradations available than the deceptively simple 3-knob preamp implies. What's more, the post-phase-inverter master volume is removed from the circuit when it's maxed if you want to run the MK. II wide open.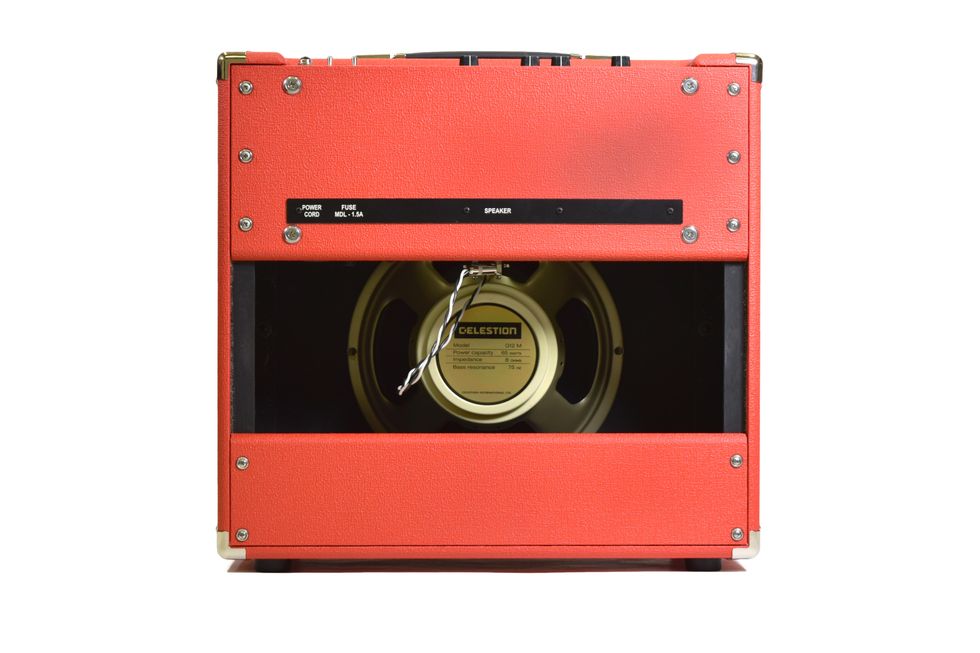 The Z-28 Mk. II uses a 12AX7 in the phase inverter and has a 5AR4 tube rectifier. Cathode biasing of the output stage means you just pop in new replacement tubes when the time comes—there's no need to re-bias, which is very convenient. Although the 5881s can be substituted with more common 6L6GCs—also with no bias adjustment—the Doc tells us: "I like the 5881s better than the 6L6s I tried. The 5881s seem, to my ear, to be closer sonically to the 6V6, which is what I was trying to achieve in the Mk. II." Otherwise, a look inside the chassis reveals the same kind of high-quality, handwired circuit that we have come to expect from this Cleveland-based maker.
American Muscle
The Mk. II is an able successor to the original, and then some. I should confess here that I was a fan of the dual-6V6 Z-28 from the time of its release, and I chatted with Zaite about that amp's merits on many occasions. In my estimation, the Mk. II simply brings more of the good stuff to the table, without leaving out any of the stuff that made the Z-28 great.
A big part of this amp's magic is in the character of the EF86 pentode preamp tube, which is thicker, lusher, and more full-frequencied than a 12AX7 in most circuits. This tube's capacity to be pushed hard without folding into self-distorted fizz means the signal is bold, clear, and articulate before it hits the next stages of the amp. As a result, the overall voicing and character is classic '60s-era American, but it's complex—blending late tweed, early '60s brown-panel, and mid-'60s black-panel tonalities with a little extra girth and muscle that tends toward Marshall-like—especially when pushed to overdrive.
As such, the Mk. II makes a great clean-to-mean template without any help from pedals. And the versatile tone controls extend the broad range of voicings considerably. While It's probably not the best shred platform, the Mk. II's ability to span roots and blues colors, rowdy classic and garage-rock sounds, and even jazz tones is impressive. The preamp's copious headroom and robust performance also makes it an outstanding platform for drive pedals—without exhibiting any of the sterility that the handle "pedal platform" often implies. The Z-28 Mk. II lapped up the output from a TS10 Tube Screamer, Tsakalis Six, Wampler Tumnus Deluxe, and JHS Angry Charlie with ease and relish. The master volume works great, too, meaning you can explore the Mk. II's voices at much lower-volume settings than the Mk. I could handle and dig every minute of it.
The Verdict
The Z-28 Mk. II is a clever reimagining of a well-loved original Dr. Z design. And it quite simply delivers more of everything that won fans for the already impressive Mk. I. Simultaneously stout, thick and articulate, with beautiful cleans and excellent overdriven tones, it's also a great drive-pedal platform, and a dynamic and expressive amp by any measure.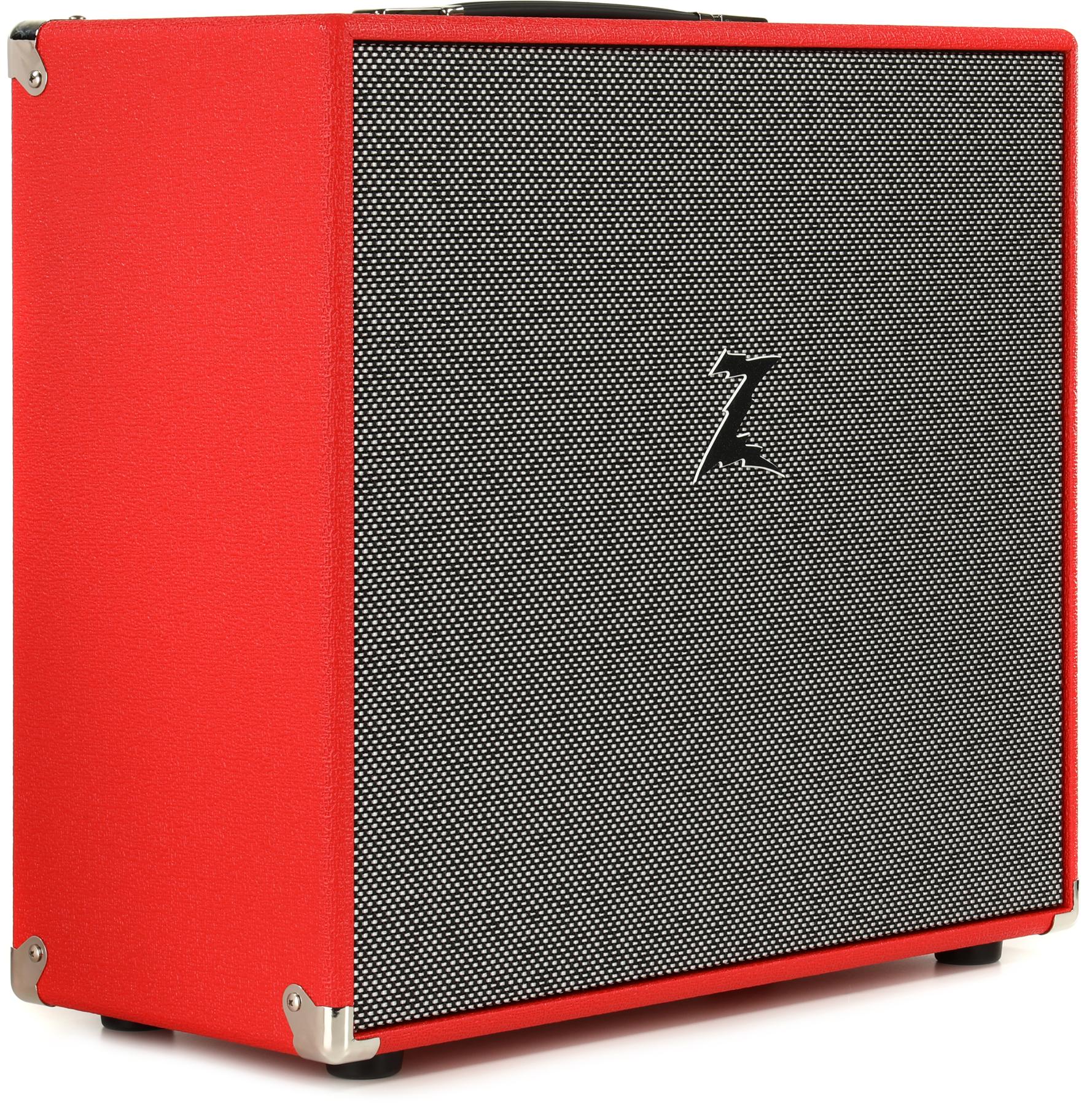 EF86 preamp delivers a high-fidelity sound with outstanding dimensionality and dynamic response
Delivers everything from crystal-clear cleans to muscular overdrive
Clean tones makes a superb pedal platform; effects sound like they're built right into the amp
Dr. Z
A 50-watt tube combo that weighs just 24 pounds.
Light! Powerful. Wide range of sounds.
Channel one can sound flat without pedals.
3.5
4.5
4.5
4
Whether or not the push toward lightweight amplifiers is a lasting trend (and why wouldn't it be?), the quest for less tonnage is definitely yielding interesting amps. Fender's recent digital simulacrums of the Deluxe and Twin demonstrated that light weight and vintage-correct style can co-exist. Blackstar, too, has made "lighten the load" its modus operandi for the new St. James series. But rather than using digital means to drop pounds, Blackstar stuck with tube amp architecture. That leads us to the St. James 50 EL34 reviewed here: a proper 50-watt, 1x12" tube combo that, remarkably, weighs just 24 pounds.
Blackstar calls the St. James—which comes in 6L6 or EL34 and combo or head/cabinet versions—"the lightest 50-watt amps on earth." They're hardly bare bones, though. The St. James 50 offers two differently voiced footswitchable channels, onboard power reduction (50 watts to 2 watts), a digital cab-modeling DI output, digital reverb, an effects loop, a USB connection, and more. And that distant roar? It's the sound of 10,000 guitarists' aching backs delivering a standing ovation.
 Channel Crossing
The St. James' two channels give the amp a strong transatlantic personality. With a single volume control as well as bass, middle, and treble controls (shared by both channels), channel one aims for glassy, slightly scooped American clean tones. Channel two features gain II and volume II (a channel-specific master volume) and the shared EQ section. It's built for British-style tones, which, in this case, range from Vox-y chime to stack-style roar. Toggle switches on the top panel provide channel switching and a boost for channel two (a footswitch is also included for both functions).
That distant roar? It's the sound of 10,000 guitarists' aching backs delivering a standing ovation.
Because the St. James is built around a top-rear-mounted chassis, many connections are situated on the underside of the chassis. But Blackstar thoughtfully provides arrows to the essential connections, so you don't have to lie on the floor to find them. Connections include USB audio-out for direct recording and loading Cab Rig presets (via the included editing software); a footswitch jack; an effects loop send and return and level switch, a 3-way Cab Rig preset switch; a line out/headphone jack; and a balanced output (a reactive load inside enables silent recording when desired). There are also two 8-ohm speaker outs and a single 16-ohm out.
Inside the semi-closed-back 20" x 18.25" x 10.25" cabinet, which is made from light candlenut plywood, you'll find a St. James-exclusive, super-light, ferrite Celestion Zephyr 12" speaker. Both cabinet and speaker contribute significantly to reducing weight. The retro-modern, fawn-colored cabinet, incidentally, does a nice job of stylishly communicating its Anglo/American split personality.
In addition to two EL34 output tubes that generate the back-end power, the Blackstar includes two 12AX7s in the preamp. Tube nuts will know that this isn't enough to generate an old-school, all-tube front end, so clearly some elements of the circuit have taken a solid-state detour. That said, this complement allows for tube gain stages in the most critical positions, and aids the weight-reduction effort by requiring less electrical power, filtering, and other hardware.
Star Power
The St. James 50 EL34 is powerful. It covers a lot of ground, too. Generally speaking, channel one aims for a black-panel Fender baseline but reads more as a blank slate. That means it excels in tandem with pedals, yet can also feel short on gain coloration. After all, a little breakup and compression is usually part of the formula for most classic '60s clean machines. A simple OD can rectify this though. A Wampler Tumnus Deluxe, Way Huge Red Llama, and TS10 Tube Screamer all brought out the best of the St. James' tamer side. Kick one of those on, or chain a couple together, and there are toothsome bluesy leads and thumping rhythms aplenty.
Channel two goes from clean-with-grit to medium gain with the drive beyond 2 o'clock. It also kicks out juicy, classic-rock lead tones when pushed with the boost. It's important to note that the boost level is preset and elicits a volume jump that varies according to drive II and volume II settings. Sometimes it's a major leap, but it's great for getting more sting out of channel two.
There are a few characteristics shared by both channels. The amp tends to bark in the upper midrange, almost regardless of EQ settings. It can also be pretty biting in the treble zone. Both conditions seem as much a function of the speaker as the amp itself and could mellow as the speaker is broken in. On the upside, the treble-forward profile and volume on tap mean you won't worry about cutting through a dense stage mix. Both channels sound surprisingly beefy in the 2-watt mode, too. The digital reverb, meanwhile, is atmospheric and lends a nice sense of space, though there are no super-surfy spring sounds.
The Verdict
Blackstar's St. James 50 EL34 1x12 Combo offers potency, useful extras, and a nice array of sounds in a very light package that will make many backs very happy. It's priced competitively with mid-power offerings from other big guitar-amp manufacturers. It's also incredibly practical, demonstrating that tube power still has a place at the featherweight amplifier table.
Blackstar St. James (EL34) Demo | First Look
A modeling amp in vintage disguise.
Pros: Great balance between digital power and simplicity. Lightweight and super affordable. Nice app for editing.
Cons: Footswitch not included. Some functions are not intuitive and require a look at the manual. No digital readout.
4
4.5
4
5
Line 6's Catalyst series is the latest in a generation of amplifiers bridging the gap between digital modeling's enormous possibilities and many players' desires for old-school simplicity. These amps offer detailed, convincing amp models—but not too many of them—in a compact, vintage-style design that makes avoidance of option fatigue a priority. The very accessible prices also make the series a direct competitor to Boss' ultra-successful Katana amps. The Catalyst is offered in three models: Catalyst 60 and Catalyst 100 (both of which have one 12" speaker), and the Catalyst 200, which has two 12" speakers. For this review I tested the Catalyst 100, which sells for a very modest $399.
Simple Complexity
The Catalyst has plenty of bells and whistles. On the surface, though, it looks a lot like a simple, conventional 2-channel amp. There are knobs for boost, gain, bass, mid, treble, presence, channel volume, effect, reverb, and master volume. There's also a knob that lets you choose from six original amp models: clean, boutique, chime, crunch, dynamic, and hi gain. Mini buttons let you save and choose between two channel presets or engage manual mode, where what you see is what you get. Other mini buttons allow you to engage boost, tap tempo, and select effects and a tuner. On the back panel is an output power knob that lets you choose from mute, ½ watt, 50 watts, and 100 watts. There's also a USB jack, a DI out, and an effects loop.
Six Amps in One
There's not enough space in this review to cover all the amp models in depth. And I suspect that for many players even just a few used through the full range of their clean and dirty variations will be everything they ever need. Still, the Catalyst's abilities and potential—especially relative to its price—will excite any potential user.
I started my own experiments with the boutique voicing at the ½-watt output setting. Predictably, there's not a lot of output in this mode, though it's a lot of fun as a practice amp. At the 50-watt output setting, though, I could hear and feel the amp in a more complete way. There was headroom to spare and it's impressively dynamic and responsive to picking nuance. And it was surprisingly easy to get SRV-style bite out of otherwise clean, blues-tinged phrases—again, very impressive. The useful boost knob lets you dial in extra kick, and, thoughtfully, each amp model has a specifically tailored boost voicing. In boutique mode higher boost settings added a lot more gain to the amp model's cleanish sound, and the saturation sounded and felt organic.
The chime model, loosely inspired by a Vox amp, is warmer and thicker than the boutique model in cleaner settings. But when I engaged the boost (with the knob at noon) and set the gain knob around 11 o'clock, the amp positively screamed—generating an aggressive and at times piercing sound that would reward a player with a commanding approach like Eric Gales or a 1960s-influenced guitarist who loves the potency of single-note lines.
The high-gain model, meanwhile, is a fire-breathing beast. With the gain at 11 o'clock, there is plenty of bottom end, and the sensation of the amp moving air becomes more apparent. Engaging the boost softened the attack slightly, which made soloing more liquid. But there wasn't much of a difference through the range of the boost knob from noon to max. The amp model is pretty saturated to begin with.
There was headroom to spare and it's impressively dynamic and responsive to picking nuances.
No Jumping Through Hoops Running Loops
Using the clean model, I ran my Yamaha UD Stomp delay through the effects loop. The results were dimensional and often sublime. The power-amp-in feature lets you plug in a pedalboard and play it directly into the Catalyst 100's power amp. I used another setup, with a Mesa/Boogie V-Twin preamp pedal, directly through the Catalyst's power amp and it sounded phenomenal. And even though the preamp is bypassed in this mode, the boost function is still active. Set at 10 o'clock, it added a nice final touch to the Mesa/Boogie preamp's clean channel, making it sound discernibly richer. In my humble opinion, just the power amp and speaker cabinet alone are worth the $399 price.
Though Line 6's acclaimed HX technology is embedded in the Catalyst, the company did a good job of keeping options easy to manage and navigate. There isn't an endless buffet of effects, as you might expect. There's a standalone reverb, and apart from that you can only use one additional effect simultaneously, unless you bring your pedalboard to the party.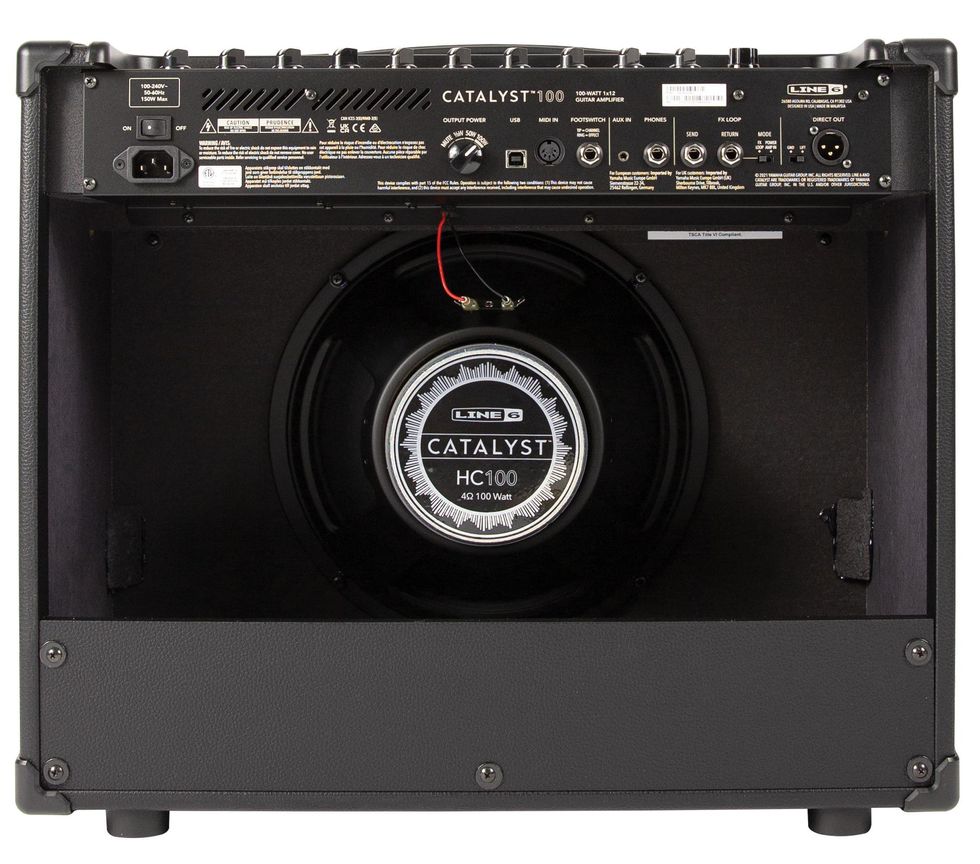 In total there are 18 effects, grouped into three categories: delay, modulation, and pitch/filter—each with a corresponding LED in green, blue, or purple, respectively. If you've used Line 6 products before, many of these excellent effects (and the color coding) will be familiar. There's the fabulous dynamic "ducking" delay, some modulation models based on iconic pedals like the MXR Phase 90 and others, and some classic Line 6 pitch/filter effects like growler synth and synth strings. If you do want to use more effects simultaneously, the effects loop is an excellent way to patch in external effects.
The USB hookup, by the way, enables connection to a computer so you can use Line 6's editing software, which allows you to dive deep into tone editing or just fine tune a few things. I imagine that, in reality, most users will just figure out how to get a couple of core sounds directly from the amp, save them, and just go with that. But it's always great to have options, and if you're someone that actually maximizes the capabilities of modelers and editors, you'll have a field day with the app.
The Verdict
For any guitarist looking for an all-in-one, plug-and-play setup for practice sessions, live shows, and recording (you can record directly using both USB and the built-in DI with cab simulation), the Catalyst, at $399, is pretty tough to beat. It's got more features than many players will need, but what will count for most of the target audience is how much you can accomplish without diving too deep. And though the price might suggest otherwise, Catalyst isn't just for beginners or intermediate players. Any professional guitarist that's tired of dealing with tube related maintenance and expenses will be happy with many of the sounds here.